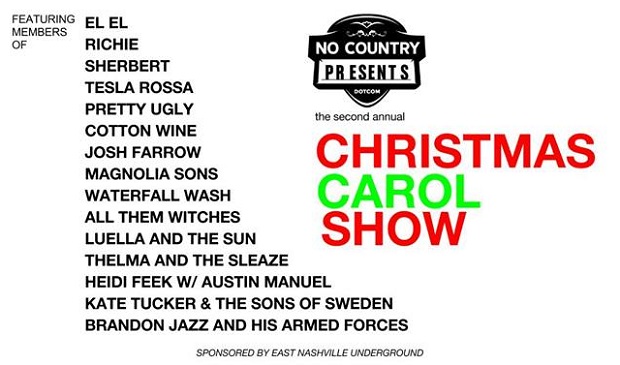 Twas a week before Christmas, but by all accounts,
Not a soul was rejoicing, except in the South.
Where musicians were stringing guitars with great care,
Preparing to carol at to-night's affair.
No Country was busy, all up to their heads,
Printing off lyrics, and scouring for threads'.
So you can all sing, and you can all clap,
And win some free drinks, donning old Christmas crap.
El El will be there, with synth-poppy clatter,
And Tesla Rossa — oh what brains they will splatter.
Don't forget Pretty Ugly what a name that band has,
Just like that old Brandon — his forces of jazz.
Luella is hot, much hotter than snow,
Like Sherbert and Richie, and ol' Josh Farrow.
All Them Witches will rock, and bust up your ears,
But no need to fear — Cotton Wine will be here.
And Ms. Heidi Feek — she's getting big quick,
Like  Thelma and friends, boy they lay it on thick.
And Waterfall Wash, but wait! That's not all!
There's Magnolia Sons, most of soulful of all.
LEARN
Magnolia Sons are a self-proclaimed supergroup. This seems pretentious…until you realize how super they actually are. With a full horn section and with songwriting duo Austin Aguirre and Benjamin A. Harper at the helm, the band channels equal parts 70's retro-soul a la Supremes and the Temptations and modern indie-rock and achieves a sound that's unrelentingly upbeat and vivacious. Many of you will likely recognize the band's name as the one attached to "Baby That's You," a righteous, rambunctious soul-train of a track that's received a lot of (well-deserved) Lightning 100 love over the past year. Considering their influences, it's no surprise that these guys are coming to tonight's event well-prepared. You might think that jazz composers own the sole rights to modern Christmas carols, but if you do, you've clearly never heard James Brown's Funky Christmas. Magnolia sons succeed in adding to this wonderful tradition with "The Christmas Joy" and "My Favorite Season," two wholly-original instant yuletide classics. Both are excellent, but honestly — I haven't been able to stop listening to "The Christmas Joy" on repeat all week. Lyrically, it's like a fuzzier version of James Brown's "Santa Claus Go Straight to the Ghetto," and sonically, it's like a cup of hot chocolate. The vocal performance is, dare I say, inspired. Check it out below — it's sure to be one of the highlights of the show.
LISTEN
[soundcloud url="https://api.soundcloud.com/tracks/124452059″ params="color=ff5500&show_artwork=false" width="100%" height="166″ iframe="true" /]
[soundcloud url="https://api.soundcloud.com/tracks/124451491″ params="color=ff5500&show_artwork=false" width="100%" height="166″ iframe="true" /]
WATCH