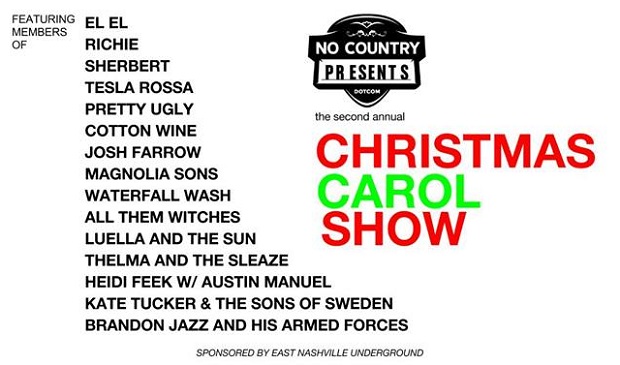 Our new live events wing, No Country Presents, in conjunction with the fine folks at East Nashville Underground, is throwing a Christmas party Dec. 19 at The Stone Fox. Featuring members of tons of our (and, hopefully, your) favorite local bands, the show will consist of renditions of some holiday standards, both old and new. We'll be printing out lyrics, and encouraging you all to sing along, Christmas carol style! Additionally, we'll be collecting lightly used coats for the Nashville Rescue Mission, and hosting an ugly sweater contest (winners get a free drink, as long as they're 21+). The 15-band bash kicks off at 9 p.m., and will cost you a mere $5, so get into the holiday spirit, and come celebrate!
To make sure you're familiar with the great lineup we've put together, we wanted to bring you some artist previews leading up to the show. We've already rundown synthpoppers El El, rockers Tesla Rossa, and the soulful Kate Tucker & The Sons Of Sweden. Now we move to, relative newcomers, bubbly pop outfit Sherbert. Check 'em out, after the jump!
LEARN
Bubbly, Best Coast / Rylo Kylie styled, indie retro pop outfit Sherbert pinged our radar in the summer of 2013 with their debut EP This Never Happened, and the title track from that release became one of our jams of the summer.  We were excited to feature them on Lightning 100's The 615 program in late October, and now we are thrilled to have the relatively-rare-to-perform-live act at our Caroling Party.  Given that they are relatively new to Nashville, we're highlighting all of their 2013 releases below including the above mentioned EP, the single release featuring "Walk Away"/"Cut Dead" (Jesus & Mary Chain), and their newly released EP Stupid Hat.  Word out of the Sherbert camp is that a full length is slated for release next year, and you should get to know them now, because we are fairly certain that you are going to be hearing a lot more out of Sherbert in 2014.  If you like what you hear, are in the Murfreesboro area, and like beer, then you should swing by Mayday Brewery on Saturday (12/21) where Sherbert will be performing with Static Revival starting around 6pm.
LISTEN
WATCH
"This Never Happened"