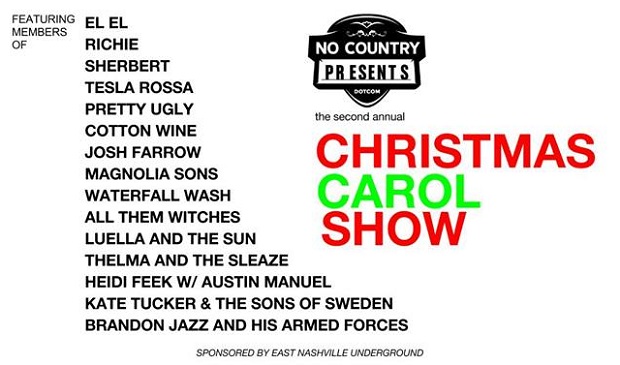 First an introduction, No Country For New Nashville has long strived to bring you the best bands in Nashville. We have listened to possibly every crappy demo that has been made in this town, and we hope that we have helped to bring you some of the newest and best that this city has to offer. It's time that we get out and met more of you though, and, thus, the birth of No Country Presents. No Country Presents is a labor of love that was sparked over many a bowls of soup between No Country For New Nashville folks and East Nashville Underground folks. Through this new venture (and probably more soup), we hope to bring you more fun events in the coming months, but for now, it is the time of the season for CAROLING!!!
It is the time of the year that the No Country inbox is flooded with Christmas covers seeking publication. While we lack the time and/or desire to publish all of these, we know that we really like Christmas covers in the company of friends, alcohol, and ugly Christmas sweaters. On Thursday, December 19th at The Stone Fox, we bring this reality to life with members of some of your favorite local bands, including El El, Ri¢hie, Sherbert, Tesla Rossa, Pretty Ugly, Cotton Wine, Josh Farrow, Magnolia Sons, Waterfall Wash, All Them Witches, Luella And The Sun, Thelma And The Sleaze, Heidi Feek w/ Austin Manuel, Kate Tucker & The Sons Of Sweden, and Brandon Jazz & His Armed Forces.
While regular followers of No Country will know most of these names, we will be bringing you previews in the days leading up to the show to highlight each of the artists.  All that is left is voices, charity, and ugly sweaters, and that part is up to YOU!  First, we will be printing out the lyrics to all of the songs that the artists will be performing so you can assist with the sing-a-long aspect of the evening.  Second, bring any "lightly" used coat, and we will donate them to Nashville Rescue Mission to help someone who is really in need as winter approaches.  Lastly, bring your best ugly Christmas sweater for all out hilarity.  We will have a secret panel of judges voting throughout the night, and, at various times throughout the night, winners will be selected for their choice of a drink (21+ for alcohol).
Stop by the Facebook page for more information and to RSVP, because it's probably going to be something like the video below.
Come Carol with us on Thursday December 19th at The Stone Fox. The show will be 18+, begins at 9pm (doors at 8pm), and tickets are only $5 at the door.