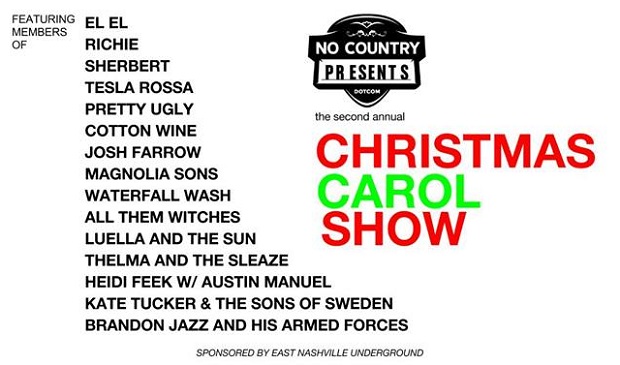 Our new live events wing, No Country Presents, in conjunction with the fine folks at East Nashville Underground, is throwing a Christmas party Dec. 19 at The Stone Fox. Featuring members of tons of our (and, hopefully, your) favorite local bands, the show will consist of renditions of some holiday standards, both old and new. We'll be printing out lyrics, and encouraging you all to sing along, Christmas carol style! Additionally, we'll be collecting lightly used coats for the Nashville Rescue Mission, and hosting an ugly sweater contest (winners get a free drink, as long as they're 21+). The 15-band bash kicks off at 9 p.m., and will cost you a mere $5, so RSVP on Facebook, get into the holiday spirit, and come celebrate with us!
Speaking of giving, Nashville's best talent will be spreading the Christmas cheer in our lineup for the evening. We have already told you about the b*tch sludge blues-rock of Thelma & the Sleaze, throwback future-rock of Tessla Rossa, the Holy Spirit from Luella (of Luella and the Sun), ants in your pants synth dance of El El (ft. Ben Elkins, formerly of Heypenny), the transfixing Kate Tucker and the Sons of Sweden, the indie fuzz pop(cicle) of Sherbert, surf punk of Pretty Ugly, and consciousness-expanding All Them Witches the army that is Brandon Jazz and His Armed Forces and now, Mr. Josh Farrow.

LEARN
We first got the chance to spend time with Josh Farrow last summer at East Nashville Underground, and knew that we had better keep an eye on the soulful Nashville songwriter. His music definitely carries a rock base that is sprinkled with bits of twang, blues, and gospel. Farrow's voice locks in the audience ears while the hooks he employs take control of the hips. His version of "Merry Christmas Baby" may not invoke the same hip shakin', make-out-with-your-neighbor atmosphere that his "Devil Don't You Fool Me" did during his session at Music City Roots earlier this year, but he is certainly one of the artists that we are most excited to hear from tonight. If you don't already, get to know more about Josh Farrow below.
LISTEN
WATCH