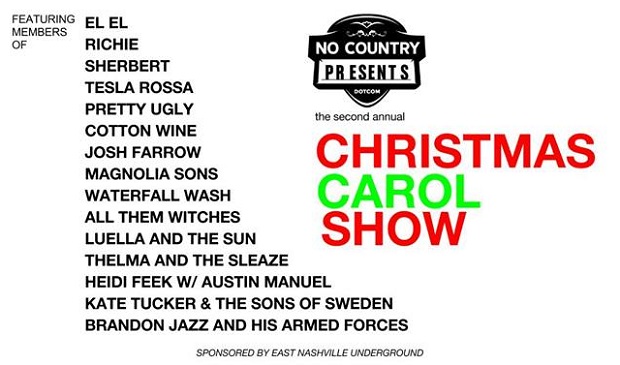 'Tis the season! In the whirlwind of the holidays, take a break from wrapping presents and sled your booty over to The Stone Fox this Thursday, December 19 for the newly birthed (not in a manger) No Country Presents and East Nashville Underground's Christmas Carol Show. It's just $5 for 15 local bands serenading the sweet sounds of Christmas joined by the crowd choir (you and your friends!) singing in and out of tune with provided lyrics.

Be sure to rock your ugliest holiday sweater because we WILL be judging you (secretly. free drink of choice for winners! 21+ for alcohol) and bring along a new or gently used winter coat to donate to the Nashville Rescue Mission (unless you're a Scrooge) for the less fortunate in need. In the words of NRM spokeswoman Amy Grant, "You have. You give. You receive. You share."
Speaking of giving, Nashville's best talent will be spreading the Christmas cheer in our lineup for the evening. We have already told you about the b*tch sludge blues-rock of Thelma & the Sleaze, throwback future-rock of Tessla Rossa, the Holy Spirit from Luella (of Luella and the Sun), ants in your pants synth dance of El El (ft. Ben Elkins, formerly of Heypenny), the transfixing Kate Tucker and the Sons of Sweden, the indie fuzz pop(cicle) of Sherbert, surf punk of Pretty Ugly, and consciousness-expanding All Them Witches..now Brandon Jazz and His Armed Forces are the star on top of the tree after the jump..
LEARN
When Santa is away, the elves will play, and if Brandon Jazz & His Armed Forces (the Armed Forces will be supplied by Tesla Rossa for this one) show up to turn on the dance party, the elves will be sidewayze on eggnog in their skivvies breaking toys.  BJ&HAF are an elixir of comedy and disco synth-pop made for busting the speakers of your vintage boombox. They get hips swaying while splitting sides, like the first time you watched Harry & Marv go through Kevin's booby traps ("Home Alone" reference if you're in the dark). They have shared the Motherchurch stage with the B-52's (throwback! "Love Shack"), so we know they can throw some "Glitter on" the stage at The Stone Fox. BJ&HAF plan to take you back to SNL circa 2002, for a cover of "I Wish It Was Christmas Today" by Julian Casablancas as recorded in 2009.  Jazz even somewhat resembles Casablancas, so panties and fingerless gloves may fly..meeeoww!! The embeds below will take you through a haze of drunken 10s to morning 2s with a crew of East Nashville local celebs. Even Gumby shows up to party! Hit it!
LISTEN TO BRANDON JAZZ & HIS ARMED FORCES

Exit Strategies / Used 2 Believe

WATCH BRANDON JAZZ & HIS ARMED FORCES

Deal With It
More from Brandon Jazz & His Armed Forces | Facebook | Twitter | Website | Soundcloud