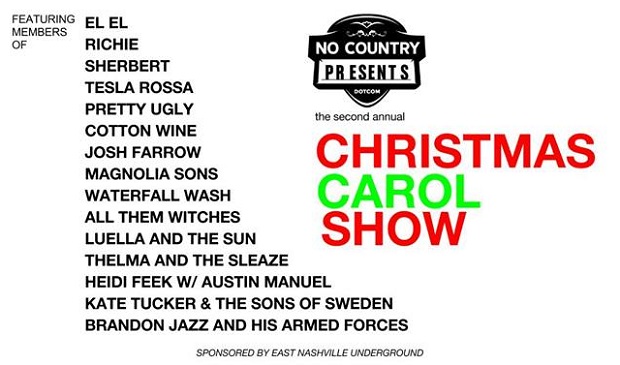 Our new live events wing, No Country Presents, in conjunction with the fine folks at East Nashville Underground, is throwing a Christmas party Dec. 19 at The Stone Fox. Featuring members of tons of our (and, hopefully, your) favorite local bands, the show will consist of renditions of some holiday standards, both old and new. We'll be printing out lyrics, and encouraging you all to sing along, Christmas carol style! Additionally, we'll be collecting lightly used coats for the Nashville Rescue Mission, and hosting an ugly sweater contest (winners get a free drink, as long as they're 21+). The 15-band bash kicks off at 9 p.m., and will cost you a mere $5, so get into the holiday spirit, and come celebrate!
To make sure you're familiar with the great lineup we've put together, we wanted to bring you some artist previews leading up to the show. We already gave you the rundown on El El, Tesla Rossa, Kate Tucker & the Sons of Sweden, and Sherbet. Today we're profiling Thelma & The Sleaze – get sleazy after the jump!
LEARN
Thelma & The Sleaze's reported interests include: "daisy dukes, knife fights, and leather daddies" — and with hobbies like those, you can bet they're bound to throw down some holiday hurrah! These gals are ready to cause a raucous and we're thrilled they will be covering a country legend for us this Christmas season. We'll keep you guessing on the song choice for now… so until we meet again, enjoy a little preview of their signature sound below!
LISTEN
These Boots Won't Lick Themselves, EP
WATCH
"Summer Fun" (Official Video)