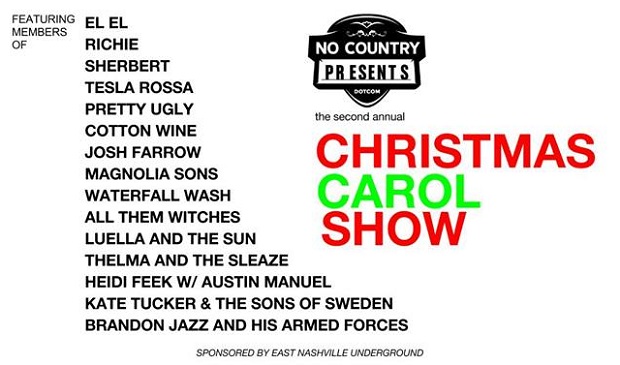 It's been a busy year here at No Country, and the site's grown a lot. So much, in fact, that we are now trying to reach out to our readers offline. I know, crazy right? It sounds a bit preposterous, but in an effort to continue bringing you guys up to speed with the very best the Nashville music scene has to offer, we recently organized a new events wing, aptly titled No Country Presents. Being the wise bunch of folks they are, No Country Presents decided to team up with friends over at East Nashville Underground to bring our readers something everyone can enjoy: Christmas caroling.
That's right, you'll be able to join us on December 19th at The Stone Fox for some hearty caroling with some of Nashville's best local artists for only $5. We know, we know. For just five bucks, you'll get to watch Thelma & the Sleaze throw down with their usual vigor, and you'll witness the brilliance that is Tessla Rossa. But here's the trick: caroling is a communal activity. That means if you want to sing with them, you can, since we'll be printing out lyrics for everybody and wholeheartedly recommending you join in on the festivities.
You'll also see some pretty ugly Christmas sweaters too, since we're holding a contest. We're dispersing secret judges throughout the crowd, and if your tacky holiday knitwear is more ridiculous than average, a judge will buy you a drink of your choice. There'll be more than one winner throughout the knight, so be sure to really go all out if you're trying to score that drink.
Hopefully, we'll see some more subtle outerwear at the Christmas party as well, since we'll also be collecting lightly worn coats and jackets and donating them to the noble people over at the Nashville Rescue Mission. They'll distribute these jackets locally to those who're really going to need them when it gets cold. If you've got a spare lightly used coat you don't use anymore, this is a great way to give that jacket a second life. 

To make sure you're ready to sing with 15 of Nashville's best musicians, we're giving a bit of preview coverages to the bands. We've already talked about fan favorite synthy poppers El El, the mesmerizing female fronted indie act Kate Tucker and the Sons of Sweden, and the brilliant retro vibes of Sherbet, and rockers Pretty Ugly, but today we've got someone really special we wish to discuss: a little band called All Them Witches.
LEARN
Close your eyes, take a deep breath, and try to remember the grungiest house show you've ever been to. Not the most entertaining nor best decorated, but that one is a dusty unfinished basement with myriads of Christmas lights strung throughout the rafters. Can you still feel the power of that show, or the tremble of the amps turned up to 11? All Them Witches gets that feeling every single time they play. Take a listen to some of the tracks in the following sections, and you'll get a sense of what I mean. This badass four piece has been kicking up a lot of dirt recently, and for good reason: they throw down like no one can. Rumor has it All Them Witch's will performing a cover of "Do You Hear What I Hear", which is already an innately interesting song. With absolute certainty, All Them Witches will apply their usual brilliant musicianship to give you readers a rendition of this classic tune you won't soon forget.
LISTEN
Lightning at the Door
WATCH