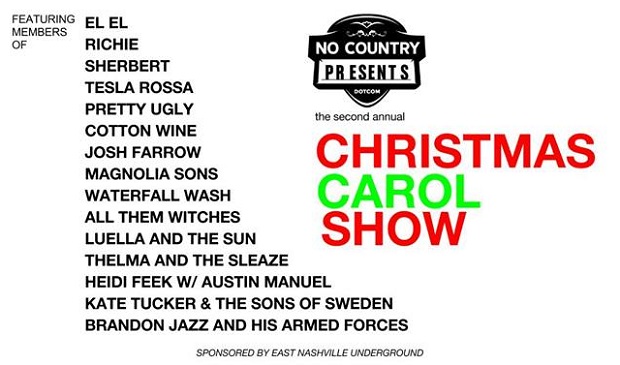 Our new live events wing, No Country Presents, in conjunction with the fine folks at East Nashville Underground, is throwing a Christmas party Dec. 19 at The Stone Fox. Featuring members of tons of our (and, hopefully, your) favorite local bands, the show will consist of renditions of some holiday standards, both old and new. We'll be printing out lyrics, and encouraging you all to sing along, Christmas carol style! Additionally, we'll be collecting lightly used coats for the Nashville Rescue Mission, and hosting an ugly sweater contest (winners get a free drink, as long as they're 21+). The 15-band bash kicks off at 9 p.m., and will cost you a mere $5, so RSVP on Facebook, get into the holiday spirit, and come celebrate with us!
To make sure you're familiar with the great lineup we've put together, we wanted to bring you some artist previews leading up to the show. We've already rundown synthpoppers El El, rockers Tesla Rossa, the soulful Kate Tucker & The Sons Of Sweden, garage rockers Thelma & The Sleaze, and bubbly pop outfit Sherbert, bluesy rockers All Them Witches, and rock act Pretty Ugly. Now it's time for the soulful duo Cotton Wine. Check 'em out, after the jump!
LEARN
The soulful sounds of the duo Cotton Wine are relatively new to us, but we immediately took notice of the incredible harmonies they create.  Cotton Wine consists of Brandon James and Femke Weidema, who relocated to Music City to continue to hone their art.  The genre defying act is probably best described as Civil Wars-like due to their obvious harmonies, but their sometimes folk, sometimes country, sometimes pop sounds are expertly crafted and hard to ignore.  We first introduced you to these guys when No Country took over Lightning 100 for The 615.  Since then, Femke won a Latin Grammy for as a co-writer with Latin American artist, Beto Cuevas.  Needless to say, this talented duo is one to keep an eye on.
LISTEN
WATCH