I've already given my Halftime Report on Thursday and Friday of Bonnaroo. Earlier this week, I brought you my rundown on the acts I caught Saturday. Matt gave you his thoughts on the whole fest, and Jessika brought you a post from a 'Roo first-timer along with the first part of her recap. We still have just a bit more post-'Roo coverage coming for you, but, now, a week after the fest began, here's my recap of its final day:
Day 4 (Sunday):
Sunday should have been my slowest day at 'Roo- my body certainly would have thanked me. Yet, somehow, I managed a second wind and had the busiest day of the whole weekend. I kicked the final afternoon off with Nashville transplant and up and coming country star Kacey Musgraves. Kacey reminds me of an alternate timeline Taylor Swift, had Swift doubled down on her country influences and allowed her thematic focus to grow with her age post-Fearless. Swift isn't exactly a fair comparison, however, because the Texas-bred Musgraves has a deeper affinity for real, old school country than many of her country radio peers. Though the tracks on her major label debut, Same Trailer Different Park, have poppy/crossover potential and are more conventionally in-line with contemporary country (still the cream of the crop in contemporary country, mind you), it was Musgraves' decision to bring her band in close, whip out the traditional instruments, and blow through some old standards and stripped down renditions of her own material that really won me over. Then she covered Weezer's "Island in the Sun," which was the icing on the cake. Musgraves is a talented performer, a deeper, darker, and more emotional songwriter than the poppier exterior of her material might indicate, and possesses a genuinely down to earth and humble persona. I went into her set without any specific expectations, and left a huge fan. I know we have "No Country" right there in the name of the site, but, when it's done right, I'm a sucker for it.
Kacey Musgraves
I followed Kacey with, perhaps, the most opposite artist possible- LiL iFFy. Based in Knoxville, iFFy is the pioneer of wandcore. Rapping about Harry Potter and general wizardry, but incorporating into gangsta and street-centric hip hop songs (apparating to booty calls and such), iFFy and his crew kind of blew me away. When writing about the rapper prior to the fest, the gimmick got my attention but it was the rapper's legitimate skill and intelligent, well-crafted flow that stuck in my mind. All of that was present in iFFy's performance, with a ton of energy and a sincere, un ironic delivery to boot, which could have easily just felt too silly, but was held together by great showmanship. Even despite some early technical difficulties, the crowd, which was sizable for such an early set on a small stage, couldn't get enough of iFFy!
LiL iFFy
Sunday was really an incredible day for hip hop, wandcore and otherwise. I followed up iFFy with another bearded rapper, though you'd be hard-pressed to hear him flow about wizards: Action Bronson. The bit of Bronson's set I caught was some of the most ridiculous, awesome, and gangsta of Bonnaroo. Bronson was more than a little stoned, proceeding to smoke a blunt on stage, frequently stopping mid-song and deciding to do something else, lounging in a chair, and, for a good 10 minutes, just wandering around the crowd, rapping from the handicapped ramp in the back. Despite his antics, Bronson is one of the most skilled up and comers in the game, and his confident, old school flow really hit hard (when he actually bothered to rap). He's about the music, and his witty, hard-hitting style is a breath of fresh air in a scene so bloated with gimmicks. Next to Killer Mike (and, obviously, Wu- but they're OG), Bronson takes the realist MC at 'Roo award.
Action Bronson
Having spoken to them the day before and missed their smaller stage performance, I was determined to catch Nashville's JEFF the Brotherhood for their Bonnaroo tent stage debut. Not only did the duo turn it up, but the turnout for their set was also seriously spectacular. I missed the opening chunk of performance, where they played mostly older tracks as a duo- but got to see them blow through the second half of their set as a four-piece, a setup I first got a chance to catch at Freakin' Weekend and really enjoy. JEFF went all out- inflatable stage props, fog, probably the best mid-day lights of the whole weekend, and more energy than I've ever seen from the band. If we were awarding Bonnaroo superlatives, JEFF would get Best Nashville Performance- hands down!
JEFF the Brotherhood
In transit to my next destination, I wandered upon a bit of Delta Rae's set. The mostly-sibling group had even more soul and mind-blowing vocal talent than I even imagined. They're such a sincere, genuine, and endlessly skilled band and one that fully deserves every bit of success they're recently achieved. The couple of songs I heard were hypnotic, and I easily could have watched their entire performance if my afternoon wasn't already so packed.
Delta Rae
Funny story: back in the fall, I was sent a copy of Macklemore & Ryan Lewis's latest album, The Heist, for review. I gave it a half listen and decided it was okay, but not worth getting excited over and probably not something that people would take to, and skipped it. I was very, very wrong. Not only have the duo become something of an overnight phenomenon, for better or worse, but they're a testament that the "one hit wonder" effect is alive and well. Macklemore may very well have had the largest crowd of the weekend next to McCartney. I was utterly shocked by how many 'Roovians crammed in to see the rapper perform his hit "Thrift Shop." I walked up just in time to catch some stage banter, which resulted in the singer rocking a Tennessee bobcat coat belonging to an audience member, before launching into the breakout hit in question. And that was all the Mackelmore I needed, thanks.
After Mack, I caught some of another Mac- Mac DeMarco. The singer and multi-instrumentalist has a pretty broad range of style, from lo-fi rock to psychedelic indie pop, and he did his best to showcase it all at 'Roo. The energy was great, the weirdness was in full-force, and DeMarco and his baseball cap-clad band possessed a unique ability to flip from scream-y, punk-tinged experimental songs to straightforward, poppy, heartfelt numbers in a more organic way than just about anyone I've ever seen. He's an artist I was glad to catch, and one I'll definitely be keeping an eye on!
Mac DeMarco
A late-addition to the fest, Black Prairie are a band made up of several members of The Decemberists. They bear very little in common musically, however, as Black Prairie exist much more in the sphere of bluegrass. The group were handpicked to participate in the Ed Helms-curated Bluegrass Situation Superjam later in the day, however it was their solo set where they really got to shine. Supremely skilled performers, Black Prairie demonstrated a deep knowledge of traditional bluegrass, balanced with more contemporary, indie-leaning sensibilities. I was shocked at how relatively sparse their crowd was, given the group's pedigree, but it didn't even remotely faze their enthusiasm or detract from their fantastic performance.
Black Prairie
Facing the threat of rain, I made the decision to bolt to Wild Nothing. As a Virginia native myself, I've gotten many chances to see the performer over the years, mostly in tiny clubs and impromptu venues. Seeing him/them on one of Bonnaroo's bigger stages, performing to a packed crowd, was a bit surreal. Wild Nothing has always been entertaining, but these days they're sounding downright amazing. Not only has the band evolved to really carve out a stronger, more relevant niche in a the bloated dream pop/indie scene, but they've also proven one of its most talented live acts as well. Believe the hype- Wild Nothing is fantastic.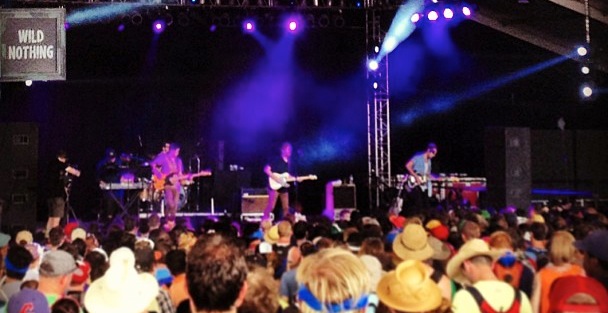 Wild Nothing
After a quick break, I caught one of my most-anticipated artists of the day: Kendrick Lamar. Missing the rapper's Nashville performance last fall has been one of my biggest show regrets since moving here, but catching Lamar at 'Roo all but made up for it. There's a reason the MC has seen such massive success so quickly (and has upgraded from tent to main stage status in just a year): he's one of the most skilled, forward-thinking, intelligent, and exciting performers to erupt out of the hip hop scene in years. Kendrick's style isn't overly flashy, but he sheer intensity and confidence of his delivery makes him sound HUGE. He worked the gigantic stage like a pro, still giving it the intimate feeling of a small performance, but with the energy of an arena. Lamar is one of hip hop's brightest hopes for a gimmick-free future, and a perhaps the past part of a rap-packed Sunday.
Kendrick Lamar
I cut Kendrick  short to check out a much smaller band I've been hotly anticipating, LA's The Mowgli's. I've been plugging them for months in one form or another, and finally getting to see the poppy, indie rock group was fantastic! They attracted possibly the largest crowd at the Miller New Music On Tap Lounge of the entire weekend, and probably should have been on a larger stage. By the time I arrived, I could barely get close enough to see, but the band sounded amazing. Though I'm a big fan, I only stuck around for a few songs- I plan to give them the full review treatment at their 7/17 show at 3rd and Lindsley.
Hitting another patch of unfortunate schedule conflicts, I made a point to watch a bit of Swans. The post-punk/noise/experimental rockers are something of legends in their own right, but apparently Bonnaroo didn't get the hint (or just didn't find them accessible enough), because their turnout was sparse. Regardless, they were mind-blowing. I'll admit, their intensely loud, droning, dissonant style is hard to latch onto but the artistry involved in creating songs framed in that manner is seriously impressive- and the resolution of a 10 minute, seemingly all-noise build is so gratifying that it's worth the experience. They're certainly not a band for everyone, but they were an incredible experience and one of the highlights of the entire fest for me.
Swans
Tame Impala are a band I'd love to catch in a proper setting in the future, and what I heard of their set at 'Roo was great, but I only briefly caught them in transit and didn't give them a fair shot (if only I could be in two places at once). Lonserism has been in regular rotation for months, so here's hoping they make it Nashville soon for a club show.
Tame Impala (via Matt Hall)
I was a little late jumping on The National bandwagon. A few years back, I randomly ended up on a live taping of Human Giant, where the group stopped by to perform a few tracks from their then soon-to-be-released album Boxer. We had a nice long chat, and I had no idea that, by that point, they had already made a huge critical splash in the indie scene. In the years since, they've all but erupted into the mainstream, as evidenced by their main stage placement relatively late in the day, and the huge crowd they commanded. The National have been around awhile, and it shows. They performed with such a confidence, such a supreme emotional command of their material, and with a surprising vigor given how somber their music is. The band even brought out St. Vincent to assist with new track, "This Is the Last Time," which was a real treat.
The National
I'm a huge fan of the idea of Divine Fits, I absolutely love their debut, A Thing Called Divine Fits, and, after finally getting a chance to see them live, I can firmly attest to the fact that they're every bit as incredible live as I hoped they would be. A supergroup consisting of Spoon's Britt Daniel, Wolf Parade/Handsome Furs' Dan Boecker, and New Bomb Turks' Sam Brown, the band perfectly balances the sensibilities and artistic prowess of its parts to create something unique, special, and unlike any of their other projects. Daniel and Boecker are similar, but have distinctive styles, and, live, found a perfect balance- trading lead vocal duties and even guitar/bass duties. The band blew through their established material, and even snuck a few new tunes into the set, performing with the energy, enthusiasm, and unpredictability of a new band (but one with many combined years of performance experience). My only gripe was how relatively few people were watching the band- I guess 'Roo didn't get the memo about Divine Fits' pedigree, because their primary projects would have commanded a main stage-sized crowd.
Divine Fits
After a bit of of the Fits, I felt obligated to catch some of A$AP Rocky. Not the best rapper of the day by any means, I still enjoy his poppy, of-the-times, over-the-top style, and hoped to see him perform a few of his hits. Unfortunately, A$AP was running behind, and, pressed to move onto White Lung, I only caught a couple of songs, none of which were all too exciting. Still, the rapper's stage presence is larger than life and the crowd was going absolutely nuts for him. If nothing else, A$AP is a showman, and has done an amazing job of exploding seemingly out of nowhere, while feeling incredibly established.
A$AP Rocky
I rushed across 'Roo for White Lung, the only band I made a special effort to see at Cafe Where? all weekend, only to discover that I might have just been the only person at all of Bonnaroo to seek them out. Though the Canadian punks had a crowd, it seemed to consist entirely of people either waiting for Tom Petty, or that had just happened to wander by. Despite my disappointment of the meager turnout for one of my most-anticipated bands, they were absolutely killer. The energy, the agression, the punk spirit in a decidedly non-punk setting (a fact they seemed all too aware of and annoyed by), were intense. I can't think of another frontwoman in the current punk scene as captivating as Mish Way- she effortlessly commands the room, exploding with a delivery all at once bombastic and aloof. Though they might not have been my absolute favorite performance of the day (I'd like to see them at a show they're more enthusiastic about), White Lung was probably my favorite band of the day. If you like your punk served without BS, dipped in hardcore, and with a DIY attitude, you're sorely missing out if you don't give this band a listen. Though they weren't my final performance of Bonnaroo, they were the final performance I legitimately cared about, and an amazing note to end on.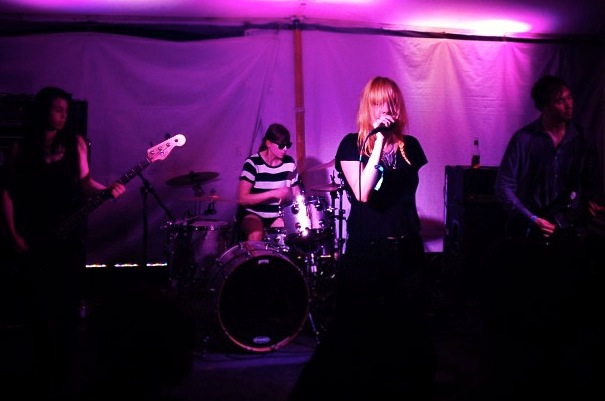 White Lung
Out of obligation, I ended my 'Roo weekend with closer Tom Petty and the Heartbreakers. I don't dislike Petty, but I'm certainly far from a superfan. If he wasn't after McCartney, and wasn't the last act of a weekend stuffed fulled of artists I cared so much more about, I might have given him a fairer shot. Even mother nature proved lukewarm on Bonnaroo's closer, pouring down rain almost the moment his set began. After I stayed dry and successfully wasted the first half of the rockers' set elsewhere, I gave in and watched the home stretch. I last saw Petty at Bonnaroo '06, and decently enjoyed him at the time. This go-round, however, was a lot harder to endure. The hits were few and far between; instead, the group opted to play lesser known (at least to the casual fan) numbers, and draw them out in a hard-to-endure, jam band-lite manner. Sunday night usually is the jam band slot at 'Roo, so they were honoring the festival's tradition, but Petty and co. just didn't seem to have the chops for it. The solos were boring, redundant, and drawn-out. Everything sounded noodle-y and not especially technical. Petty's enthusiasm level was muted, despite his band's best efforts. He's got some range, sure, and when he did play the mega-hits, the crowd lit up like nothing I've ever seen, and I certainly enjoyed them. That's the beauty of Bonnaroo, however- diversity. Despite my disinterest in the final act, I witnessed easily some of the best festival performances I've ever seen, and had an absolutely unreal weekend. Going last is also never an easy task, so props to Petty for filling that daunting slot.
Tom Petty and the Heartbreakers
That's it for my recap, but I have a few more 'Roo-centric features coming over the next couple of days. Thanks for another amazing year, Bonnaroo. I think it's safe to say that this was the best one yet. Until next year!