Bonnaroo's over and we're all caught up on sleep and back to reality. That doesn't mean we're done talking about it just yet though! Stay posted for coverage all week, including individual recaps, full set reviews, photos (that aren't from a phone), interviews, and more!
I already brought you a halftime report from the fest, which included quick takes on all of the artists I had the chance to catch Thursday and Friday. To complete my rundown of 'Roo, I'm finishing things up with a similar, band-by-band recap of the final two days. Here's the scoop on everyone I caught Saturday:
Day 3 (Saturday):
After a morning writing session and press performance from Portugal. The Man (which resulted in my last recap), I made it to the Which Stage just in time to catch the end of Cults. For me, Cults are one of those bands I really enjoy, but often forget about. After such a great performance, especially for so early in the day, they're sure to stick out in my mind more often from here on out. They really commanded the crowd on every song, not just breakout hit "Go Outside" (but that was pretty epic as well).
Cults
Though I had no realistic expectation that Paul might be hanging around at the Miller Lite Lounge, I checked out his son James McCartney, a singer whose music I'm only vaguely familiar with, just out of curiosity. James has the voice (and, to an extent, appearance) of his father, and he wasn't bad. The stage presence just wasn't there. I know how incredibly hard it must be to exist in the shadow of such a great artist, but that's the fact of the matter. Perhaps if I had seen James before Paul, it would have been easier for me to appreciate. James is good at what he does, but what he does isn't as much up my alley.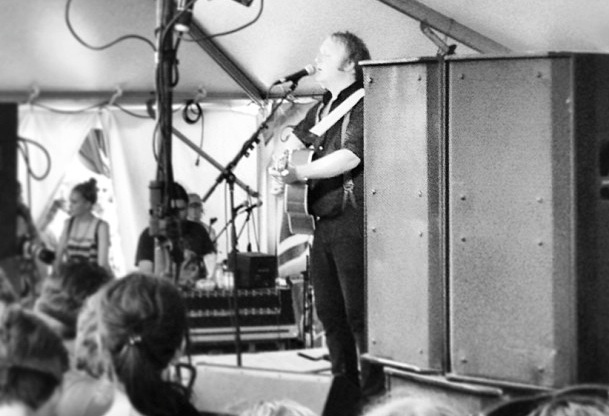 James McCartney
After James, I spent a few minutes watching Nashville local Rayland Baxter. I'm ashamed to admit, it was my first time catching Rayland- and he was a real treat. His honest, laid-back delivery (he was even sitting down), nonchalant style, and real-deal country-tinged folk songs were a great, unpretentious addition to Bonnaroo lineup. Nashville had some serious talent on this year's bill, and Baxter certainly did us proud.
Rayland Baxter
Lord Huron is a band I fell in love with early in my Bonnaroo preview write-ups, and one of my most-anticipated acts of Saturday. I wish I had gotten a bit closer, but, nonetheless, they were really fantastic. They didn't let the indie cowboy shtick overshadow their genuine performance chops, and their storytelling performance style really connected hard with the true fans in the crowd.
Lord Huron
Another of my most-anticipated, Death Grips, really tore the place down. They delivered hands-down the most agressive, explosive, intense, and unpredictable set of the entire fest. Their not-quite-rap, not-quite-hardcore sound, angry and socially-conscious themes, and uncontrollable presence got the crowd as riled up as I've ever seen them, erupting into a nonstop mosh pit. Frontman MC Ride is a larger-than-life stage presence, able to singlehandedly incite chaos, and provide thematic weight to every ethereal growl.
Death Grips
After  a break, I caught a bit of Frank Turner and the Sleeping Souls. Frank's an old favorite of mine, and an artist I've seen everywhere from dingy basements to various festival stages over the past several years (he was even hand-selected to perform the London Olympics' opening ceremony). His folk-punk sound has really grown into something more evolved and confident, with universal appeal, and his performance chops have been refined by years of relentless touring. He's one of the best, most consistent artists making music today, and seeing Turner performer some of his newer material for the first time at 'Roo was one of my highlights.
Frank Turner and the Sleeping Souls
After a bit of Turner, I made a break for the New Music On Tap Lounge to catch perhaps my most-anticipated country artist on the bill, Daniel Romano & the Trilliums. Despite the fact that he's Canadian, the singer looks and carries himself like he just stepped out of a time machine from 1970's Nashville. He channels a golden age country sound, a bit of an outlaw demeanor coupled with honkey tonk-twang, but able to land a real emotional resonance. Romano and his band sounded great, and really committed to their performance, but I couldn't help but feel like they took the retro-country act a bit too seriously and it sort of detracted from their genuine performance talent.
Daniel Romano & the Trilliums
Though I had caught them first thing in the morning, I stopped by the main stage to get a glimpse of Portugal. The Man's proper set. I've been a fan of this group since their early, tiny venue days and, though I knew they'd gotten much bigger, I was still a bit shocked to see just how massive an afternoon crowd they were able to draw. Their performance was pretty unreal sound-wise, and tracks from their new record, Evil Friends, really stood out.
Portugal. The Man
After a bit of Portugal., I ran to the main stage for Nas. Have I stressed enough how great a year this was for hip hop? This was my first time seeing the NY rap legend, and he lived up to every ounce of his reputation. Even from relatively far away, the performance felt personal and electrically charged. Nas flirts with the line between real, no-BS MC work and mainstream-accessible hip hop, and does so like no one else. From a technical standpoint, he absolutely killed it, but he also kept the momentum and strong hooks running throughout, giving even casual or uninitiated fans something to grasp onto.
Nas
I spent a bit of time chatting with locals JEFF the Brotherhood (feature coming soon), before running in circles like a madman, trying to catch the ludicrously stacked lineup of Saturday night headliners. I'm a big Beach House fan, and absolutely loved their show last fall at Marathon Music Works, so I made a point to catch a bit of the dreamy indie rockers' set. The crowd was so huge that I could barely see, but they sounded incredible!
Beach House
Admittedly, I'm not the biggest fan of Bjork's music, but felt compelled to check her out for spectacle alone- and oh, the spectacle abounded. She had a choir, the songs I heard where all drone-y and experimental, but sounded even more modern their her music I'm most familiar with, and she screeched and worked the stage like a being from another planet. Oh, and she looked like this:
Bjork (via Danny Clinch/Big Hassle)
I'm a fan of The Lumineers, but, by the time they hit the stage, I was feeling the effects of three straight days of 'Roo catching up with me. I spent most of their set sitting in back in the grass, making friends with the people around me and casually listening for songs I knew. The bit of the set I caught up close was great, and the rest sounded really refined and wonderful- it's pretty amazing that they've become so big so quickly. As big as their crowd was, it almost seems like bumping them to Mumford's spot might have made more logistical sense. I think Jack Johnson is good at what he does, and have some nostalgia for his earlier work, but opted to spend his set resting up for the late-night performances and giving my brain a break.
The first late-night set I caught, one of my most-anticipated of all of Bonnaroo, was R. Kelly. I'm still not exactly sure how seriously R. Kelly takes himself, or how ironically vs. sincerely most people enjoy him, but I was definitely there for the comedic value, coupled with the singer's legitimate talent. R. Kelly did not disappoint in the outlandishness department. He entered above the stage on a crane, performing about a third of his biggest hit, "Ignition (Remix)" before spending a good five minutes in relative silence getting back down (this is after 20 minutes of pre-performance hype building). He mostly blasted through his biggest songs in the chunk of the set I caught, and his butt-of-many-jokes sing-speak stage banter came out in full force ("Can I get a towel, so I can wipe my faaaace?" was repeated for about five minutes). I was throughly entertained and, really, that's what it's all about, right?
R. Kelly
Though I'm not the most hardcore Billy Idol fan in the world, the singer is a legend in his own right and one I've never had the chance to see live. I caught just enough of his packed set to tide me over, though my reluctance to get stuck in the crowd kept me from a spot I could see or hear the performer well.
Confession time: I spent my pre-teen and teenage years OBSESSED with "Weird Al" Yankovic. If you know me, that probably explains a lot. In fact, Al was my first proper concert. Despite the fact that I've seen him several times before, I HAD to catch his late-night 'Roo set; my first Al concert in quite a few years. Rushing over after a bit of Idol, I made it to Yankovic's set in time for classics like "Amish Paradise," "Fat," and "White & Nerdy." The singer pulled out all of the stops- including his many costume changes and bizarre video clips between songs. He performed a few tracks I'm not as familiar with or fond of (his Lady Gaga parody "Perform This Way" and The Doors-style "Craigslist"), but the encore of "Yoda" with an ever-extended version of the band's bizarre chant break more than made up for it. Fan or not, Al is an entertainer everyone should make a point to catch at least once in their life.
"Weird Al" Yankovic
Though I'm surprised I could even stand at this point, I stumbled over to catch some of the Jim James' curated Rock N' Soul Dance Party Superjam in the tent next to Al. I made it in time to see (or, well, hear, because I couldn't get nearly close enough to see much of anything) surprise guest spots from Billy Idol, R. Kelly, and Alabama Shakes' Brittany Howard, before finally admitting defeat and calling it a night.
After the first two days, I had a feeling that this would be the strongest Bonnaroo ever. After Saturday, I was sure of it. Sunday recap coming tomorrow!