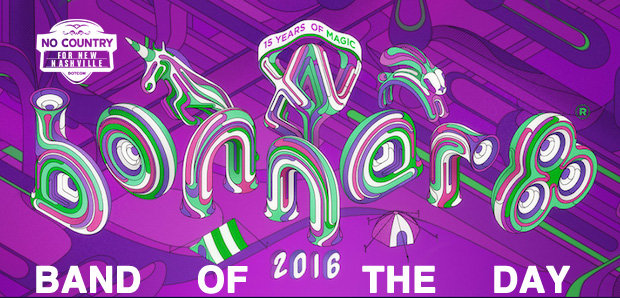 As we've been doing for the past several years now, we're making it our mission to help you get acquainted with as many bands as we can from Bonnaroo's impressive 2016 lineup.  We started from the bottom and have been working our way up, paying special attention to the smaller and lesser known acts on this year's bill with daily, dedicated Bonnaroo Band of the Day, Bonnaroo Club Stage Band of the Day, and even Bonnaroo Comedian of the Day posts. As we near the home stretch, we'll be finishing up the last 25 main stage performers in compilation-style roundups, since they're big names you're more likely to know. Keep reading for part two of your Bonnaroo Main Stage Roundup…
CHRIS STAPLETON
Saturday | What Stage | 4 p.m.
Perhaps the biggest country music success story in recent memory, to say Nashville-based, Kentucky bred singer-songwriter Chris Stapleton has had a huge past year would be an understatement. Raised in the small town of  Staffordsville, the son of a long line of coalminers, Stapleton moved to Nashville in his early '00s to purse a career in music, soon becoming the frontman of bluegrass band The Steeldrivers, with whom he found some moderate success before departing in 2010. A short-lived southern rock band would would follow, though Stapleton mostly found success and acclaim through co-writes with other artists, before refocusing on his solo career and crafting his full length-debt, Traveller, released last year and co-produced by Dave Cobb.
Met with immediate critical acclaim by the country community and music world at large, Stapleton has been praised for his old school, revisionist style, personal songwriting, and authentic sensibilities; something of a breath of fresh air in a mainstream country landscape that has been largely overtaken by pop country artists. The general public outside of the country world immediately fell in love with Chris after his debut with Justin Timberlake at the CMAs awards, and his sweep at that show, The Grammys, and ACMSs, and more has been lauded as important paradigm shift in mainstream country. Since rising to fame, Chris has appeared on numerous television shows, including an amazing SNL outing, and has risen to become an in-demand festival performer, appearing at countless high-profile outings worldwide. [PO]
LISTEN | "Tennessee Whiskey"
WATCH | "Fire Away" (Official Video)
CONNECT | Site | Facebook | Twitter | Spotify
_
BRYSON TILLER
Friday | That Tent | 11:45 p.m.
In a world that has seen the steady rise of hip-hop and EDM inspired R&B, Bryson Tiller may just be the fastest rising star in the genre.  Inspired by the likes of Chris Brown, R. Kelly, and Drake (the latter actually tried to sign the young talent), Tiller was born and raised in Louisville, and lost his mother when he was four years old.  He spent his youth living with his grandmother, and working various odd jobs just to keep himself afloat.  Surely, he couldn't have imagined success like he has had in such a short period of time.
Tiller dropped his debut smash single "Don't" via his Soundcloud page, and it immediately starting gaining attention for his melding of trap, hip hop, and R&B in early 2015.  By August of last year, he was signed to RCA, and he dropped his debut TRAPSOUL in October of 2015.  That record debuted at #11 on the Billboard 200, and has garnered nominations for Best New Artist, Best R&B Artist, and Best R&B Album in this year's Billboard Music Awards.  Tiller is already teasing his next project, and, at the rate he is going, may be deserving of What Stage consideration by the time Roo actually rolls around.  Don't miss your chance to see one of music's rising stars this year on the farm.
LISTEN | "Rambo"
WATCH | "Don't" (Official Video)
CONNECT | Site | Facebook | Twitter | Spotify
_
THE CHAINSMOKERS
Friday | This Tent | 12:30 a.m.
Founded by New York based DJ duo Andrew Taggart and Alex Pall in 2012, The Chainsmokers have found undeniable success with their radio friendly, pop dashed EDM hits.  Ever since their first single, "Erase," which featured Priyanka Chopra, it was clear that this duo was not diving into the underground, rather pulling the bleeps and blurps of EDM into the mainstream.
Since their debut, they've hit platinum with singles like "#Selfie" and "Roses" (featuring ROZES), the former of which was picked up by Steve Aoki's Dim Mak Records, before the duo finally landed with Republic. They continued to release singles, which garnered millions of plays across multiple platforms with tracks like "Kanye" (featuring sirenXX) and "Let You Go" (featuring Great Good Fine Ok).  They finally release their buzzy debut EP Bouquet in October 2015, and followed that up with another gold selling single "Don't Let Me Down" (featuring Daya).  If you don't think you know The Chainsmokers, just head below to listen, and you'll quickly realize that these tracks have been spinning around you incessantly for the past year, you just never knew who they were.  If you are in the know, then you certainly already have these guys circled for your late Friday night entertainment.
LISTEN | "#SELFIE"
WATCH | "Roses" ft. ROZES (Official Video)
CONNECT | Site | Facebook | Twitter | Spotify
_
SUPERJAM ft. KAMASI WASHINGTON & FRIENDS
Saturday | This Tent | 12:30 a.m.
The Saturday night Superjam is a long-running festival tradition which has become one of Bonnaroo's signature happenings, pairing together countless festival performers (and, often, even special guests not on the bill) to rock into the late night, participants popping in and out, all revolving around a common theme. This year, in honor of the 15th anniversary of the festival and its home base, the theme is "Heart, Soul & Spirit: A Tribute to Tennessee," dedicated to legendary music from our very own state. 'Roo typically anoints a bandleader to keep things running, and this time around, it's saxophone great Kamasi Washington, who we already told you in a Band of the Day post. Additional collaborators will include fellow festival performers Miguel, GRiZ, Nathaniel Rateliff & the Nightsweats, Blood Orange, Lettuce, Allen Stone, Vulfpeck, The Internet,  Chicano Batman, Lizzo, special guests Devonte Hynes, Eric Krasno & The Shady Horns, and, of course, many more!
LISTEN | Miguel – "Coffee"
WATCH | Kamasi Washington – "Re Run Home" (Live on KCRW)
CONNECT | More
_
BIG GRAMS
Saturday | That Tent | 1:45 a.m.
A supergroup of sorts, newcomers Big Grams are the pairing of rapper Big Boi (Outkast) and electropop duo Phantomgram; a bit strange on paper, but fantastic in practice. The seeds of the project trace back to 2010, when Big Boi heard Phantomgram by chance and plugged them on his website as his "jam of the week." Singer Sarah Barthel saw the post and got in touch with the rapper, eventually leading to several guest spots on his last LP, Vicious Lies and Dangerous Rumors. Continued collaborative efforts paved the way for a proper teamup and Big Grams was conceived.
The permanence of the project is unclear, but their self-titled debut EP, released last fall is a hell of an introduction, combining Big Boi's southern, fast-rapping, rhythmic flair with Phantogram's trip hop infused flavor of electronica, and featuring guests spots from Run the Jewels and Skrillex. One of the biggest new names of the festival circuit all summer, Big Grams' late night set is likely to be one of Bonnaroo's most buzzworthy moments, especially if it ends up being the group's only live run. [PO]
LISTEN | "Fell into the Sun"
WATCH | "Drum Machine" ft. Skrillex (Official Video)
CONNECT | Site | Facebook | Twitter | Spotify
_
[MH] Matt Hall
[PO] Philip Obenschain
More from Bonnaroo | Tickets | Lineup | Site | Facebook | Twitter