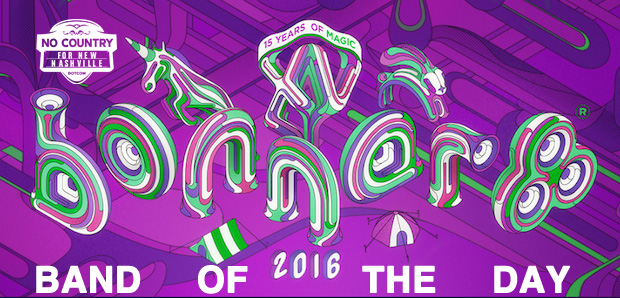 Bonnaroo Artist | GRiZ
Bonnaroo History | Newbie
Stage & Time | Friday | Which Stage | 6 p.m.
As we've been doing for the past several years now, we're making it our mission to help you get acquainted with as many bands as we can from Bonnaroo's impressive 2016 lineup.  We'll start from the bottom and work our way up, paying special attention to the smaller and lesser known acts on this year's bill. Keep reading for your Bonnaroo Band of the Day…
LEARN
Since he burst onto the national scene with 2011's End of the World Party LP, Grant Kwiecinski, better known as GRiZ, has been putting in work, crafting his very own flavor of electronica laced with funky saxophone and trip hop/dubstep spices. Now, with three more records and a mixtape in the bag, backed by the label he cofounded, All Good Records (formerly Liberated Music), it's safe to say GRiZ is a force to be reckoned with in the contemporary landscape of EDM producers/DJs. He even has a loyal, diehard fan base aptly dubbed The GRiZFam. What started as just a way for fans to connect with one another to talk music, is now an essential part of the artist's street team, passing along the GRiZ philosophy: Show Love, Spread Love.
Born and raise in the Detroit suburbs, Kwiecinski was first drawn to music in elementary school, learning to play saxophone and piano. Influenced by the funky brass sounds of The Meters as he grew older, he incorporated similar sounds into his own work, when he started to make music in college, attending classes at Michigan State University for several years before dropping out to pursue music full-time. Following the release of his debut, GRiZ became popular in the EDM scene, opening for acts like Pretty Lights, Big Gigantic, and Bassnectar. Ever since, he's been steadily building a roster of artists for his label, as well as a reputation for quality work and hype-as-fuck live shows. At Bonnaroo, GRiZ is poised to show everyone that he's as good as anybody in his genre at dropping the bass (plus he can actually play some instruments), when he takes one of the main stages Friday night. Also, if you can't get enough GRiZ, he'll be performing in the SuperJam, Saturday night at This Tent!
LISTEN | "Love Will Follow You" (ft. Russ Liquid)
WATCH | "Need This" (Official Video)
CONNECT
More from GRiZ | Site | Facebook | Twitter | Spotify
More from Bonnaroo | Tickets | Lineup | Site | Facebook | Twitter