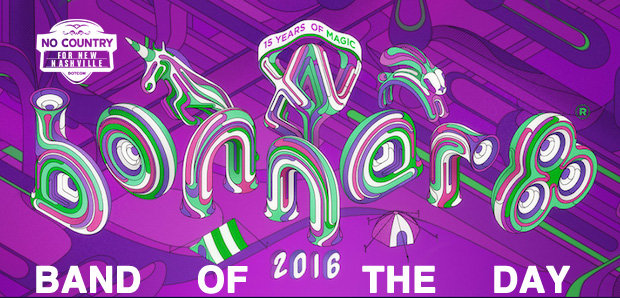 Bonnaroo Artist | Lettuce
Bonnaroo History | 2013 (as part of Superjam)
Stage & Time | Sunday | This Tent | 5:30 p.m.
As we've been doing for the past several years now, we're making it our mission to help you get acquainted with as many bands as we can from Bonnaroo's impressive 2016 lineup.  We'll start from the bottom and work our way up, paying special attention to the smaller and lesser known acts on this year's bill. Keep reading for your Bonnaroo Band of the Day…
LEARN
New wave jazz, funk/jam band Lettuce have been doing what they do for over two decades now, so it's safe to say they can turn a party out. Officially formed in Boston around 1994, at Berklee College of Music, the band members were drawing influences from diverse talents like Earth, Wind, and Fire, Tower of Power, and Herbie Hancock. The story behind their name is that when they were first starting out, they'd go to live music clubs all over Boston and beg for the chance to play, saying something repeatedly like please, please, please "let-us" play, which morphed into them being called Lettuce. After Countless tour stops, and four records, including 2015's Crush (which peaked at number one on the US Jazz chart, and number 5 on Billboards HeatSeekers) the current roster of characters features guitarists Eric Krasno and Adam "Shmeeans" Smirnoff, Neal Evans (keys/organ), Adam Deitch (drums/percussion), Erick "Jesus" Coomes (bass), Ryan Zoidis (saxophone), and trumpeter Eric "Benny" Bloom. Together they create a special kind of jazz laced funk that is guaranteed to get your booty shaking.
Considered a staple by most people in the jam band and festival scene, it seems impossible that they have never had a proper Bonnaroo set before (they were part of the 2013 Superjam featuring RZA, DJ Jazzy Jeff, Schoolboy Q, et al), but after digging through the previous line-ups, including Roo's jam-centric early years, we found that this will finally be the year they get a proper full set. We caught them last time they were in Music City, when they brought their seriously high energy live show, and intense light display to War Memorial, and it was amazing. We can't even imagine how hard they're going to bring it this summer on The Farm. Be there in person for this momentous moment in jam band history, and be prepared to sweat.
 LISTEN | "Get Greasy"
WATCH | "Phyllis" (Official Video)
CONNECT
More from Lettuce | Site | Facebook | Twitter | Spotify 
More from Bonnaroo | Tickets | Lineup | Site | Facebook | Twitter