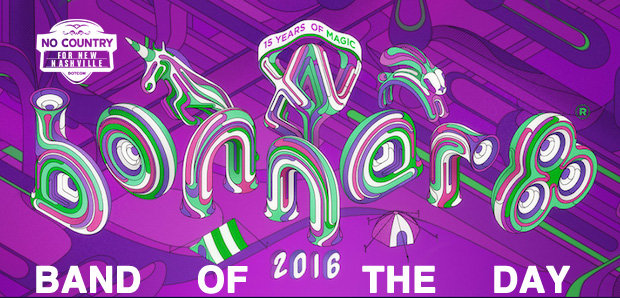 Bonnaroo Artist | Nathaniel Rateliff & The Night Sweats
Bonnaroo History | Newbie
Stage & Time | Saturday | This Tent | 7 p.m.
As we've been doing for the past several years now, we're making it our mission to help you get acquainted with as many bands as we can from Bonnaroo's impressive 2016 lineup.  We'll start from the bottom and work our way up, paying special attention to the smaller and lesser known acts on this year's bill. Keep reading for your Bonnaroo Band of the Day…
LEARN
The story of Nathaniel Rateliff & The Night Sweats starts in rural Missouri, where Rateliff first found himself engulfed in the world of Christian music at an early age. As a teen, he began to write his own songs, and found himself struggling with his own beliefs. He left his job with an evangelical organization, and started working various jobs over the next decade while creating music on the side. He released two albums and an EP as a solo artist between 2011 and 2013, and became beloved for his unique version of folk-influenced pop. Although his sound earned him spots opening for artists like Bon Iver and Mumford and Sons, he was ready for a change.
Instead of emotionally-charged acoustic ballads, Rateliff focused on exploring the soul and R&B soundscapes that he'd always loved. Every track on 2015's Nathaniel Rateliff & The Night Sweats was written by Rateliff himself, and came from his own personal struggles and relationships. Lead single "S.O.B." exploded in popularity, thanks to its intensity and anthemic, pulsating rhythm that makes you want to dance and scream along at the same time. The entire album is filled with tracks that evoke the spirit of big band, old school soul and present day alt-rock. It's a hard blend to pull off, but Rateliff manages to do it flawlessly. Make sure to catch his set Saturday night, and get ready for a foot-stomping good time.
LISTEN | "I Need Never Get Old"
WATCH | "S.O.B." (Official Video)
CONNECT
More from Nathaniel Rateliff & The Night Sweats
Site | Facebook | Twitter | Spotify
More from Bonnaroo | Tickets | Lineup | Site | Facebook | Twitter