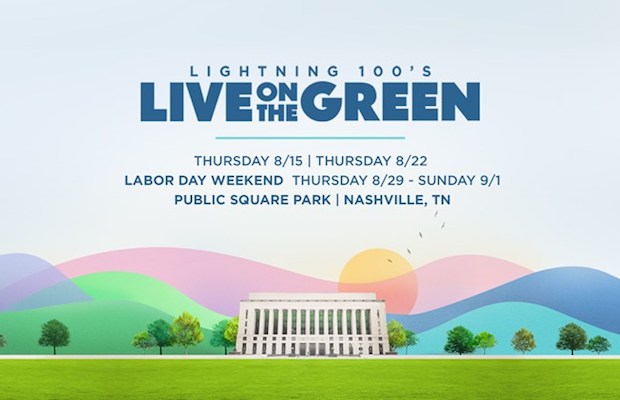 After an excellent first two Thursdays, Live on the Green is rolling to its 2019 conclusion with some serious momentum, as the epic four-day Labor Day Weekend finale of the 11th season of the annual, free outdoor fest begins Thursday, Aug. 29 at Public Square Park and continues all weekend through Sunday, Sept. 1. Once again boasting an exciting and stacked lineup, the final four days- the largest run of the festival ever- will feature around 40 performers across two stages (for context: earlier seasons had only 18 performers total across all six weeks)! After a great first night which included Gary Clark Jr., The Strumbellas, Yola, and Lucie Silvas, and a fun week two with Johnnyswim, Mat Kearney, Amanda Shires, and Will Hoge, you can expect a stellar lineup of O.A.R., St. Paul & The Broken Bones, Grace Potter, Lake Street Dive, American Authors, Guster, Aaron Lee Tasjan, Steve Earle, morgxn, Illiterate Light, Jukebox the Ghost, Lindsay Ell, and many more performers across the final four days.
Given the supersized nature of this year's finale, we're breaking it down with daily previews to help you prepare. After an kicking off on Thursday and heating up Friday, LOTG will continue Saturday, Aug. 31 with Grace Potter, Devon Gilfillian, Jukebox the Ghost, Grizfolk, Los Coast, and BAILEN on the main stage, and Aaron Lee Tasjan, Creature Comfort, Scott Mulvahill, Laura Reed, Wild Love, and Kids Fest with The Happy Racers on the 615 Stage. Bear in mind, there is some overlap in scheduling, so you'll want to keep an eye on the time if you plan to soak up as much music as possible. Preview all of Thursday's performers here and Friday's performers here, get to know Saturday's epic lineup below, and look out for our guide to Sunday's slate as well!
Per usual, LOTG is free and all ages, and music will run Thursday and Friday from 5:15 p.m. to 11 p.m., Saturday from 2:15 p.m. to 11 p.m., and Sunday from 12:30 p.m. to 10 p.m. Gates open at 4 p.m. on the weekdays and noon on the weekend days, and there will be plenty of food and alcohol vendors on site to meet your needs. Parking is $10 at the Public Square Park Garage below the festival site and $5 at Nissan E and F lots across the Woodland St Bridge (except Saturday, when Nissan's lot will be unavailable), and various other garages and street parking options are available on the surrounding blocks (also, ride share is relatively simple with designated drop off and pick up spots). And finally, if you're looking to up the ante on your LOTG experience, VIP tickets and backstage passes are typically available for purchase, however they generally sell out in advance. Find out more about this week's finale below, and find out more about the entire season on Live on the Green's site.
GRACE POTTER
Main Stage | 9:30pm
After rising to fame over the last decade with her roots rocking, festival favorite group Grace Potter and the Nocturnals, Vermont's Grace Potter has spent the last few years instead focusing on a new solo run, kickstarted with 2015 LP Midnight, which she'll follow up this fall with a highly-anticipated new album, Daylight. Adopting a more eclectic pop and rock sound, distinct from her prior project (but still anchored by her powerful voice), Potter's latest chapter is surely an exciting one, and live, she's an electrifying force.

_
AARON LEE TASJAN
615 Stage | 8:45pm

Nashville's own Aaron Lee Tasjan has long been a site favorite, wowing us with his gritty, poppy, folk infused indie rock, perfected in recent years across 2015's In the Blazes, 2016's Silver Tears, and last year's Karma for Cheap, each among our favorite Nashville releases for their respective year. Earnest, story-driven, and endearing, ALT's live show is never anything short of a blast, and in recent years he's become a favorite on the festival circuit for good reason. Don't skip on his closing 615 Stage set!

_
DEVON GILFILLIAN
Main Stage | 7:45pm

We've been big fans of local soul and r&b singer Devon Gilfillian for years now, and even booked him early on at our former Acme Feed & Seed showcase. A Philadelphia transplant, raised on a steady diet of r&b, hip hop, rock, blues, and soul, Devon made a stellar debut with a self-titled EP in 2016, and has since inked a major label record deal, well-deserved buzz from esteemed national press outlets, major festival appearances, and a growing organic following. Expect his debut LP to arrive soon!

_
CREATURE COMFORT
615 Stage | 7:00pm

Winners of this year's Music City Mayhem competition, local indie faves Creature Comfort are the only LOTG act who earned their way onto the lineup thanks to sheer popular will. Self described as "bootgaze" (or "Fleet Foxes for people who grew up bailing hay"), the group's earnest, anthemic style and layered indie rock instrumentation has helped make them a fixture of the local scene over the years. Just in time for the fest, CC dropped a new single, "Heartstrings," and you can watch the vid below!

_
JUKEBOX THE GHOST
Main Stage | 6:15pm

Brooklyn based by way of DC, indie/power pop trio Jukebox the Ghost first formed in the early '00s, and broke out to wider fame at the turn of the decade, touring, over the years, with acts like Motion City Soundtrack, Barenaked Ladies, Ben Folds, and Ingrid Michaelson, playing the late night TV circuit, and appearing at major fests like Lollapalooza. LOTG tends to lean rootsier with touring acts, and with a killer catalogue and cult following, Jukebox bring a much-needed dose of piano-infused, unabashed pop rock.

_
SCOTT MULVAHILL
615 Stage | 5:30pm

Though an accomplished multi-instrumentalist, singer-songwriter, and celebrated figure in Nashville's Americana, bluegrass, folk, jazz, rock & roll, and roots music scene, Scott Mulvahill is perhaps, above all, most renowned for playing upright bass, an instrument he gravitated to in his teens, and which his mastery of has led to sharing the stage with a variety of legendary of performers. And though the bass lays the core, don't worry, Mulvahill's genre-bending output expands way beyond the low end.

_
GRIZFOLK
Main Stage | 4:45pm

Don't let the name or rootsy appearance fool you, LA's Grizfolk are definitely not a folk band, instead channeling a poppy and polished alt rock sound. Formed in 2012, the band quickly made a ripple in the SoCal scene, nabbing a major label debut ahead of their debut EP, From the Spark, in 2014, and lighting up the blogosphere with early tine "Hymnals." 2016 debut LP Waking Up the Giants boosted them onto the national scene, and recent followup Rarest of Birds feels primed to make 2019 their biggest year yet.

_
LAURA REED
615 Stage | 4:00pm

Born in South Africa, raised in her youth in North Carolina, and now based in Nashville, singer-songwriter Laura Reed rose to recognition with her south eastern/jam-based funk band Laura Reed and Deep Pocket, but took a turn towards more intimate and person soul, pop, and r&b for her breakthrough 2014 solo LP The Awakening. Channeling artists like Lauryn Hill and Amy Winehouse, the worldly singer is due for a new record, and recent singles suggest you're likely to hear some fresh tunes this weekend!

_
LOS COAST
Main Stage | 3:30pm

Austin, Texas based, psych-tinged, punchy, lyrical rock and soul outfit Los Coast only released their debut LP, Samsara, earlier this summer through New West Records, but are already making waves as a buzzy, genre-bending, fresh, must-know band to watch. Certain LOTG performers on the way up just feel guaranteed to return with an even more prominent slot in the future, and Los Coast are absolutely one of them- if you haven't yet checked this band out, make them a priority on Saturday!

_
WILD LOVE
615 Stage | 2:45pm

Fond of boldly proclaiming themselves "your new favorite band," thanks to their huge hooks, pop prowess, and slick production, Wild Love might just be able to live up to that mantle. Nashville based, the group met in Northern Virginia, with members hailing originally from Ireland, Turkey, and Germany. Having already shared the stage with acts like The Mowgli's, We The Kings, and Deerhoof, Wild Love's 2017 debut LP Where Do We Go From Here helped make them buzzworthy up and comers primed to break out in a big way.

_
BAILEN
Main Stage | 2:15pm

Made up of twins Daniel and David Bailen, along with their sister Julia, BAILEN made a stunning introduction with their debut LP Thrilled to Be Here earlier this year. Complete with complex, layered instrumentation, lush and enchanting harmonies, and genre-bending musical prowess, weaving effortlessly between soulful, transcendent, alt pop, anchored by a lifelong musical immersion (and raised by classically trained parents), we can't get enough of this band, and urge you to arrive early to see them in person!

_
KIDS FEST ft. THE HAPPY RACERS
615 Stage | 12:30pm
While the job of manning Live on the Green's Saturday afternoon Kids Fest has fallen to Mr. Steve and friends for a number of years, this year the fest is changing it up with local trio The Happy Racers. As expected, the band make fun and engaging music for kids, but pride themselves on taking a highly alternative approach, setting them apart in a more interesting way that parents will appreciate as well. If you're bringing the kiddos, they're sure to have a blast, but even kids at heart can arrive early and enjoy this set.

_
More from Live on the Green | Site | Facebook | Twitter | Instagram