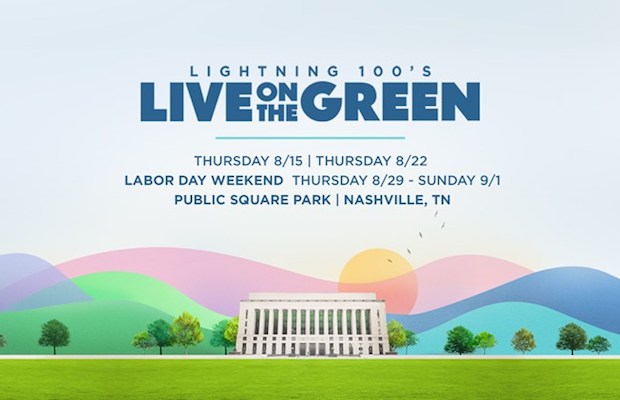 After an excellent first two Thursdays, Live on the Green is rolling to its 2019 conclusion with some serious momentum, as the epic four-day Labor Day Weekend finale of the 11th season of the annual, free outdoor fest begins Thursday, Aug. 29 at Public Square Park and continues all weekend through Sunday, Sept. 1. Once again boasting an exciting and stacked lineup, the final four days- the largest run of the festival ever- will feature around 40 performers across two stages (for context: earlier seasons had only 18 performers total across all six weeks)! After a great first night which included Gary Clark Jr., The Strumbellas, Yola, and Lucie Silvas, and a fun week two with Johnnyswim, Mat Kearney, Amanda Shires, and Will Hoge, you can expect a stellar lineup of O.A.R., St. Paul & The Broken Bones, Grace Potter, Lake Street Dive, American Authors, Guster, Aaron Lee Tasjan, Steve Earle, morgxn, Illiterate Light, Jukebox the Ghost, Lindsay Ell, and many more performers across the final four days.
Given the supersized nature of this year's finale, we're breaking it down with daily previews to help you prepare. Kicking off with Thursday, Aug. 29 (the first time LOTG has only run for three Thursdays in a season), O.A.R., Yacht Rock Revue, American Authors, and morgxn are set to play the main stage, and Maggie Rose & Them Vibes, The Daybreaks, and Briston Maroney will be holding it down on the 615 Stage. Bear in mind, there is some overlap in scheduling, so you'll want to keep an eye on the time if you plan to soak up as much music as possible. Preview all of Thursday's performers below, and look out for our guides to Friday, Saturday, and Sunday's slate as well!
Per usual, LOTG is free and all ages, and music will run Thursday and Friday from 5:15 p.m. to 11 p.m., Saturday from 2:15 p.m. to 11 p.m., and Sunday from 12:30 p.m. to 10 p.m. Gates open at 4 p.m. on the weekdays and noon on the weekend days, and there will be plenty of food and alcohol vendors on site to meet your needs. Parking is $10 at the Public Square Park Garage below the festival site and $5 at Nissan E and F lots across the Woodland St Bridge (except Saturday, when Nissan's lot will be unavailable), and various other garages and street parking options are available on the surrounding blocks (also, ride share is relatively simple with designated drop off and pick up spots). And finally, if you're looking to up the ante on your LOTG experience, VIP tickets and backstage passes are typically available for purchase, however they generally sell out in advance. Find out more about this week's finale below, and find out more about the entire season on Live on the Green's site.
O.A.R.
Main Stage | 9:00pm
Heading up the first night of the weekend finale, Maryland's O.A.R. (or Of a Revolution, if you like to get formal) have been going strong for over two decades, and are a favorite at festivals thanks to their rootsy, heartfelt alt rock sound, easy to get into whether you're familiar with their work nor not. They're not a jam band, but appeal to a similar crowd, adjacent to that scene (sort of like Dave Matthews Band), heralded as much for their honed live show and their impressive catalogue.

_
MAGGIE ROSE & THEM VIBES
615 Stage | 8:15pm
You're likely already familiar with Americana and blues infused local rockers Them Vibes and country meets soul meets rock meets r&b singer-songwriter Maggie Rose, but, in case you haven't heard, the two distinct but complimentary acts have been rocking out together as of late, releasing a groovy joint single, "Right On," earlier this year, and making some live appearances as a unit. LOTG marks their most exciting local stop yet, and we have a feeling this set is going to be quite the party.

_
YACHT ROCK REVUE
Main Stage | 7:30pm
Who knew a surprisingly earnest tribute to the '70s and '80s adult-oriented, west coast born, soft rock like Hall & Oats, Michael McDonald, and Steely Dan could be a career-making endeavor, but since forming a decade ago in Atlanta, Yacht Rock Revue have become one of the most fun and in-demand cover bands around. It's rare to see any cover band at LOTG, much less in a prime main stage spot, but that's just a testament to how much fun this group's celebrated live show is. Don't miss it!

_
THE DAYBREAKS
615 Stage | 7:00pm
Something of a local indie supergroup, we've been obsessing over local outfit The Daybreaks since they first sprung onto the scene a few years ago. Harboring an electro-infused, cinematic, and hook-laden synth pop sound, which definitely tips a strong nod to '80s nostalgia, the group's insanely catchy, polished songs seem primed to break out in a major way, and over the past few years they've honed a live show to match. Don't sleep on the 615 Stage, as it's full of cool, curated acts like this!

_
AMERICAN AUTHORS
Main Stage | 6:30pm
While one-upping their massive, career-making 2013 breakout single "Best Day of My Life" has seemingly proved to be somewhat elusive, Boston formed, Brooklyn based alt/indie/pop rockers American Authors have nonetheless stayed a consistent presence on the rock landscape in subsequent years, appearing at virtually every festival you can think of, and releasing two more solid full-lengths, most recently this year's Seasons. No strangers to Music City, AA are always a blast in concert!

_
MORGXN
Main Stage | 5:30pm
Nashville born, LA based indie pop singer morgxn has had an incredibly buzzworthy and well-deserved rise to prominence over the last couple of years, lighting up the blogosphere and breaking into radio thanks to tunes like "Home" (a 2016 song he re-recorded with Walk the Moon last year), "Carry the Weight," and recent jam "A New Way." Between festival stops, TV appearances, shows with likes of X Ambassadors, Skylar Grey, and Dreamers, and a great full-length debut, his LOTG outing promises to be a weekend highlight.

_
BRISTON MARONEY
615 Stage | 5:15pm
Knoxville raised, Nashville based singer-songwriter Briton Maroney first found a taste of fame as a contestant on American Idol several years back while still in his teens, but these days, the young singer has branched out far beyond his reality TV days to become an eclectic, well-rounded, and exciting artist to watch. Channelling a longtime love of folk, blues rock, psychedelic, and an earnest, indie singer-songwriter aesthetic, Maroney's recent EPs Indiana and Carnival deserve your undivided attention!

_
More from Live on the Green | Site | Facebook | Twitter | Instagram