Photo by Mary-Beth Blankenship.
Live on the Green 2016 Weekend Finale
Public Square Park; Nashville, TN
September 1-3, 2016
Review by Meredith Galyon, Matt Hall, Philip Obenschain, & Jacob Ryan.
Photos by Nolan Knight, Mary Beth Blankenship, & Jen Silver.
How does it all come to an end so fast? It feels like Live on the Green's stacked seventh season just got started, but in the blink of an eye, it has already come to a close, wrapping up a wonderful summer for music and we turn our eyes to the fall. The annual, free fest went out with a bang though, as this year provided the biggest finale in the continually growing event's history, following weeks of performances from Andra Day, Allen Stone, and White Denim, Jenny Lewis, Passenger, and JR JR, and Dawes, Kurt Vile, and The Record Company. Per usual, we were there to check it out, and we have a supersized review and photo set of LOTG's supersized weekend below!
THURSDAY
After sweating profusely (and audibly complaining about it) during the other nights of this year's LOTG, I was so happy to arrive on Thursday and find that the weather was actually amazing. That definitely helped set the tone for the kickoff of the three-day weekend, along with some incredible music, of course. [MG]
*repeat repeat. Photo by Nolan Knight.
*repeat repeat always keep things entertaining with their unique performance style. Between vocalist Kristyn Corder singing into a telephone that creates the distorted vocals reminiscent of the '60s vibes they're striving for, and husband Jared Corder bouncing back and forth between two microphones, it's always interesting to see what kind of stops they'll pull out. The highlight of the set was their new single "Plugged In", which I've had on *repeat repeat since I first heard it (see what I did there?) [MG]
The Revivalists kept things going with their Louisiana-infused Americana/soul sound, but most importantly with lead singer David Shaw's lively stage presence. He didn't miss a chance to jump out into the crowd and engage with the fans, who were obviously loving it.  [MG]
SIMO. Photo by Nolan Knight.
I headed back over to the 615 Stage in time to catch some of SIMO doing what they do best, which is fucking destroy some guitar solos. In addition to plenty of original material, the local trio took it back to the late '60s with a cover of Joe Cocker's "With A Little Help From My Friends," which was a fun note to end the set on. [MG]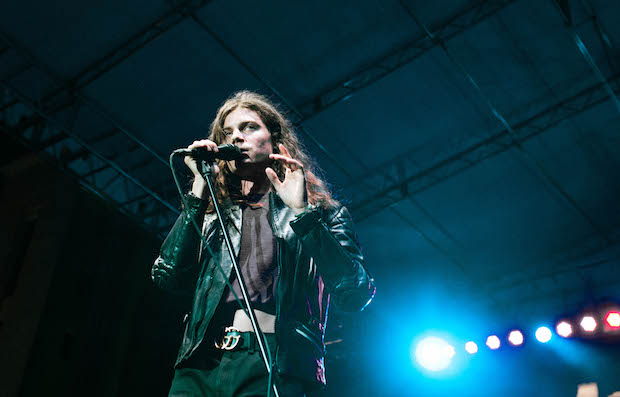 B∅RNS. Photo by Nolan Knight.
I have to say that I had a little bit higher expectations of B∅RNS than what I actually saw. The music sounded great, but he didn't seem particularly excited to be there. But whatever, he sang "Benny And The Jets," so I don't really get to complain. [Editor's note: we *loved* his Bonnaroo set though.] [MG]
COIN. Photo by Nolan Knight.
What's there to say about COIN that we, being the fangirls that we are, probably haven't already said before? These local pop-rockers have yet to put on a show that didn't have a ton of energy behind it or give us something to groove to. This time around it was their catchy new single "Talk Too Much" that got the crowd particularly hyped. [MG]
Young The Giant. Photo by Nolan Knight.
Young The Giant was, unsurprisingly, the best part of the night. I hadn't seen them since their Ryman show a couple of years ago supporting Mind Over Matter, and since their newest release Home of the Strange, is a little more psychedelic/electronic than their previous efforts, I figured their show would be pretty different. And it certainly was. Lead singer Sameer Gadhia waltzed out onto the stage in a gold sequined blazer and proceeded to show off his slick dance moves while belting out their new hit "Something To Believe In." There were plenty of older favorites scattered in throughout the set, like "Cough Syrup" and "Mind Over Matter", but the grand finale included bringing former Raconteur Brendan Benson out on stage to join forces for their new track "Jungle Youth" and then a cover of "Steady As She Goes," which was an incredible way to end the first night of the long weekend! [MG]
Photos by Nolan Knight.
_
FRIDAY
After spending last Thursday night at Live On The Green, it was a definite refreshment to have cooler weather on Friday night, and it seemed that the growing crowd was in full agreement.  I arrived just as The Sheepdogs were kicking off, and people were setting up lawn chairs and spreading blankets for what was to turn out to be one of the best nights of Live on the Green that I've experienced. [MH]

The Sheepdogs. Photo by Jen Silver.
The Sheepdogs may be from Saskatoon, but they channel the south as well as Creedence or The Band did from afar. The first thing I noticed about their set was the experience these guys have gained over the years.  I first saw The Sheepdogs in, probably, 2012, but they have clearly toured extensively for their two albums since then, and they brought a well oiled, no-bullshit rock vibe to Public Square Park that was worthy of a set much later in the evening.  Their tone swayed between that of 70s rock gods and a retro soul, the latter especially evident with a killer trombone addition on a couple of tracks. They've grown musically in the past five years, from rough and tumble rockers to more of swagger rockers with a more distinct voice that really stands out amongst their contemporaries.  If you somehow aren't familiar with The Sheepdogs, you are missing out on something special. [MH]
 Josh Farrow. Photo by Nolan Knight.
After scarfing down some grub, I moseyed over to the auxiliary stage, dubbed "the 615 stage," just as Josh Farrow was laying down his top single "Devil, Don't You Fool Me," and it was easy to see what all the hype was about. Josh has a bluesy, gospel style that fits well in the neo-soul movement that is so prevalent in today's music; but he lays it out in a style that is all his own, touching on numerous sub genres like gospel, blues, and folk that would probably round him into the Americana category, if he actually needed a place to call home.  We think he is going to find his way into a number of homes, when his debut full-length album, Trouble Walks With Me, drops on Oct. 28, and it is an record that should definitely be on your radar this fall. [MH]
 Rayland Baxter. Photo by Nolan Knight.
The past couple of years have been pretty monumental for Rayland Baxter. He signed a deal with ATO Records, who released his wildly well received Imaginary Man, and finally began to get the respect that he has long deserved. He seemed to fit right in on this Live On The Green finale weekend, and his soulful rock n roll was the perfect pacesetter for the Friday night set. His live show was an equal mix of his Paul Simon-esque songwriting carried by a soulful mix of jangly guitars and a steady blues beat backing his groovy songs. Baxter has spent a good portion of 2016 on the road, and it was evident by how tight he and his band were. They'll continue their run with The Lumineers for a few more months, which will bring Baxter back to Nashville for another huge show at Ascend Amphitheater later this month. Backstage there was chatter of Rayland heading back into the studio after he winds it down in the road, and we're looking forward to hearing what is next for this talented local artist. [MH]
 Daniel Ellsworth & The Great Lakes. Photo by Nolan Knight.
I somehow managed to extract myself from the intoxicating groove that Rayland was laying down to pop over to the 615 stage to catch some of Daniel Ellsworth & The Great Lakes, and arrived to a less than packed crowd. The two stage set up at LOTG certainly allows them to pack a lot more talent onto the bill, but the slightly out of the way location of the auxiliary stage makes it hard for casual fans to know it is there, or to risk losing their spot. That didn't stop Daniel and his talented band from pouring every ounce of their soul into the performance, and the fans in attendance were beyond supportive. They tore through their set, packed with hits from their past two records and latest EP, and, being their with a friend that had never seen them before, we got to play the "Who Do They Remind You Of?" game. He heard Jack White mashed up with an upbeat Morrissey, but he mostly sat in awe of the drummer, Joel Wren. As someone who has seen this band dozens of times now, it's awesome to get a fresh perspective, but it's always good to see Daniel Ellsworth & The Great Lakes perform their amazing, always danceable, live show.  It was also great as I was turned around to head out to see that the crowd had grown significantly to give these hometown heroes some love. [MH]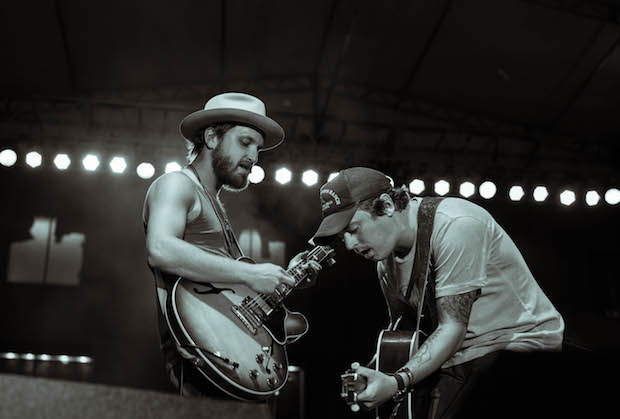 The Wild Feathers. Photo by Nolan Knight.
I've seen The Wild Feathers in venues big and small, and this is my second time seeing them at LOTG. I distinctly remember friends at that first LOTG being introduced to them and becoming mega fans, and it was awesome to see The Wild Feathers with those same friends, and the rookies they brought along, again at LOTG this year. No Country collectively has seen this band dozens of times over the past few years, our last time being at the Ryman and our writer who covered told me that they seemed nervous at first, which is totally understandable being their debut at the famed Mother Church, However, at LOTG on Friday night, the band were right at home, and hitting on all cylinders from the first note. They captivated a crowd that was surely partly there to see the likeminded Band of Horses later that night, but that also had to bode well for their ever expanding fan base. Fans, brand new and old, soaked in their twangy rock jams, just like I did the first time I saw them playing a residency at The High Watt back in the day.  It's amazing to see how far The Wild Feathers have come in such a short period of time, but it's not surprising when you see them totally own a crowd the size of Live on the Green. [MH]
 Nikki Lane. Photo by Nolan Knight.
I left the crowded field to catch some of Nikki Lane at the 615 stage, and arrived just in time to see the East Nashville outlaw country queen, dressed in her finest rhinestone leotard, rip into her banging single "700,000 Rednecks" to get the crowd moving in the right direction. It took us a minute to recognize Aussie singer Ruby Boots on stage harmonizing with Nikki, but it didn't take any time to recognize Nashville legend Buddy Miller come out to join Nikki for "Gasoline and Matches" and "Right Time." She finished with the Bob Dylan classic "You Ain't Goin' Nowhere," and even brought her mother out to sing background and even lead a verse of the iconic song.  We've seen Nikki in settings ranging from an AmericanaFest stage at Mercy Lounge to the dingy stage at the American Legion to a festival stage at Pilgrimage Festival, and regardless of where she is performing, her larger than life personality and genuine talent make her feel right at home.  [MH]
 Band Of Horses. Photo by Nolan Knight.
Since 2006, I've seen Band of Horses a dozen or so times. The first show was at a tiny venue in New Orleans two month or so after the release of their incredible debut album, Everything All The Time. Now ten years and four albums later, I feel like I know what I am getting myself into when I see the group live, but always tend to find a new energy when the show actually starts.  Perhaps it is the weather or the venue, the crowd or my general mood, but Band of Horses always rise to exceed expectations, when I expect the show to be just another notch on my Band of Horses bedpost.  Frontman and band leader Ben Bridwell has become an expert at showcasing a laid back style, both with his music and on-stage attitude, and that swagger clearly caught the attention of a rabid fan base in attendance on Friday night.  Away from my usual side stage perch for this set, it was more apparent than any BOH show in recent memory of just how huge their fan base really is.  This could be due to continued success of the band's later albums, which have churned out radio hits, like the latest, "Casual Party;" or it could be that the band isn't a collection of singles, rather a catalogue of relevant and powerful records that have caused many of us to actually stop, think, and relate while listening to their music.  That would hold true for "greatest hits" tracks like "No One's Gonna Love You," "The Funeral," or "The Great Salt Lake" for me, and, based on the roar of the crowd during the first few notes and subsequent sing-alongs for each, I wasn't alone.  Until we meet again Band of Horses… [MH]
Photos by Nolan Knight.
_
SATURDAY
While I miss a longer Live on the Green season ending during the actual fall (watching music in Public Square Park in hoodie weather seems like a distant memory), I definitely appreciate the three-day format adopted two years ago, since it allows the fest to book bigger and more diverse acts than they could with the three-act Thursday only setup. I was out of town the final weekend last year, when a second stage was added to the mix as well, so I was very eager to check out the extra-stacked finale, and after stellar music on Thursday and Friday, Saturday's day-long bill felt like the perfect way to bid another season farewell. [PO]
 Aubrie Sellers. Photo by Mary Beth Blankenship.
Not being especially plugged into the world of country, I confess that I didn't know much about Aubrie Sellers aside from hearing her name in passing until we previewed her ahead of Bonnaroo this year. Not just local, but the daughter of accomplished artists Lee Ann Womack and Jason Sellers, her refreshing and eclectic "garage country" style stuck with me, despite the fact that I missed her 'Roo performance. Excited to have a second chance to see her, and a free one to boot, I arrived just as she kicked off her set, energetic and electrifying despite the early hour and modest crowd. Sellers' voice was powerful and her presence hypnotic, a natural born talent and a refreshing beacon of individuality amidst a country scene that often leans heavy on convention. I went in casually curious, and left a fan of Aubrie's, as rock and roll as she is country, her bridging of genres perfectly fitting for the diverse day ahead. [PO]
 Bassh. Photo by Mary Beth Blankenship.
Earlier in the day, the auxiliary 615 Stage served to host the kids fest, curated and headed up by Mr. Steve and featuring a bevy of guests. By afternoon, however, it had transformed into a fantastic melting pot of local performers, beginning with new indie pop duo Bassh. With literally just one publicly released track to their name, I went in with few expectations, but trusted their pedigree, since I'm a huge fan of the duo's main gig, North Carolina folk group Matrimony. While their layered, harmony-laden, and diverse musical sensibilities remain, Bassh are a distinctly different and pleasantly divergent project, relaying heavily on dense, layered, poppy instrumentation and catchy hooks. Rounded out with backing players, the group played through a ton of great, polished tracks, none of which I knew aside from "Body." I dug every minute of it though, and, despite a less than impressive early afternoon turnout, they performed with a seasoned and professional polish carried over from hours logged on the road with other projects. Very much at home in Nashville's current indie pop landscape, I'm very eager to hear more from this buzzy new band soon. [PO]
 Elizabeth Cook. Photo by Mary Beth Blankenship.
Given the reputation and makeup of our city, I'm surprised there hasn't been more country at Live on the Green over the years, but thanks to Lightning 100's expert curation, the few performers who met that quota this season harbored plenty of individuality and crossover appeal. Back with a fantastic new album after an extended absence, local songstress Elizabeth Cook bought her raw, old school, earnest vibe as the field began to really fill. Giant sunglasses and electric mandolin in tow, Cook's aura was that of an effortless badass, and after more than 15 years as something of a celebrated underground country hero, her repertoire and confidence are unmatched. After a few years of losses and setbacks, Elizabeth's music, especially her latest, seems like a necessary form of escape, and as she interjected personal details and anecdotes between songs, and sang with a passion and urgency few performers can channel, her set felt atypically intimate for such a large stage. Though not "outlaw" country per se, her sound certainly stands opposed to mainstream radio slop, and Elizabeth couldn't be any more the real deal when it comes to honest, American songwriting. Her short performance was perhaps the day's biggest outlier, but only served to showcase the range of talent in our wonderful city. [PO]
 Alanna Royale. Photo by Mary Beth Blankenship.
Though I write about them and talk about them and praise them all the time, I realized it had actually been way too long since I last saw locals and longtime site favorites Alanna Royale live. Greeted by a few new faces in the band (geez, how long has it been?), an army of players crammed on the modest 615 Stage, their frenetic show began with an extended musical intro, before frontwoman Alanna herself, donning purple lipstick to match her purple hair, erupted into song with her commanding presence and overworldly, soulful voice. Summoned by the sound, showgoers began to cram into the corridor, packing in to catch a glimpse of one of Nashville's most dynamic live bands. Somewhat reserved in banter, likely in attempt to conform with the family atmosphere (early on, Alanna declared "this is grown folk's music," just in case anyone made the mistake of assuming otherwise), the band's boisterous stage manner was still present,  and a few times throughout Alanna spoke out against both nearby religious protestors and Confederate flag-bearers, using her platform to preach equality, love, and acceptance (and also rallying the nearby marijuana legalization activists to her cause). Balancing old and new material (and announcing that their new album is finally just months from release), the band – horns, backup singers and all – blew through their set jam-packed with spirit and soul, eliciting dancing, singalongs, and crowd participation, all the while kicking up the energy and setting the bar high for the evening, cementing their status as one of Music City's most talented acts. I've seen Alanna Royale more times than I can count at this point, but I never get tired of their transcendent show and unbeatable spirit. [PO]
 Bully. Photo by Mary Beth Blankenship.
Live on the Green marked my sixth time seeing Bully this year alone, fifth in a festival setting, and fourth is just as many months (not to mention like 12th overall), all without really trying. I almost feel overqualified to review them at this point, as I've seen them in every setting, at every energy level, and at every stage of their career. Ascending from a scrappy, DIY grunge pop project helmed by frontwoman and creative force Alicia Bognanno, the band have, in just a few short years, grown into one of Nashville's most exciting, relevant, and celebrated bands, poised to perhaps become one of the city's biggest rock and roll success stories of all time. Bully are unrelentingly unique, blending '90s alt sensibilities with contemporary punk flair, and since their celebrated debut LP and the year of constant touring that's followed, they've forged a fiery, sonic gut-punch of a live presence, which, when it's firing at all cylinders, is one of my favorite shows in the world right now. Short of winning a contest (which they're too big for at this point) or further graduating to mainstream breakthrough success, I honestly never would have expected Bully to play Live on the Green. It's not that they they're that far out of Lightning's base of coverage ("Trying" gets some spins), or that they're a far-cry from their Nashville peers, it's just that they seem a little too punk, which doesn't necessarily jive with the family fest vibe. Spoiler: they were too punk for Live on the Green, and it was fucking awesome.
I briefly wondered if Bully might tone down their live show, which has only become more raw and intense in recent months, to fit the LOTG vibe, but that notion was immediately quelled, as the group erupted into their set with the same bombastic, uncontainable energy as always, Alicia's visceral vocal style and unfazed attitude on full display. Admitting it was their first time even attending Live on the Green, they definitely seemed aware that they were the oddball on the lineup, but didn't allow that to have any bearings on their performance, which, after a summer of high-profile festival outings, still works wonderfully on a big outdoor stage. Surely a chunk of the crowd had no clue what they were watching, though Bognanno still attempted to make conversation ("Where are all the dogs at? Shit. I saw a million just a second ago."), but the real indicator of Bully's pull was the several hundred people crowded against the front, determined to turn Live on the Green into a certifiable punk show by moshing and crowd surfing throughout. The nervous security, heckling audience, and sheer hilarity of fans going apeshit in like a 20×20 section of a huge, sparse field, was enough to make the band laugh mid-song on multiple occasions, but it also seemed to keep the energy and urgency going hard, prompting Alicia to sing from atop the speakers, dive into the pit, and banter with unruly fans. Aside from virtually every song in their lean repertoire, the rockers continued their recent trend of featuring covers, the high point of which was a take on X-Ray Spex classic "Oh Bondage Up Yours!," where bassist Reece Lazarus emerged with a saxophone and Duke's owner Sara Nelson took over on bass, making for the most raucous moment of the show. Bully's set was the most punk thing I've seen, and likely ever will see, at Live on the Green, and holy shit it was a blast. [PO]
 Los Colognes. Photo by Mary Beth Blankenship.
Coming off of the high, unpredictable energy of Bully, Los Colognes' chilled out vibes and jam-ready attitude definitely felt a little deflating at first, but proved to be exactly what I needed to reset, calm down, and prepare for a bunch more music. Especially with their latest batch of songs, the band have really settled into their own as a Grateful Dead-esque eclectic, tight live force, working best when experienced in person. I was surprised to hear them announce that they have a new record on the way, so soon after last year's Dos, but it's always great to have new music to look forward to, and the respectable crowd seemed to be eating up every minute of it, especially the older, grey-haired couple next to me dancing and going absolutely crazy like they were at Bonnaroo. Hours of music wearing me down, and with no changeover between sets (a definite perk, since there's no downtime, but also a hurdle when needing a break), I grabbed some food and tossed back a drink, vibing to the sounds of Los Colognes and people watching as I collected my thoughts and got ready for The Weeks. [PO]
 The Weeks. Photo by Mary Beth Blankenship.
Another local favorite I love and write about often, yet hadn't managed to catch in far too long, The Weeks are LOTG veterans, and returned as their long-awaited new album finally nears release. Though their Mississippi roots will always be an integral part of their sound and identity, the boys have called Nashville home for so long at this point, that they feel fully assimilated into the local scene, and they're certainly one of Music City's most promising breakout successes of recent years. At this point, I know exactly what to expect at a Weeks show – Southern-tinged, high energy alt rock absolutely dripping in passion and eclectic stylings – and that's exactly what they delivered, sounding as seasoned and mature as ever. The group play with a tightness few bands can claim, and it's not just the twin synergy between frontman Cyle and drummer Cain Barnes. Prowling around the stage impassioned and magnetic, Cyle seemed larger in presence than ever, as the band showcased new songs and fed off of the insane energy of the hometown crowd. As the evening loomed, the last night Live on the Green crowd became absolutely packed, and with abundant enthusiasm towards one of the weekend's most celebrated local rockers, I couldn't help but think The Weeks (and maybe Moon Taxi too) should really just be granted annual Live on the Green residency; they're simply primed for this fest, and never deliver a show any less than fantastic. [PO]
 Mountains Like Wax. Photo by Mary Beth Blankenship.
As Nashville's population swells and new, talented bands form year after year, Lightning 100's annual Music City Mayhem competition, which awards one fan-voted winner an opportunity to play Live on the Green, only seems to become more insanely competitive each season. Though I've long been a fan, Murfreesboro based Southern post-rock newcomers Mountains Like Wax felt like a definite dark horse, yet still a band I found myself rooting for. Incredibly, they won this year's contest, and deservedly earned their way onto the fest. This is significant not just as an accomplishment for a relatively new, young band, but also because it signifies a change in Nashville's burgeoning sonic landscape; the city's indie scene is flourishing with talented groups in the vein of Mountains Like Wax, and though this new crop of acts are doing some really amazing things, they've yet to catch the attention of local institutions like Live on the Green, or the broader media eye (except for us, duh). Lit with moody, stylish stage lights and rounded out by a full band of backing players, the duo launched into what was undoubtedly one of the weekend's most interesting and unique performances, packing in a ton of earnest, emotional resonance and sweeping and inventive sonic textures. The group's dynamic control and ambient, haunting melodies and arrangements helped accentuate their heartfelt songwriting, and their set, encouraged by legions of friends and fans, came across incredibly genuine and humble. Performing tunes from their debut EP and beyond, Mountains Like Wax reinforced just why they earned their way onto the fest, and they left a lingering impression that has me very eager to see and hear more from them again as soon as possible. [PO]

Judah & The Lion. Photo by Jen Silver.
Willing, but ultimately too lazy/comfortable on my couch to sweat it out at the day shows, I didn't leave the house until 7pm, when the "live music itch" finally got the best of me. After exiting my Lyft when the traffic thickened on 1st, I hustled my way up to Public Square Park, and secured a good spot while Judah & The Lion were setting up. I'd written about the local folk meets hip hop meets rock 'n' roll band before, during our Bonnaroo 2016 previews, but I still hadn't had the chance to see them live.  I have to admit, I had reservations, with rap rock train wrecks like Limp Bizkit still fresh in my pre-millennial mind. However, I assure you that these guys not only pulled it off, they hit it out of the park.  Frontman Judah Akers was a whirling dervish of energy, frenetically high stepping up and down the stage in his cloak/hoodie, alternating between a rap cadence and typical rock vocals. Over-all, as they powered through their set, I realized they were way more indie rock than I expected. Throughout the set they'd also slide into mini-medleys of big time covers to transition into their next original song.  Parts of Kiss's  "I  Wanna Rock N Roll All Night," and R. Kelly's "Ignition (Remix)" were represented, the latter featuring some hilariously choreographed booty shaking from the band. My favorite original track of the night was their insanely catchy "Hold On," with its break-neck guitar strumming, and lightning quick banjo picking. Despite my skepticism, I was so blown away by Judah & The Lion, I am now eagerly awaiting their upcoming set at The Ryman this winter. If you haven't had the chance, give them a shot, and I dare you not to have a good time in the process. [JR]

Gabe Dixon. Photo by Jen Silver.
With the crowd swelling to near capacity size, I was faced with the classic festival dilemma. Stay at the main stage and secure a great spot for the headliner, or leave for another show at the smaller stage and risk nosebleeds upon returning. Although Gabe Dixon is on my "to see" list, I'm already a HUGE fan of Ben Harper, and after seeing him perform with The Innocent Criminals at Bonnaroo 2015, he's achieved "never to be missed" status (even at a free show). Alas, I made my decision to hunker down for primo spots for Ben. Luckily, our photographer did make it over to snap some photos, but, Gabe, I'll catch you next time.   [JR]
Ben Harper & The Innocent Criminals. Photo by LOTG Photographer Kyle Dean Reinford.
Taking their time setting up, including flopping out their impressive gig rug, Ben Harper & The Innocent Criminals have a seemingly effortless, laissez-faire air to everything they do. It's obvious they've become very comfortable in their own skin after over two decades of making music. They came out guns blazing, and by the second song Ben had taken out his signature lap steel guitar, channeling some Led Zeppelin during the break down in the middle of "Faded." After jamming that song out for all it was worth, they came right back with crowd favorite "Steal My Kisses," repeating the iconic opening line ("I pulled into Nashville, Tennessee") twice for the home team. We all ate it up, as we sang along. They showed their tremendous versatility during another jam, slipping into some reggae and doing a few lines from Bob Marley's "Trenchtown Rock," much to everyone's approval.  Soon came another radio hit, "Diamonds On The Inside," and later they performed a new, unrecorded song with guest vocalist Rebecca Schlappich of Mariachi El Bronx. Wonderful to hear Ben and his boys are still hard at work creating new music. We all knew they'd close it out shredding, and they didn't disappoint. After it was all finished, and LOTG packed it up for another year, I have to say I was left near speechless. The fest gets better and better every year, with bigger and bigger names, so we truly cannot wait to see what's on deck for 2017! [JR]
Photos by Mary-Beth Blankenship & Jen Silver.
_
[MG] – Meredith Galyon
[MH] – Matt Hall
[PO] – Philip Obenschain
[JR] – Jacob Ryan