A week ago today, we were arriving in Louisville, Ky. for the annual Forecastle Festival. A three-day celebration of music, art, and activism set on the banks of the Ohio River, Forecastle is more than just a junior version of Bonnaroo. Though the two events share a similar vibe (and a common promotional partner), Forecastle has a markedly different aesthetic, a slightly different crowd (waaaay less hippies), and a more reeled in musical focus. This year's lineup boasted a pretty eclectic and pretty epic assortments of bands, both national and regional, and, despite only showcasing four stages, we never had a moment of downtime throughout its incredible 2014 weekend. Below, you'll find a recap of what we saw! Unfortunately, we only had a photographer for the final stretch of the final day, but, since Forecastle's lineup boasted a plethora of bands we've shot before, we filled in with stock photos from some of our favorite previous shows, to keep things interesting. Enjoy!
FRIDAY
Against Me!
What a way to start off my first day of my first ever Forecastle. Arriving late, I wasn't sure if I would make it in time to see the punk rockers. The check-in process was a breeze, however, and the lack of a line allowed me to rush to the stage just as the group launched into fan favorite "Teenage Anarchist," and to catch at least half of their explosive performance. Seeing Against Me! always feels like a larger-than-life experience, and Laura Jane Grace and co brought every bit of the fire and passion that they're known for to the Forecastle stage, even if their afternoon crowd was a bit thinner than they deserved. Especially touching, the frontwoman brought her four year old daughter out to wave to the audience before making her exit. [PO]
From File: Against Me! Photo by Mary-Beth Blaneknship.
Gary Clark Jr.
I took the day off of work and planned an early escape from Nashville to catch as many bands as I could, but the gods of life took me in another direction.  Arriving around 4pm after numerous holdups and phone calls, I finally arrived, checked in, got credentials, and was ready to catch music just as Gary Clark, Jr. took the stage.  I've seen GCJr on numerous occasions at this point, and thought I was ready to be eased, along with my first cold beer, into festival mode.  However, this was not the Gary Clark Jr. show that I was used to seeing.  This was Gary Clark Jr. on a huge stage with a massive sound, ala the video that first made me take notice.  This show set me solidly on the way to having a fantastic weekend, and the huge sound would become a recurring theme in the chilled out park under the freeway. [MH]
From File: Gary Clark Jr. Photo by Shawn Jackson.
Local Natives
Sauntering around Louisville's Waterfront Park is half of the joy of that festival.  It is accessible, tolerable, clean, urban, and relaxing, so the music of Local Natives powering through the PA of the Boom Stage was really just pleasant back ground music as the rain teased and my worries melted away.  Having seen them most recently as a part of last year's Live On The Green, it was another reminder just how solid of a band Local Natives really are. [MH]
From File: Local Natives. Photo by Jake Giles Netter.
twenty | one | pilots
The group of friends I made the trek to Kentucky with had never seen twenty | one | pilots live before, so, of course, I insisted it was a priority. Whether or not you're familiar with their music and whether or not you're fan, the Ohio duo are, inarguably, a live force to be reckoned with; an energetic, unpredictable ball of energy with unparalleled musical talent to boot. While the backflipping, stage climbing antics of last year's Bonnaroo were curbed (at least for the stretch of the show we saw), the group delivered an explosive performance, complete with crowd surfing a drum set, donning their signature masks, and somehow making a ukelele super cool. If you ever have a chance to catch these guys, like at their upcoming fall date in Nashville, don't hesitate! [PO]
twenty one pilots. Photo by Kara Smarsh via Forecastle.
Spoon
As the rain was threatening, we escaped back to the hotel to reconsider our previous clothing options, but returned in time for Spoon.  This was my only frustrating moment of the weekend, and I'm going to chalk it up to the booze.  Personally, I was feeling great, but the people around me were apparently taking this happy hour to the extreme.  Let me back up, Spoon are one of my favorite bands.  I can sing along (though I didn't, you're welcome) with pretty much anything they may choose to play.  I was close enough to hear, and in the mix, but the crowd seemed more interested in flirting and talking about their week at work.  After quite a bit of maneuvering, I found a sweet spot as the set was winding down.  Luckily for me, this is not my first Spoon show, otherwise, the rest of the night would have been more of a bust. [MH]
From File: Spoon. Photo by Jake Giles Netter.
Leagues
Biding time until Outkast, I wandered to Forecastle's cozy and tucked away Port Stage to catch a bit of Nashville's own Leagues. One of several fantastic Music City acts to grace the lineup (a sign of any great festival, in our opinion), Leagues were as predictably fun and polished as one would expect. They did mention that it tends to rain every time they play Louisville, and, by this point, the weather was getting gross, so, Leagues, if you've done something to piss off the weather gods of Kentucky, at least try to give us a heads up next time! [PO]
From File: Leagues. Photo by Jake Giles Netter.
Outkast
Since news of an Outkast reunion first broke, I've been determined to catch them. Perhaps the first major hip hop group I truly latched onto as a teenager, Outkast are one of the few bands I really love that I never had a chance to see while they were active. I was holding out for a Bonnaroo appearance, since the Atlanta boys are gracing the lineup of almost every festival on the planet this year, but, due to other performance commitments, Forecastle ended up being their closest outing. This was literally my deciding factor in choosing to attend, and, fortunately, it was more than worth it. After a bit of a rocky start and some in-group tension, Outkast seem to have worked out the kinks of their 20th anniversary comeback show. Epic in scale but intimate in delivery, the career spanning spectacle featured an incredible backing band, a video cube that projected holograms, and a hell of a lot of technical skill from both Andre 3000 and Big Boi. The predictable hits ("Ms. Jackson," "So Fresh So Clean," "Roses") were all there, but the expansive inclusion of older and lesser known hits provided a true fan service, and the enthusiasm and chemistry with which they were delivered has me hoping this reunion might go on longer than planned. Even if it doesn't, getting a chance to see these legends live (and getting a chance to see Andre 3000 invite a bunch of female audience members on stage to "shake it like a Polaroid picture" during "Hey Ya!"), was an absolute highlight of my Forecastle weekend, and of my entire summer. [PO]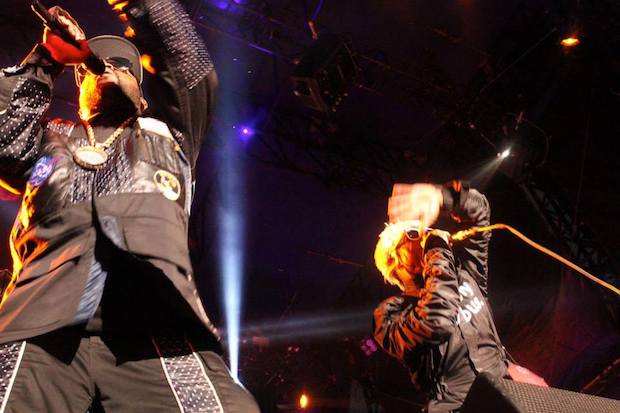 Outkast. Photo by Jill Sanders via Forecastle.
The annoying fans at Spoon would have made the weekend more of a bust, but then Outkast got started.  I'll be honest, I had low expectations for this show.  The rumors of in-fighting, and the fact that hip-hop just doesn't always stack up live were lingering in my mind as I made my way into the viewing area for the Friday night headliner.  Let's put it this way, those reservations melted away within minutes of the seminal '90s fresh-hop (did I just make that up?) taking the stage.  These guys were on-point.  Playful and energetic, they tore through hits as a light rain wetted a near capacity crowd.  The hype of the crowd was best exemplified when I returned from a beer run unable to find my partner.  I texted with "Raise your hand so I can find you," and at that moment, the first notes to "Ms. Jackson" started up.  Seeing the futility in my initial text, the follow up was "Nevermind.  See you after the show."  Bravo fellas. [MH]
Photo by Mary-Beth Blankenship.
SATURDAY
Hurray for the Riff Raff
We've been on the Hurray-wagon for a while now.  We brought them into an intimate warehouse space for a show a couple of years ago, and have caught most of their performances around town since.  So, as the coffee and pastries were fighting through our mild morning hangovers, we sauntered up to catch our pals starting the day off at the Boom Stage.  I have never heard HftRR sound as full and impressive as they did on Saturday morning.  Perhaps, it was their soothing touch to my mild hangover, but, more likely, it is the fact that they are a stellar band that finally had a PA that gave them the push they needed. [MH]
Anwar Sadat
Anwar Sadat was a brief stop in to see an unknown band.  As I was listening to the aggressive post-punk trio from Louisville, I decided to do a little research, especially since I had, for some reason, convinced myself that this was going to be a hip-hop act.  Needless to say, the loud raucous local punkster are named after the slain Egyptian president and peacekeeper, and there wasn't a "rhyme" to be heard under that bridge.  Anwar Sadat were one of my finds of the weekend, and I will keep open eyes and pleading arms for their next Nashville date. [MH]
Photo by Alex Holt via Forecastle.
The Soul Rebels
"Lemme hear ya say… Sooooooul Rebels". Those of you that have known me the longest, know that I spent quite a few of my formative years in New Orleans.  That means while you may have been following punk, garage, and hip-hop acts around your college town, I was following brass band, and literally scheduling classes around weekly performances from the likes of Kermit Ruffins & The Barbecue Swingers, Rebirth Brass Band, and… Soul Rebels.  As with most New Orleans brass bands, these aren't skinny jeans wearing, thrift store shopping musicians, these guys are the real fucking deal.  The crowd was light, but the spirits were high, especially for covers "Hard Knock Life" and the now infamous "Get Lucky."  [MH]
Boy & Bear
Running late on Saturday, I b-lined for the Boom Stage upon entry to catch a bit of Australia's Boy & Bear. I first discovered the group at a tiny CMJ showcase several years back, and it's been a real treat to witness their incredible career trajectory ever since. The folky, indie rockers have shaped their live show the good old-fashioned way: through nonstop touring. And, at Forecastle, it really showed; the group commanded the audience's attention from the first note, and captivated throughout. [PO]
Spanish Gold
I've listened to Spanish Gold.  I've seen Spanish Gold on bills that I couldn't make it to around town.  I even saw some killer photos from one of our pals, Jake Giles Netter, of Spanish Gold performing behind Grimeys.  However, I had never seen Spanish Gold.  Enter another one of my picks for "Forecastle Finds", these guys are the real deal.  It's an upbeat Band Of Horses, a downtempo Black Keys, a less psychedelic My Morning Jacket, it's…. well, it's fresh, if that is even possible in the days of bedroom records.  I'm going to nod my head again to the amazing soundsystem booming out of the Mast Stage on Saturday afternoon, but I'm also going to tell you to make it a point to check out Spanish Gold the next time they come through town. [MH]
Lord Huron
Always dependable, Lord Huron have become something of festival staples in recent years. I've watched them grow from The High Watt to The Ryman here in Nashville, was impressed by their Bonnaroo debut two summers ago, and, of course, was proud but in no way surprised by their gigantic crowd at Forecastle. While I've seen these songs performed numerous times at this point (what's a guy gotta do to get a new album already?), it's nice to see Lord Huron ditching some of the clunkier bits of concept art and the neo-cowboy aesthetic that overtook their earlier shows. Now, it's more about the music, and the music is damn good. [PO]
From File: Lord Huron. Photo by Mary-Beth Blankenship.
Avey Tare's Slasher Flicks
The end of the surprise Spanish Gold set, and the start of the highly anticipated Avey Tare's Slasher Flicks left us with no choice but to forego Lord Huron.  Decision made, we found ourselves at an Animal Collective concert under the freeway.  Those of you that know Avey Tare, know that he is a founding member of the experimental, Baltimore, electro-rock outfit, so this shouldn't come as too much of a surprise.  However, if you've heard the playful less experimental tracks from Tare's recent, Enter The Slasher House, you may have been taken a back for a minute… but only for a minute.  The live show was like the former band remixing the new, and it came off to great effect.  It's pop songs that punch you in the gut… hard, and force you to dance.   [MH]
Sharon Jones and the Dap-Kings
Admittedly, I'm not a huge Sharon Jones fan. That's only due to a lack of exposure, however; what I have heard of Ms. Jones' music I've loved, but, for whatever reason, she's an artist whose records I haven't had chance to give a fair shake, and who I have only caught live in snippets at a festival or two. In sheer determination to be front and center by the time Jack White rolled around, my group and I trudged forward during Jones and the Dap-Kings' set, and I was truly moved by the talent, relentless passion, and infectious joy Sharon brought to the stage. She's the true embodiment of a classic soul singer, and her band is one of the tightest and funkiest around. [PO]
Band of Horses
When last I saw Band of Horses, they were performing an album called Acoustic at The Ryman acoustically, at The Ryman. While it was a unique and intimate experience, it left me yearning for that meatier, full-band Band of Horses sound, which I haven't caught live in years. A huge fan of the group's first two albums, my interest dropped off a bit with recent releases, and, similarly, their Forecastle set captivated me at points, but failed to hold my attention for several stretches. They're straightforward and they're great, but when you're biding time until the transcendent experience that is Jack White, it's hard for anything else to hold a candle. [PO]
From File: Band of Horses. Photo by Mary-Beth Blankenship.
I've had some moments with Band of Horses in my time, and this was my first time seeing them since they first broke in 2006.  I've kind of fallen off of the bandwagon, but wanted to give it a go in a non-committal festival setting.  The songs were good, and they were about a million times tighter than when I first saw them at that little club; the main thing that stood out to me was how much older they looked.  I mean, they might have looked at me (if they knew me) and said the same thing, but, seriously, fellas, make sure you are taking care of yourselves. [MH]
Slint
I jumped on the Slint bandwagon late, but I know a lot about music, right?  I wanted to buy the t-shirt to show that I belonged, but I clearly didn't.  The fans at the show under the freeway had been through thick and thin.  They knew the words to every song.  I knew three songs.  I loved the energy.  I loved the crowd.  I loved the passion.  I loved the music.  Some consider them the fathers of post-rock, and, in my mind, there is still rock today.  So, let's do it all over again!!!  I think it will happen. [MH]
Jack White
Getting a chance to witness the rock and roll hurricane that is Jack White twice in a mere span of six weeks, first at Bonnaroo and then at Forecastle was an indescribable treat. Arguably the last true rock star of our generation, White, who is out in support of his explosive new album, Lazaretto, owns the stage and the crowd in front of it from the moment he walks out. I had worked my way to the very front by the time he began, and that, alone, helped rival Bonnaroo for me. While the former White Stripe's Bonnaroo outing was stuff of legend, and certainly caught him in a more talkative and transcendent mood, Forecastle was an equally enjoyable and nearly musically identical experience. Standout moments included a brief snippet of a Jay-Z cover during "Icky Thump," White bringing a small child and his mother up to stand side stage, and an incredible 8-song encore, which, in of itself, might have been more epic than 'Roo. [PO]
From File: Jack White. Photo by Mary-Beth Blankenship.
Not since my trip to the Ryman to see White perform have I been so moved.  This man literally owns the stage.  He is surrounded by AMAZINGLY talented musicians, but the spotlight lays directly on White.  I skipped out on the "live" Bonnaroo experience, partly because of exhaustion, partly because of the crowd, partly because of Nick Cave, but mostly because I knew that I was going to see The White Stripe, Racounteur, Dead Weather, Lazaretto man at Forecastle.  While his sprawlingly epic Bonnaroo set (I watched it in a guest hospitality tent) was the stuff of legends (as was discussed for the rest of the weekend), the brief two-hour Forecastle set didn't leave time for talking and getting to know one another.  It was a down to business, time to rock the fuck out, moment of sheer perfection. [MH]
SUNDAY
The Weeks
While I (and most everyone at No Country) have seen The Weeks countless times, everywhere from grungy little rooms to admirable supporting slots on bigger stages, I don't think I've ever seen them draw quite as many enthusiastic fans on their own as they did at Forecastle. Kicking off what turned out to be a pleasant Sunday, the Nashville (by way of Mississippi) boys did Music City proud with a killer set, tighter and better sounding than they've ever been. [PO]
From File: The Weeks. Photo by Amber Davis.
I'll let Philip do most of the talking here, but the highlight of starting my day with The Weeks was seeing this local band, that we probably take a little bit for granted, just own the stage.  Again, I am going to mention the incredible sound systems that they had and the incredible layout of this festival venue, but it's another situation of watching local guys, who we've seen a dozen times, play in front of a crowd we don't know.  It's invigorating to see fans, LOTS of fans, singing along to someone that we consider family. [MH]
Lucius
I first fell victim to the alluring siren song of Lucius last summer at Bonnaroo. Since then, I've kept up with the band in passing, making a point to spin their fantastic debut when it was released last fall. While I was feeling the effects of Sunday's sudden burst of heat, combined with a lack of sleep, I dragged myself over to the main stage to catch the last few songs of their set. The Brooklyn group didn't disappoint (they never do) but something seemed a bit faded in the scope of their show for such a large crow; definitely catch them in a club if you have the chance. [PO]
Lucius. Photo via Forecastle.
Seluah
I was hanging with locals on Saturday night, and was introduced to a member of Seluah in the VIP tent.  During brunch on Sunday, one of the local friends reminded me not to miss Seluah, so I wandered over to the far distant Port Stage to check them out.  We could still hear Lucius across the small marina from the main stage, but those cute dolls were drowned in a wall of instrumental rock wails when the show started.  Heavy but not, sludgy but clean, post-rock but psychedelic… Seluah hit on all cylinders.  This was another top find of the weekend. [MH]
Sharon Van Etten
I kinda have a thing for Sharon Van Etten.  Not in the obvious way. It's like when you have a crush on someone, and you watch everything that they do wondering why or how or what they are doing?  I caught Sharon on her last tour for her album Tramp, and was in love with the music and the person.  I've been digging what I've heard so far of the new album Are We There Yet, so I was in high spirits to catch the Forecastle set.  The set started off slow (probably because the mild temperatured festival had turned back to mid southern summer), but, as we found solace under a nearby tree, the crush came back.  It was song after song of painful, playful, joyous, sad, nostalgic, emotion filled tunes that carried us through the back catalogues of our crush.  [MH]
Brett Dennen
I caught Brett Dennen during a "cold shower" cool out session after Sharon Van Etten while seeking solace from the sun.  I guess I haven't mentioned that the weather in Louisville was fall-like… until Sunday.  Regardless, that kind of made the appeal of Brett Dennen that much more.  I'm honestly not that much of a fan of Dennen, but I appreciate what he is doing.  The fans were soaking him up in the rays, and living life like they were on a beach without a care in the world.  Maybe, I should listen more… [MH]
Photo by C. Michael Stewart via Forecastle.
Sun Kil Moon
One of my most anticipated acts of the festival was Sun Kil Moon.  Having spent a considerable amount of time in the Bay Area and having listened to a bunch of his music, this would be my first chance to see Mark Kozelek live.  Things didn't start off well, and they didn't end much better.  I'm not sure if Kozelek was drunk off his ass or not, but you would assume after he didn't get laughs from calling all the fans "Hillbillies," he would have stopped with that joke.  Nope.  He even at one point called the sound man "Edgar" (it was Andrew) to help him out.  When he didn't respond to someone else's name, he tried again with "Hillbilly soundman with the sunglasses, come here."  After that, the entire vocals of the set were drowned in reverb.  When one fan asked to hear a song, he replied, "Sorry, hillbilly, I have 23 years of catalogue to choose from, and that's not on the list."  Needless to say, between the reverb, the swigs off a "brown" plastic water bottle, and comments like "I'm glad to see Beck on the lineup, I can't wait to watch him play the same set he played last night…"  and "the only people I've ever heard of from here are Muhammed Alli and Will Oldham."  Let me just leave it this way Mark.  I saw Will Oldham in San Francisco, and he was a professional musician who didn't bash his adoring audience.  You have great songs, and a decent fan base.  Get it together. [MH]
Jenny Lewis
Jenny Lewis, you lovely and immensely talented human being, you. From the moment the former Rilo Kiley songstress erupted into her set with a brand new single, decked out in white with a rainbow pastel guitar, coordinated with the rest of her stage design, I knew we were in for a treat. Hypnotic, west coast-conjuring, and lovely, Lewis' set spanned across her career and various projects, and even included a cameo from former collaborators The Watson Twins. A seasoned and indescribably talented performer, Lewis let the strength of the songs speak for themselves, often messing with arrangements, opting to go a cappella, and playing off of her band. That band was extra special, too, for one significant reason: it included Nashville's own Natalie Prass, who held it down with keyboard and guitar duties, as well as prominent backing vocals. One of the standout moments of the weekend, Jenny Lewis was a stark contract to the following act, The Replacements, but kicked off one of Forecastle's most unbeatable blocks of music all weekend.  [PO]
Jenny Lewis. Photo by Mary-Beth Blankenship.
Ah, Jenny Lewis, such a show(wo)man.  From the start with the first single off of her new album The Voyager, "Just One Of The Guys" to the barrage of sing alongs that followed, you soothed my soul and readied me for Reignwolf.  May you continue for eternity. [MH]
Natalie Prass & The Watson Twins. Photo by Mary-Beth Blankenship.
Reignwolf
HOLY. FUCKING. SHIT. REIGNWOLF! REIGNWOLF! REIGNWOLF! I'm pretty sure everyone that was in attendance is still saying those exact words.  I've seen Reignwolf before, so this isn't some cherry pop bullshit.  This was hands down one of the most epic performances I've ever seen. While Reignwolf is a three man band, it really all comes down to lead guitarist Jordan Cook (aka Reignwolf).  Hammering notes on the neck while playing drums, or chewing on guitar strings playfully for the crowd.  The guitar is like a toy for Cook.  The crowd was frothing, jumping in celebratory high fives, and moshing to the sounds.  The roadies were obviously in awe too, and it is amazing no one was impaled after he chucked his Les Paul 25 feet over the backline during the finale, while exclaiming "this is what the end of a tour is supposed to be like".   Once he replaces that surely busted ax, DO NOT MISS ANOTHER CHANCE TO SEE REIGNWOLF LIVE!  [MH]
From File: Reignwolf. Photo by Matt Cairns.
tUnE-yArDs
We intended to see much more of Merrill Garbus (dba tUnE-yArDs), but we couldn't pull ourselves away from Reignwolf for more than the two song encore.  Luckily for us, it was a trip through the hits "Business" and the first single from her new album, NIkki Nack, "Water Fountain."  Her studio tracks are catchy and fun (to most), but the live shows exemplifies the complexity of Garbus' looping skills to match her witty songwriting. [MH]
The Replacements
Shortly after arriving in Louisville, and planning out my weekend, a fact occurred to me: The Replacements, a legendary punk/alt rock act and one of my driving motivators to attend Forecastle, had employed the help of Green Day's Billie Joe Armstrong for their last two festivals in a row. Would we get a third? I took to social media to snoop, and discovered a picture of Armstrong with 'Mats bassist Tommy Stinson captioned "in Kentucky playing a show." Ecstatic, the rockers' set suddenly became my most-anticipted of the entire fest, and momentum continued to build when I nearly brushed shoulders with the band in my hotel (where they, apparently, were also staying). Firmly planted front and center after Jenny Lewis, I delighted in every bit of The Replacements' set, rough edges and all. While they admittedly were a little rusty, the energy and aggression still present in their performance was unreal, especially for a band that's been around for 35 years. The set was stacked at 23 songs, and included every single hit a fan could ask for. No special mention was made of Billie Joe, but he presence was surely felt, and I was truly in awe standing so close to a musician who meant so much to me as a teenager (and he was visibly loving every minute of being a part of a band that meant so much to him, in turn). The Replacements were hands down my favorite thing about Forecastle (sorry Outkast, Jack White, and Jenny Lewis- you were all close for runner up), and, undoubtedly, felt like a once in a lifetime experience. I wrote a bit more about the specifics of the set, and posted a full set list, for my other gig at Alternative Press. You can find that right here, if you want to know more. [PO]
The Replacements. Photo by Mary-Beth Blankenship.
Ray LaMontagne
After The Replacements, I had a tough decision to make: stayed planted in the front for Beck, or try to catch a bit of Ray LaMontagne. I opted for the latter, despite the fact that I knew I would be seeing him soon in Nashville (this evening, in fact). Coming off a punk rock high, it was a bit hard to refocus my energy to Ray's more melancholy, singer-songwriter-y sounds. Regardless, he was pleasant and polished, and he band was unbeatable. We'll be telling you a lot more about his Nashville performance next week, so stayed tuned for a more analytical look at his live show. [PO]
Ray LaMontagne. Photo by Mary-Beth Blankenship.
Beck
By the time I snuck back to Beck, the crowd was HUGE and there was no getting back to our friend who stayed up front. Worn out from a busy weekend and a long day, I opted to find a comfortable spot on the ground, plant myself, and soak it all in. While my take wasn't nearly as in depth or intimate as Matt's for Beck's Ryman performance earlier in the week in Nashville, I was still in awe by the singer's versatility, and captivated by how incredible a performer he was. If he sounded so great from the back, I can't imagine how mind-blowing it was for the people front and center. It had been about 8 years since my last Beck show, and something about this one just felt grander. Not just in production, which was fantastic, but in Beck's sheer presence and wide-reaching catalogue, the genre-bending scope of which you don't fully realize until you see it all performed. Beck was a hell of a way to end my first Forecastle, and left me already counting down the days until next year. [PO]
Beck. Photo by Kara Smarsh via Forecastle.
_
[MH] Matt Hall
[PO] Philip Obenschain