FORECASTLE 2013 | SATURDAY'S CAN'T-MISS 7:
FORECASTLE FESTIVAL is underway in Louisville. Yesterday, we brought you a playlist of the entire lineup, along with our Friday picks to help plan your weekend. Today, we're wading through even more of the top-notch bill, to bring you the seven (bigger day calls for a bigger list) Saturday acts you don't want to miss!
The eclectic fest will run until tomorrow, and single day tickets are still available right here. After the jump, preview our Saturday 7:
THE FLAMING LIPS [Boom Stage; 8:45PM]
Saturday's seriously stacked with headliners, but here's why we chose The Flaming Lips: Alabama Shakes will play The Woods at Fontanel soon, Jim James has performed around town several times lately, as well as at Bonnaroo, and The Black Keys are amazing (and have played in the region quite a bit as of late as well), but, when it comes to festival performances, The Lips reign supreme. Don't miss out on their over-the-top stage show, and darker renditions of new tracks from The Terror.
SHOVELS & ROPE [Mast Stage; 3:15PM]
We couldn't get enough of Shovels & Rope at their Mercy Lounge performance earlier this year. The folk alt-country duo's incredible prowess for songwriting is matched only by their engaging and electric performance style. They've been growing in popularity and recognition at a seemingly unstoppable rate lately, and we couldn't be happier for them. If you haven't jumped on the bandwagon yet, it's about time!
DAWES [Mast Stage; 4:30PM]
Indie folk group Dawes recently took Shovels & Rope out on tour, with a stop at Nashville's Ryman Auditorium. In case you missed that performance (or Dawe's Grimey's set and secret show earlier this year), you might as well make up for it by catching the group right after Shovels today at Forecastle. The California act have been producing some of the most expertly-crafted, retro-leaning folk rock of the past few years.
KURT VILE & THE VIOLATORS [Boom Stage; 5:15PM]
If you're at Forecastle, we're assuming you're not going to make it back to Nashville in time to catch Kurt Vile and the Violators's Sunday night performance at Mercy Lounge. We're big fans of the former War on Drugs rocker, and his latest, Wakin on a Pretty Daze, is one of our favorite indie rock records of the year so far. If you can't catch him in Nash, do yourself a favor and see him in Louisville!
THE JOY FORMIDABLE [Boom Stage; 6:45PM]
British rockers The Joy Formidable have become something of American festival staples in recent years. Balancing dreamy, synthy textures with dancey, shoegaze, and indie pop tendencies, the trio have become of the best (and perhaps most underrated) bands in the indie rock scene. They also just took our pals Vinyl Thief out for a recent string of shows, which earns them bonus points in our book!
MNDR [Red Bull Music Academy Ocean Stage; 4PM]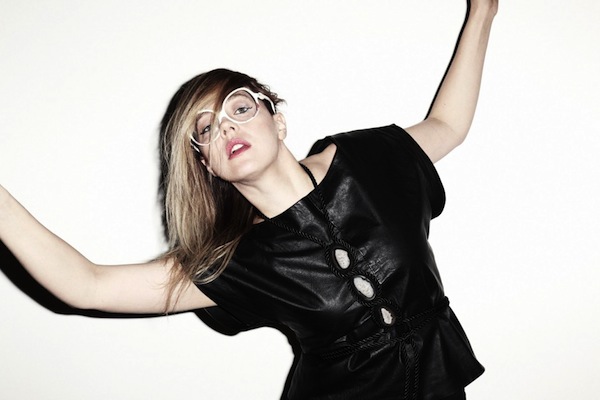 This year's Forecastle bill boasts a lot of great electronic and electronic-leaning artists and, though our love for the indie rock acts has largely taken over this list, one synthpop singer really stood out: MNDR. Hailing from New York, the singer boasts unforgettable hooks, hip hop sensibilities, and just the right amount of lightheartedness and fun, without every straying into the territory of fluff or mindlessness. We're hooked, and think you will be too (could she be Forecastle's answer to Charli XCX's Bonnaroo set?).
RUBBLEBUCKET [WFPK Port Stage; 8PM]
If you haven't ever seen Brooklyn indie dance act Rubblebucket live, you're seriously missing out. Their records are great, sure (imagine a slightly more off-kilter, female-fronted LCD Soundsystem), but where the group shines the most is live. Their energy is infectious, their performance chops are unparalleled, and their ability to engage a crowd, and to instantly get the party started is awe-inspiring. Don't miss 'em!
_
No Country's Guide to Forecastle | Part 4: 7 Can't- Miss Sunday Bands
No Country's Guide to Forecastle | Part 2: 5 Can't- Miss Friday Bands
No Country's Guide to Forecastle | Part 1: Lineup Playlist