Four days, amazing weather, countless beers, thousands of bands, and a raging unforgettable hangover.  Here's a quick rundown of what we did in Austin over the past few days.  This was our first time at South By Southwest, and there is no amount of preparation that can prepare you for what was best described to us as "trying to drink from a fire hose."  We gave it our all though.  Our ears are still ringing, our livers are swollen, and we probably need to sleep for four straight days (though that Alt-J show at Cannery already pulled us out of retirement last night).  To tell you just how unprepared we were for this, we didn't even bother to bring a camera out or take a single photo during the first two nights.  Though, in our defense, we did get hijacked by the Fireball sales reps on Wednesday night, which left us ironically sitting on a porch for a hot minute with Skrillex and his posse during the wee hours of the morning.
If this is didn't leave a surreal taste in our mouths, then we had no idea what to expect next.  You can check out Dave Grohl's keynote, hear about all the bands we saw, check out the few cell phone pictures, and hear about our experience of a lifetime after the jump.
Thursday morning was a bit painful, but the aching heads were numbed slightly by the humorous and endearing keynote by Dave Grohl.  There's nothing quite like listening to a legend like Grohl rave on about his passion for music, his love of "Gangham Style", and slamming Pitchfork (finally!).  You can check that out below.  It's long, but very worth it.
[youtube_sc url="Efv0Y5Fs7m4″]
The rest of our first full day included an unexpected set by The Rocketboys while waiting for The Allah-Las to play a set at Clive Bar.  One of the best part of Austin is the overabundance of live music pouring out of every window in town, and I lucked into catching a couple of songs through one open window on 6th Street from Andy Clockwise.  We peeped  a brief minute of Nashville's Mona at the Cedar Street Courtyard, before heading over to Gingerman to check out some interesting sets from Walk On Project and the very surreal deconstructed folk of Dublin's Autumn Owls.  After checking out the line at The Belmont for The Flaming Lips, Alt-J, Joy Formidable, Frightened Rabbit, Atlas Genius, et al, it became quickly apparent that was a lost cause.   Luckily that made the Hanni El Khatib/Black Lips show totally accessible in the Cedar Street Courtyard.  Quickly (via pedicab) we raced across town to try to catch the end of Goatwhore at Dirty Dog, but the party was already over.
Friday morning (read afternoon) brought me to the unlikely venue space in the convention center to see Divine Fits.  Then, it was over to hang with the boys from Nashville's Cherub.  If I can ever get these three remaining brain cells in my head to symbiotically function again, we'll get our interview out for you guys to check out.  They had an amazing set in the packed to capacity sweaty garage turned venue.  After hanging out for a bit with some Nashville characters, it was back to the convention center to see Vampire Weekend bring the ballroom to capacity, and the floor was literally dancing for you with all of the jumping fans for the four song set.  No rest for the weary, it was back into the Texas sun to hang out Nashville style again with Turbo Fruits and a recently discovered band called Vietnam.  Turbo Fruits definitely took the best of sets at this one.  Did I eat at this point?  No clue, people.  It was time to get over to check out Fidlar at Clive, but that line was too long to justify.  Luckily, we did get to hear the adrenaline rushing song "Cheap Beer" from the sidewalk.  No lines at Bar 96 meant we were in a prime spot to check out Phosphorescent, Metz, King Tuff, and Waaves (who are playing with the above mentioned Fidlar at Mercy Lounge on April 16th)  Highlight of the night?  Metz fucking ruled, and I had just enough booze in me to ask Phosphorescent lead singer Matthew Houck if he gets his girlfriend to dump him every time he decides to write a record.  At least he rolled with the punches, and responded with "I guess that's a valid question".  You can check out all of our photos from Friday & Saturday in the gallery below.
Saturday morning took us to the Third Shift Day Party where we sent Nashville's Luella & The Sun earlier this month.  It was a big weekend for L&TS, when NPR gave them a shout out one of their festival highlights from earlier in the weekend.  Turbo Fruits brought another inspired set, but it was time to move along.  Thank god for the press pass which shuttled us past the mile long line at The Fader Fort where we hung out with Mac Demarco and Earl Sweatshirt.  Then, wait for it…. this happened.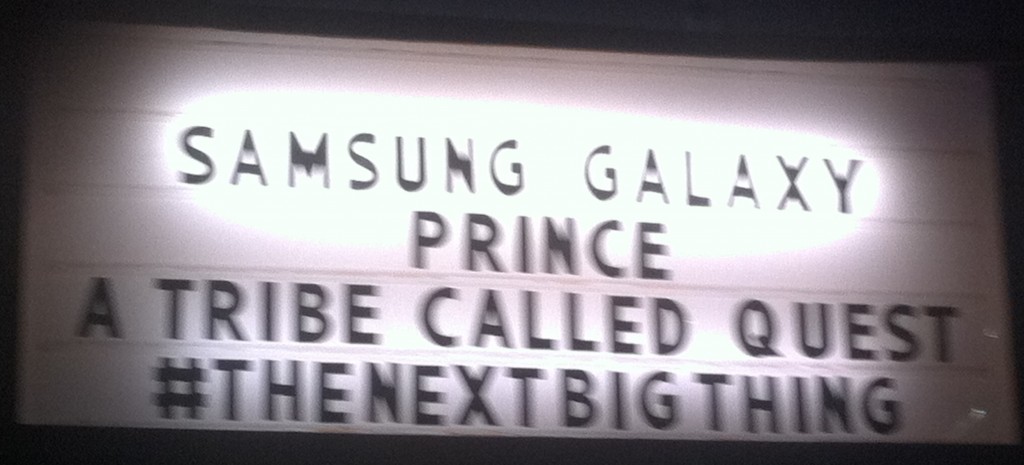 You can't even imagine how ecstatic I was to be one of the 300ish folks crammed into the tiny La Zona Rosa venue.  Top that off with, I had no idea that Tribe Called Quest was going to be there!  Tribe killed it, and Prince was, well, he was maybe the greatest band leader that anyone could have imagined.  He was backed by an 11 piece (it really was 22 piece) backing band (I guess I wasn't seeing double after all), and essentially carried the ravenous crowd through the night for almost three hours.  6 or was it 7 encores?  Did he just play Curtis Mayfield?  Was that a Michael Jackson cover?  I was one of the many that couldn't make it through the end of this one.  15 hours of day drinking took it's toll, I had to hit the hay.  Regardless, I couldn't imagine a better way to end my first SXSW.  Here I am back in Nashville, hoping that I don't get sick, and already counting the days until SXSW 2014.