There is a good chance that your inability to remember East Nashville Underground this season wasn't alchohol related. After tripling the number of pre-sales from the previous season, it didn't take much of a walk up to send The East Room to capacity, and it didn't take much to get the party started inside either! We drank, danced, rallied, and repeated all weekend, and here is the rundown and photos from our East Nashville Underground experience. If you didn't make it out this season, I hope you've learned your lesson, because you snoozed and you lost. Matt [M] and Philip [P], and Andrew [A] have the recap for you below!
_
FRIDAY NIGHT
[M]: Vinyl Thief you know I love you.  I started writing about you guys from like Day-freaking-1, and how was I supposed to know that I was going stand in line for 20 minutes trying to get into the door?  Ok, ok… I apologize for missing most (*cringe* all) of your set, but, at the very least, you guys do owe me a thank you for helping to get your keyboard off of the stage.  That thing was a beast.  Send us that new record already!
[P]: Amazingly, by the time I arrived (less than an hour after things kicked off), people were already getting turned away at the door. Not only was it the first time a night of ENU has ever sold out, but things were already packed after just one band! This was also my very first East Nashville Underground (I'm still a bit of a Nashville newbie), and my first time seeing a lot of the bands, so I really soaked it all in. All Them Witches lived up to the hype I've been hearing for months. They were a little bit psychedelic, a little bit bluesy and sludgy, and 100% badass.
[P]: Things were really heating up by the time Alanna Royale took the stage. They played right in the middle, but might have had the biggest crowd of the evening. I first saw this band at their EP release show last month, and have nothing but praise for just how incredible their live show is. Alanna's vocals are out of this world good, and Friday's performance just further cemented the ongoing love-affair our site has with the group. They're destined for amazing things!
[P]: My only previous chance to catch Machines Are People Too was at the Mercy Lounge 10th Anniversary party. They were great there, but at ENU they were amazing. Their high-energy, engaging, and dance-y sound really lends itself perfectly to this type of room: small, packed, half-drunk, and ready to party. And party we did! Only at ENU could you stick these guys right between Alanna Royale and Magnolia Sons and have it make perfect sense.
[P]: ENU was my also my first time seeing Magnolia Sons and man, have I been missing out. The real-deal retro rockers had so much soul and some of the tightest, most dynamic instrumentation I've seen in Nashville. The band is also playing our upcoming SXSW Send Off Party (and so is Alanna Royale) so if you missed 'em at ENU, you've got another chance to catch them and a ton of other great bands for free next weekend!
[P]: Cult Logic's Taylor Garvin is one of the masterminds behind East Nashville Underground. But don't let his connection to the festival fool you, Cult Logic would be playing the show regardless. The band's unchained, dynamic, melodic take on indie rock was both an adrenaline shot  to those who had spent the whole night drinking too much and rocking too hard, and a hypnotizing way for the remaining crowd to cool off after an amazing kickoff night.
[P]: For those real ENU troopers still around into the witching hour, DJ Rate (from Boom Bap) set up and spun tunes that really kicked things back into party mode. The No Country crew was all pretty worn and slightly wasted at this point, so we didn't see things through until the very end. What I heard sounded great though, and I'd love to check out DJ Rate again on a night that I didn't just watch 5 hours of rock music beforehand! All in all, Friday was one of the most fun Nashville nights of music I've experienced in awhile, and an unparalleled way to kickoff the most fun festival around.
_
SATURDAY DAY
[A]: The Static Trees: Unfortunately, I did miss most the Static Trees set due to being a dumbass and having to go back home to pick up more equipment. But I did almost run into the lead singer while backing up my car in the ever-so-small parking lot in front of the East Room. I did also get to see that straight-ahead garage rock sound during sound check and I'm confident that they were a good start to a day of amazing music, and an interesting transition to the Western sounds of Jon Byrd.
[A]: Jon Byrd: It's very possible that Jon Byrd could, and, in fact, may have already, play at Robert's Western World. Although they were certainly more of a traditional country sound, they were by no means standard Nashville. They had a certain flavor to their music which set them apart. Their lap steel player was amazing. His tasteful licks and sweet melodies kept my eyes peeled and glued.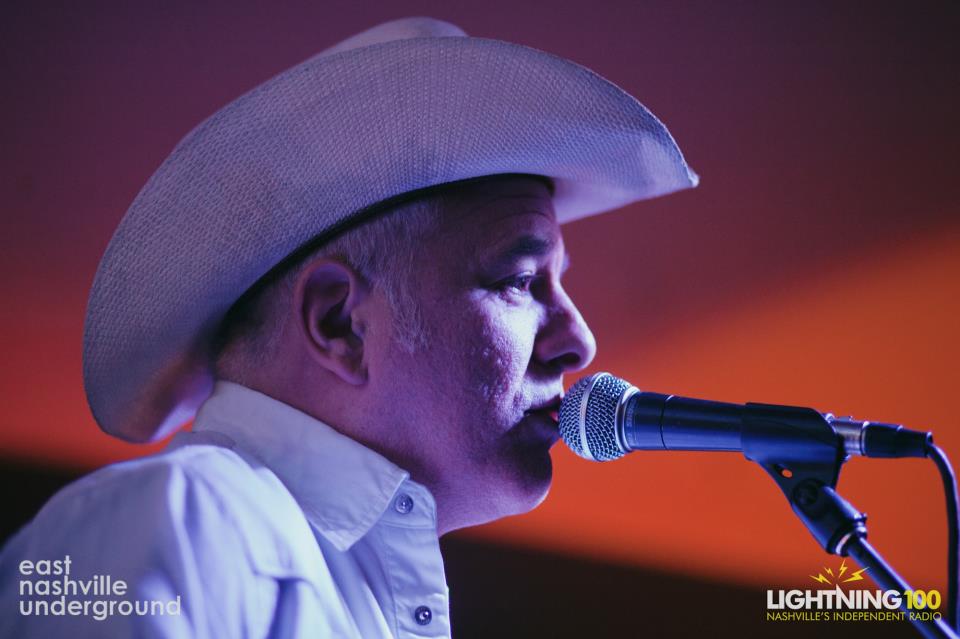 [A]: Joshua: I remember meeting their bass player Scott in Murfreesboro. His bass guitar looked an out-of-this-world cartoon, as it appeared so unreal. I think it had twelve strings. He was all over that guitar like bees on blossoming flower buds. As I recall, he was also an amazing foosball player. Go figure.
[M]: After taking the tag from Andrew (who had to get on stage), I came flying into ring to check out the americanapop sounds of Waterfall Wash.  I've had the opportunity to check them out before, but the Wash have expanded their sound with a bit more of a rock and roll sound (and even included our own photographer Ellice on the autoharp).
[M]: Things took a turn in another right direction when K.S. Rhoads took the stage in front of a 1940's tape recording thingamajiggy, and Rhoads looped us though a few tracks of beat box backed guitar pieces.  However, jaws dropped and the ENU twitter board exploded when Ms. Emily West took the stage to join K.S.  I've yet to see the former Capitol Record signee in her newest interpretation, and I was utterly blown away by the soaring vibrato that she possesses.  She collaborated with K.S. for his new record, Wilderness, coming out on March 5th , and I'm personally thrilled to hear that lullaby gone right.  In dire need of a cold shower, I'm going to have to tap out to let Philip finish this one up.
[P]: I arrived rested and recovered on Saturday, just in time to catch Colorfeels, and I'm so glad I didn't miss them. Those marvelously bearded dudes sure know how to craft a psyched-out indie pop song, and they have the tight performance chops and mesmerizing stage presence to match. Everything about their performance seemed so meticulous and layered, yet so free and atmospheric. I couldn't think of a better band to kick off my Saturday and, of course, subsequent day drinking.
[P]: Frances & the Foundation was my first chance to catch Mr. Jared Corder, one of ENU's co-founders, performing on drums and my first time seeing Frances & the Foundation's frontwoman Samantha Frances, who I've witnessed bartending many a great show (including this one), actually take the stage. This band was seriously one of the highlights of ENU for me. Their style is right up my alley- energetic, rock and roll, and unpretentious, and their enthusiasm and engagement was off the charts. Basically any band that plays songs they can jump in time with is a-ok in my book. Also, Samantha totally gives off an even cooler version of Cassandra from Wayne's World vibe (might be the bassist frontwoman parallel), which is excellent.
[P]: Rounding out the Saturday afternoon session was Hanzelle. By the time they took the stage, ENU's Saturday Night session was already sold out- another festival first and a seriously impressive feat! I've seen these guys back Brandon Jazz before, but seeing them perform their own tunes is a different experience entirely. I'm a sucker for a good synth line, and when a band has any many keyboards onstage as they have members (5), it's pretty much a guarantee that I'll love them. They kept the energy from Frances & the Foundation going, and really set the tone for a hell of a Saturday party!
_
SATURDAY NIGHT
[M]: The Golden Spurs are a solid rock band who are relatively new to town.  I caught the last couple of songs when they opened for housemates Alanna Royale at her EP release show.  The German Shepard fearing band, showed no fear in starting things off to an already packed East Room on Saturday night.  Keep your ear to the ground with these guys, they aren't going to be openers for too long.
[M]: Right before Coin's set someone asked me if I had seen them before.   I responded that I wasn't sure, but within 30 seconds of them ramping things up, I was sure I would have remembered seeing them before.  It's a keyboard fronted, high energy band was described at one point on the ENU Twitter Board as "tourets-pop."  You'll just have to trust me that this was a good thing.
[P]: By the time Tesla Rossa took the stage, I was already starting to feel the effects of the long weekend and really didn't know what to expect from them. I'm so glad I didn't opt to step out for a breather, because this band very well might have been the highlight of my Saturday night. Their sound is kind of an understated indie rock, really grounded in borader rock and roll sensibility. You can tell they're really a band's band, crafting songs for quality rather than popularity. They played with a sort of subdued energy and expertise that gave me the boost I needed to coast through the rest of the evening.
[M]: For those that know me, it is no secret that I am a pretty big fan of James Wallace & The Naked Light.  I've seen James & Co. everywhere from a dingy room behind Ghot Wingz to Marathon Music Works for packed houses and not so packed houses, but their live show has always been absolutely on point.  I have listened to a preview of the upcoming LP from JW&TNL, and you are going to be in for a real treat when that drops on April 30th.
[M]: The booze is really starting to collectively kick in, and the party is really ready to explode at this point.  Unlike many long time Nashvillians, I've only had the pleasure of catching Moon Taxi a couple of times, and I haven't been disappointed yet.  It's a highly energetic, danceable form of rock, and the crowd was frothing by the time the upcoming Hangout Festival performers finally pulled the plug.  Speaking of pulling the plug, Matt. must. get. some. sleep.  zzzz.
[P]: The Wans finished out Saturday night on the band front, and I'm incredibly glad I stayed around to check them out. The trio has a bit of an alt rock flair, influenced by the dynamic structure and aesthetic of the early '90s alternative scene, with a tinge of '60s rock and roll. They were a lot of fun and a great coda to an amazing lineup.
[P]: By the time DJ That Guy took the stage to finish out the night, the No Country crew had all departed, defeated by a long, tiring, amazing weekend. We're sure that guy was fantastic though. This was truly the best ENU yet (or so I hear- since it was my first and all) and I can't wait for many more to come!
_
The next season of East Nashville Underground is scheduled for the second weekend in May, and based on the rumors that are already circulating, it will continue the upward swing of the little festival that could.  In the meantime, you should check out this great new track that we just stumbled up, via Nashville Cream, via We Own This Town.  The vibrant surf inspired pop is almost as colorful as the founders of ENU, and I really hope that we get to see *repeat repeat on an ENU stage soon.
[bandcamp track=1270824891  bgcol=FFFFFF linkcol=4285BB size=venti]