Review by Philip Obenschain (@pobenschain). Photos by Mary-Beth Blankenship.
So far this year, we've ventured all over the region for some truly epic festivals, from Shaky Knees and Wrecking Ball in Atlanta, to Forecastle in Louisville, to Bonnaroo right down the road in Manchester, but none were, perhaps, quite as highly-anticipated as our weekend getaway to Chicago for Riot Fest. Now nestled in Douglas Park (after a few moves over the years), it might not be as picturesque as the lakefront, downtown set Lollapalooza, but for a scrappy punk fest (at least in ethos; the lineup has SO much more to offer), the more modest, rough around the edges locale works perfectly. Though our first time covering as No Country, I'd checked it out last year for another outlet, and found this year's event not only to have more cooperative weather, but a more organized and fluid feel, likely a byproduct of further settling into the new digs. Chicago is a wonderful city, and reasonably easy trip for a weekend getaway from Nashville, especially when it's for one of the most unique musical events in the U.S. In a festival climate where it can feel like most everyone is fighting for some minor variation of the same lineup, Riot proudly stands apart, blending punk, emo, indie, hip hop, and more, striking a balance between legacy and contemporary acts, trendy and underground, and always boasting special events, unique sets, and some of the most mind-blowing reunions you'll find at any one event. It certainly caters to a specific crowd, but by not trying to be everything to everyone, Riot does what it does amazingly well, and if, like us, their scene is your cup of tea, you'd be hard-pressed to find a more fun summer happening. Read on for our review, and check out photos from dozens of this year's best performances below!
FRIDAY
Diarrhea Planet. Photo by Mary-Beth Blankenship
Diarrhea Planet
It couldn't have been more fitting than to kick off a weekend in Chicago with a little piece of Nashville- our finest hometown guitar-shredding party punks, Diarrhea Planet! After getting a feel for the slightly tweaked layout, I rushed over to find a surprisingly enthusiastic early afternoon crowd, who proceeded to lose their minds as DP amped up the energy and the shreddage to deliver a brisk, frenetic show that did Music City proud.
Bad Cop / Bad Cop. Photo by Mary-Beth Blankenship
Bad Cop/Bad Cop
Wandering across the park to the Storyheart Stage, I was especially excited to check out Bad Cop/Bad Cop, a band who've been on my radar for awhile, but one I'd somehow never managed to see live. Their poppy, raw, gimmick-free punk feels like a throwback to the stuff I loved in the early '00s, and live, the gals seriously ripped, bringing high-energy singalongs, and unrelenting punk spirit. The jam-packed, stacked nature of Riot Fest is equally a blessing and a curse though, as I only had time for a few songs before bolting to catch Touché Amoré.
Touché Amoré. Photo by Mary-Beth Blankenship
Touché Amoré
After the powerful, blistering, vulnerable, and cathartic chunk of Touché Amoré's performance I caught at Wrecking Ball, I knew they had to be a Riot Fest priority as well. Once again, I wasn't able to see a full set, but what I saw was totally different. Last time, I saw a lot of new stuff, which centers around frontman Jeremy Bolm's recent grief, but this show, they blasted into fan favorite "Just Exist," before calling back to older tunes "Pathfinder," "Amends," and "Art Official," doing fan service with their signature intensity and driving post-hardcore sound.
The Dillinger Escape Plan. Photo by Mary-Beth Blankenship
The Dillinger Escape Plan 
With the recent announcement of their imminent disbandment, math metal mavens The Dillinger Escape Plan also become a priority, since it might be my last chance to ever see them. With their complex and intense sound, they're a band I'd much prefer in a full show, small room setting (or even as like a late night performer), but their brash and experimental sound, sandwiched between bands who are very different, was still a cool, midday wakeup call and a great final chance to say goodbye to the band who blew my mind more than a decade ago with Miss Machine. It's crazy how hard they still rip, and I admire bowing out before that ever has a chance to decline.
Worriers. Photo by Mary-Beth Blankenship
Worriers
Brooklyn melodic punks Worriers worked with one of my favorite musicians, Against Me!'s Laura Jane Grace, on their debut LP, last year's Imaginary Life, so being the AM superfan I am, I made sure to run over for the end of their small stage set. Balancing indie, melodic sensibilities with socially conscious punk spirit, the band, and especially frontwoman Lauren Denitzio, were absolutely enthralling, and left me eagerly awaiting a chance to see them headline a full show.
GWAR. Photo by Mary-Beth Blankenship
GWAR
There's nothing quite like GWAR show, and even with the loss of frontman Oderus Urungus a few years ago, the gory, shock rock, metal legends (and Riot Fest mainstay) have managed to power on, keeping their crude, topical, graphic performance fresh and as gross as ever. Highlights included an introduction from "Obama," a graphic death match between Hillary and Trump (with no survivors), and, of course, all manors of alien fluids and secretions sprayed liberally on those daring enough to stand close.
Tancred
Adjacent to GWAR on the more modest Rebel Stage, Tancred couldn't be more different. The solo/side project of Now, Now's Jess Abbott, Tancred's eponymous sophomore album was one of my absolute favorite records of 2013, and this year's Out of the Garden is a total gem, so I was stoked to see a pretty sizable turnout; definitely the right festival fit. Her pleasant, driving, hypnotic indie rock absolutely soared live, and left me wishing the festival fomo wasn't pulling me everywhere at once so I could sink into a full set.
Meat Puppets. Photo by Mary-Beth Blankenship
Meat Puppets
When discovering '80s and '90s alt rock in my pre-teens, I somehow initially missed out on Meat Puppets early on, only really getting into them later in adulthood. The genre-bending outfit are exemplary of one of my favorite things about Riot Fest- a well-curated slate of legends younger fans might not know, but can easily discover sandwiched between newer acts (or vice versa), all complimentary and expertly curated. I know Too High Too Die and some of their more popular stuff, but even with the material I didn't recognize, I found myself enamored by the band's drive and honed performance, and fixated on the clear elements of their sound that've influenced plenty of bands since.
The Anniversary. Photo by Mary-Beth Blankenship
The Anniversary
They were definitely winding down when I was first falling in love with midwest emo, but the fact that I nearly forgot all about The Anniversary until this festival is nearly grounds for having my fan card revoked. It's unclear what, if anything, the future holds, but seeing the Kansas rockers back in action after 12 years was insanely cool, and also a bit disorienting, as they had barely visibly aged. Like The Get Up Kids and Braid (and the rest of that whole scene, really) they never got the recognition they deserved, and they only hurt more after hearing how specular they are live.
The Specials. Photo by Mary-Beth Blankenship
The Specials
I'm a sucker for ska, and especially intrigued by English 2 tone, since I grew up on the more punk-geared U.S. third wave of the '90s. The Specials are right up there with the greats, and though they've broken up and reformed a few times, lacking some key players, their legacy is still impressive. Opening with one of their biggest hits, "Ghost Town," they absolutely won be over from note one, bringing a certain old school showmanship and refined, more soulful flavor of ska then their third wave contemporaries, and remained me of why I fell in love with the under-appreciated genre so hard in the first place.
Somos. Photo by Mary-Beth Blankenship
Somos
Ducking out of The Specials a little early, I made my way back to the smaller stages for a little bit of Somos, whose melodic, indie punk sound and emotional resonance makes them one of the best bands in the underground punk scene. The group have a real knack for connecting live with their earnest, engaging style, and Riot was probably the best I've ever seen them.
Jimmy Eat World. Photo by Mary-Beth Blankenship
Jimmy Eat World
Riot Fest is certainly diverse and probably attracts a lot of different people for different reasons, but there's a definite scene that more or less anchors its core, and Jimmy Eat World are one of the most beloved bands in it. For validation of that, one needed only to look at the MASSIVE main stage crowd they managed to draw. I've had the pleasure of seeing the band a ton over the years, but never in  festival setting, so it was especially cool to witness this kind of pull. Opening with new tune "Get Right" was a bit of a ballsy move, when so much of your back catalogue is so beloved, but from there they more or less alternated between old and new, pulling the most from fan favorites Bleed American and Futures. Frontman Jim Adkins was a bit more reserved than I've seen in the past, but appeared confident and focused, and power of seeing singalongs like "Lucky Denver Mint," "Sweetness," and "The Middle" shared by thousands of passionate fans made for one of the best Jimmy Eat World performances I've ever seen (and I went to the original Futures tour).
Refused. Photo by Mary-Beth Blankenship
Refused
Since missing Refused's short-lived comeback run in 2012, I've been perpetually kicking myself, worried that it was my one and only shot to ever see the seminal hardcore act, who originally disbanded when I was all of 10 years old. Fortunately, their latest reunion appears to be one with some staying power, and while last year's Freedom didn't quite live up to the 17 year wait since the near-flawless A Shape of Punk to Come, it far from dented the legacy of one of my biggest bucket list bands. Delivering a set that was absolutely explosive, unpredictable, politically charged, and ferociously heavy, the Swedish punks, now all middle-aged, though you'd be hard-pressed to tell, performed with more expertise and intensity than they ever could in their younger years. Frontman Dennis Lyxzén's stage presence reminded me of how many frontman have low-key borrowed his moves, and his balance of raw power and political discourse made him sufficiently thinking man's punk. My dream Refused show would probably Shape from front to back, so of course the title track, "Refused are Fuckin' Dead," and "New Noise" were high points, but all and all, the set provided a cool balance and even felt all too brief, one of the few Friday performances I watched from start to finish in full.
The Flaming Lips. Photo by Mary-Beth Blankenship
The Flaming Lips
I've seen them give absolutely magical shows at more varied festivals like Bonnaroo and Forecastle, but I was curious to see how a band as psychedelic and free loving as The Flaming Lips would go over with the Riot crowd. Compared to the subsequent night's headliners, they maybe weren't quite as big a draw, but a healthy audience of diehards and curious newcomers, no doubt drawn in by the shimmering streamers and surreal, rainbow drenched stage design, still made them feel like a good fit. The Lips don't change too drastically from show to show, but they do give their decorations, immersive elements, and show beats a bit of a tweak every few years, and this is the first time I'd see this exact configuration. Perhaps sensing this to be slightly out of their normal scene, they opened with fan faves "Race for the Prize" and "Yoshimi Battles the Pink Robots, Pt. 1," before descending into their more recent trend of going more avant garde and trippy. Per usual, frontman Wayne Coyne radiated positivity, roamed the crowd in a giant ball (a trick I hadn't seen them do in a few years), and elicited audience participation, eventually culminating in their most recognizable hit, "Do You Realize??" Without a doubt, the coolest moment was a cover of David Bowie's "Space Oddity," surprisingly faithful to the original, which served as a sobering reminder that for all the legends I'd finally get to see over the weekend, one will now eternally be out of my reach.
NOFX. Photo by Mary-Beth Blankenship
NOFX
During The Flaming Lips, I snuck back to the Rock Stage so I could also watch some NOFX, who I hadn't seen in years. The pop punk legends' recent singles have actually sounded more inspired than anything else they've done in awhile, and that renewed energy seemed to be present in their live show as well, which, while still lighthearted and sophomorically jokey, actually seemed more focused and cohesive than I've ever seen them play. Paired with The Flaming Lips, they were a great representation of Riot Fest's dynamic reach, and felt like a fitting and inspired ending to an incredible first day.
Photos by Mary-Beth Blankenship.
SATURDAY
The Toasters. Photo by Mary-Beth Blankenship
The Toasters
After some great local coffee and an easy morning train ride (festivals with public transit access are seriously the best), I made my way back in early to start day two with The Toasters. Though perhaps not as well known as The Specials, they represent the American side of the same era of ska, and though they've seen many a lineup change over the years, they're still holding it down for the New York scene. The crowd wasn't huge, but there were definitely some super fans in attendance, and the vibey, 2-tone set was a great way to ease into the day.
Donna Missal. Photo by Mary-Beth Blankenship
Donna Missal
With a little time to kill, I made my way next to the adjacent Rise Stage next for a bit of an artist I didn't know much about- Donna Missal. Packing a powerful, soulful voice with moody, indie pop production, she felt a bit out of place at Riot, but had me hooked regardless, performing with a subdued cool and expert poise. In a weekend where I largely had to plan out every moment to take it all in, Missal was an unexpected and exciting discovery.
Fucked Up. Photo by Mary-Beth Blankenship
Fucked Up
When last I saw Canadian hardcore heroes Fucked Up, they were delivering one of the most awesomely chaotic shows Third Man Records has ever hosted. They can make any situation feel like a DIY show, and wasted no time doing the same a Riot Fest, frontman Damian Abraham cracking candid jokes, roaming around the crowd, and seemingly sincerely humbled by the huge turnout. It was a pretty lean set, but some of my personal favorites like "Sun Glass," "Queen of Hearts," and "The Other Shoe" seriously ripped.
The Vandals. Photo by Mary-Beth Blankenship
The Vandals
One of the longest-running and most important pop punk bands in history, with a lineup that's remained unchanged for three decades, it's perplexing to me that The Vandals don't get more recognition. They pioneered the fast, melodic sound and joke-laden attitude that would dominate '90s pop punk, and have never slowed down, though they only really seem get their dues at punk-geared events like this. I'd seen them before, so I only stuck around for a few songs before heading to Smoking Popes, but their energy, wise-cracks, and punk spirit was as remarkable as ever.
Smoking Popes. Photo by Mary-Beth Blankenship
Smoking Popes
Another somewhat under the radar punk band I'd never had the chance to see live, it felt especially fitting to catch Smoking Popes in their hometown. Admittedly not a superfan, I wasn't sure if I'd know much of their material, but launching straight into "Let's Hear It for Love," I quickly found out they're one of those bands I'm more familiar with than I realized. There's definitely a unique nostalgia going on for 20 and 30-something for the emo and pop punk of the '90s and early '00s, and I definitely have a huge soft spot for it, but Riot Fest only seemed to reinforce time and time again how genuinely great and largely overlooked so many bands of this era are.
Motion City Soundtrack. Photo by Mary-Beth Blankenship
Motion City Soundtrack
With their last headlining Nashville show, I largely felt like I got to say my goodbyes to Motion City Soundtrack, a band who've meant a great deal to me since my early teens. I still watched a bit of their subsequent Wrecking Ball performance, however, and with Riot Fest slated as their last show ever (the actual last show ever would happen the following night, and an official after show at The Metro), I couldn't pass up a chance to see them play favorites like "Capital H," "Her Words Destroyed My Planet," and "L.G. FUAD" for a final time. How stellar they've sounded lately makes their disbandment all the more sad.
Microwave. Photo by Mary-Beth Blankenship
Microwave
Leaving MCS early, feeling good about the more intimate Nashville show I'd recently caught, I ran to see the end of Microwave, who are fast becoming one of my favorite new bands. With their post-hardcore meets nostalgic alt rock style, and raw, earnest songwriting, the group have tapped into an emotional and resonant sound that feels familiar, but not quite like any of their peers. The Atlanta rockers have already developed a really intense, no-frills live presence, and seeing them again, especially for an intense rendition of "Stovall," only validated my thought that everyone should be keeping an eye on this band.
Bob Mould. Photo by Mary-Beth Blankenship
Bob Mould
Inexplicably, I'd never seen the legendary Bob Mould before, despite being a huge fan of his prolific catalogue, including the really specular resurgence of new stuff in recent years. I was floored as Bob and the band, backed by images of Chicago landmarks, kicked into a string of songs by his famed former projects, Hüsker Dü and Sugar; I'd have been happy for one or two songs, but "Flip Your Wig," "Hate Paper Doll," "A Good Idea," and more all in a row was pretty surreal, and really illustraed of Bob's unprecedented influence on punk, indie, and alternative rock. True to his reputation, he absolutely ripped, and still performs with the ferocity and spirit of someone half his age.
The Hives. Photo by Mary-Beth Blankenship
The Hives
The last time I saw The Hives was more than a decade ago, at the height of their garage rock revival initial breakthrough, so I was very curious to see how the band, who I haven't paid as much attention to in recent years, are sounding these days. Still donning the matching attire, and ever the showmen, the Swedish group opened with a (most likely newer song) I didn't know, before taking it back to "Main Offender," and getting the crowd revved up with "Hate to Say I Told You So," frontman Pelle Almqvist running around, rocking hard, and literally climbing around the stage all the while. All these years later, and The Hives have still got it, just in time for a new garage rock revival.
Balance and Composure
I wanted to see more of Balance and Composure, but only had time for the tail end of their set. The transition from great new song "Postcard" to fan favorite "Reflection," as the alt rockers gear up for another exciting release cycle felt like a fulfilling finish though, and I'm eagerly awaiting their next appearance Music City.
GZA. Photo by Mary-Beth Blankenship
GZA
For the bulk of Saturday, the Rise Stage was transformed into something of a a de facto hip hip stage, and short of an appearance from Wu-Tang Clan proper, several members spread across individual sets was about as cool as could get. First up was GZA, one of Wu's most prominent figures, and one I'd only seen before as part of the entire rap collective. After bringing the house down with half a dozen cuts from his most renowned solo album, Liquid Swords, The Genius also played fan service with a selection of Wu and Wu affiliate songs he's appeared on, all with an old school, unpretentious swagger of a long-gone era of real hip hop, focused on the songs themselves over flashy production.
Descendents. Photo by Mary-Beth Blankenship
Descendents
Nearly 40 years in, Descendents are without a doubt one of the most important acts in shaping modern pop punk, and though they seem to generally get more recognition than peers like The Vandals, they're still not the Ramones or Sex Pistols level of household name they deserve to be. It's mind-blowing how good they still sound, and, in just an hour they managed to hit dozens of  their career-spanning brisk, hook-laden punk classics, playing with a punch and polish that never lost its punk rawness. The fact that they recently released their fist LP in over a decade probably contributed to their extra enthusiastic demeanor, and all throughout the set, I found myself beaming about finally getting a chance to see one of punk's most underrated legends.
Brand New. Photo by Mary-Beth Blankenship
Brand New
Brand New are one of my favorite bands of all time, and though I'd just seen them two months earlier in Nashville, they, along with personal favorite Morrissey, were at the top of my most-anticipated list at Riot Fest, especially since they've been cryptically teasing that they might not be around for much longer. It's fitting, too, that they got to play the same stage directly before Morrissey, as Moz has been a not so secret influence on much of frontman Jesse Lacey's style and aesthetic, right down to the flower-covered mic stands on stage. You never really know what kind of set you'll get at a Brand New show, but they clearly recognized the mix of nostalgia and diehard fans in attendance, opening with "Sic Transit Gloria…" and "I Will Play My Game Beneath the Spin Light," and "Okay I Believe You, But My Tommy Gun Don't," before digging even further back into their catalogue with "Mix Tape." Lacey seemed to be in rare form, a bit more talkative and lighthearted than usual (Morrissey's looming presence, I assume, could have been a factor), undercutting periods of the dynamic and intense emotional vulnerability that makes a Brand New show so incredible. Inserting bits of "Tautou" into "You Won't Know," as I saw them do in Nashville, was once again a standout moment, and by closers "Jesus" and the always satisfying "Sowing Season," eliciting huge, heartfelt sing/scream-alongs, it was clear that the general consensus was that they'd effectively ruled the day.
Method Man & Redman. Photo by Mary-Beth Blankenship
Method Man & Redman
Across from Brand New, the Wu-Tang theme continued, with a joint performance by frequent collaborators Method Man and Redman. I actually saw the pair over a decade ago, my first taste of anything Wu released, so it was very cool to revisit them, if only for a few songs. The duo's chemistry and ability to work well together while managing their unique personalities felt as strong as ever, the large and enthusiastic crowd seemed sufficiently amped to be catching some legendary hip hop in action.
White Lung. Photo by Mary-Beth Blankenship
White Lung
Squeezing in a mad dash before Morrissey, I made my way to the Storyheart Stage for Canadian punk trio White Lung. I absolutely adore this band, and their latest LP Paradise is one of the year's best- had I not experienced a full show of their ferocious, feminist indie punk the last time they hit Nashville, I'd have been seriously bummed not to have time to watch a full performance. With so many amazing artists competing for attention, they didn't have quite the crowd they deserved, but singer Mish Way-Barber still brought every ounce of intensity and refined performance chops I've come to expect, and I got to at least hear a few newer tunes live for the first time before running to Social Distortion.
Social Distortion. Photo by Mary-Beth Blankenship
Social Distortion
I'm still pretty sad that I couldn't make it Social Distortion's 25th anniversary tour for their self-titled album last year. While it's not quite as impactful a release for me, doing a 20th anniversary set of White Light, White Heat, White Trash at Riot was at least a cool consolation. Not wasting any time, the punk legends launched straight into the LP and proceeded to play it in track order, looking pretty enthusiastic about mixing up their anniversary outings. I would've actually loved a more career-spanning set, but the experience was cool nonetheless, and the band sounded great. I made it to "Through These Eyes," before heading on to claim my spot for Moz.
Morrissey. Photo by Mary-Beth Blankenship
Morrissey
A figure who always seems steeped in some sort of controversy, I'd already noticed a bit of a stink about Morrissey forcing food vendors to go meatless after 8 p.m. Honestly, that felt exceedingly reasonable to me. Meatless venues are a condition of Morissey's rider, and though he can't (and shouldn't) control festivals entirely, Coachella had famously offered to make their whole event vegetarian if The Smiths agreed to play- demanding vendors to phase out or close early just two hours before the end of 10 hour day, a window during which only a handful of other acts were playing, feels like a fair compromise. I've seen Morrissey many times, but never at a festival, so it was weird to encounter so many people with less patience for his antics. The second "controversy" of the night was how late he started, finally taking the stage after 30 minutes of vintage video reels. I heard rumors that he had ordered security to change because their shirts were the same color as the one he wanted to wear, and while they sounds like something that could be true, it's hard to discern the fact from fabricated, given his enigmatic nature. I suspect the delay was always planned, at least on Moz's end, since he's been opening recent tour dates the same way, and there was likely zero chance he ever intended to play the full hour and forty-five minutes allowed, much longer than he usually does.
When he did finally get started, opening, fittingly, with breakthrough debut solo single "Suedehead," he actually seemed pretty animated and engaged by Morrissey standards, fueled, no doubt, by the gigantic crowd. He didn't exactly do anything special for the festival setting, save for sparing us the animal cruelty video he's been screening at recent tours, but his band filled up the stage nicely, navigating  pretty good mix of tunes like "You Have Killed Me," "Irish Blood, English Heart," "All You Need Is Me," "Jack the Ripper," and "You're the One for Me, Fatty." Despite souring relations with his short-lived label home, I'm glad to see him still prominently featuring cuts from World Peace Is None of Your Business, as it's my favorite Morrissey record in more than a decade. Noticeably absent were Smiths songs, which he's been playing less and less of over the years, save for closer "What She Said," played directly after an epic singalong-inducing "Every Day Is Like Sunday." While it's hard to top the experience of seeing Moz up close in person in a smaller setting, and while I'm incredibly biased, I still thought he served as a phenomenal and fitting headliner, and, frustrations aside, he was probably my favorite part of an insanely cool weekend.
Nas. Photo by Mary-Beth Blankenship
Nas
I couldn't bring myself to miss a minute of Morrissey, but directly across the field, closing out the Rise Stage was hip hop great Nas. Between bits and pieces of Morrissey, I could occasionally catch a hint of faves like "If I Ruled the World" and "One Love," reminding me of how unreal he was at Bonnaroo a few years back.
Photos by Mary-Beth Blankenship.
SUNDAY
Bleached. Photo by Mary-Beth Blankenship
Bleached
By sheer number of difficult scheduling conflicts, Sunday might have been the most hectic day of the whole weekend, but, rested and still riding high from Saturday night, I couldn't have asked for a better start than Bleached. The California indie punks are fast becoming one of my favorite bands in the world, and I've been spinning their new album Welcome the Worms pretty much on repeat all summer. They ripped when I first saw them at The High Watt in Nashville, and this Riot Fest set, despite behind so early in the day, had every bit the same punch. Singer Jennifer Clavin, especially, was impressively animated, reminding me how much I needed to caffeine.
Swingin' Utters. Photo by Mary-Beth Blankenship
Swingin' Utters
I've been pretty aware of Swingin' Utters since first getting heavy into punk, but I can't say they're a band I ever listened to on the regular. Still, they're yet another seminal act from before my time I'd never seen live, prompting me to squeeze in a few songs of their set. I was impressed- a little more conventionally punk and less pop punk than many of the other legacy acts, their manic energy and unrelenting, fast sound was a lot of fun to soak up in person.
The Falcon. Photo by Mary-Beth Blankenship
The Falcon
A Chicago based supergroup made up of Brendan Kelly of The Lawrence Arms, Neil Hennessy (current Lawrence Arms, ex-Smoking Popes), Alkaline Trio's Dan Andriano, and Dave Hause of The Loved Ones, punk supergroup The Falcon were a must-see for their sheer pedigree. The fact that they've managed to more or less keep it going for over a decade is all the more impressive, and as indicated by their pretty fantastic releases, it's treated with just as much reverence as their main gigs. As you might expect given the names involved, they were awesome, and with a hometown audience, they kind of stole the afternoon.
frnkiero andthe patience. Photo by Mary-Beth Blankenship
Frank Iero and the Patience
I previously caught the first incarnation of ex-My Chemical Romance guitarist Frank Iero's solo career when it was dubbed frnkiero andthe cellebration. Now going by Frank Iero and the Patience, and with a new album on the way, not much has seemed to change sonically, with a driving, alt punk sound that, live, perhaps felt slightly less heavy this time. After years of being a certifiable rock star, Iero is a seasoned vet, and his solo shows definitely benefit from his ability to work a crowd and make his sound feel huge.
Billy Talent. Photo by Mary-Beth Blankenship
Billy Talent
Keeping the midday mad dash going, I ran to Rise Stage for my fifth set in under an hour and a half- Canadian punks Billy Talent. While I understand they've remained remarkably popular, I hadn't really kept up with the band since their earlier days, though I absolutely obsessed over their 2003 debut in high school. I didn't really recognize much of what they played, but holy shit it was cool; 15 years later and they still rip with ever ounce of intensity and raw emotion and pulled me in in the first place.
All Dogs. Photo by Mary-Beth Blankenship
All Dogs
Against Billy Talent on the tiny Rebel Stage, Ohio pop punks All Dogs, who I've long wanted to see, played to an intimate crowd. Though I couldn't stay for long (story of my weekend), the band's jangly, indie, earnest style was absolutely perfect live, and I imagine seeing them in a small club would be a stellar experience.
Dee Snider. Photo by Mary-Beth Blankenship
Dee Snider
One of the weirder acts on the bill, I was prompted to check out Dee Snider not for his Twisted Sister pedigree, but for a glowing endorsement from my friend Eric Nally of Foxy Shazam. I didn't really know the solo stuff he opened with, but later in passing when zig-zagging between concurrent sets, I caught a truly bizarre but weirdly cool cover of Nine Inch Nails' "Head Like a Hole," as well as toned down renditions of "We're Not Gonna Take It" and "I Wanna Rock." I also saw Dee roaming around backstage and checking out other performances, and he couldn't have seemed nicer- also great for a legend.
Juliette Lewis. Photo by Mary-Beth Blankenship
Juliette Lewis and the Licks
Having just recently experienced Juliette Lewis's wild and incredibly fun live show for the first time at Wrecking Ball, I pretty much knew what I was in for. Though her Riot Fest set was much of the same, the jumpsuit clad badass had the same manic, powder keg of energy and golden age of rock sensibilities, and seeing her operate so effortlessly in a space her celebrity doesn't really stem from is a very cool experience every time.
Andrew W.K.
We actually weren't allowed to shoot Andrew W.K., not for timing or restrictions, but because his performance was deemed too chaotic by security- an overly impressive feat for a festival full of punks. At this point he's about equal parts musician and performance artist, and donning the same familiar uniform, and dialing the energy, positivity, and spirit of partying up to 200%, his tried and true tunes like "She Is Beautiful," "We Want Fun," "Party Party Party," and of course, "Party Hard," felt as fun and effective as ever.
Chevy Metal. Photo by Mary-Beth Blankenship
Chevy Metal
Chevy Metal started as a cover band side project for Foo Fighters drummer Taylor Hawkins to kill time and belt rock covers during breaks between his main gig's activity. It has since been used as a pseudonym for all of the Foos, but most typically features Hawkins and guitarist Chris Shifflett, plus some Foo friends and crew. Tacking tunes by the likes of Motley Crue, David Bowie, and The Kinks, Hawkins showcasing his surprisingly strong vocal chops, they were the ultimate party cover band, just so happened to be made up of real rock stars. Bouncing between their set and Thursday's, I saw Juliette Lewis pop in for a cover of Van Halen's "Ain't Talkin' 'Bout Love," and Dee Snider himself turn up to finish things out with Mountain's "Mississippi Queen" and Queen's "Tie Your Mother Down." Epic.
Thursday. Photo by Mary-Beth Blankenship
Thursday
I had the pleasure of seeing Thursday's triumphant return at Wrecking Ball, and with only two more shows on tap after Riot Chicago, and an uncertain future beyond that, I was very thankful to get a second helping. The last show was surreal, and yet, somehow, this managed to be even better, boasting a palpable energy of thankfulness and genuine excitement to be back, and back for the right reasons. Geoff Rickly is an unrivaled frontman, and his command of the stage and huge presence was an impressive sight to behold once more. The lean set seemed designed for fan service, with favorites like "Signals Over the Air" and "Cross Out the Eyes," I loved every minute, despite finding myself wishing they'd had twice as long. Ending, of course, with "Understanding in a Car Crash," the enthusiastic devotees seemed floored to have one of the scene's most beloved bands back, and I hope this will be the one of many new opportunities to see them in action- if their apparent chemistry is any indication, I would be optimistic about getting more.
Bad Religion. Photo by Mary-Beth Blankenship
Bad Religion
I've seen a handful of Bad Religion shows in my day, but never one as hit-filled as this. Kicking off with ferocious new tune "Fuck You," the long-running, trailblazing LA melodic punks are a well-oilied machine at this point, and hand-picked some of the most recognizable songs from their entire discography, keeping Riot Fest in the palm of their hands with "Los Angeles Is Burning," "21st Century (Digital Boy)," "Stranger Than Fiction," "Generator," "Sorrow," and more. Ever the beacon of dependability, the band have managed to maintain a loyal following by never straying from their roots, and nearly 40 years in, they still have the fire and drive that helped them rise to such influential early heights.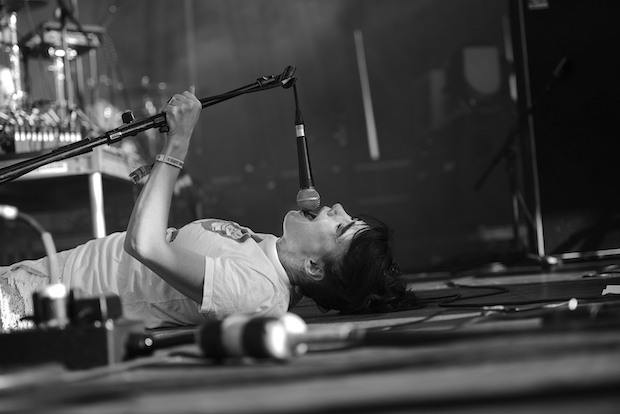 The Julie Ruin. Photo by Mary-Beth Blankenship
The Julie Ruin
The Julie Ruin were one of the highlights of Wrecking Ball this year, but, admittedly, they were a little off at Riot. When I arrived, their set was already a bit delayed, apparently plagued by technical difficulties. When they finally got going, kicking off with "I Decide," they definitely sounded great, but something about the start seemed to throw off the vibe a bit. I'll never not be wowed by seeing Kathleen Hannah and Kathi Wilcox in person though, and their feminist punk coupled with the newer band's more indie and dance rock vibes makes for a very cool show. Hannah is a commanding presence, and when she interjects social and political discourse into her performances, it lands more effectively than most any other performer I can think of.
Underoath. Photo by Mary-Beth Blankenship
Underoath
I got the full-on Underoath reunion experience already on their comeback tour, so everything from this point is just icing on the cake. I'll be the first to admit I never really was a superfan beyond their classics They're Only Chasing Safety and Define the Great Line, but, fortunately, those LPs seem to be fueling much of their reunion setlists anyway. Announcing mid-set plans to keep touring and to record new music, frontman Spencer Chamberlain seemed fully committed to properly bringing the band back, and drummer/singer Aaron Gillespie, after a tenure with Paramore, felt more at ease back in his old digs as well. Watching people absolutely flip out at hearing "It's Dangerous Business Walking Out Your Front Door," "Reinventing Your Exit," and "Writing On the Walls" was definitely a high mark of the whole fest, and without the chaos and confrontation with security that dogged their Nashville date, it was nice to just see them rip through a normal, inspired Underoath set.
Deftones. Photo by Mary-Beth Blankenship
Deftones
I got to see a hell of a Deftones show back in the spring at Shaky Knees, but since they were on the way to the smaller stage sets I wanted to catch, we stopped off for a few songs. I thought "Rocket Skates" and new tune "Geometric Headdress" were kind of a weird way to open, but Chino Moreno and co. rip so hard it almost doesn't matter what they play, and I have to respect a band who aren't just pandering. Weirdly, it made me realize how Riot Fest doesn't have as much metal as you'd expect (hardcore and hard rock, sure), but when you have Deftones on the bill holding it down, quality beats quantity.
The Dirty Nil. Photo by Mary-Beth Blankenship
The Dirty Nil
Nearing the home stretch and having barely spent time at the smaller stages all day, I went to the Rebel Stage to check out The Dirty Nil, who first came onto my radar passing through Nashville for smaller and DIY shows. The Canadian group play spazzy alt rock with a punk bite, and did their damnedest to rock hard enough for twice the crowd. I'd only seen these guys in tiny rooms, but they filled out a festival stage nicely, and seemed destined to keep riding the ranks to broader recognition.
The Wans. Photo by Mary-Beth Blankenship
The Wans
One of only a few Nashville bands on the bill, I had to watch The Wans for a couple of songs before booking it to Sleater-Kinney. It felt fitting to have kicked off Riot with Diarrhea Planet, and to get The Wans near the end, and the local rockers, with their blend of  '60s fuzz and proto-punk attitude with '90s alternative and grunge sounds, brought the same kickass, driving performance I've come to expect, even if late Sunday maybe wasn't the best place to slot them.
Sleater-Kinney. Photo by Mary-Beth Blankenship
Sleater-Kinney
I'm 1o00% here for this Sleater-Kinney reunion. No Cities to Love felt totally worth the ten year wait, and their reunion show last year in Nashville was one of my favorite performances of 2015. Seeing them play on the same stage, just as few hours after former members of Bikini Kill also felt extra special, bringing a mini riot grrl movement to Riot Fest. The modern legends are ridiculously good, perhaps better than ever (I never got to see them the first time around, but this reunion is so good) and performing to a delighted and packed crowd, not even the anticipation of the looming Misfits set could steal my attention. "Jumpers," "Dig Me Out," "Oh!," "Modern Girl," "Bury Our Friends"- literally every song I could have asked for got played, recreated with stunning perfection and every nuance and emotional beat that makes this band so phenomenal. I was curious if Carrie Brownstein's Portlandia fame might affect the makeup of their crowd, and while surely there were some newcomers, it seemed largely like an audience as obsessed with S-K as me, and I would have been glad to end my weekend with their amazing performance (had there not been a total legendary band up next).
Misfits. Photo by Mary-Beth Blankenship
Misfits
To be honest, I'm still kind of in disbelief that I saw the Misfits. Like, THE Misfits, or at least something that approximates a "definitive" lineup- Glenn Danzig, Jerry Only, and Doyle Wolfgang von Frankenstein- on stage together for the first time in 33 years. I'd seen what Only tries to hock as "the Misfits" previously, and I've even seen Danzig and Doyle together at Bonnaroo, both of which approximated the Misfits, but never to completion. The modest turnouts to both exemplified this. Alternatively, this reunion, which took began at Riot Fest Denver and seemingly concluded at Riot Fest Chicago- making this, perhaps, the last chance ever to see the real Misfits- drew a breathtakingly massive crowd, easily the biggest of the weekend, for a shared experience unlike anything I've ever witnessed at another festival. Dressed in the same gothic, horror punk garb they've been rocking since the late '70s, the band, though visibly aged, looked and sounded like they hadn't missed a beat. If there's any tension left between Only and Danzig (from the sound of interviews, there likely is), they squashed it completely once they set foot onstage, operating like like the band they were born to be, rather than fragmented pieces of it.
The entire performance consisted only of cuts from the band's initial late '70s through early '80s run, no surprise, since Danzig exited after, including a ton of songs from lost album Static Age, which took nearly 20 years to see the light of day in 1996. The influence of the Misfits on modern punk, both visually and sonically, is immeasurable, and seeing them in action, it still felt like they did it better than anything they've spawned. Balancing the morbid and macabre with unrelenting, powerful punk and hardcore at their essence, the band are one of the most important and iconic in history (and not just because their logo has found a life of its own). Despite being far back and buried in an endless sea of fans, in that moment I felt connected to the band, transported, as they seemed to be, to an era decades past, and I know, no matter what the future has in store, that I witnessed one of the most important comeback shows in musical history. That's the magic of Riot Fest, and I can't wait to see what surprises they cook up next time- this might be impossible to top.
Photos by Mary-Beth Blankenship.