Review by Philip Obenschain (@pobenschain). Photos by Mary-Beth Blankenship.
Conceived in 2013, Atlanta's Shaky Knees Festival, now in its fourth year, is fast becoming one of the southeast's premiere musical events, nabbing artists competitive with larger fests, and growing bigger and better with each passing season. While primarily rock focused, featuring plenty of indie, folk, punk, post-hardcore, alternative, new wave, post-punk, shoegaze, and more, the festival spun off to feature a second country version, Shaky Boots, last year, and, this year, replaced that with an electric and hip hop themed Shaky Beats. Those spinoffs address our one gripe, which is less musical diversity than similar events; however, we understand that Shaky Knees' reeled in scope of focus is deliberate, and they do what they do very well. It's not the biggest event (by design), but it's so meticulously well curated, that we were more excited for Shaky Knees' lineup this year than for many festivals twice its size.
For our second time at the fest (we also attended in 2014), Shaky Knees did not disappoint, providing a well-balanced mix of fantastic performers in a picturesque urban setting, finally feeling as though it has settled into its own identity, ready to be cemented as a top-tier summer event. Centennial Olympic Park, Shaky Knees' fourth home in just as many years, plays host to several other Atlanta-based events, and despite one long passageway between stage areas, it proved to be an amazing space; hopefully it'll continue to play host for years to come, as the infrastructure leaves room for attendance to grow, and we found it incredibly easy to access and navigate. After three jam-packed days of music, we feel like we kicked off what's shaping up to be a stellar festival season in the best way possible. Below, read our recap of Shaky Knees 2016, along with a gallery of fantastic photos from the whole event!
FRIDAY
Beach Slang
Nashville is so constantly stuffed with great musical happenings (as any regular readers of this site can attest), that I don't often make it to Atlanta as much these days, but, undoubtedly, it's the next closest major market to Music City with a scene as flourishing and diverse. Just a few hours' drive, we road-tripped early Friday morning, and made it into the fest with relative ease (seriously, no traffic!) just in time to catch one of our most-anticipated performers, Beach Slang. Only my third time seeing the buzzy punk newcomers, and first since they finally dropped their debut LP, I was impressed with how well engaged the crowd on such a large stage (they're definitely a dingy punk dive band at heart), cracking jokes, playing fake-out covers, and taking requests, noting that, despite it barely being noon, they'd starting day-drinking early. Only fitting, of course, as frontman James Alex seems to draw a lot of influence from the Replacements, whose earnest, heartland-rock inspired flavor of punk is also presented with a healthy amount of debauchery. One of the most sincere and fantastic bands to emerge from the punk scene in recent years, I couldn't have asked for a better way to begin what was, through and through, an amazing weekend of music.
Foxing. Photo by Mary-Beth Blankenship.
Foxing
Eyeing Shaky Knees' setup on the map, I gathered that the four main stages, grouped in pairs, would be fairly spread out, but I wasn't prepared for just how much back and forth would be required to navigate between the two main areas, hindered further by one narrow walkway (a logistical necessity, I'm sure, as the city of Atlanta would have otherwise been forced to close a major downtown road). That's the tradeoff for hosting a major rock fest in a city center, I suppose, and the location was otherwise fantastic. With only one writer and one photographer at hand, we were fortunate to find that most of our must-see bands played on paired stages, and were able to settle further scheduling conflicts by figuring out how much ground we'd be able to cover (whoever scheduled this fest did a great job of pairing bands with overlapping fan appeal). Right after Beach Slang, emo/indie rockers Foxing, a huge favorite of mine, hit the adjacent stage. Despite the early hour, vocalist Conor Murphy delivered an emotional gut-punch performance, resonating well with the relatively large crowd (the punk and hardcore bands clearly had a huge draw this year), and making the big stage feel like an intimate performance hall. With a lean set that stuck with familiar favorites, Foxing left me desperately wanting more (which, had I gone to The Earl after the fest, I could have recieved at their official late night show).
Craig Finn. Photo by Mary-Beth Blankenship.
Craig Finn
Staying planted to the Piedmont/Boulevard stage side of the fest, I watched Hold Steady frontman Craig Finn perform next, after a brief changeover. Definitely worth nothing, Nashville resident Arun Bali, also known for playing guitar in seminal emo group Saves The Day, was moonlighting as a member of Finn's backing band; always cool to see a familiar face from home! Though, admittedly, I'm less familiar with Craig's solo work than I am with his band (Boys and Girls in America is a modern classic), I knew I would dig it, and dig it I did. With two solo albums over the last few years, Craig has continued to navigate the indie rock realm, but has forged a more intimate voice, peppering in influences of country and heartland rock. His singing style is unmistakable, and he seemed genuinely humbled by the crowd response, elevated by his top-notch backing band, and more energetic than his somewhat melancholy thematic focus would suggest.
The Front Bottoms. Photo by Mary-Beth Blankenship.
The Front Bottoms
As Craig Finn finished up, I began to notice the largest crowd of the day yet gathering at the nearby stage, younger and eagerly awaiting breakout indie punks The Front Bottoms, whose success has apparently been accelerating at rapid speed since the release of their latest album, Back on Top. Channeling the genre-bending and rabidly beloved energy and quirkiness of label mates twenty one pilots, but sonically more similar to, say, a Jimmy Eat World after a little too much Red Bull, the Jersey group had, until recently, been relegated to buzzy club status. Now they seem on the cusp of becoming a certifiable mainstream success, with an endless sea of enthusiastic fans singing along to hits like "HELP" and "Twin Size Mattress." I'm definitely a huge fan of this scene as a whole, and after 2013's remarkable Talon of the Hawk, it's refreshing to finally see this group gaining momentum in a major way. Fun yet sincere and earnest, their performance was my favorite of the day so far; the crowd seemed to share that sentiment, drawn in by every song and nearly unwilling to let their all too brief set end.
Wolf Alice. Photo by Mary-Beth Blankenship.
Wolf Alice
After a phenomenal block of bands on the festival's southwest International Plaza side, we finally made our way to the main stages in Centennial Park proper, where British grunge-revivalist alt rockers Wolf Alice were prepping to take the biggest stage. A magnetic force, frontwoman Ellie Rowsell captivated from note one, anchoring a powerhouse performance that blended pop accessibility and rock and roll bite. The interplay of the group was especially notable, and as afternoon began to settle in, I noticed a spike in concert-goers tricking in, just as enthralled by Wolf Alice as I was.
The Sword
After a brief air-condinted refuge in the nearby CNN Center, we took a stroll around the festival grounds, which, though primarily music-focused, included an impressive offering of food trucks, some vendors, sponsor booths, and plenty of drink stands; all of the usual festival fair, but curated as expertly as the lineup. One of my most-anticipated artists not only of Friday, but of the entire weekend, Against Me!, were set to play back at the Piedmont Stage, and, arriving early, I was treated to half a set by The Sword. Metal is definitely underrepresented at most major summer fests (expect the metal-specifc ones, obviously), and, while Shaky Knees' metal offerings were not expansive, the few heavy-skewing bands they bagged were top-notch. Blending stoner metal with classic hard rock sensibilities, The Sword are a band I've been dialed into for quite awhile, but one I've never had a chance to see live, so watching them rip through half a dozen songs was a great palate cleanser ahead of the uncontainable punk explosion that would follow.
Against Me! Photo by Mary-Beth Blankenship.
Against Me!
We are self-proclaimed Against Me! mega fans in these parts, and we've brought you coverage of a variety of their performances, ranging from smallish club outings to festival appearances, in the past. Always at the top of our list whenever we have a chance to see them in concert, what pushed the seminal punk act so high on our Shaky Knees priorities was the fact that they just spent eight months crafting a new album, and Atlanta would mark only their second show of the year so far (the first was the night before, in Alabama, and, since Shaky Knees, they've played a handful of regional shows, including a headline grabbing outing in North Carolina, where trans frontwoman Laura Jane Grace burned her birth certificate in an act of protest). The band, who've transcended the ranks of "good, modern punk" to become one of the most socially important, sonically ferocious groups in existence, were not selfish with the new cuts, performing at least five unheard tracks with titles like "333," "12:03," "Haunting, Haunted, Haunts," "Boyfriend," and "Suicide." In case you were worried about how the band would ever meet the lofty demand of following up their career-defining 2014 effort Transgender Dysphoria Blues, don't be; the new songs SLAY, juggling the line between unadulterated punk, harmony laden rock, and personal, socially-charged lyricism.
At a time when trans issues are being thrust front and center in a national civil rights discussion, Laura Jane Grace's platform has never felt more essential, and, despite being a person first, musician second, and activist third (er, anarchist should be in there somewhere too probably?), she's stepped up to the challenge in full, rage-filled force, erupting into a speech about the hypocrisy of privacy and safety, eliciting enthusiastic and impassioned support from the crowd. Against Me! have always been a band unafraid to take a stand, but now, with their frontwoman swept up in a national debate just by virtue of being true to herself, they're suddenly, perhaps, the most important band in punk. Aside from the new cuts, the quartet, sounding better than ever after months spent writing and rehearsing, tore through favorites from most every era of their career, evoking chants, singalongs, and rowdy enthusiasm. Donning a dress and a fancy new guitar, Laura's voice has never felt so urgent, confident, inspiring or oddly soothing in its raw intensity and earnest vulnerability, and now, a few years removed from her own transition as well as the band's most transitional album, she plays with a balance of rage and poise that is unmatched. Not just an essential fixture in the punk world, Against Me! are, without a doubt, one of the best rock bands on the planet, period, and their new album, which they announced is already finished, is now my most-anticipated release of the year.
Savages. Photo by Mary-Beth Blankenship.
Savages
Elated and inspired after Against Me!'s impassioned performance, I discovered that things were running a little ahead of schedule, and bolted for the other side of the fest, arriving just in time to catch another buzzy, ferocious, female-led punk (well, post-punk) band, Savages. While you might want to check out our review of their full show the following night in Nashville for more in-depth coverage, I was blown away by the gals' intensity, angst, poeticism, and dynamic control, alternating between heavy and chaotic, and hypnotic and subdued. Frontwoman Jehnny Beth was an uncontrollable force, performing with both calculated insight and spontaneous electricity. Without a doubt, this year marked Shaky Knees' most punk lineup to date (which is, surely, a reflection of the genre's resurgence at large), and I loved getting a chance to see so many bands I've been following for ages.
Bloc Party. Photo by Mary-Beth Blankenship.
Bloc Party
I've only been moderately dialed into Bloc Party since they re-emerhed a few years back, but Silent Alarm was a massive favorite during my high school years, and I'll catch the band live any time I can (which, lately, is maybe once every couple of years). I knew that their rhythm section was new, and that their sonic direction had changed quite a bit with their most recent LP, but, for the most part, I was glad to find that they're largely the same old Bloc Party, seeking refuge in their thumping indie grooves after an intense couple hours of punk. Frontman Kele Okereke is a charismatic and awe-inspiring performer to watch, and I particularly enjoyed watching new, young drummer Louise Bartle totally hold her own filling Matt Tong's shoes, in such a fast and rhythmically intense group. Getting a fulfilling fix of songs new and old, I wandered off to take a breather, glad to see the evening setting in after a long, constant day of music (fortunately the whole weekend couldn't have been more perfect weather-wise; something that can dramatically influence the overall festival experience).
Slowdive. Photo by Mary-Beth Blankenship.
Slowdive
Though I don't proclaim to be an expert in under the radar '80s and early '90s shoegaze, alternative, and indie rock (it was before my time, and takes some digging as the mainstream bands, or even more popular "indie" artists like Sonic Youth and Pixies, tend to clog up the collective consciousness), I love constantly uncovering bands from that era and at that level that speak to me today, often hidden gems under appreciated in their era, whose influence, whether direct or indirect, nonetheless has persisted through the ages. England's Slowdive are one such act, and that's why we recommended them so highly ahead of the fest. After a canceled appearance in Texas, Shaky Knees became their only U.S. date of the year (they had a handful of international appearances on the docket as well), and considering their 20 year break before a modest reunion run, I made them an absolute top priority. Most every member of the group is active with other projects, some together, even, but the magic of seeing Slowdive share and stage and dust off these songs once more was unbelievable. Their dream pop, shoegaze sound feels like a blueprint for so much indie rock that came later, but remembering that this material is all well over two decades old is mind-blowing, since it sounds every bit as fresh and revolutionary today. Calming and hypnotic, singer Rachel Goswell's voice is still absolutely enchanting, and laid atop Neil Halstead's layered, dreamy guitar work, this band, still "indie" by most metrics, proved to be one of the most memorable performers of the whole weekend. Resurrecting old projects is certainly in vogue these days, but when it's a band like Slowdive, who genuinely never got their dues, despite making iconic music in their time, it feels not only warranted, but necessary, and I couldn't be more grateful to have been afforded a chance to see them.
Jane's Addiction. Photo by Mary-Beth Blankenship.
Jane's Addiction
After Slowdive, I beelined for the main stage to catch another band of the same era, but, in many ways a polar opposite: popular, radio-friendly, and beloved in their day, and also cut short, but by choice, not circumstance. Though they've technically been back together longer with a second wind then they ever were in their original heyday, Jane's Addiction mostly keep their tours brief and their appearances festival-centric in this day and age, seemingly content to persist as a legacy act, and, certainly, as an act deserving of that legacy. Perry Farrell and Dave Navarro are rock and roll royalty, in that rare class of celebrity that transcends their art, and seeing them in person for the first time was definitely a surreal, awe-inspiring event. I'm admittedly not the world's biggest Jane's Addiction fan, but I listened to them plenty in my teens while rediscovering music I was just a little too young to catch the first time around, and I respect their contributions and influence on alternative rock. It's a fine line they walk, because their music isn't anything close to "glam" or "hair metal" or, like, bro rock, and yet their pole-dancing backup dancers, leather and spikes, questionable facial hair, piercings, and tattoos, and somewhat vapid banter would be a definite deal-breaker for me for any lesser band; it doesn't seem out of place, given their era and lifestyle, but it also feels like an antiquated notion of presented rock and roll decadence that has been rejected by more authentic bands of subsequent eras. Farrell's magnetism was palpable, despite a somewhat diminished vocal capability, and, though the band took the stage a bit late, they managed to win over the huge crowd with hit after hit, front loading with favorites and proving that they still rock just as hard 30 years in. Jane's Addiction are a great festival headliner, because their presence is larger than life, their appeal is broad, and their recognition is massive. Maybe I'm just moving past that era in taste as I get older, but I tend to favor bands still dialed in over legacy acts in top-line slots festivals these days; nonetheless, I found Jane's to be fun and effective, and I'm glad I could cross them off my rock and roll bucket list.
The 1975. Photo by Mary-Beth Blankenship.
The 1975
One of the day's toughest scheduling conflicts (the others being Wolf Alice/Baroness, Bloc Party/Ghost, and Slowdive/The Kills), I opted for Jane's Addiction over The 1975 only because I'd never seen the former, and because I'm sure I'll have many more chances to see the latter in years to come. After two hugely successful albums and mainstream crossover success, though, The 1975 have never been more buzzworthy or relevant, so, cutting the night a little short, we opted to walk back through the park to watch a bit of their set on the way out. I'd seen the band before, shortly after their first bought of attention made them the band to watch, but, in the couple of years since and armed with some of their most polished, poppy songs yet, the British group have never sounded so huge, stadium primed, or exciting. I noticed a hilarious divide between their audience and Jane's Addiction's, with The 1975's crowd, unsurprisingly massive, skewing considerably younger, teens and twenty-somethings absolutely losing their mind dancing and singing along. Matt Haley feels like a once in a generation frontman with his exuberant charm and talent, serving as something of a emotional, authentic foil to Jane's Addiction's contrived, decedent presentation, and getting to watch him and the lads even for just a bit left me feeling happy and fulfilled, impressed beyond expectations with my first day at the fest. Soon, it was on to late night snacking and so much-needed rest, with two full days to look forward to.
Photos by Mary-Beth Blankenship.
SATURDAY
Polyenso. Photo by Mary-Beth Blankenship.
Polyenso
I would describe myself as a relatively low-maintence festival attendee, and will gladly camp when the situation calls for it, but I'd like to take a moment to voice my appreciation for the wonders of a real bed and hot shower between 12-hour days of nonstop music. Refreshed and ready to hit repeat, we got an early Saturday start specifically with the intention of catching Florida's Polyenso, a band I've heard a ton of buzz over lately. The first group I had a chance to see on the Buford Highway Stage, Shaky Knees' most intimate performance space, I loved the shade, seats, and astro turf for easing into my Saturday, soaking up Polyenso's almost Radiohead-esque layered melodies, and sweeping, electro-infused indie rock sound. With a set all too brief, performing for a decent-sized crowd given the early time-slot, the band's songs took on a whole new life in a live context, a little less glistening and a little more real. Calming and hypnotic, their performance proved an absolutely perfect way to start my second day at Shaky Knees.
Hop Along. Photo by Mary-Beth Blankenship.
Hop Along
After a much-needed break for coffee and mental preparation for another full festival day, I headed to the far stages for eclectic Philly punk outfit Hop Along, a band I absolutely adore. Powerful live performers, the group, even so early in the day, delivered their personal, engaging, and emotionally charged songs with even more effectiveness than I've ever seen, singer Frances Quinlan's raspy snarl and raw vocal stylings helping land with a weight and intensity that reeled in both casual passer's-by and diehard fans. Another gem in this year's punk-skewing undercard lineup, Hop Along's presence seemed enough to pull a sizable crowd in early, with fans going crazy over familiar tunes like "Waitress" and "Tibetan Pop Stars," demonstrating why Hop Along have been able to navigate between the punk and indie worlds with ease. The only thing that could've made their performance better would've been if their tourmates Speedy Oritz had also been included on the festival's bill.
Day Wave. Photo by Mary-Beth Blankenship.
Day Wave
Admittedly, I didn't know much about Day Wave until writing about Shaky Knees, but, ahead of the fest, I found myself really vibing to the group's electro-infused, layered, and expansive indie sound. So, when I saw that their performance was sandwiched between two acts on our must-see list, slotted at the adjacent stage, adding them to the day's agenda was a no-brainer. Anchored by talented frontman Jackson Phillips, the band performed with more poise and polish than I would have expected for a group only a year into their existence, and, while I didn't know many of the songs they played, I found myself reeled in by their soaring harmonies, driving rhythms, and head-bobbing hooks. It's hard to discover new talent at festivals so stuffed with familiar favorites, but performances like this one remind me of why it's important to occasionally take a chance on a band I'm not as hip to.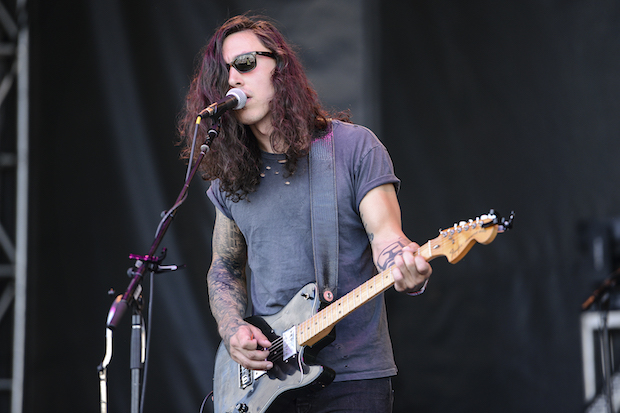 Noah Gundersen. Photo by Mary-Beth Blankenship.
Noah Gundersen
Sonically switching gears, I pivoted back to the neighboring stage to watch indie folk rock troubadour Noah Gundersen. An artist we've written about on numerous occasions, if you're a regular writer of this site, you're likely familiar with Noah's work, yet, each time I see him, I'm taken aback by the fact that he's not yet a household name (his career trajectory would, in a just world, mirror the early days of similar-soul Ryan Adams). Backed by a talented band that included his own brother and sister, the pacific northwesterner played a set with surprisingly more bite than his sometimes stripped-down, acoustic-focused outings. Pulling mostly from his LPs, Carry the Ghost and Ledges, and even sneaking in a stellar new tune, Noah's melancholy songs of love and loss and personal contemplation provided a haunting, reflective substantiveness to the day's otherwise upbeat vibe. With a once-in-a-generation gift for conveying emotion through honest, straightforward song, Gundersen feels, which each passing show, closer and closer to achieving broad appeal, and getting to see him in a festival setting, juxtaposed with so many other artists, always serves as a sharp reminder for just how gifted he truly is.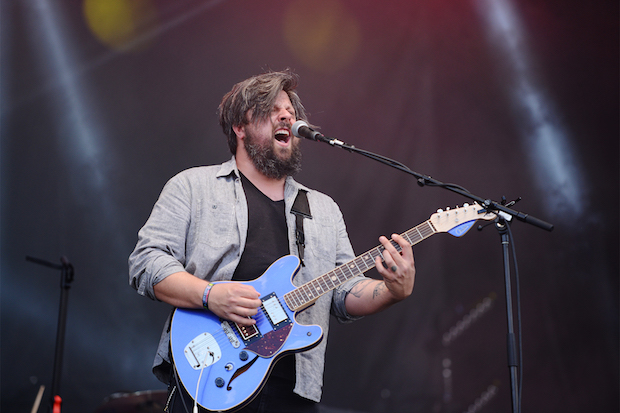 The Dear Hunter. Photo by Mary-Beth Blankenship.
The Dear Hunter
The quieter moments of Gundersen's set were interrupted by loud, constant sound checking from the neighboring stage, which, had it been for any artist besides The Dear Hunter might have been more of an annoyance, but knowing that it meant I would soon see Casey Crescenzo and co., it only served to help build anticipation. I recently saw Casey play a solo acoustic show at a relatively small venue, but hadn't seen the full band in quite a few years, so I was excited to get a chance to experience some new songs in person. Though I only had time to watch about half the set, it was comprised almost entirely of cuts from the band's latest, and return to their original concept-driven songwriting, Act IV: Rebirth in Reprise. A weird mix of indie, experiential rock, and post-hardcore, The Dear Hunter are a hell of a live force, and they sounded as good as I've ever heard them at Shaky Knees.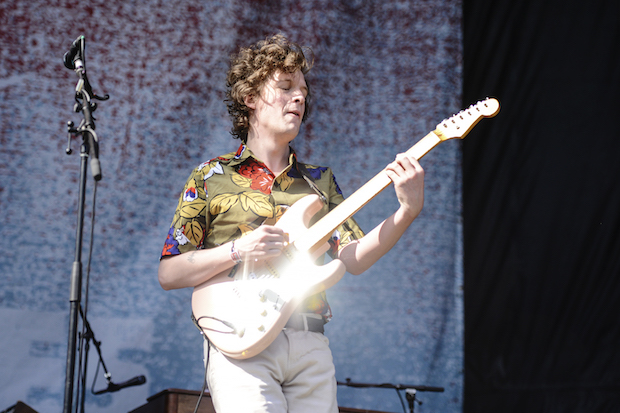 Deer Tick. Photo by Mary-Beth Blankenship.
Deer Tick
Wondering how many Dear Hunter and Deer Tick fans had accidentally wandered to the wrong stage (throwing Deerhoof and Deerhunter into the mix would have felt amusingly appropriate), we hurried to the Peachtree main stage to see the latter's overlapping set. At least partially based in Nashville these days, Deer Tick's sound is certainly unique and always a treat to see live, incorporating elements of folk and blues into their alt rock sensibilities. Taking the stage a few minutes late, singer John McCauley donning plastic overalls, the band quickly proved why they're main stage material, blasting through a set of favorites for one of their first full band shows of the year. Just a decade in, the group play like they've been doing this for a lifetime, and the crowd they commanded seemed to be one of the most enthusiastic of the day. As the afternoon hit its peak, Shaky Knees' audience swelled to perhaps the largest of the weekend, fans eager for the stacked night of music ahead.
Huey Lewis and the News. Photo by Mary-Beth Blankenship.
Huey Lewis and the News
Forgoing Wild Nothing and Phosphorescent in favor of a necessary food, editing, and A/C break, we instead planned next to catch The Vaccines. However, after more than fifteen minutes of waiting for the band to take the stage to no avail, our photographer (as well as all others) was abruptly ejected from the pit. I like The Vaccines a lot, but not that much to put up with shenanigans during a tightly-skedheuled festival. Oh well. Next up was Huey Lewis and the News, and I couldn't have been more excited! Though they might have been the most out of place act on the bill in most respects, the famed pop rockers were one of my most-highly anticipated sets of the weekend, and ended up being, perhaps, the most memorable performance next to Against Me! More than 35 years into their career, the band still look as healthy, happy, and enthusiastic as ever, and, performing all of their classic '83 album Sports, sounded like they hadn't aged a day. I was blown away by how massive the crowd was, consisting of people off all ages and walks of life, singing along passionately to both hits and deeper cuts. The group's signature bluesy rock sound is certainly a reflection of '80s eclecticism, but it still holds up not just for nostalgia's sake, but because the songs are simply that good. Lewis himself seemed humbled and overjoyed, interjecting stories of the good ol' days, and performing with the ease and poise of someone who's been doing this for a lifetime. Tight, soulful, and versatile, the band simply ripped, giving every other artist at the fest a run for their money, and proving that you can be a legacy act and still feel relevant and essential. Ending the set with mega hits "While We're Young" and "The Power of Love," to the audience's palpable elation, Huey Lewis' set was triumphant and magical, and, while I expected it to be great, I didn't expect for them to essentially steal the show from the weekend's many younger, heavier artists.
The Decemberists. Photo by Mary-Beth Blankenship.
The Decemberists
Fighting through the thick Huey crowd, I quickly backtracked to see some of The Decemberists' set. A longtime personal favorite, the band have never played anything less than a stellar show the many times I've had a chance to see them over the years, and Shaky Knees was no exception. Crammed onto the smallish Ponce de Leon stage, the group, armed with an arsenal of instruments, played a lively and lean set, mostly sticking to newer songs (in fact, they completely omitted cuts from their fan-favorite debut) but pacing them well and keeping the packed crowd engaged. Vocalist Colin Meloy has a knack for landing thoughtful, artsy, and conceptual themes through relatable, folk-derived indie rock, and he's looking and acting more confident and self-determined than ever these days. Standout moments included phenomenal renditions of tracks like "Down by the Water," "Make You Better," and "The Mariner's Revenge Song," but really, a Decemberists set is best enjoyed as a whole; a meandering, heady musical journey that feels like a shared experience with fellow fans, always different but never disappointing. Wedged between Huey Lewis and My Morning Jacket, the quirky Portlanders felt like the perfect palate cleansers ahead of Saturday's main attraction.
My Morning Jacket. Photo by Mary-Beth Blankenship.
My Morning Jacket
I've seen My Morning Jacket maybe half a dozen times over the years, almost always at festivals, and, while they're always unbelievably good, I've never seem them firing on all cylinders quite this much in probably 10 years (Bonnaroo '06, I do believe). I don't know if it was something in the Atlanta air, the big and wild crowd, or that inspired warmup set from Huey Lewis, but Jim James and co. sounded absolutely otherworldly, commanding a larger than life presence, energy, and connectedness that melted away the rest of the day and anchored me directly into that moment. The festival itself is named after a line from the MMJ song "Steam Engine," so it felt only cosmically appropriate that they would be the band to deliver what will likely be remembered as one of their finest festival outings of all time. In fact, they played that song (obviously), eliciting cheers from everyone in the know, before transitioning into an epic Prince tribute of "Purple Rain," followed by Jim James' best known solo tune "State of the Art (A.E.I.O.U.)." Those types of stacked sequences were the trend of the whole set, and the flawless interplay and massive presentation thrust the rootsy Louisville rockers into the league of certifiable legends as far as I'm concerned. I've always liked My Morning Jacket a great deal, and, though I listen to them only casually, I make a point to see them whenever they play an event I'm attending (which is quite often). Quintessential festival headliners in their universal appeal, they've blown me away and won my admiration time and time again, but, perhaps, I didn't totally get MMJ until this weekend. Words can barely describe how special, how cool, and how huge this performance felt, and, if ever there was a handbook for shutting down a festival in the most epic fashion, it would absolutely need to be authored by Jim James.
Photos by Mary-Beth Blankenship.
SUNDAY
Julien Baker. Photo by Mary-Beth Blankenship.
Julien Baker
I thought by Sunday I'd really be dragging, but, whether a second wind or just pure excitement in my anticipation for Julien Baker, I began the fest's third and final day with a renewed sense of energy. A native of Tennessee, Julien's breakout success this year has been incredible and well-deserved, and, very swiftly, she's ascended from opening tiny shows to performing on big festival stages. Despite being slotted so early, the young singer commanded a respectable crowd, and, alone on stage, electric guitar in hand, she gave me chills from note one, packing an emotional punch, sadness, and vulnerability that commands your attention and transcends her tiny frame. Like Noah Gundersen, Baker has perfected the art of making sad sound beautiful, and through songs like "Sprained Ankle," "Everybody Does," and "Rejoice," she swept me up in a serious, heartbreaking sense place and being and emotional awareness, connecting in a way that felt so one on one, so authentic, and so therapeutic. It's rare, on packed festival lineup, that the very first act of the day is the best, but dammit it if Julien Baker didn't completely steal the show.
COIN. Photo by Mary-Beth Blankenship.
COIN
Also local, also fueled by plenty of well-earned buzz, and also on the rise, though landing on the other end of the sonic spectrum, Nashville's COIN were kicking off their energetic set at the opposite side of the park as I rushed over. We've watched this band grow from nearly day one, and, thanks to their fantastic self-titled debut and a string of tours with some high-profile indie acts, the band have seen their status rise well beyond Nashville over the past couple of years, a fact readily apparent by the huge crowd they amassed. COIN have always been fantastic live perfumers, but the experience of constant touring has definitely had a profound effect on their live show, which was better than I'd ever seen (it's probably been over a year since I last caught the group). Singer Chase Lawrence, especially, performed with more confidence and worked the crowd with ease. I've known for awhile that these guys were well on the way to becoming the next big breakout indie band, but judging from this outing, they're practically there.
Murder by Death. Photo by Mary-Beth Blankenship.
Murder by Death
Following COIN, folk and punk tinged indie rockers Murder by Death brought a new dynamic to the day, drawing heavily from their latest, last year's Big Dark Love, a record I haven't yet had a chance to spend time with, but loved hearing all the same. The band's marriage of traditional and contemporary sensibilities is always a treat to see in action, and, 15 years in, their show is still as fresh and engaging, though more effortless and confident than ever before. It's been awhile since I've seen them at a club show, but Shaky Knees served as a reminder that I need to revisit them the next chance that I get!
The Orwells. Photo by Mary-Beth Blankenship.
The Orwells
At the neighboring stage, garage punks The Orwells soon launched into one of the rowdiest, most bombastic sets of the fest, drawing a wild and entertaining crowd of fans and curious attendees. I saw the band a few times early on, as they first exploded in recognition, barely out of high school, and, though far from consistent, their snot-nosed skater punk attitude and unpredictable stage presence made for a hell of a fun show. As the group have aged and matured a few years, and their sound has tipped more towards the garage rock side of the spectrum, I wondered if that might mean a tamer live show as well. Thankfully, it didn't. The band were wild, running around the stage, playing their songs with more energy that any recording could do justice, and generally raising hell, drawing momentum from the crowd and performing as if they were the only artist all day that mattered. Singer Mario Cuomo, donning a Santigold shirt and with his unkept, wild mane flowing, created one of the most memorable moments of the fest when, at the start of their last song, he dove in the thick line of pushes between the stage and railing, disappearing completely and causing fans and security to scratch their heads, only to pop up many minutes later at the end of the song, cut up and covered in foliage, to silently walk off the stage. The Orwells aren't exactly a punk band, but you wouldn't know it from watching them live.
Parquet Courts. Photo by Mary-Beth Blankenship.
Parquet Courts
Amidst another day stuffed with stress-inducing scheduling conflicts, the worst, if only because it was a proper three way tie, came next: Parquet Courts, Unknown Mortal Orchestra, and Diet Dig. Knowing we'd only be able to catch two at best, we made the obvious decision to watch the start of Parquet Courts, set right next to The Orwells, then ran to Diet Cig, whose small stage setting felt like the most accessible. I've been a big Parquet Courts fan since 2012's Light Up Gold, yet, despite a handful of opportunities, hadn't gotten around to seeing them in action. Ah, the beauty of festivals. With minimal production and only a simple, homemade looking backdrop on stage, the buzzy New York indie/post-punks played with the same disaffected, stone-faced demeanor that their records would suggest. Sound-wise, they were damn good, but after a series of more animated acts, their stiffness kind of threw me. Still, they let the songs do the talking with great effectiveness, and, though I wished I could have watched more, a little ways in, I bolted for the bridge to see Diet Cig.
Diet Cig. Photo by Mary-Beth Blankenship.
Diet Cig
One of those bands sort of on my radar, but not nearly as much as they should have been, Diet Cig could not be more up my alley, and I regret not getting on the bandwagon sooner. Hailing from New Jersey, the duo, whose sound is similar to a more upbeat Best Coast, are endlessly energetic and charismatic, playing personal, empowering, and fun songs with anthemic appeal and poppy punk bite. Singer/guitarist Alex Luciano, especially, was a real gem, bouncing around the stage, doing high-kicks, cracking jokes, and telling anecdotes between songs. At one point, she said something to the affect of "I feel like a little mouse, I'm like 'Marcel the Shell' up here," and I could not have agreed more; a bouncy, uplifting, feminist badass, and the cutest lil' punk I ever did see, Luciano delivered one of my favorite sets of the whole weekend, and certainly of Sunday. I'm very glad I made the decision to wander over to Diet Cig's set (that's a festival veteran lesson: the biggest bands aren't always the best bands), and I can't wait to see the group play a full show the next opportunity I get.
Eagles of Death Metal. Photo by Mary-Beth Blankenship.
Eagles of Death Metal
Cutting Diet Cig a little short to backtrack to the Piedmont stage for Eagles of Death Metal, I noticed a massive crowd (in fact, a long line across the highway bridge) with a similar plan. They're definitely the subject of a lot of buzz right not, unfortunately for some unpleasant reasons. We should also note that shortly after Shaky Knees, singer Jesse Hughes made some disparaging remarks about Muslims, and the band are currently in the midst of controversy. Surviving a terrorist attack in the name of religious extremism would give anyone PTSD, and feelings of anger and resentment, but, in our humble opinion, claims of conspiracy, prejudice, and promoting gun rights are an unfair and irrational response. Before this all went down, though, the band delivered a fun, rock and roll fueled Shaky Knees performance, proving their ability to persevere and entertaining a horde of fans with their lighthearted, road-worn sound. Personal views aside, Hughes is a natural born entertainer, and he expressed a deep respect and appreciation for the south, noting that much of his family was in attendance. Working the crowd, and covering a wide swath of tracks from their releases, the band reigned triumphant, playing with, perhaps, the most unadulterated sense of pure rock and roll prowess all weekend. I just wish their personal views were as light and openminded as their stage presence would suggest.
Nothing
After EODM, I found a brief window to grab some food and take a quick breather, though not without sneaking off to see a few songs from Nothing. Maybe the most punk thing I caught all weekend, save for Against Me!, despite being more sonically in-line with shoegaze, the Philly group were tough-looking, awesome sounding, and loud as well. The band have been through one terrible and distressing situation after another, personally and collectively, over the last few years, and that turmoil feels real worn and rugged, though, through song, they work it all out on stage, performing with an uncut honesty, vulnerability, and frustration that makes their angst and melancholy feel earned. Though they didn't have the biggest crowd (they were on the Buford stage, and stacked against some popular acts), their fans seemed more communal and dialed in than most, and despite the fact that I only saw less than half their set, they left a strong impression on me for the rest of the day.
Deftones. Photo by Mary-Beth Blankenship.
Deftones
I missed Deftones' Nashville stop a few days before Shaky Knees, so I was determined to not make the same mistake again in Atlanta. Despite counting myself as at least a casual fan since way back in the White Pony days, I was elated beyond words to finally see the guys in action, festival setting be damned. Everyone else at Shaky Knees got the memo as well; the crowd was HUGE, bigger, I think, even than At the Drive-In would command a couple hours later, with fans young and old, punk and metalhead, indie kid and curious attendee, affixed with permeant grins and ready to get loud and rowdy. The band erupted into a skull-shattering rendition of newer cut "Rocket Skates," before taking it way back with "My Own Summer" and "Be Quiet and Drive," hanging loud, hard, and heavy almost 30 years into their existence, frontman Chino Moreno jumping, stomping, and screaming his guts out all the while. Shaky Knees' most high-profile metal band of the year, Deftones showcased their uncanny knack for blurring genre lines, melodic and experimental dissonance intertwined with their droning, loud, alt metal base. Despite being more than 50 hours into a wild weekend of music, Deftones energy elevated my own, and I found myself lost and hypnotized by their epic set, which included a great mix of tracks, including fan (and some of my personal) favorites "Knife Prty" and "Change." There's only so many ways to describe how hard these dudes rip, but there's a reason they survived the nu metal fad, and are regarded as something of modern musical legends: their sweeping, eclectic, and substantive contributions to heavy music are unparalleled, and, decades in, they still exist with genuine relevance and stronger chops than ever.
Explosions in the Sky. Photo by Mary-Beth Blankenship.
Explosions in the Sky
Face sufficiently melted from the Deftones' aural onslaught, and realizing that, after more than half my life of waiting, my chance to finally see At the Drive-In was just hours away, I planted at the adjacent stage to catch Explosions in the Sky's set in between. Having always been tangentially aligned with the punk scene, despite being experimental, instrumental post-rock, I've seen the group a handful of times over the years, always with bands that sort of, but didn't quite match. Explosions are great, and I ranked them high on our guide to Shaky Knees, but, at that particular moment, recovering from the Deftones and overcome with anticipation for ATDI, they struggled to maintain my focus. It's me, definitely not them (or, perhaps, it's scheduling; Deftones would have made sense in the later slot). Getting to see live renditions of songs from their new record The Wildness was still very cool though (it's probably been since even before 2011's Take Care, Take Care, Take Care that I last caught the group in concert), and the fact that an instrumental rock band has risen to this stature, and can still be so engaging in a festival context, is commendable in of itself. Hopefully the next time I see Explosions, I'll be the right headspace! Before they even finished, I started inching towards the next stage, waiting with all the patience I could muster for the weekend's final, and most-anticipated act.
At the Drive-In. Photo by Mary-Beth Blankenship.
At the Drive-In
Though Florence + The Machine were performing across the park, and, in fact, were the weekend's highest billed headliner, there was no way we were going to pick them over At the Drive-In. Don't get me wrong, I love Florence, and we've covered their festival appearances and solo outings in the past, always magical, and highly-reccomend. But, from the moment I first heard Relationship of Command in my early teens, falling in love with At the Drive-In just as they fell apart, I've been hoping and waiting for something like 15 years to finally see them play. I thought I missed my chance, after a very short reunion run a few summers ago gave way to the disbandment of their other post-ATDI project, The Mars Volta, and ended with public statements about how they'd musically moved on from that stage of their lives. It's unclear what changed, but not only are the group back (albeit minus one key member), they're teasing the notion of new music. In light of all that, I'll be damned if I was about to miss my chance to finally see them, even though they made it to Nashville just two days later (watching one of my favorite bands twice in 48 hours left me on cloud nine – we'll have more about the Nashville show soon). Exceeding my every exception, the legendary group played an invigorated, bombastic, mind-blowing set, covering most every Relationship track, and even B-side "Catacombs," causing the crowd to revel in nostalgia and sing along with urgency to the sound of each modern classic.
The band burst into their set with Relationship of Command's first two tracks, "Arcarsenal" and "Pattern Against User," but were quick to pepper in cuts from their sophomore LP In/Casino/Out and popular EP Vaya as well (fans of the deep, deep cuts might have left disappointed, but let's be real, RoC is the sound of ATDI at their best). Climbing on amps and drums and crawling on speakers towards the crowd, enigmatic frontman and vocal powerhouse Cedric Bixler-Zavala sounded and looked as good as he did in his 20s, channeling the same fiery passion and trailblazing post-hardcore sensibilities that made At the Drive-In modern legends shortly after their initial run. Zavala's bandmates, several of whom joined him in subsequent project The Mars Volta, and chiefly guitarist Omar Rodríguez-López, still harbor an undeniable chemistry, performing with an apparent authenticity that also benefited from their added age and experience. I thought I'd be more bummed at the absence of guitarist/vocalist Jim Ward, a key figure in the band's formation and sound, but his replacement, Keely Davis, formerly of Denali, Engine Down, and Ward's own post-ATDI project Sparta, proved up to the task of filling his shoes (what happens when and if there's a new album could be a different story). Not only did ATDI feel really, truly back, and back in a way that seems more sincere than their 2012 run, but they too seem to be pining nostalgic, as Cedrick told stories of the early days, referencing dives he played in the '90s that no longer exist, and expressing gratitude towards the friends, family, and fellow artists who helped make ATDI happen through DIY and grassroots efforts years ago, and who wholeheartedly encouraged and embraced their return.
We're at a weird point in musical history where the alternative and punk and hardcore and post-hardcore bands of the '90s and early '00s, who did what they did because they loved it, who operated off the mainstream radar, who never made it big or rich or famous in their day, but who found love and recognition in the years after, inspiring countless young acts, are beginning to embrace their own post-career relevance, and, despite being older and less connected to or enraged by the things that fueled them, they're able to tap into and explore it through a new lens, satiating old fans and finally giving service to new ones. I don't doubt that The Mars Volta, Sparta, and various other post-ATDI projects mean more to the band's individual members at this stage in their lives, but, as a whole, it warms my soul to see them embracing what they mean to everyone else, and, finally, channeling and tapping into what made it work in the first place with fantastic results. This band's direct influence on me and the music I love is immeasurable, and watching them play it all with such passion and intensity was not only a highlight of Shaky Knees, but a highlight of my life, and one I've been waiting a long, long time for. By the end of their all-too-short set, it felt like this was what the whole weekend had been building towards, and, in every way possible, At the Drive-In elevated what was already an amazing festival to an absolutely essential one. Until next year, Shaky Knees.
Photos by Mary-Beth Blankenship.