Save, perhaps, for Bonanroo (which shares the same production team) there is no other regional festival we can say that, without a doubt, we will attend every year without fail, and can count on to be as well-curated, well-organized, and endlessly fun as Forecastle Fest. We've made the trip four years in a row now, falling in love with the riverfront setting and the lovely city of Louisville, while watching the long-running, homegrown event blossom to national prominence. Despite a lot of familiarity in this year's lineup and a summer more saturated in festival options than ever, our anticipation was just as high as always, and Forecastle delivered another diverse, packed, and unforgettable weekend of incredible music. Our editorial team of Philip Obenschain and Matt Hall, along with guest contributor Desiré Moses, were onsite all weekend to soak up as much music as possible, discovering a lovely balance between big and small acts, and taking note of the highlights. Below, check out our full review of Forecastle 2016, rounded out by a full set of photos from Mary-Beth Blankenship!
FRIDAY
Liz Vice. Photo by Mary-Beth Blankenship.
Liz Vice
We're definitely in an era where festivals rule supreme, and each summer feels more and more crowded, as new events pop up and more regional happenings find their way onto my schedule. Besides the most local events, there are dozens of other festivals easily drivable from Nashville, all vying to carve out their niche and become indispensable summer fun. No matter how numerous and enticing the choices become, however, I feel like I'll always find myself back at Forecastle. Not only a quick drive, Forecastle benefits from the charm and welcoming atmosphere of Louisville, a city that I love exploring more and more with each annual visit, and its picturesque backdrop of Waterfront Park makes the fest not just one of the best laid out, but also constrains it to a medium size I feel is perfect.
After parking (the fact that this festival has street parking is an under-appreciated blessing) sampling Louisville's take on Nashville hot chicken at new spot Royals (they nailed it), and making my way inside just in time to see Liz Vice, I was greeted by a surprising and fantastic cover of Nirvana's "Smells Like Teen Spirit." Given Vice's gospel background and r&b style, the choice of song threw me, but she nailed it, reworking it to her own soulful sensibilities, and selling it with an earnestness that made the bold opening choice work. Capturing the crowd's attention, Liz, backed by a talented band, smoothly transitioned into a set of captivating originals, flexing her unbelievable pipes and genuine spirit, seeming happy and humbled by the enthusiastic afternoon audience. One of my favorite finds of the year, Liz Vice was a wonderful way to start my jam-packed Forecastle weekend. [PO]
Caveman. Photo by Mary-Beth Blankenship.
Caveman
The first of many overlapping, anticipated sets, I wandered from the main stage to Forecastle's smallest (and, arguably, best overall curated), the Port Stage, sponsored by local radio station WFPK. Though I've only casually followed Brooklyn's Caveman since their formation a few years back, I've always heard plenty of positive buzz, and frequently found myself revisiting their songs on various playlists, making them a must-see first time act. Hard to pin down, the band have drifted towards a more polished, mainstream sound with their latest LP, but made a point to include tracks from all three albums, performing with a poise and inherent coolness. I noticed things sounded a little different than I remembered, and the band soon confirmed that their keyboard player was absent, apparently due to a last minute illness. No matter, Caveman made it work, and sounded great, with a driving, captivating, and confident delivery, shining with standout tracks like "Never Going Back." Though I had to duck out a little early to make it to Phosphorescent, I definitely had to pry myself away, and left eager to see Caveman play a full show the next chance I get. [PO]
Phosphorescent. Photo by Mary-Beth Blankenship.
Phosphorescent
Though essentially the musical vehicle for talented singer-songwriter Matthew Houck, Phosphorescent are rounded out by a full band of backing players, and have long been a site favorite. Yet, somehow, I've missed seeing the group in action every single time they've played Nashville, and whenever they've been at fests, it's always against a tough scheduling conflict. This time around, I was determined, and staked my spot to see Houck and co. plays cuts I love from Muchacho, which I practically wore out in 2013, as well as earlier efforts (and a few new tunes). They sounded flawless, and came across a bit more raw and loud than I expected, bringing to life familiar tunes in a whole new context. It seems that the universe just isn't interested in letting me watch a full Phosphorescent show though; about halfway though the set, and before I had a chance to hear breakout single "Song for Zula," it was announced that the festival would immediately be evacuated due to weather concerns, not uncommon at Forecastle (it's on the waterfront after all), and necessary for everyone's safety, but nonetheless a drag. [PO]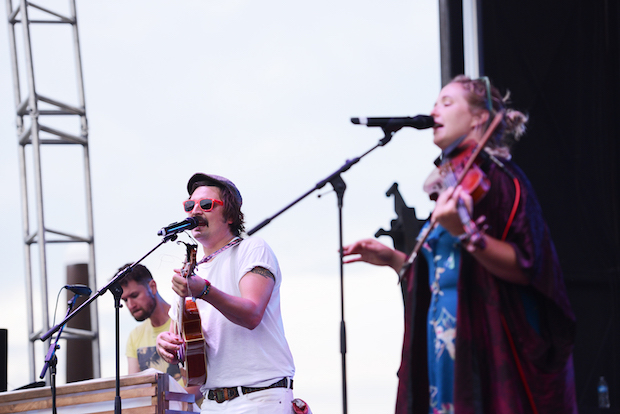 Wild Child. Photo by Mary-Beth Blankenship.
Wild Child
Evacuating like a pro, I took refuge at a nearby tequila bar, seizing the opportunity to catch up on some work, enjoy a few drinks, and escape from the summer heat. Though it cut through the day's momentum, the timing made for a perfect break, and after a little over an hour (and, thankfully, no actual rain to muddy the fields), we were given the all-clear, returning to a shuffled, but no shortened, remaining schedule. While most show-goers seemed to be opting to return to Phosphorescent, or to stake their spot for big ticket performers Grouplove, I instead ventured back to the Port Stage to see Wild Child, a band who've long been on my must-see list since first happening upon their breezy, folky, pleasant songs a few years back. The chemistry of core duo Kelsey Wilson and Alexander Beggins is really something special, and the pair, along with the rest of their talented band, meticulously recreated their compositions with brass, strings, pianos, and percussion. From their art alone, it's clear that Wild Child have a lot of personality, but they were even more fun in person, bantering and chatting with air of pleasantness and a great sense of humor and mischievousness. Later in the set, they brought out what looked like a t-shirt gun, which they explained that they had repurposed as a panty canon, and Wilson processed to to fire into the packed and enthusiastic crowd in hilarious fashion. A perfect festival band, Wild Child exceeded my already high expectations to delivery one of the best sets of the day. [PO]
Grouplove
I arrived at Forecastle on Friday afternoon, just as festival-goers were being readmitted after a storm evacuation (major credit to the festival organizers for a speedy and efficient reshuffle of the schedule). To kick things off, I headed over to the main stage to catch an old favorite, Grouplove. This was my first time seeing the group since they played DC's 9:30 Club in support of their debut album, and I was immediately struck with the same thought I had back then: This band sure know how to work a crowd. Their infectious energy pulsed through a motley set including "Lovely Cup," the ultimate sing-a-long "Tongue Tied," pop punk anthem "Itchin' On A Photograph," and new material from their forthcoming album, set for a fall release. [DM]
Moon Taxi. Photo by Mary-Beth Blankenship.
Moon Taxi
If you've been following our site in any capacity over the years, then you've surely seen us gush about breakout local rockers Moon Taxi. Existing in the Nashville bubble that I do, I wasn't immediately sure if their unprecedented local attention had translated the same way nationally, but after catching them at a few festivals in recent years, a setting which they are primed for, I realized just how huge these guys have become. They killed it at my very first Forecastle in 2014, and their return this summer, still riding high on the buzz from last year's Daybreaker proved just as colossal. There's like almost a proud parent feeling in watching a local band you've seen play dives rock a festival stage in a different city with legions of fans singing along, and Moon Taxi, throughout their surprisingly long run, have honed their ability to electrify an work an audience of any size. Skewing towards the newer tunes with their magnetic set, the boys sounded simply epic, but I had to cut things a little short to make it to another Nashville favorite: Bully. [PO]
Ben Harper & The Innocent Criminals
The sun set on the Ohio River as Ben Harper brought the house down with his beloved classics like "Steal My Kisses" and "Burn One Down." I've seen iterations of Ben Harper's lineup, but was especially geared up for his reunion with the Innocent Criminals. Never one to shy away from a political statement, the highlights of Harper's set came during "Better Way," with a chorus that declares, "I believe in a better way" – ringing just as true now as it did when it was first released – and his latest single reflecting on police brutality, "Call It Was It Is." [DM]
Bully. Photo by Mary-Beth Blankenship.
Bully
I've watched Bully so many times this year alone that I've nearly lost count, and, yet I never get tired of their simply ferocious, inspired, and commanding live performance style, which has benefited greatly from their near constant touring over the past year. We ranked them the #1 must-see band on Friday, and, sure, we're biased, but Bully are, objectively, one of the freshest, best, and most relevant rock bands to emerge in recent memory, fiercely DIY and single-handedly poised to help user in a whole new crop of grunge-pop, taking a cue from the rawer, more organic, and punk inspired sound of the early '90s. The sun was setting as Alicia Bognanno and co. launched into a show-stealing set, chock full of favorites from their debut LP Feels Like, a new tune, and some impossibly punk covers. Commenting that their set time was longer than any show they'd played all tour, the band seemingly wore out their arsenal of brisk material, keeping it loud and heavy while a crowd of fans and curious passersby stood mesmerized. Bognanno, small in stature but huge in stage presence, is one of my favorite singers in rock today, and every single show she reinforces that opinion with her cool demeanor, bombastic delivery, and unpredictability. At this point I feel like I've said everything I can about how incredible Bully are, and their Forecastle set only stood to reinforce that, mirroring their badass outing at Bonnaroo a month prior. Hands down one of the best things I saw not only all day, but all weekend, I'm definitely making a point to cherish all of these back to back chances to see Bully at such an exciting moment in their career, before they take a well-deserved breather to craft a new album and/or become so in-demand that their local appearances slow down. If you've been somehow living under a rock: SEE. THIS. BAND. IMMEDIATELY! [PO]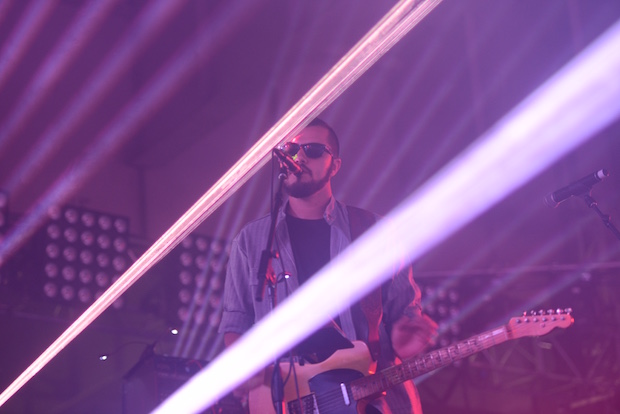 Ghostland Observatory. Photo by Mary-Beth Blankenship.
Ghostland Observatory
Somehow, I totally missed the boat on Ghostland Observatory at their peak, despite their flavor of instrument-driven indie/dance rock being right up my alley, especially in mid '00s. The band have definitely come onto my radar more in recent years, despite largely slowing down their activity, so I was eager to finally get a chance to see them, albeit a brief one (damn you, scheduling conflicts), after seeing their name on the bill. Bathed in lasers and bright lights, the talented duo of Aaron Behrens and Thomas Ross Turner faithfully recreated their familiar tracks, conjuring a sense of nostalgia for an era of dance music before DJ-driven EDM ruled the land. They seemed pretty focused on the music, their over the top stage persona of years past toned down a bit, but they sounded fantastic, and I hope I do get a chance to finally see a full show someday. [PO]
Glass Animals. Photo by Mary-Beth Blankenship.
Glass Animals
Thanks to Forecastle's convenient and logical layout (my only gripe is how the bridges sometimes bottleneck at peak hours, but there's not much that can be done to remedy this), I was able to quickly get back to the Boom Stage for some of Glass Animals. One of those bands I always really enjoy when their songs come on, but one I often forget to revisit, I'd call myself at least a casual fan. It seems like I always miss out when they play festivals or local shows, but the few times I've seen partial performances, I've always been blown away, prompting me to make a point to squeeze them in before The Avett Brothers. Hypnotized by their shimmering production, and impressed with just how packed the crowd was so close to the night's headliner, I ended up being somewhat disappointed by the few songs I had a chance to see, if only for some apparent technical difficulties. Frontman Dave Bayley, doing his best to deliver a top-notch performance regardless, was inexplicably mixed so low that his vocals were barely audible, and, while the music was tight and the energy was high, it definitely took a notch out of the overall presentation. Forced to run back to the Mast Stage in time for the Avetts, it sounded like the sound was being sorted just as I was walking away, so I sincerely hope the rest of the show was as great as I know Glass Animals to be. [PO]
The Avett Brothers. Photo by Mary-Beth Blankenship.
The Avett Brothers
It's weird to me to see The Avett Brothers headlining a major festival. Not to say that they're unfit or undeserving, they're a perfect choice, but because in my heart they'll always be the tiny band I saw playing clubs and random parties and events more than a decade ago. Back then, they didn't have the expanded backing band, were years away from meeting Rick Rubin, and the whole "folk revival" was pretty niche. The fact that they have been around so long, and built up an organic fanbase before finding fame, is likely to serve them well as the folk bubble deflates, and that's something I definitely noticed at Forecastle- The Avetts' fanbase is incredibly diverse, and genuinely seem to know all of their tunes, as the group didn't shy away from playing a pretty healthy mix of songs. Clearly shaped by years of much more high-profile touring, the band have really found a knack for confident, engaging stage presence eliciting crowd response, working the stage, and playing off of each other. The songs from their latest album, True Sadness, especially seem designed to land in front of huge audiences, and they really soared, blending their traditionalist folk sensibilities with more experimental tendencies, all the while recapturing some of the punk spirit of their early days. What sets The Avetts apart from their many folk rock peers is their legitimate Carolina upbringing and deep understanding of the basis of their style, which translates into an authenticity and earnestness in person. They seemed as thrilled and happy to be performing as they were in their earliest days, and despite longing for those tiny club, 100 person moments, I still found myself enthralled by their set. Standouts included familiar hits like "Shame," "Laundry Room," and "Live and Die," but really the whole thing kept an exuberance and momentum that worked in a way a closing performance must. Ending with a one-two punch of "Kick Drum Heart" and "I and Love and You," I felt transported back to the old shows I hold so fondly, before the group reemerged for an encore which included a Willie Nelson cover. Not a band way to end the first day of a festival. [PO]
The Avett Brothers' set began with a chorus of kazoos. As a longtime fan, I wasn't sure what to expect given the trajectory of their recent rockcentric albums, but it's safe to say that a kazoo chorus line was not on my radar. After the attention-grabbing lead, the group launched into "Down With the Shine," which set the tone for the rest of the show: A masterful display of roots precision relying on the jump-around harmonies and energetic string-work the band is known for. Tongue twister "Talk On Indolence" gave way to the gut-wrenching "I Would Be Sad," and epic singalong "Shame" led to the reverent "Laundry Room." Peppering in very few of their newer songs, it was obvious that the Avetts know what their fanbase wants to hear. [DM]
Photos by Mary-Beth Blankenship.
SATURDAY
Pokey LaFarge. Photo by Mary-Beth Blankenship.
Pokey LaFarge
Rejuvenated from a good night's sleep and with a belly full of great local food and coffee, I made it back in on Saturday a little later than planned, unfortunately missing local duo MYZICA, but arriving just in time for site favorite Pokey LaFarge. Dressed more casually than I've ever seen him (his old time-y full suit getup might have literally caused heat exhaustion), LaFarge and his talented band got right to the point with familiar cuts like "Something in the Water" and "Central Time." Pokey, who we've written about plenty in the past, harbors this genuine, timeless enthusiasm in his craft, and often it seems like festival attendees unfamiliar with his music don't quite know what to make of him, but seem drawn in all the same. Saturday was blistering hot, and people were still slowly trickling in, but LaFarge's welcoming songs served as a perfect way to ease into the day, even as I ventured off in pursuit of shade. [PO]
Future Thieves
I've heard much of the buzz surrounding Future Thieves, but this was actually my first time seeing them live. The Nashville rockers served up a dish of pure, Southern baked rock 'n' roll. Their sound reminded me of Kings of Leon, with a touch of Pearl Jam-sized grit. Frontman Elliot Collett has a perfect voice for rock 'n' roll – so much so that it's hard to imagine him doing anything else but fronting a band. The set ended just as aggressively as it began, with barrage of guitarwork propelled forward by a badass bassline. Definitely worth checking them out. [DM]
The Shadowboxers. Photo by Mary-Beth Blankenship.
The Shadowboxers
The last in a block of ASCAP sponsored sets from Nashville acts on the Port Stage, The Shadowboxers are a group I've had countless opportunities to see, but have somehow always managed to miss (it's easy to take for granted active local bands, but that's a bad habit). I've heard their name around for several years, but they really made an imprint on my memory a couple years back when Justin Timberlake popped into their performance at Mercy Lounge. I've listened to their recordings and knew they had a definite JT vibe, or at least a very similar set of influences, but watching them play live it was even more blatant; they sound like the product of Timberlake cloning himself and learning more instruments, all the while listening to classic rock, '80s pop, and r&b. Soulful, funky, and with soaring harmonies, The Shadowboxers brought the house (or port?) down, especially energized for so early in the afternoon. Smooth and confident, the Atlanta transplants are undoubtedly poised to become one of Nashville's next big breakout bands, and my takeaway was that I need to pay more attention to locals with buzz. Don't be like me, check them out asap! [PO]
Shakey Graves. Photo by Mary-Beth Blankenship.
Shakey Graves
Cutting Shadowboxers a little short to run to the nearby Mast Stage, I feel like it's basically my obligation as a festival-goer to see Shakey Graves whenever I can. At this point, I've watched him grow from his genuinely skillful but somewhat novelty one man band setup to rising indie Americana star to certifiable festival staple, now rounded out with some backing players, and throughout it all he's still managed to keep it fresh and interesting. I confess that I don't often listen to his records, but the mere raw energy and skillful delivery of his live shows draws me in. Speaking out a bit about all of the tragedy and negativity plaguing the world in recent times, Shakey's optimism and uplifting style seemed especially cathartic this time around. It takes a tremendous amount of artistry for one man, a guitar, and no gimmicks to resonate as strong as he's learned how to, and no matter how many times I get to watch him play, I'll never leave anything short of impressed at a Shakey Graves show. [PO]
While I try to use festivals as a time for discovery, I always have to make time for my favorites. Shakey Graves is the live act that I can't get enough of right now. What started as the one-man-band exploits of Alejandro Rose Garcia has morphed into a powerful four-piece that's no joke. What makes a Shakey Graves show so great is that you never know exactly what you're gonna get – the only guarantee is that it's gonna be chock-full of charisma. Rose Garcia might deliver a gut-wrenching acoustic ballad or smash his guitar, or both. His Forecastle set was no exception, as he ran through older staples like "Word of Mouth," and "Roll the Bones," along with highlights from 2014's And The War Came. If you haven't already hopped on the Shakey bandwagon, you need to. Seriously. [DM]
Danny Brown. Photo by Mary-Beth Blankenship.
Danny Brown
One of my personal worst scheduling conflicts of the whole weekend was Danny Brown against Andrew McMahon, two artists who couldn't be more opposite, but who I love immensely. In prior years, I've rarely found myself prioritizing anyone on the Ocean Stage, Forecastle's more EDM and hip hop-skewing spot nestled under the highway overpass, but this year's offerings were especially strong, and drew me in constantly throughout the weekend. After some food, bourbon, and shade, I found my second wind, and grabbed a spot under the bridge, planning to squeeze in as much of Brown as possible before bolting to McMahon. The first in what seemed to be a chain of delays on the smaller stages throughout the afternoon, Danny was noticeably late coming out, and when his set did start, it started with a DJ and hype man before the MC finally made his entrance. Magnetic, hyperactive, and wild as ever, Brown went hard out of the gate, his shrill and unorthodox delivery juxtaposed with booming bass and beats forced everyone to let loose. More than any other performance of the weekend, this was the hardest one to pry myself away from early, but the lure and nostalgia of Andrew McMahon was calling, and only a couple songs in I had to move on. [PO]
Andrew McMahon in the Wilderness. Photo by Mary-Beth Blankenship.
Andrew McMahon in the Wilderness
I've seen Something Corporate and Jack's Mannequin plenty of times in the past, especially in my teenage years, and both projects helped shape my taste and broaden my concept of what pop punk and indie rock could be. Aside from the ever so seldom reunion, frontman Andrew McMahon has been wholly focused on his solo vehicle, dubbed Andrew McMahon in the Wilderness, for the last several years, and has managed to pull off the rare feat of launching a third consecutive successful project in a row, with tons of praise surrounding his 2014 debut full-length. I've seen McMahon solo several times in Nashville over the years, so I already knew what I was in for; he hasn't really changed, other than just getting better and better with age, but has more or less just compartmentalized, defining a new style parameter and aesthetic approach with each band. Wisely, he's persistently kept peppering old stuff into his set, slowing adding more and more solo material as people become more familiar. Forecastle was undoubtedly the most heavy on new tunes I've seen yet, with only three Jack's songs (fan favorite "Dark Blue" the standout) and no SoCo to be heard. McMahon simply oozes enthusiasm, and, per usual, spent time running around the stage, jumping on his piano, diving into the crowd, and generally making an impression on both the obvious longtime fans and newcomers he'd been drawn in by the unabashedly poppy and energetic songs, an odd fit for Forecastle's more indie and folk bent at first glance, but clearly packed with enough crossover appeal to assimilate. Successful as he's been, I still think Andrew is one of the most underrated songwriters of his generation, often shoehorned in with a scene that undersells just how eclectic and powerful his knack for penning pop songs is. I can't think of a single other artist whose three different bands I've loved all about equally, and amidst a packed Saturday, my tried and true favorite still managed to steal the show. [PO]
The Arcs. Photo by Mary-Beth Blankenship.
The Arcs
Rushing a little late to The Arcs, the sound of Andrew McMahon's "Cecelia and the Satellite" providing my soundtrack, I was greeted by a colorful, packed stage and an energetic burst of soulful, psychedelic rock. I was way into The Black Keys around Attack & Release and Brothers, but I've admittedly drifted a bit from the group in recent years; they still rip in concert and their new songs are fine, lately there just doesn't seem to be that spark that first had me hooked. After an encouraging (and out of nowhere) debut from new Dan Auerbach-led vehicle The Arcs, I was hoping that this might be the band to win me back over for team Dan, and their Forecastle outing definitely did not disappoint. Auerbach can sometimes come across a bit dour and disaffected, but with this new project, filled out by a proper full band and even background singers, he seemed much happier and more engaged, recharged with something new. I haven't given Yours, Dreamily as much attention as I meant to, but with only one LP to their name, it was nice to at least recognize all of the songs, plus some cool covers of lesser hits by The Temptations and The Kinks. Though their crowd was nothing to scoff at, I was actually a little surprised that The Arcs didn't have an even bigger pull, but new projects, despite the pedigree of their frontman, still need time to incubate, and their busy festival schedule definitely shows that their recognition is growing fast. A rare moment in the schedule where I didn't feel rushed, I took the opportunity to sit down and soak up the experience of seeing the band for the first time, loving every minute of it. If my biggest gripe was that Forecastle's 2016 bill included too many bands I've already seen (not exactly a problem, mind you), The Arcs were definitely one of the best remedies. [PO]
The Arcs were one of my most highly anticipated acts on the Forecastle schedule this year. I loved their debut album Yours, Dreamily, but haven't had a chance to see the de-facto supergroup live. Led by Black Keys frontman Dan Auerbach, the collective powered through tracks from their LP, and brought a chill vibe to the pretty much packed main stage lawn. Their music is a mixture of rock and blues that could make you think you were listening through a time machine to 50 years ago, but they've updated this timeless sound to be retro yet contemporary, which is an often sought after, but rarely well executed, trait in today's music. Which just goes to show why it took a supergroup of musicians including Auerbach, Richard Swift, Nick Movshon, and slew of other talented players to bring this project to life. There's no telling how long they will be able to put their day jobs on hold for The Arcs, so make it a point to catch them before it is too late. [MH]
Dr. Dog. Photo by Mary-Beth Blankenship.
Dr. Dog
Like The Avett Brothers, my nostalgia for Dr. Dog traces back to my teen years, and they'll forever hold a special place in my memory for the tiny club performances I used to attend. Unlike The Avetts, though, they've become very successful without attaining super-famous-headliner-status, meaning their fanbase is made up of mostly diehards, and they've managed to stay pretty true to their neo-psych infused indie rock. At this point, I've seen them so many times I've lost count, but the consistency of their output and ability to always sound fresh and fun keeps me coming back. They seem especially designed for festivals, and the wild crowd response they conjure never ceases to amaze me. Sound and showmanship-wise, their Forecastle set was par for the course, stellar as always, but what really had me excited was the setlist. Keeping it lean and fan-geared, they worked their way through standouts like "Be the Void," "How Long Must I Wait?," "Shadow People," and "Lonesome," hitting most every essential song I could have hoped for. As the day finally began to cool down, these old and trusty favorites helped energize me for the next few packed hours, cementing Saturday as the standout for 2016. [PO]
Dr. Dog are another one of my top 5 bands and by some stroke of luck (or accident), I got to watch this set from backstage. Their unique blend of jammy rock makes for one of the best live shows around. Everyone backstage was jumping around and dancing right along with them as they fervently ran through some of their best tunes like "Lonesome" and "Broken Heart." [DM]
Philly based rockers Dr. Dog are pretty much a festival go-to at this point. They officially released their 2001 debut Psychedelic Swamp earlier this year, which was a good indication of where the band started and where they have stayed – in the groovy rock tradition. The group played the hits, and the fans were packed into the Boom Stage in the middle of the mid day sun, which is where this rowdy pack of pack of party starters always seems to find a home. [MH]
Local Natives. Photo by Mary-Beth Blankenship.
Local Natives
I love Local Natives and practically wore out Gorilla Manor and Hummingbird for months after their respective releases. Every time I've seen them live, which quickly escalated from clubs to huge stages, they've been mind-blowing, able to transcend their already strong recordings to land as one of the premiere live acts in modern indie rock. And, yet, somehow, during their especially long gaps between albums and breaks from the road, I seem to inexplicably forget about them. This performance was a slap in the face reminder as to why this band is worth obsessing over. Erupting into "Breakers" and "Wide Eyes," I felt like the group picked up exactly where they left off when I last saw them play, easily about three years ago now, and they proceeded to essentially alternate between tested tracks and songs from their upcoming third record Sunlit Youth, which, from the sound of it, will be a strong contender for album of the year. Their smooth delivery, sheer joy, refined musicianship, and nuanced style is simply magical in person, and if they weren't slated to play Nashville this fall, I'd have had a really hard time leaving their set early, but the brutal scheduling conflict with Nothing had me splitting my time yet again. [PO]
Local Natives are an artist that I never tend to give enough time to. This is probably because they don't get enough play on the radio stations that I listen to, but the past three times I've seen them, I've found myself blown away by their live set. What comes across to me as melodic indie rock in their recordings, is presented with an emphatic power on stage, and they didn't disappoint at Forecastle. One of the first sets that truly inspired me, and seemed to move a crowd (who are obviously listening to different radio stations than me) into spontaneous sing-along. Their set was packed with the hits from their first two releases, the real surprise came from the smattering of new singles like "Past Lives" and "Fountain of Youth" which captivated the main stage audience. If you missed out on seeing them at Forecastle and haven't had the chance to witness them in action yet, you should definitely add their Oct. 14 date at The Ryman to your fall concert calendar. [MH]
Nothing. Photo by Mary-Beth Blankenship.
Nothing
Nothing were scheduled to begin 15 minutes before Local Natives, but after 10 minutes of watching them very slowly mess with guitars, hobble around stage, check levels, and attempt to hang a banner with no regard to punctuality (set times are not punk rock), I decided to bail and come back later. It was at least 20 or 30 minutes, close to what should have been the end of their set, and I got a sense that they were only just starting when I returned. Frontman Domenic Palermo soon provided an explanation, mentioning, between songs, that his bandmates had all taken shrooms and he was wasted (he might have been joking, but given their demeanor, I'd buy it). If they truly were high, them I'm even more impressed, since, despite some reserve and sluggishness, they absolutely ripped, delivering one of the loudest, rawest, most visceral performances I've ever seen at Forecastle. Nearly taking out a stage hand, Palermo leapt into the audience at one point, literally standing on the crowd while performing his deeply personal and intense take on shoegaze-y noise rock. I saw Nothing for the first time earlier this year at Shaky Knees, and while that set might have been somewhat more technically proficient, this one had more heart and lower inhibitions. The audience wasn't huge (this band was definitely an oddball choice for this particular festival), but those who got it seemed really connected and moved by Nothing's thick, resonate, genre bending style, sad and intense and beautiful all at the same time. The more time I spend with this band, but more invested I get, and I'm seriously itching to see them play a headlining show maybe more than other performer I've seen this year. [PO]
Sylvan Esso. Photo by Mary-Beth Blankenship.
Sylvan Esso
I can't recall crowds for the the Ocean Stage ever being as packed as they constantly were this year, but walking up for Sylvan Esso, inhaling a cloud of dust and sand, I could barely find a spot. The duo have casually been on my radar since they first starting gaining buzz a couple years ago (who can escape "Coffee" or "Hey Mami"?), but I'd hadn't had a chance to check them out; definitely love festivals for that reason. Rocking a crop top emblazoned with "BOSS" and dancing like fiend, vocalist Amelia Meath absolutely commanded the stage from note one, kicking into "Hey Mami" to get the crowd wild out of the gate, while cohort Nick Sanborn kept the tunes going without missing a beat. It's no secret that I'm a sucker for a electro-pop, and I'm incredibly happy to see vocal-driven, retro-influenced dance music falling back into favor. With the Port Stage schedule all out of whack, I couldn't stay long, but what I saw of Sylvan Esso was fantastic, and I found myself revisiting their record a lot after returning home. [PO]
It's pretty amazing to see just how fast Sylvan Esso took off from their self-titled debut record, which brought almost jazzy, sultry pop vocals into the realm of dense electronic beats. We caught them a while ago at a sold out show at Cannery Ballroom, and it was impressive. Apparently, their presence continues to grow, because, by the time I made my way to the sea of humanity piled under the overpass for their Forecastle set, it was clear that Sylvan Esso were on most folks' "not to miss" list. I had a tough viewing angle, which left me with slightly wonky sound, so I took off, but it was pretty clear that the rest of the crowd was loving every minute of it. [MH]
All Them Witches. Photo by Mary-Beth Blankenship.
All Them Witches
Delayed in their start time, local rockers All Them Witches had finally taken the stage by the time I left Sylvan Esso. I was definitely feeling the two days of all-day fun, so I snagged a spot in the grassy hill adjacent to the Port Stage, and watched from my vantage point while taking a breather. My bad habit of forgetting to see locals more frequently (it's too easy not to prioritize when opportunities are plentiful) meant I hadn't seen these guys play in maybe a couple years, and in that time, they've grown tremendously, both in artistry and popularity. I actually kind of did a double take when I saw that they were closing down their stage, but after witnessing the sizable crowd and hearing how huge the guys are sounding these days, their heady, heavy southern-tinged hard rock clearly chock-full of crossover potential, it felt beyond well-deserved. I zoned out as they forged thorough an enthralling set of familiar tunes, plus a few a didn't recognize, so happy to see so many hometown bands steal the show this year. [PO]
It's been a hot minute since I've seen All Them Witches playing around town, and that's because they've been road warriors of late, touring almost non-stop in support of last year's Dying Surfer Meets His Maker. It was immediately clear to see that they are now grizzled after 100s of shows, and their live sound is an unrelenting show of psych rock power. They dabbled through a set of favorites from the latest record, along with well received track from their earlier records, and All Them Witches easily put on one of the best Port Stage performances of the weekend. As the sun set on Forecastle, the crowd swelled back towards the freeway overpass, and held a huge range of fans from the young and hip to the oldsters that likely remembered psych rock's first hoorah in the music world. All Them Witches brought everyone together for one of my favorite performances of the entire weekend, and I already have their homecoming show at Marathon Music Works circled on my fall calendar. [MH]
Alabama Shakes. Photo by Mary-Beth Blankenship.
Alabama Shakes
Rallying for Saturday's headliner, I fought my way through what was probably the weekend's largest crowd to grab a good spot for Alabama Shakes. Though their true home is in the name, their close proximity and inextricable ties to Nashville make them feel like a local band, or at least an adopted one. Ahead of their performance, the Mayor of Louisville, Greg Fischer, came out to speak, paying tribute to Louisville born boxing legend Muhammad Ali, who sadly passed away earlier this summer. Especially touching was Mayor Fischer's use of this platform as a way to encourage acceptance towards Muslims, reminding the crowd that their hometown hero, who was a noted pacifist and humanitarian, was of Islamic faith. Keeping that vibe of inspiration, positivity, and optimism amidst an especially bleak summer of global unrest, the Alabama Shakes soared, performing a cathartic and uplifting set that reminded me of music's ability to heal and unify. Frontwoman Brittany Howard is in a class of her own, able to perform with a depth and worldliness that transcends her young age, and blessed with a voice that is unrivaled. Returning to Forecastle as headliners after occupying the second line slot in 2013 (which is weird, because it feels like they were at the height of their bubble of buzz back then, but I won't question it), the Shakes had me so memorized that I effectively forgot about the dozen other sets I'd watched all day, so sharply focused on the moment and importance of their incredible set. Shockingly, I don't think they played "Hold On" (I had to Google a setlist to support this, and it does indeed look absent), and that's very telling of what Alabama Shakes are and mean in 2016; they've grown beyond their most famous hit and have graduated to a class of performer who almost certainly will never fall out of public favor, fueled by their raw talented and timeless, diverse output. Between the dynamic, soulful "Gimme All Your Love," the blissful and nostalgic "Future People" (a confident and well-chosen opener), propulsive b-side "Always Alright," and earnest older cuts like "Be Mine," the band reminded me of why they're simply one of the best artists in the world, and are surely in the early days of cementing their legacy as one of the greatest performers of all time. While the next night may have showcased a couple of big names I have more personal connection to, I don't know that I can say anyone outperformed the Alabama Shakes; few living artists can. [PO]
Photos by Mary-Beth Blankenship.
SUNDAY
Anderson East
It was early Sunday afternoon and Anderson East took Forecastle to church. I've been eager to see him since the release of his major label debut, Delilah, last year and he did not disappoint. It was already a scorcher out, and his fiery performance only stoked the heat. East's strong, soulful voice carried the show, which ended with a tongue in cheek sermon by his friend and guitarist Scotty Murray. [DM]
Patrick Watson
There seems to be one of them at every festival I attend of late. A musician that totally captivates me, despite the chaotic madness and frantic festival pace. Patrick Watson was that artist for me at Forecastle this year. His melodic, ethereal indie rock was the salve necessary to ease the pain of a late Saturday night, and refresh my soul for a sizzling hot Sunday. Watson was pinging my radar regularly up through his 2012 release Adventures In Your Own Backyard, but, admittedly, I lost touch with the artist during his latest record, Love Songs for Robots, which I have absolutely devoured since returning from the fest. If you are a fan of Sufjan Stevens or The Antlers, Patrick Watson needs to be at the top of your "to see" list, and you should go ahead and dig into Love Songs For Robots right now. I'm glad you are back in my life Mr. Watson. [MH]
Heartless Bastards. Photo by Mary-Beth Blankenship.
Heartless Bastards
A morning of Quills Coffee, perusing Guestroom Records, and brunching at The Silver Dollar (did I mention how much I enjoy exploring Louisville?) had me running a little late yet again, and when it become clear I wouldn't make it in in time for Anderson East, I had a nice cold drink and hid from the heat as long as possible, entering the fest just in time to see some of Heartless Bastards. The Ohio group came up alongside The Black Keys, and still harbor a musical similarity to their peers' earlier efforts, blending blues rock with indie and garage sensibilities. I'd somehow never seem them play before, so I was looking forward to seeing a band I've often to heard so many good things about. Witty, poised, and polished, they sounded great and thoroughly entertained, while frontwoman Erika Wennerstrom seemed genuinely humbled by the enthusiastic early crowd. I confess that I don't really know their songs that well, but the bit of their show I caught left making note to add them to my playlist. [PO]
Heartless Bastards sound nothing like their name would lead you to believe. When frontwoman Erika Wennerstrom teased from the stage that she picked the name because she thought it sounded tough, I knew I was going to like this band. Although they've been churning out music for a decade, I'm admittedly not familiar with their catalog and was pleasantly surprised by their airy tunes drenched in layered guitarwork. It was perfect easy listening for a summer afternoon by the river. [DM]
Femi Kuti & The Positive Force
I'm a total sucker for Afro Beat, and I was just as entertained seeing Femi Kuti at Forecastle in 2016 as I was when I saw them for the first time performing for the first time nearly 15 years ago. Femi was dressed in festive Nigerian costume, and fronted a band of traditionally garbed players and dancers to bring the entire main stage to his hometown of Lagos. The sun drenched crowd was totally eating out of their hand from note one, as they sweated out their jazz dipped blend of African funk. There were times when I found myself seeking shade, wondering how thousands were braving in the sun, but, if it was my first time seeing Femi Kuti perform, I would probably have been in the same boat. [MH]
Los Colognes. Photo by Mary-Beth Blankenship.
Los Colognes
Los Colognes got their start around the time I moved to Nashville, so I've been casually plugged into their career from its earliest days, watching them blossom from a promising local project to a seasoned band with national appeal. It's been awhile since I last caught them in concert, definitely before the release of last year's Dos, and I was a bit surprised to find that they've really doubled down on their classic jam band influences, conjuring the spirit of peak live Grateful Dead, but updating it with modern tendencies. The group have really grown  and come into their own just only as songwriters but also as performers, and their Forecastle set easily surpassed by memories of their earlier outings. There definitely seems to be a shortage of young bands adopting the style that fuels Los Colognes, and given how they're sounding these days, and how primed they are to appeal to festival veterans, I'd expect big things from them over the next few years. [PO]
Sort of like fellow hometown players All Them Witches, Los Colognes are an absolute favorite Nashville band of mine. They dazzled a mid afternoon crowd that, while less packed than their hometown counterparts, was plenty strong for a mid afternoon set in the full sun. It was the first time that I have seen them performing tracks from their 2015 sophomore release, Dos, and I have to report I was only one amongst a slew of fans at that stage to take notice in how their live show has progressed. A sound that we regularly used to compare to J.J. Cale is now awesomely influenced by Dire Straits in their live show, or you could just call it like they did when they asked the crowd if they were enjoying the "dad rock." I guess as I look at 40, knowing I could be (and probably should be and, who fucking knows, might be) a dad today, it sounded perfect to me. Take note of their upcoming Live on the Green performance on Sept. 3 Nashville, I know I will. Oh, and no paternity suits please. [MH]
AlunaGeorge. Photo by Mary-Beth Blankenship.
AlunaGeorge
In researching Forecastle in advance, AlunaGeorge were one of those bands with a name that rang familiar, but I confess I didn't really know them save for those Disclosure and Jack Ü features I'd half unknowingly heard in passing. Something about their snythpop infused, r&b primed EDM sound really sucked me in though, and their relative lack of scheduling conflicts landed them on my Sunday schedule. I'm SO happy I gave them a shot, because the British duo were perhaps my favorite discovery of the weekend, and the first in a string of unbelievable performances in the festival's home stretch. Brandishing a baseball bat and looking decidedly punk, singer Aluna Francis captivated the whole crowd from the moment she took the stage, oozing confidence and charisma while bandmate George Reid held down the drums and thumping samples. Remarking it was not just their first time at Forecastle, but first time in Louisville altogether, the group possessed a star power usually reserved for much bigger acts, clearly making a lasting impression on the curious audience. More than a fad, I believe AlunaGeorge's sound has the potential to transcend its scene, and given their magnetic live show, they deserve to be a household name. Though I'm not sure I could name a single song they played, I couldn't look away, basking in the energy and momentum of their wonderful set. [PO]
White Denim
I've been a fan of Austin based proggy/jammy indie rockers White Denim since their 2008 debut LP Workout Holiday, and have been writing about them for most every appearance in and around Music City since this little rag began. The reason that we keep coming back to them? Their live shows are jam packed with an energy that is rarely duplicated in today's festival environment. The band tear through licks that are nearly impossible not to dance to, and they even have an almost call and response sort of magnetism in their songs that almost makes you feel like you know every song by heart, even if it is your first time hearing them live. That was again the case for me in their Forecastle set this year, which featured a heavy dose of their recently released LP Stiff, which I hadn't yet fully digested in the two weeks between its release and Forecastle. Needless to say, their performance inspired repeated spins since returning to comfortable confines of air conditioning. [MH]
Saintseneca
Saintseneca have been on my radar for a while and I was stoked to finally catch them live. With a fun blend of pop, indie, and rock, every song they played was equally catchy. They provided the perfect soundtrack to my much-needed reprieve in the shade. [DM]
Gary Clark Jr. Photo by Mary-Beth Blankenship.
Gary Clark Jr.
At this point, Gary Clark Jr. is a well-oiled machine. I've seen him in halls, arenas, festivals around the world, as a headliner, as an opener, and everything in between. While no two shows are alike, I always know what I'm in for at a Gary Clark Jr. performance: a ripping, bluesy, soulful, and unrivaled show. He's a singer who I don't often listen to, but who I will go out of my way to watch in concert, and his lean Forecastle outing was everything I expected. I always think of Gary as more of a bluesman, and forget how hard and loud he rips until I watch him play. Running through favorites new and old like "Numb," "Ain't Messin' Round," "BYOB," and "Shake," putting a bit of original soul and guitar work on each, the virtuoso gave yet another top-notch, bar-raising show. [PO]
I'm pretty sure I say this every time I see Gary Clark Jr., the man is a beast. It sometimes surprises me that I have this reaction after seeing him so many times, but it shouldn't. I'm generally one of those types of people that I'm blown away the first time, and then you can't surprise and awe me anymore – unless your name is Gary Clark Jr. His mastery of that guitar and his feel for the blues is truly a lost art in music today, and, having seen the man get his first festival starts at the smallest of stages, it was truly impressive to watch him absolutely own a mid day, main stage crowd at Forecastle. He tore through some old shredders like "Bright Lights" and "Don't Owe You a Thang", but showcased some tracks off his newest record, The Story Of Sonny Boy Slim. I don't know many more ways I can say this, but, if you haven't seen Gary Clark Jr. live yet, you probably aren't really a music fan. [MH]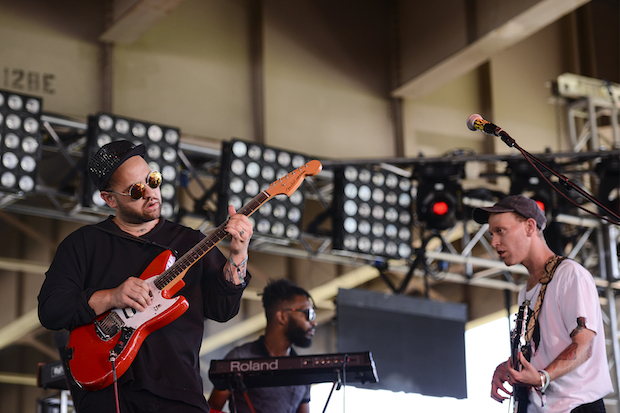 Unknown Mortal Orchestra. Photo by Mary-Beth Blankenship.
Unknown Mortal Orchestra
I missed Unknown Mortal Orchestra last summer at Bonnaroo, this summer at Shaky Knees, and earlier this year at Exit/In, so I was bent on fitting them in at Forecastle. One of the few full bands to grace the Ocean Stage, the Kiwis turned Portlanders might have been less crammed and more socially suited for the Boom or Port Stage. They made it work though, their huge lighting rig and booming, funky, electro-laced, and psychedelic indie rock providing a nice refuge and injecting a boost of energy as the afternoon gave way to evening. Their first time in Louisville, the band were greeted by a huge and enthusiastic welcome, eliciting dancing and singalongs to their hypnotic grooves. The mix seemed a little off, but UMO sounded great regardless, and kept Sunday's streak of eclectic and top notch sets going strong. [PO]
Death Cab for Cutie. Photo by Mary-Beth Blankenship.
Death Cab for Cutie
Wandering out of the swelling Unknown Mortal Orchestra crowd a little early to get settled for Death Cab, I grabbed a snack, planted close to the stage, and prepared to watch one of my all-time favorite bands for the second time in just over a month. Despite being higher billed than Ryan Adams, Death Cab had an earlier set time, which was kind of odd, but nonetheless attracted a massive audience. At Bonnaroo, they were even lower on the lineup, and, as a result, their Forecastle set clocked in at nearly double the songs; a definite bonus. It's kind of amazing how ubiquitous the once niche, nerdy, indie rockers have become over the last decade, and their fans are of all ages and walks of life. The audience seemed a little lukewarm to opener "No Room in Frame," a new song, but were definitely won back by "Crooked Teeth," then tested on their Death Cab cred with deep cut "Why You'd Want to Live Here." The energy seemed a little off, like they were tired (and after touring nonstop for the past year, they probably were), but the band sounded great nonetheless, at this point practically automated in their ability to bring to life their modern classics. The absence of Chris Walla still feels like a blow to someone so used to seeing his presence, and feeling his influence on Death Cab's approach, but I'd wager a large number of casual fans don't know or notice that he's no longer there, and, certainly, the two backing players they've tapped to replace him are more than up to the task (I've seen this configuration three times now, and the new guys seemed more comfortable than ever). Heavy on songs from fan-favorite Plans, I was happy to hear "The New Year," "Title and Registration," and regular show closer "Transatlanticism," from my favorite album Transatlanticism, still in rotation, as well as one of their earliest songs, "President of What?" I've been to a lot of Death Cab shows over the years, and I happen to be of the age when their two biggest, most resonant albums hit back to back while I was a teenager, so not only will those songs always connect with me the most, but the shows of that era will always feel more magical and transcendent. Despite that, I feel fortunate to still have opportunities to see them at all, to hear the music I love so faithfully brought to life, and I even think as an adult there are a lot of aspects of Ben Gibbard's songwriting that I understand and relate to even moreso now than ever. Marveling at how hooked the dense crowd seemed to be, I made my way to the Port Stage to grab a spot for Speedy Ortiz, watching the end of Death Cab from afar as the sun set. It felt like Forecastle could have ended right there, but I'm glad it didn't since two of my favorite set of the weekend were still forthcoming. [PO]
Speedy Ortiz. Photo by Mary-Beth Blankenship.
Speedy Ortiz
Starting a little late thanks to the chain reaction Port Stage delay, indie rockers Speedy Ortiz were tasked with closing down not just the day, but the entire weekend of impeccably well-curated small stage sets. I've been obsessing over the group since first getting turned onto their 2013 LP Major Arcana, and last year's Foil Deer was hands down one of my favorite releases of 2015. Channeling a sort of Zenon, Girl of the 21st Century vibe, and with a "Gender Is Over! (If You Want It)" t-shirt decorating her amp (a great project I first discovered through Against Me!'s Laura Jane Grace), frontwoman Sadie Dupuis exuded socially conscious, earnest, rock and roll bliss, and from the very start she anchored one of my favorite performances of the entire festival. I love Speedy Ortiz not just for their well-crafted, weird yet accessible, musical sensibilities, but also for their thoughtful and unwavering stand that the music scene can do better, be more accepting, be friendlier, and strive for inclusion. Speedy Ortiz feel like a movement as much as a band, and through that, I feel much more connected to them than I would a band who just put out really good records. I'd been incredibly sad to miss their last few Nashville shows, and their last-minute cancellation of Forecastle last year was a huge bummer; billed in on the same stage and at the same time as their would-be 2015 set, the group proved well worth the wait. Hitting all of the favorites like "Raising the Skate," "Plough," and the "The Graduates," as well as treating us to some new songs (one decided by a fan vote, and it was fantastic), the controlled chaos of musicianship juxtaposed with Sadie's emotionally resonate vocal style and engaging lyrics made for a magical performance. After watching in awe from the barrier, I wandered off for about 10 minutes of Washed Out, returning to grab a spot on the hill to really soak up how great the band sounded. Throughout their set, the crowd only seemed to swell, and both band and audience seemed synchronized in just how special a show it turned out to be. Appealing to my love of punk ethos and disdain for how formulaic so many pockets of music have become, Speedy Ortiz and acts like them are what give me hope for a more intelligent, creative, and long-lasting indie rock scene, and they were easily one of my top five moments of this year's festival. [PO]
Washed Out. Photo by Mary-Beth Blankenship.
Washed Out
Partway into Speedy's set, I accompanied our photographer to Washed Out, who were closing out the Ocean Stage right behind us. I was way too invested in Speedy to watch much, which is telling because they'd otherwise be a priority, but in the couple songs I caught, Ernest Greene and his skilled backing players sounded as calm, clean, and shimmering as ever. The "chillwave" scene has all but faded from popular consciousness, many of its defining bands either inactive or adopting a new approach, but forefathers Washed Out have largely held onto what they do well, and the strength of their songs has helped them stay fresh and relevant. The crowd was huge and I could barely see, but the piercing sound of thick, unabashedly poppy synth lines and dreamy, reverb-soaked harmonies lulled me into a comfortable, relaxed state, perfect to wind down the bustling weekend. [PO]
Sidetracked by air conditioning and conversations with friends, I reluctantly missed most of the set from Washed Out on Sunday afternoon, and literally ran to try to see what I could when I realized what time it was. I guess it was at least fitting to arrive at the stage tucked under the I-65 overpass to catch him finishing up his 2010 mega hit, thanks Portlandia, "Feel It All Around." [MH]
Brandi Carlile
Brandi Carlile was thrilled to be at Forecastle. Flanked by identical twins Tim and Phil Hanseroth on guitar and bass, she worked the crowd, thanking them for coming and praising the event. And she meant it. I've had the pleasure of seeing Carlile a handful of times and she is nothing but authentic. With an incomparable voice, her sets are always fueled by passion and executed with love. I had to leave before her set ended (so I could snag a good spot at Ryan Adams), but during the portion that I saw, she ran through highlights like the romper "Raise Hell," the poignant "Wherever Is Your Heart," and the angelic "The Eye." [DM]
Ryan Adams. Photo by Mary-Beth Blankenship.
Ryan Adams
Purely as a coincidental byproduct of my taste, I feel like I often find myself feeling lukewarm about last-day festival headliners. Maybe it's certain legacy or jam or EDM acts that just aren't my cup of tea, or maybe it's just a random pattern, but there's always a little less steam when the headliner I want to see most is earlier in the weekend. Forecastle's final performer, however, definitely bucked that pattern; as much as I love Alabama Shakes, Death Cab, and The Avett Brothers, I wouldn't name any of them in my top 10 favorite artists of all time. Ryan Adams, without a doubt, would earn a spot. Famous though he is, I still maintain that Adams is perhaps the single most underrated artist of our generation; throughout various bands, phases of his career, production endeavors, and his insanely prolific catalogue (which is rumored to have just as much unreleased material), Adams has proven to be an unparalleled musical chameleon and genre-bending songwriter, capable of most anything he pursues. Historically (and not inaccurately), my impression of Ryan has been something of a tortured genius, former addict, assholeish, and super serious introvert. Over the past few years, my perception (and, seemingly, Ryan himself) has changed fundamentally; the Ryan Adams of today is funny, pop culture obsessed, free-spirited, not concerned with being cool, and much more outgoing and friendly. Case in point: when he played Nashville last year, he covered Bryan Adams' "Summer of '69," the song that fueled one of his most infamous meltdowns at that same venue many years prior; if that's not emblematic of personal growth, I don't know that is. That long winded observation serves to say that, while his music has always been incredible and sad and heartfelt, and nothing about that has changed, Adams himself seems much more fun and functional and warm nowadays, and it makes the entire vibe of his show that much better. Uncharacteristically silly, he cracked jokes, called out to the tiny silhouettes watching from the tall building in the distance, commented on Star Wars themed audience decorations, and made self-deprecating cracks.
Opening with a run of "Trouble," "Gimme Something Good," "New York, New York," and "When the Stars Go Blue," the setlist was simply on fire, and wouldn't have been much different if I was allowed to pick it myself. Pulling pretty steadily from 15 years of albums, and even sneaking in a Black Sabbath cover (Adams' love for metal makes me so happy), he seemed to stick more towards singles and fan-favorites, keeping the crowd enamored and singing along throughout. The production was largely the same as last year's Nashville date, but I should reiterate how much I love his surreal giant amps, arcade games, and random knick-knacks, a tangible visual display of Ryan's personality. An unclassifiable, seasoned, and unrivaled performer, simply stating that Ryan Adams sounded flawless feels too obvious, of course he did. His band, now dubbed "The Shining," are equally top-notch, and he constantly expressed admiration and camaraderie for the skilled performers surrounding him. By Sunday night, I was already happy and fulfilled by another great Forecastle, but after Ryan Adams' performance, easily one of the best I've witnessed in my three years of attending the fest, it cemented the weekend's place as one of my favorite events of the year so far. Thanks, Forecastle, for another weekend of great memories, and I'll be counting down the days until next year! [PO]
Photos by Mary-Beth Blankenship.
_
[DM] Desiré Moses
[MH] Matt Hall
[PO] Philip Obenschain