FIDLAR
w/ METZ, Broken Bats
Mercy Lounge; Nashville, TN
5/14/15
Words by Jacob Ryan (@GonzoWithGusto). Photos by Jake Giles Netter 
Even though this review got lost in the shuffle for a little bit, we were so blown away by FIDLAR last month at Mercy Lounge that we had to tell everyone all about it. A super rowdy crowd of under-21-year-olds, dripping with sweat, and, in some cases, blood terrified the dance floor. The two openers, METZ and locals Broken Bats, were also equally to blame for the frenzy that was building before the headliners played their first notes. Read the full review of the rowdiest show we've been to all year after the jump, and check out the sick photo spread from from contributor Jake Giles Netter.
Only five minutes into my visit to Mercy Lounge, and I could tell it was going to be an interesting night. The X'ed hand army (show-goers marked under the age of 21) were there in force. Mostly male clusters of skate punks, all ages and sizes, were sprinkled here and there. Twenty minutes before the first band was set to go on, the place was well over half full and already buzzing with excitement. Everyone seemed extra hyped, and I was about to find out why. It became pretty obvious, pretty quickly, that it was going to be a whiskey kind of night.

Broken Bats. Photo by Jake Giles Netter.
Kicking things off was a local band, Broken Bats, making their local debut. It's members have been in various other bands we're familiar with (Pink Spiders, Future Unlimited, Desaparecidos, Sleeper Agent), and together they released a great new self-titled EP we told you about a last month. Their party punk got the crowd moving from the jump, and a few songs in we learned that it was only their second performance ever as a band. Not too shabby at all! It was evident that they are all seasoned musicians from performing with their various other bands, and it's only a matter of time until they hone their live show to perfection. Serious promise indeed.      

METZ. Photo by Jake Giles Netter.
After a short intermission, and another trip to the bar, it was three-piece Canadian noise rockers METZ turn to tear it up. Frontman/guitarist Alex Edkins appeared to be running on rocket fuel. He bounded around, blasting his vocals into a thickly covered mic, head-banging to the point of nausea. He was completely drenched in sweat four songs in, and he really had the crowd cooking, with a pretty intense pit breaking out closer to the stage. Next came a slew of stage divers, as the band powered through their super raw, aggressive tunes. Aggressive in an early Nirvana way, not heavy metal militancy; a free wheeling rowdiness, not calculated. It was hard to believe that headliners could possibly bring even more energy … but they would.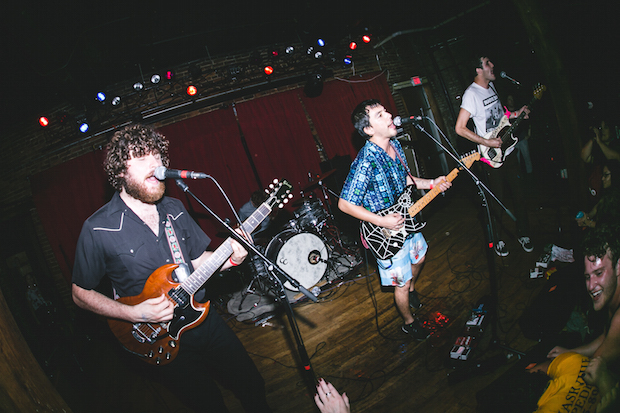 FIDLAR. Photo by Jake Giles Netter.
From the time FIDLAR took the stage, until someone lit an airhorn blow torch after their encore, Mercy Lounge was a near capacity mob of riotous, underage youth. FIDLAR played most of their older stuff, much to the moshers delight, and also played some tracks off their new, yet to be released record, Too (pre-order packages available on their site). It seemed like every song was faster, harder, and more intense than the last. The crowd kept getting more and more hyped, feeding off the incredible energy the band gives off, most notably frontman Zac Carper, who at different points in the performance was rolling around on the ground, bouncing like a rabbit, and doing his trademark crossed-arms-straightman-routine before returning to his more exuberant natural state.
Drunk, but still too self aware to brave the pit, I'd stayed towards the back when the shit really hit the fan. When the music was over, and the sweaty horde dispersed, it looked like some of the kids had just come from a war zone. Thousand yard stares, split eye brows, some limping from leg injuries. The only things I've ever seen come close to the nuttiness of a FIDLAR crowd was JEFF The Brotherhood's residency at The End, a sold out Ty Segall show last fall, or maybe Thee Oh Sees last Nashville stop at Exit/In … but all three of those crowds paled in comparison to those crazy fucking kids that took over Mercy Lounge for FIDLAR. It's obvious they all live by their favorite bands mantra, "Fuck It Dog, Life's A Risk." Think I'm exaggerating? Check out the photos from Jake Giles Netter below, and next time the guitar shredding LA skate punks come to town, catch a sneaker to the face for yourself.