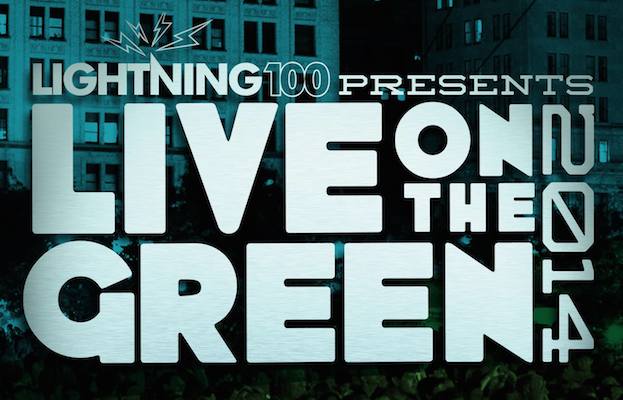 We've arrived at the final day of Lightning 100's monster Live on the Green series for 2014. It's been a helluva year, with incredible performances by national stars (The Head and The Heart, Capital Cities), Nashville-bred talent that's doing big things (Wild Cub, The Features), promising locals (Phin, Daniel Ellsworth & The Great Lakes), and plenty more stellar artists.
Be at Public Square Park early today, as the music starts at 1:45 p.m.! The Live on the Green finale features Phin, Sugar and the Hi Lows, Ingrid Michaelson, LP, The Lone Bellow, and Jake Bugg. The event is all ages and, as previously mentioned, free, with plenty of stuff for the kiddos (courtesy of the our pal Mr. Steve [Lee]), so bring the family.
Phin
Music City Mayhem champs Phin are kicking off the day with Local Natives-style harmonies and bright indie-rock sounds. The local five piece know how to put on high energy, quality shows. They've rocked sold out shows with LA's Lord Huron, as well as with locals Milktooth and Vinyl Thief. Phin get better and better with each performance, so it's exciting to see them on LotG's main stage. Be on the lookout for new tracks from their upcoming record today!
Sugar and the Hi Lows
Sugar and the Hi Lows are the perfect mid-afternoon performance; their swoon-worthy sound is laced with throwback soul and classic roots music. The duo is Trent Dabbs and Amy Stroup, two excellent songwriters/performers individually. Sugar and the Hi Lows have scored TV placements on Grey's Anatomy, Parenthood, Pretty Little Liars and more, so let them soundtrack your beautiful afternoon.
Ingrid Michaelson
An established indie-pop singer/songwriter since 2005, Ingrid Michaelson scored big this year with her hit "Girls Chase Boys." The single's video rightly won praise for its gender role statement, where guys and gals are sexed up on the same level. Michaelson knows how to write tender ballads and catchy anthems, so we're surely in for a dynamic performance today.
LP
Laura Pergolizzi, who performs as LP, contends for "Most Unreal Voice" in the current pop landscape. She got us in a tizzy with folk-power ballard "Into The Wild" and awed us with this year's Forever For Now full-length. The record masterfully raises songbird vocal hooks with clap-along percussion and substantial lyrics. These songs beg for a Lion-King style break in the clouds as sun bathes the audience in Disney-level radiance. Let LP be a Rafiki to your Simba at 6PM!
The Lone Bellow
NPR stamped The Lone Bellow a band to know in 2013, and they totally called it. The Brooklyn soul-country group splashed across the Americana landscape with last year's self-titled debut. Produced by Charlie Peacock of Civil Wars fame, The Lone Bellow is a mature collection of tender, visceral moments. When performed live, the songs become both gut-wrenching and ecstatic. It feels perfectly fine to sing "You Never Need Nobody" along with them. Get ready to do just that with that standout track below.
Jake Bugg
British folk phenom Jake Bugg will close out Live of the Green's biggest year yet. Bugg pulls the spirit of early 60's folk with 90's Brit pop vocals, albeit with a more rusty and rugged abandon. Since his 2012 debut, Bugg swarmed America with appearances on The Tonight Show, American Idol, and SXSW. Expect seasoned-sounding verses and youthful swagger in the choruses with Bugg's festival closing set tonight.
Phin, Sugar and the Hi Lows, Ingrid Michaelson, LP, The Lone Bellow, and Jake Bugg will perform TODAY at Live on the Green at Pubic Square Park. The FREE all-ages show begins at 1:45 p.m. (fest site opens at 12 p.m.).