The Tillers. Photo by Sundel Perry.
Muddy Roots Spring Weekender
eXplore Brown County, Nashville, IN (That's right. IN, not TN.)
May 16-17, 2014
Review and photos by Shawn Jackson of Sundel Perry Photography
You may recall from our coverage of last year's Muddy Roots Music Festival that East Nashville-based Muddy Roots Events is dedicated to the promotion of all blends of Americana, roots blues, country, vintage rock, bluegrass, rockabilly, punk rock, and everything in between. The Spring Weekender, the smallest of Muddy Roots' three annual festivals, is primarily dedicated to Americana and Bluegrass with an occasional hint of punk rock. Their two other, larger festivals, The Muddy Roots Music Festival and Muddy Roots Festival Europe, offer the full selection of genres. We had the pleasure of checking out the Spring Weekender last weekend and had a blast seeing some old favorites and discovering some new talent.
Read more about the festival and check out some photos by clicking the link below.
Friday kicked off with Muddy Roots staple James Hunnicutt doing a solo set. The familial nature of the Muddy Roots scene showed its head when Owen Mays, the following act, had technical troubles, and Mikey Classic, of Goddamn Gallows, sat in for a short solo set while Mays got ready. Mays and his band put on a great set then Carrie Nation and the Speakeasy blew us away with their punk-Dixieland-bluegrass sound.
Carrie Nation and the Speakeasy
Next was Megan Jean and the KFB who floored us with her huge, velvety voice and hypnotic tunes. After that great show was another stellar band, The Tillers. You might remember our coverage of The Tillers from when they opened for Pokey Lafarge at the Mercy Lounge, and this weekend they sounded as good as ever. Then we were entertained by Northern California-based The Good Luck Thrift Store Outfit who are very impressive as a serious Americana rock band, but they had us falling over laughing with their song about Willford Brimley, complete with a mustache solo contest. The headliner of the night was Jayke Orvis and the Broken Band, another Muddy Roots staple, who true to form had the whole festival jumping and singing along (even bringing a good portion of the festival on stage with him) until the official show disbanded and everyone dispersed to their campsites for late night jam sessions.
Jayke Orvis and the Broken Band
On day two, we rallied with some help from the food truck and caught the Whistle Pigs's set of bluegrass (with accordion!) and hilarity. Black Jake & The Carnies took the stage next and exploded with energy, adding both an accordion and drums to bring a little bit of zydeco feel to their bluegrass. We were excited to see Fifth on the Floor again. The musicianship, songwriting, and singer Justin Wells' sweet and savory baritone vocals are why we count these guys among some of the special country bands that could possibly bring the genre back from the brink. In addition, they were joined on stage by banjoist Buck Thrailkill and singer Pearls Mahone. The Dad Horse Experience took the stage next with his banjo and bass foot pedals, inviting members of the audience to join him on stage first to watch his fancy footwork and then to join him in singing.
The Dad Horse Experience
After an amazing set from the Calamity Cubes, we made our way over to the Muddy Roots Banquet Hall Dinner for some hearty G'z BBQ (of East Nashville) brisket chili and a performance by Joseph Huber & Friends. With bellies full we made our way back to the stage for a riotous set by Shawn James & the Shapeshifters. Then we caught some great performances by Pine Hill Haints and O'Death as the sun set in Nashville, Indiana. Last up was Dr. Ralph Stanley with His Clinch Mt. Boys, the headliner of the festival. It's always amazing to see Dr. Stanley still performing after all these years. His rendition of "Oh Death" cast silence over the whole holler as the goose bumps rose on everyone's entire body. It was an outstanding show with bluegrass and gospel complete with blowing of the shofar, a ram's horn used in Jewish ceremonies and more dating back to the Old Testament.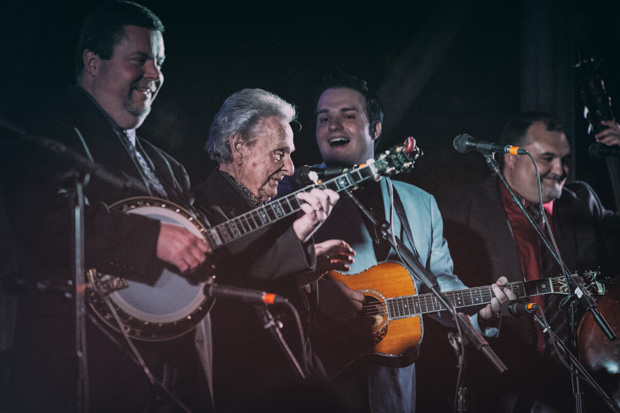 Dr. Ralph Stanley with His Clinch Mt. Boys
The Muddy Roots folks always put on a great festival, and their loyal fan base and performers are a testament to that. With several festivals now under their belt, they have achieved what they feel are the optimal levels of attendance, so they are planning to stop advertising events to the public. If you want to get in on the action in the future, you will need to link up by following them on social media or befriend some of their regulars. Check out the links below to get involved.
CONNECT