John and Jacob
w/ Los Colognes, Sam Palladio
3rd & Lindsley; Nashville, TN
January 19, 2014
Review by Philip Obenschain (@pobenschain). Photos by Mary-Beth Blankenship.
I told you about Nashville by way of Alabama duo John and Jacob last month, when we helped announce their first-ever headlining local show. Not only that, but I brought you more about the eclectic folk/rock/country/pop group in an introductory interview, and we even gave away some free tickets to their performance. Naturally, I was there to check it out. Since it was more of a first impression kind of thing (and since I had to bail just a little bit early to make it across town for Against Me!), this will serve as more of a recap of the fun night, than a full-on show review. Sam Palladio (of ABC's Nashville fame) and locals Los Cologones supported, and we have some great shots of all three acts from photographer Mary-Beth Blankenship! Enjoy!
Sam Palladio. Photo by Mary-Beth Blankenship.
The last time I had a chance to see Sam Palladio perform, it was at The Grand Ole Opry. As historic, epic, and, well, grand as the Opry is, getting an opportunity to catch Palladio in a more intimate and freeing environment was a nice contrast. Let's get one thing straight: Sam is not Gunnar Scott. Sure, he plays that character on television (and, of course, possesses the same musical talents- that's really him singing all of those songs), but, in real-life, Sam's material more personal, more dynamic, and has broader appeal. Channeling what, I suppose, could best be labeled "folk rock," Sam performed with an incredibly skilled backing band, worked the room with a confident cool, and delivered one hell of a fun set. Fellow Nashville castmate Chaley Rose even popped in for a duet, as did up and coming country-rock duo Striking Matches.
Los Colognes. Photo by Mary-Beth Blankenship.
True to their name, I feel like every time I see local bluesy rockers Los Colognes, they've multiplied. Rocking out with a full array of keys, multiple guitars, and one killer rhythm section, they sounded better than ever- probably a symptom of all of the tour dates they've been embarking on recently. The group's latest effort, Working Together, only was released last year, but, musically, they already feel like they've ascended to their next stylistic chapter. A hard band to pin down, what I can say for sure about Los Colognes is that no matter what the room and no matter who they're performing with, they always find a way to win over the crowd, and deliver what feels like a totally fresh performance every single time.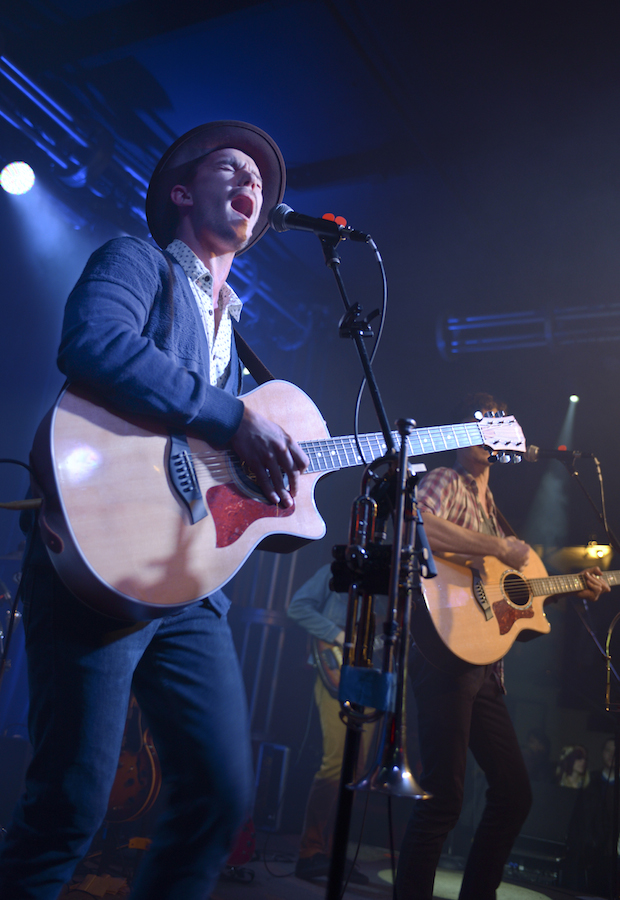 John and Jacob. Photo by Mary-Beth Blankenship.
In preparing to interview them and writing about the show in advance, I ended up listening to a lot of John and Jacob. I went from casually familiar with the group (whose song "Be My Girl" Sam Palladio and Chaley Rose performed on Nashville) to certifiable fan. I assumed they'd be great, the two have been playing together for about ten years after all, but I was still taken aback by how downright amazing they were live. Working their way through the bulk of their EP (or maybe all of it? As I said, I had to miss the last third of their set), and debuting some stellar new tracks, John and Jacob worked the room like seasoned performers. Their band was unbeatable, their harmonies were flawless, their energy was infectious, and their stage banter was polite and sincere. If the group's debut full-length isn't a certifiable hit this year, I, for one, will be shocked. These guys are the real deal, and artists of this caliber are the reason Nashville earns its "Music City" moniker. Though I missed it, I'm told Palladio joined in on "Be My Girl." And, I'm sure, the crowd went wild. If this is how my concert-going of 2014 starts, it's going to be one crazy year.
_