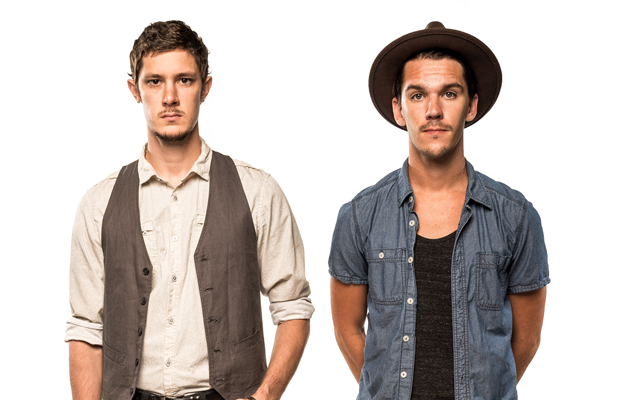 As we first announced then previewed in depth, Nashville (by way of Birmingham) eclectic folk/rock/pop/country duo John and Jacob will perform this Sunday, Jan. 19 at 3rd & Lindsley. Supporting the show are Los Colognes and Sam Palladio, and tickets are still available right here. Since this marks John and Jacob's first ever headlining Nashville performance, we wanted to catch up with the boys for a chat, where we explore their beginnings, talk new album, find out how they wound up with a song on ABC's Nashville, and more! Check it out below:

NO COUNTRY FOR NEW NASHVILLE: You've been playing together for quite a few years now, since even before "John and Jacob." How did you first meet?
JOHN DAVIDSON: We went to the same elementary school up through high school, so we had known each other for a long time, then we had a class together in 10th or 11th grade. We started playing guitar and formed a rock band and that evolved into what we're doing now, through a lot of years of playing.
NCFNN: What were some of the incarnations you went through in what you were playing before you became John and Jacob?
John: We tried a little bit of everything; experimental rock, techno, all different kinds of music.
NCFNN: Then you moved to Nashville a couple of years ago. Was that always the plan, or did it just work out that way?
JACOB BRYANT: It was never the plan, it was kind of random. John and I were both working construction jobs and we had a series of meetings come up, so we took off work and came up [to Nashville] at 10am. Our first one was at Major Bob, and the meeting went really well and they basically wanted to sign us that day, which we came to find out almost never happens. We're very lucky and blessed that it happened that way, but it was never the plan to come up to Nashville.
NCFNN: So you moved up to be closer to everything?
Jacob: Right.
NCFNN: You've written for artists like The Band Perry since you've been here, but before you moved to Nashville, were you doing any writing for other artists?
John: Yeah, that was after we got here and got used to doing the co-write stuff for other artists. Back in Birmingham, we only wrote for ourselves. We really didn't know to do anything otherwise. It's a product of being here and writing with other people.
NCFNN: Have you been doing a lot of co-writing, or are you still mainly focused on your own material?
Jacob: The first couple of years we were here we were doing a lot of co-writes, but the main focus now is John and Jacob, and getting this record done.
NCFNN: You're working on your first full-length now. How far along are you in the process?
John: We're still recording it right now. We should have it done by mid-February, so we hope to get it out soon.
NCFNN: Your song "Be My Girl" was recently featured on ABC's Nashville. How did that come about?
John: We went out to LA to meet with some of the music sync and production people, and we basically just sat down and played it for them and they liked what we were doing and thought it would be a good fit for the show. Specifically for certain characters, Gunnar and Avery. Major Bob has a good relationship with the people out there, so were able to talk to them and hang out, and they liked it, so they wrote it into the script. Another thing that was unexpected, but we feel really fortunate.
NCFNN: And that seems to be the track that's gaining the most traction and getting picked up by radio. What's the backstory behind it?
Jacob: Like I said, we were doing a lot of co-writes off of Music Row at Major Bob's. Right when we first moved here we started writing with a guy named Derrick Southerland, who's one of our good buddies. One day we were hanging out, just not having a good writing day. I think we went to Taco Mamacita and had a few margaritas. When we got back to the office it just came out very quickly and naturally.
NCFNN: You have one EP out now and a full-length coming. Stylistically, how will the full-length compare?
John: It's stylistically in the same vein, but it's more what we'd call rock and roll. I wouldn't say less pop, it still has catchy melodies and good harmonies, but we're introducing the electric guitar more into what we're doing. Overall, the feel of it is more mature. That's one thing we're looking forward to, getting the newer stuff out there and just really planning our sound as we hear it now for our first full-length.
Jacob: With the EP, I basically view it as a bunch of demos. We were about to go to the UK with The Band Perry, so were just trying to put out some music. That was the stuff that John and I recorded ourselves, just to show people what we were doing. This [upcoming] album is the bigger vision that we've had.
NCFNN: How many tracks did you end up writing for the album? Did you start out with a bunch of extra material, or did you have a pretty good idea before you entered the studio?
John: We're still sorting through it. I'd say we have 30+ songs that we really like, and we want to put 10-12 on the album. We feel like we have enough songs to do a couple of records, but we're trying to get the right selection of good ones for this first one. We're still working on the tracklisting and we have a good idea, now we're just trying to figure out one or two more that we want to decide between.
NCFNN: Do you know when we might expect the first single to arrive?
John: Soon. We don't have a date, but the goal is to have this record finished by mid-February, then get it out within a week or two. We want to move quickly. Thinking about the whole push to radio and what song we want to go with, "Be My Girl" already has traction. We haven't pushed it to radio yet, and a lot of people still haven't heard it, so we're thinking why not just go with that, since it's got its foot on the ground already.
NCFNN: You've really managed a lot of crossover appeal. You're getting attention from CMT and other country outlets, independent radio like Lightning 100. Is that something you've consciously aimed for? Where does that balance of musical influences come from, do you both just listen to a wide variety of artists?
Jacob: We both grew up listening to everything, and we still do. We're constantly trying to find new stuff. We're just making the music that we're hearing. We're not writing for country radio. We're just writing the songs that come out really naturally and not trying to put them in any kind of box. If you only heard "I'd Go Back" from the EP, you'd say it's a country folk song. Other songs like "Ride with Me" and "Be My Girl" take it to a different spot. We're just writing naturally.
NCFNN: Do you have anything planned for this year beyond your record release?
John: Getting on the road as much as we possibly can. Once this record's finished we want to focus on the spring through the summer through the fall. We're going to SXSW and we have a couple of other festivals lineup up.
NCFNN: This 3rd & Lindsley show will be your first Nashville date of 2014. Do you have anything special planned?
John: We have a couple of good surprises planned. We really just want to focus on keeping the songs tight, since it's going to be broadcast live on Lightning 100.
Jacob: And It's our first headlining show in Nashville.
NCFNN: Did you pick the openers?
John: Lightning 100 got Los Colognes. We're really excited to be on the same bill with them. And we have a relationship with Sam Palladio. We asked him, and he said he'd love to play.
NCFNN: Is there anything else you'd like to share or announce?
Jacob: Just that we're really excited about this record coming out. The EP is out, but this is the debut. We're really looking forward to everyone getting to hear it.
More from John and Jacob | Site | Facebook | Twitter | Spotify