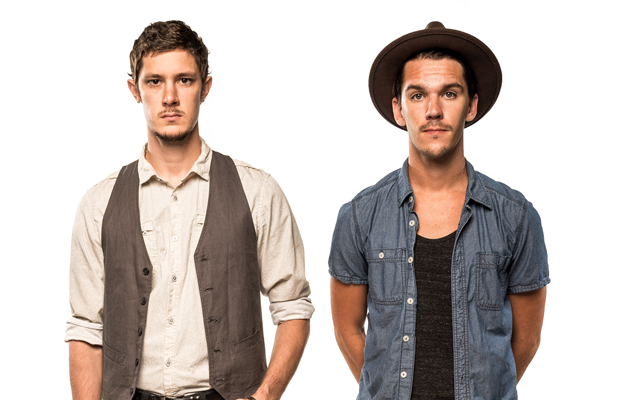 As we told you last month, Nashville (by way of Birmingham) folky/poppy/country rock duo John and Jacob will perform next Sunday, Jan. 19 at 3rd & Lindsley. Since then, singer-songwriter Sam Palladio (of ABC's Nashville fame) and local faves Los Colognes have been added to the mix. Sound like a good time? We sure think so! After the jump, check out a preview of all three acts and enter for a chance to win tickets! Or, if you just want to skip the contest and snag your tickets now, you can do so right here.
JOHN AND JACOB
Duo John and Jacob have been writing together for the better part of a decade, and have amassed an impressive array of accolades: a Billboard #1 song, an MTV O Music Awards nomination, love from Red Bull, CMT, and Lightning 100, and, most recently (and perhaps prominently), a featured song on ABC's Nashville. Drawing from old school country, pop, and soul influences and channeling folk and rock sensibilities, the duo have an organic knack for writing relatable and unpretentious tunes that are sure to appeal to fans of all genres. We'll be bringing you an interview with the guys later this week, to help you get to know them better ahead of the show, so keep an eye out!
SAM PALLADIO
If you only know British singer-songwriter Sam Palladio as Nashville's Gunnar, you're selling yourself (and Sam) short. Palladio is an incredibly talented and multi-faceted performer in real life, and, though he certainly channels country sensibilities, his solo sound lands more in the vein of folk rock, rooted in a very organic, personal thematic focus. A current resident of Music City, Sam has graced the stage of the likes of The Grand Ole Opry, The Ryman, Music City Roots, and more! If you weren't already paying attention to his solo career, now's the time to start. We predict he's going to have a huge 2014!
LOS COLOGNES
Local blues rockers Los Colognes had a hell of a 2013. Between playing countless shows, expanding their lineup, and dropping a new full-length, Working Together, the group have become a major player in the Nashville scene. We can't tell you how many times we've had a chance to see Los Colognes play in the last 12 months, and each time has been just as jaw-droppingly fantastic as the last. Bluesy, rootsy, and with country and rock sensibilities, Los Colognes are a damn good reason to show up early for this one!
_
ENTER TO WIN TICKETS
Winner will be announced Friday, Jan. 17 at 12 p.m., and will receive a pair of tickets. For a bonus chance to win, RSVP to the event here, and share it on your Facebook wall. Enter below (you will be redirected to your e-mail, where you will need to hit send):
If you're having issues with the above form, you can alternately send your full name in an e-mail to [email protected] with "John and Jacob Giveaway" in the subject line, and please let us know if you shared on Facebook.
_
John and Jacob, Sam Palladio, and Los Colognes will perform Jan. 19 at 3rd & Lindsley. The show is all ages, begins at 7 p.m. (doors at 6 p.m.), and tickets are available to purchase for $10.