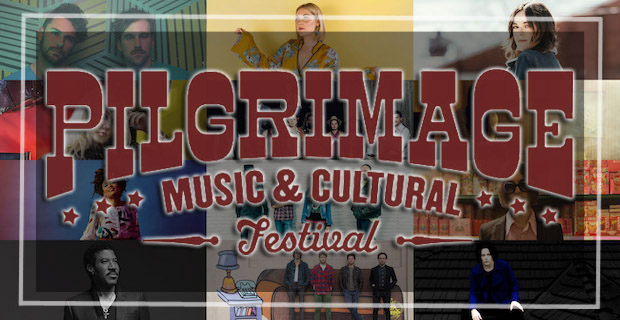 We've been buzzing about it for months, and the week has finally arrived, as we prepare to head to Franklin's Park at Harlinsdale this weekend, Sept. 22 & 23 for the fourth annual Pilgrimage Music & Cultural Festival. We had a blast at years one, two, and three, and with an expanded lineup, new performance areas and amenities, and additional changes and improvements for 2018, this year's installment promises to be the biggest yet. With around 70 acts, both local and national, slated to perform across half a dozen stages and performance areas over two days (not to mention a kids stage), plus local artisans and vendors, Pilgrimage is a community-rooted fest designed for music lovers of all ages and walks of life, and we feel incredibly happy to have such a great, growing event in our backyard. With a variety of ticket options still available here, it's not too late to make it to this wonderful event, and as we do each year, we wanted to help those attending make the most of the weekend with our handy festival guide, highlighting our top 12 artist picks, from a variety of stages, broken down for each day of the fest. To get you ready to make the Pilgrimage, check out our 12 most-anticipated Saturday performers below!
#12: TALL HEIGHTS
Saturday | Shady Grove | 3:35pm
Formed nearly a decade ago in Boston, duo Tall Heights have honed their electro-laced, folk-infused indie sound over two excellent full-lengths, most recently making the jump to Sony with 2016's Neptune, and embarking on increasingly more high-profile tours. Channeling a style reminiscent of groups like Arcade Fire, Fleet Foxes, and Bon Iver, their cool and accessible vibe feels especially well-suited for this fest, and with a third LP, Pretty Colors for Your Actions, arriving in just a few weeks, it's a very cool chance to see them on a smaller stage while you still can.
LISTEN | "Spirit Cold"
WATCH | "The Deep End" (Official Music Video)
CONNECT | Site | Facebook | Twitter | Instagram

_
#11: EMMA HERN
Saturday | Kimbro's Pickin' Parlor | 12:40pm
Raised on '60s and '70s blues and rock in Richmond, Virginia, Nashville newcomer Emma Hern made the move to Music City after graduating Boston's Berklee College of Music, quickly assimilating into the local landscape with her soulful, retro, Americana meets glam pop sound. With a powerful voice and a killer recent self-titled EP, Hern already seems like a musical powerhouse who'll follow in the footsteps of local faves like Alanna Royale who have earned a lot of clout, and though she's playing on this year's tiny new Kimbro's Pickin' Parlor stage, she's sure to be a Saturday highlight.
LISTEN | "Fool"
WATCH | "Love Is Killing Me" (Official Music Video)
CONNECT | Site | Facebook | Twitter | Instagram

_
#10: JILLIAN JACQUELINE
Saturday | Harpeth River | 11:40am
We love Pilgrimage's tendency to bring back repeat acts on bigger stages, and with ever-growing buzz, Jillian Jacqueline definitely deserves the upgrade. Since first turning heads with her 2014 single "Overdue," the local transplant has fast become a celebrated fixture in the country scene, combining pop hooks and smart songwriting to hone a sound with tons of crossover potential. After a string of strong singles, she dropped her breakout record Side A, last year, and followed that up with an excellent new EP, Side B, earlier this month, featuring a duet with none other than country superstar Keith Urban.
LISTEN | "God Bless This Mess"
WATCH | "Reasons" (Official Music Video)
CONNECT | Site | Facebook | Twitter | Instagram

_
#9: ELLE KING
Saturday | Harpeth River | 5:15pm
The daughter of comedian Rob Schneider and model London King, singer Elle King spent her youth dabbling in acting and honing an appreciation for a wide range of music, refining her skills as a singer-songwriter in college, before capturing national attention around 2012. By her 2015 debut LP, Love Stuff, King was a breakout musical fixture, earning Grammy nods, a top 10 single, television appearances, and shows with the likes of Ed Sheeran, Of Monsters and Men, Modest Mouse, and more. Her sophomore effort, Shake the Spirit, is just weeks away, so expect to hear some fresh tunes!
LISTEN | "Under the Influence"
WATCH | "Ex's & Oh's" (Official Music Video)
CONNECT | Site | Facebook | Twitter | Instagram

_
#8: KANSAS BIBLE COMPANY
Saturday | Kimbro's Pickin' Parlor | 2:00pm
Hailing originally from Goshen, Indiana, brass-infused psych rock outfit Kansas Bible Company moved to Music City not long after the release of their debut album, Ad Astra Per Aspera. Quickly becoming a beloved fixture in the local scene (and a site fave from our earliest days), for many years the group operated as a 12-piece collective, honing a dazzling live show and attracting national buzz. More recently, they paired it down to a seven-person affair for 2016's Paper Moon, and have been a bit less active as of late. That's why we're particularly excited to see KBC on this bill; make them a must-see!
LISTEN | "Ty Segall"
WATCH | "How To Build a Planet" (Official Music Video)
CONNECT | Site | Facebook | Twitter | Instagram

_
#7: COURTNEY MARIE ANDREWS
Saturday | Gold Record Road | 10:45am
Arizona born, LA based singer-songwriter Courtney Marie Andrews has been honing her sound since her debut LP a decade ago, cutting her teeth touring as a backing player for acts like Jimmy Eat World and Milow, before finding broad attention for her excellent 2016 fifth solo LP, Honest Life. The last couple of years have seen Andrews' presence rise at a swift pace, with her latest and best album, this year's folk and Americana infused earnest effort May Your Kindness Remain, attracting an endless stream of well-deserved critical praise. Her set time is early, but Courtney is one seriously compelling reason to be punctual!
LISTEN | "May Your Kindness Remain"
WATCH | "Irene" (Official Music Video)
CONNECT | Site | Facebook | Twitter | Instagram

_
#6: VALERIE JUNE
Saturday | Midnight Sun | 1:50pm
Hailing from nearby Memphis, singer, songwriter and multi-instrumentalist Valerie June has been an exciting fixture in the Americana scene for over a decade, melding blues, folk, soul, gospel, country, and bluegrass to form her inspired sound. We've been obsessed since 2013 breakout album Pushin' Against a Stone, and Valerie's latest, last year's The Order of Time, is a worthy and engaging followup. Yet another well-selected repeat performer, if you missed June's stunning early set in 2017 (or if you saw it and know what's up), her prime afternoon billing this year makes her an essential must-see.
LISTEN | "Wanna Be On Your Mind"
WATCH | "Shakedown" (Official Music Video)
CONNECT | Site | Facebook | Twitter | Instagram

_
#5: SARAH SHOOK & THE DISARMERS
Saturday | Harpeth River | 10:30am
We try to judge Pilgrimage lineup based on the festival it is, not what we wish it was. That said, this writer, at least, always seeks out any ounce of punk on any bill, even if it's unexpected, and Sarah Shook & The Disarmers, though a country band, definitely embody the spirit. Fusing a sort of outlaw, old school, unapologetic country flair with sneering, dangerous punk bite, what began as a recording project and morphed into a band, Shook and co. have released two great LPs, most recently this year's Years, to broad and widespread acclaim. It's a shame they're slotted so early, because they're a standout act.
LISTEN | "Keep the Home Fires Burnin"
WATCH | "New Ways to Fail" (Official Music Video)
CONNECT | Site | Facebook | Twitter | Instagram

_
#4: AARON LEE TASJAN
Saturday | Gold Record Road | 11:55am
Local folk tinged rocker Aaron Lee Tasjan has been a longtime site favorite, his 2015 LP In the Blazes and 2016's Silver Tears both making our list of best local releases in their respective years, and his personal, timeless, rock-rooted new effort Karma For Cheap already seemingly a shoe-in for 2018. A dynamic and seasoned performer, Aaron is steadily becoming a festival fixture, and his engaging, warm style mixed with personal, earnest songwriting makes him a must-see at every chance. The Shady Grove stage could barely contain him last year, so this sizable return upgrade feels perfectly suited.
LISTEN | "The Truth Is So Hard to Believe"
WATCH | "Little Movies" (Official Music Video)
CONNECT | Site | Facebook | Twitter | Instagram

_
#3: LIONEL RICHIE
Saturday | Gold Record Road | 5:45pm
An artist who surely needs no introduction, the legendary Lionel Richie fills the quotient, like Hall & Oates a couple years ago, of singer with countless hits everyone knows, whether a diehard fan or causal newcomer. While younger fans might know him as American Idol host, TV personality, or Nicole Richie's dad, and Baby Boomers might best associate him with his famed funk and soul group the Commodores, Richie's award winning solo career made him a superstar of the '80s, renowned for his dance-primed pop and r&b stylings. Only over the last few years has Lionel returned to regular touring, and this marks his first Nashville area stop in half a decade.
LISTEN | "Hello"
WATCH | "All Night Long (All Night)" (Official Music Video)
CONNECT | Site | Facebook | Twitter | Instagram

_
#2: DAWES
Saturday | Midnight Sun | 3:20pm
Notably, one of the few return Pilgrimage performers to have first played year one of the fest, LA folk rock favorites Dawes have actually released two great LPs since their last time in Franklin, most recently this year's great and surprisingly poppy Passwords. Forged out of the Laurel Canyon scene, in just under a decade, the band have grown into an acclaimed, fan-favorite, festival primed act, forging a folky, cool indie rock infused sensibility and engaging and expansive live show. Though they make it Nashville fairly often, their shows tend to sell out quick nowadays, making a chance to see them live at a festival feel like an extra special treat and essential viewing.
LISTEN | "Things Happen"
WATCH | "Living in the Future" (Official Music Video)
CONNECT | Site | Facebook | Twitter | Instagram

_
#1: JACK WHITE
Saturday | Midnight Sun | 7:00pm
It's no surprise that our top pick for Saturday is also the festival's top billed performer: resident local rock star Jack White. Though he's no stranger to fests, Jack still feels like an inspired pick, not meant to fill the shoes of Justin Timberlake last year, but to affirm a tradition of beloved and iconic local performers stepping in to top this boutique event. Though he's been making touring rounds, this is, save for a special, hard to get into Third Man warmup, White's first local show in support of his recent, adventurous third album Boarding House Reach. Backed by a great new band, this tour has been met with stellar reviews, and no matter the size or nature of the show, we've never seen Jack White deliver anything less than a stunning, rock and roll affirming, career-spanning set.
LISTEN | "Over and Over and Over"
WATCH | "Lazaretto" (Official Music Video)
CONNECT | Site | Facebook | Instagram

_
More from Pilgrimage Festival | Site | Facebook | Twitter | Instagram