Many of our region's best festivals were already firmly established before we ever started covering them. Many others we watched emerged with promise, only to disappear after one year, a testament to just how hard it is to pull off an event at this scale, in an increasingly saturated summer music landscape. From the start, our hopes were high for Franklin's Pilgrimage Fest, now the closest fest of its size and nature to Nashville, and after an ambitious and exciting first year and a promising second, the fest hit a major milestone and found its stride with this year's sold out third installment, thanks, largely, to new co-producer and 2017 headliner Justin Timberlake. With a clear vision, an ace team, and a supportive community, Pilgrimage has become one of the most organized, well-curated, and dependable summer events in the region, and  now more than ever seems like a festival with a bright future ahead. Local or not, it's already one with a lot of identity and uniqueness; the perfect cap to our busiest festival season yet, and one of our favorite musical happenings of the summer. Once again, we sent the crew down to make the Pilgrimage, and you can check out our thoughts, highlights, and photos from Pilgrimage 2017 below!
SATURDAY
Blackfoot Gypsies. Photo by Mary-Beth Blankenship.
Blackfoot Gypsies
Slotting a festival in late September should, by conventional wisdom, be a safe bet weather-wise, but somehow Tennessee missed the memo this year, and as I arrived for the third year of Franklin's picturesque Pilgrimage Fest, I was faced with near Bonnaroo levels of heat. Nothing could scare me away, though, especially with the prospect of such an exciting lineup on tap. It's been incredibly exciting to watch this intimate, well-curated, and family friendly event find its own niche in a crowded festival landscape, and now with Justin Timberlake involved as both a producer and performer, the boost in exposure was immediately apparent in added decor, tweaked organization, and a noticeably larger crowd (though, for the most part, I was met with a very welcoming and familiar setup).
Something organizer Kevin Griffin stressed at the lineup announcement party earlier this year was a commitment to bringing back local artists for repeat years, banking on word of mouth to help curate and expose new favorites to festival crowds; an admirable approach, especially for an event with limited space. One such act was longtime site favorite Blackfoot Gypsies, who made their debut last year on the tiny Shady Grove Stage. This time, the boys upgraded to the tucked away Harpeth River Stage, and, despite the heat and early morning set time (festival sets at breakfast time is something I still have to adjust to), attracted a modest but enthusiastic crowd.
Somehow still one of Nashville's best-kept secrets (though, increasingly, they've been attracting more buzz, especially for associations with popular performers like Margo Price), the blues-infused retro rockers were shockingly energetic and acrobatic for the early hour, eliciting dancing, singalongs, claps, and a whole lot of soul. While not likely to go for a three-peat, BFGs are such a well-suited and accessible act for a festival stage, and I have no doubt we'll see them again at Pilgrimage sooner than later; hell of a fun way to start my weekend! [PO]
Ruby Amanfu + Steelism. Photo by Mary-Beth Blankenship.
Ruby Amanfu + Steelism
After already needing to hydrate and find shade, I ventured over to the main stage for a super cool local combination of fantastic talents: Ruby Amanfu and Steelism. After making their debut as a twangy, genre-bending instrumental act, Jeremy Fetzer and Spencer Cullum Jr. recruited some very talented vocalists to collaborate on their latest album, ism, including the unbelievable Ruby Amanfu, who both as a background singer and a poppy, soulful, solo artist has earned worldwide accolades and brushed shoulders with some huge names. I've seen both performers individually but not together, as they've been exploring lately, so this was among my most-anticipated sets of the day.
Steelism started things out alone, flexing their nostalgic, instrumental, hypotonic twang on a few great tunes. Once Amanfu emerged, however, bringing her own energy, confidence, and swagger, the performance took a turn for the even better, filling out the songs with a more approachable point of connection, and clearly wowing both fans and newcomers. Though not a household name, Ruby has worked with everyone from Jack White to Beyoncé, and has spent 20 years honing her sound and style. She's a one of kind talent and an unbelievable live performer, whose sensibilities seemed only elevated when juxtaposed with the precise and polished chops of Steelism. [PO]
Big Sam's Funky Nation
Primed to get my Pilgrimage on, I rolled into the festival grounds drenched in sweat from my walk from the car, but smiling ear to ear nonetheless. It was incredibly hot and humid for a weekend in September, and easily as hot as Bonnaroo had been this year. Despite the oppressive heat, everyone in attendance seemed to be in good spirits, and ready to party! Big Sam and his Funky Nation, who played the very first Pilgrimage in 2015, were no exception. I strolled up to their performance just as the legendary trombone player was getting loose on his specialized brass blaster. I've seen them perform a couple times before, but being a huge fans of all things New Orleans, I never miss an opportunity to watch them put it down live. Danceable creole flavored songs, with spectacle from the frontman rivaling any rock show. A fantastic way to start my fest! [JR]
The Shadowboxers. Photo by Mary-Beth Blankenship.
The Shadowboxers
Recently Nashville based, though originally from Atlanta, The Shadowboxers were one of the bands I assumed were all but guaranteed to be on this year's lineup announcement, given their ties to Justin Timberlake. Not only did that prove true, but the r&b pop rockers even played at short set at this year's lineup announcement, giving me a taste of what to look forward to at their full performance (plus, I've seen them previously around town and at Forecastle Fest, and they're never anything short of funky and fun). With Timberlake perched side stage to watch out of sight, the band launched into one of the most fun, high-energy sets of the day as the afternoon sun bore down, hitting us with excellent harmonies, funky dance moves, and huge, hooky singalongs. Their recent singles have been gaining a lot of traction, and with a new record on the way (from which they snuck in a couple of new tunes), these guys have all the ingredients to become a breakout band, and, certainly, warmed up the main stage for JT's similarly spirited show later in the evening. [PO]
Sinclair
Indie pop artist Sinclair landed on our radar with 2014's excellent EP Sweet Talk. Since then, she's been working up her live show as a charismatic showperson and killer guitarist. Those traits were on display as Sinclair played smooth and lightly funky new single "Shy Love." Shortly afterwards, LUTHI saxophonist Amber Woodhouse rolled up to elevate "BRCLNA" and bring the party to a cover of DJ Khaled's "Wild Thoughts ft. Rihanna and Bryson Tiller." It's the kind of underrated local collab gets the magnitude it deserves atop a festival stage. [WD]
With no early agenda whatsoever, I wondered over to the Harpeth River Stage for local pop rocker Sinclair. I'd been hearing about her around town since 2014, but had never really dived in when it came to her music. The singer's performance at Pilgrimage was a wonderful introduction to her impossible not to like, easily digestible version of indie rock that had me singing along to the hooks, despite being completely new to the music. I thoroughly enjoyed the track "Pop Champagne," which was about making love and, what else, drinking champagne. By the end of Sinclair's set, I'd say I was officially a fan of her tunes, and I look forward to catching the singer and her band again around town in the future. [JR]
Nikki Lane. Photo by Mary-Beth Blankenship.
Nikki Lane
Another returning local performer, after making her debut at the first Pilgrimage in 2015, outlaw country rocker Nikki Lane moved this year from the Harpeth Stage to the more appropriately situated Gold Record Road Stage. While she hasn't quite climbed the rungs of peers like Margo Price or Strugill Simpson, Lane is, without a doubt, a legend in the local scene, and has attracted widespread acclaim for her excellent solo efforts, particularly this year's standout Highway Queen. The owner of a hip, country-infused vintage store, Lane always looks like a cool, badass star to boot, and this set was no exception.
Working through new tunes like the titular "Highway Queen" and "70,000 Rednecks,"  and old favorites like "You Can't Talk to Me Like That" and "Love's on Fire," Nikki brought her signature fiery, pistol sharp delivery and classic county sensibility, harkening back to a golden age of the scene, but not without an anchor in modern sensibilities, and elevated by her excellent band. Quipping, wisecracking, and coming off incredibly humble, Lane was as affable and pleasant and she was cool and talented, and, once again, managed to be one of the festival's brightest points. [PO]
Shovels & Rope. Photo by Mary-Beth Blankenship.
Shovels & Rope
Relatively modest in its size and layout compared to many other festivals I cover, Pilgrimage does, still, occasionally present me with tough scheduling dilemmas. The first of the weekend was Nikki Lane into Shovels & Rope, for which I decided to split the difference and head a little early to see the Charleston folk duo. After their breakthrough with 2012's O' Be Joyful, I saw Shovels & Rope a bunch, but that's slowed down considerably in more recent years. They always shine at festivals, though, with an engaging, intimate, and eclectic live show and magnetic charisma, so I was seriously looking forward to their Pilgrimage set.
Excellent as always, the husband-wife duo of Michael Trent and Cary Ann Hearst proceeded to play a career-spanning set of songs I knew and loved, and a handful I hadn't heard. I love that they still keep things so close and personal, setting up right next to each other, switching and sharing instruments, and harmonizing into a single mic, both a reflection of their deep musical connection as well as their personal one. Halfway into the day, the crowd was really growing too, considerably more packed than any Pilgrimage prior, reminding me of all of the great artists left throughout the day. [PO]
Colter Wall
After enjoying some delicious Bao Down teriyaki chicken sticky buns from the food truck pavilion, I grabbed a beer and made my way back towards the music. Picking his set strictly because his was the next show scheduled to start, I rolled into Colter Wall's performance with zero knowledge about the performer and zero expectations. Halfway through the first song, I was floored. At only 22 years of age, he has quiet swagger, refined lyrical mind, and seasoned voice that harkens back to legends of early country/Americana like Waylon Jennings or another star who found success early in life, Hank Williams Sr. The fact I later found out Wall is from Saskatchewan, Canada, only added to my intrigue, considering the blues drenched southern drawl in his singing is as pronounced as any. And that's not to say he's "putting on airs," every note from his guitar, ever smokey word from his mouth, feels genuine, like he's channeling spirits much older, and more American Southerner, into his music. Wall was easily my best find of the fest, and an artist I highly recommend for fans of the "new" outlaw country of Jason Isbell, and Sturgill Simpson. [JR]
Better Than Ezra. Photo by Mary-Beth Blankenship.
Better Than Ezra
Fronted by Pilgrimage co-founder Kevin Griffin, Better Than Ezra were another of this year's great returning performers, and though not all too surprising, were still a welcome addition, with a widely accessible and easy to digest sound that fits perfectly on a festival bill. Adding a bit of a nice flair, the group invited fellow New Orleans favorite Big Sam and some of his band to join in on the set, adding a cool, brassy dynamic to their poppy alt rock sound. Griffin and co. have been doing this for decades, and at this point their performance style is so fluid and effortless, but these Pilgrimage appearances feel extra warm and humble, Griffin always taking the time to express genuine gratitude and wonder at the success and positive reception this festival has received. The crowd, too, was large and enthusiastic, and I got the impression many didn't even know Kevin's connection to the event when they wandered up to dig into some fantastic '90s nostalgia. [PO]
Trombone Shorty and Orleans Avenue
Having run into some friends by chance during Colter Wall's set, I convinced my new little collective to head over to the main stage for the always spectacular Trombone Shorty and Orleans Avenue. An act I'd seen twice before already, I hoped the ensemble was ready to bring the fire to Pilgrimage, and bring the fire they did! Right from the jump, frontman Troy "Shorty" Andrews showed everyone what a singular talent he truly is, performing blistering, rocking solos on his trombone and trumpet, often peppering in a little bit of both in one song, while he sang and led the band. The quality of talent in his backing band is also obvious to anyone listening, incorporating choreographed dance steps without missing a beat on their instruments. Covering a wide variety of genres in their original material (like rock, funk, jazz, blues and New Orleans brass), they also pulled out a nice Green Day cover that nearly put the original interpretation of "Brain Stew/Jaded" to shame. They are stupendous live, and I like them more with each passing viewing experience. Just before the set had finished up, my friends and I said our goodbyes, as they were camping out for a primo spot for JT, and I was on to more music. [JR]
Angaleena Presley
Sandwiched between Better than Ezra on one stage and Trombone Shorty on another, Kentucky songwriter and Pistol Annies member Angaleena Presley joked the audience was getting plenty of bang for their buck. Despite the audio bleed, the lyrics of  "Knocked Up" came through sharp and biting as hell. The clever songwriting from acclaimed recent release Wrangled spoke volumes about southern social structures and the severe inequality that women experience in country music. [WD]
Colony House. Photo by Mary-Beth Blankenship.
Colony House
It's been such an impressive and monumental couple of years for local indie rockers Colony House, who, earlier this year, followed up their impressive debut album with an even better sophomore effort, Only the Lonely. While, for all intents and purposes, we typically lump Franklin and Nashville together when describing a group as local, Colony House are one of the few performers on the whole lineup who genuinely grew up in Franklin proper, and shouted out that fact when mentioning that they were "actually home." Performing on the Harpeth River stage, which almost felt too small to contain their anthemic and energetic set (and attracted a respectable crowd, to boot), the group sounded the best I've ever heard them, with energized renditions of favorites like "Waiting for My Time to Come" and "Silhouettes," and great new cuts like "You Know It" and "You & I." While I've been impressed by their dazzling indoor production with recent shows, playing outside in the daylight did make it hard to recapture that same moody atmosphere, but Colony House more than compensated with their sonic excellence, landing one of the best (and perhaps most underrated) sets of the day. [PO]
Gary Clark Jr. Photo by Mary-Beth Blankenship.
Gary Clark Jr.
Watching from the seemingly never moving beer line, I enjoyed Gary Clark Jr.'s set, but the heat was starting to get to me a little. Stifling humidity made breathing a chore. I found some shade and cooled off for a few songs. After finally getting half a cold one and a bottled water into my system, I was back in the proper mind frame, weaving my way closer to the stage just as Gary was powering into one of my all time favorites, "Bright Lights." He finished strong, like he always does, and I was glad I'd made the effort to push closer to front for the second half of his show. [JR]
The final stretch of Saturday's bill has particularly painful in its conflicts, and rather than miss out on anyone I was eager to see, I opted to make a mad dash between them to get a full sampling. Coming from Colony House and knowing Walk the Moon would soon start, I ventured over to Gold Record Road for a few songs of the incomparable Gary Clark Jr. I've seen Gary a bunch; at clubs, in arenas supporting other artists, with a variety of acts of all genres, but particularly at festivals, I'm always impressed with his unbelievable ability to scale and connect with huge audiences, whether they're fans or newcomers. Pilgrimage was never different, and despite the pull in every direction for great sets (and getting a spot for JT), the biggest crowd I've ever seen at this festival was swelling onto the grounds, making for sizable audiences for every evening set. Clark sounded absolutely huge and epic, and I was thrilled to see the one new tune I hadn't heard live yet- his hard rocking rendition of The Beatles' "Come Together," which currently seems to be the only good thing to come out of a new Justice League movie. [PO]
Walk the Moon. Photo by Mary-Beth Blankenship.
Walk the Moon
Walk the Moon have come a long way since breakout single "Anna Sun" from their excellent 2012 self-titled LP. The band just keep upping the ante on the anthemic pop band setup, and their Pilgrimage set was yet another high point in the crew's story. Frontman Nicholas Petricca commanded a long string of singalongs while bassist Kevin Ray swooned the audience on stage left, guitarist Eli Maiman amped up the crowd from stage right and drummer Sean Waugaman escalated the whole party. Yes, they played "Shut Up and Dance", but Petricca and Maiman took the opportunity to duet a tender, slightly messy, but endearing version of "Aquaman." Walk The Moon unveiled a peak into their upcoming album with new song "One Foot," another step forward in the Cincinnati band's infectious catalog. [WD]
Another stop in my hectic attempt to catch as much of Saturday's final stretch as possible, I dashed over to the main stage for a few songs of Walk the Moon mid-set, while making a pit stop in the press area. I wish I'd been able to stick around for more and really get up close, as the crowd were absolutely energized, but even from a distance, the band sounded more clean, polished, and pop primed than I've ever heard them (it's been at least three or four years since I last saw the band in action). Their last record, Talking Is Hard, was definitely a breakout moment for the group, and the time on the road since clearly has them playing tighter than ever. With a followup right around the corner, I'm pretty sure I heard a new tune or two in the set, which sounded fantastic and a worthy followup for a record with high expectations. [PO]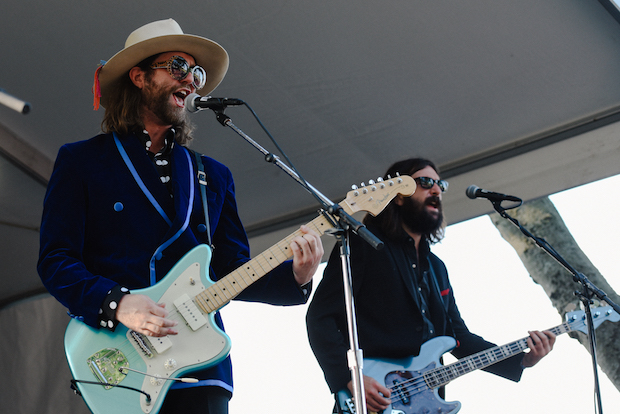 Aaron Lee Tasjan. Photo by Mary-Beth Blankenship.
Aaron Lee Tasjan
Being a big fan of now local Aaron Lee Tasjan since our paths first crossed a decade ago in our native state of Ohio, it's been fantastic to watch him build to further and further success/acclaim. An Americana power rocker with a penchant for writing songs that feel familiar the first time you hear them, it's really no surprise to me that he's grown in popularity in Nashville, and, thanks to relentless touring, across the nation. Earlier this year I saw him sit in on the Bluegrass Situation at Bonnaroo for a song or two, but enjoying a full set from him and his backing band was even more wonderful. Performing at possibly the greatest small stage at any outdoor festival anywhere, the aptly named Shady Grove stage, Aaron and his crew were firing on all cylinders, showing everyone in attendance that only bigger and better things are on his horizon. [JR]
In years prior, Pilgrimage's smallest stage, the Shady Grove, was basically a plank in a little field on the way in, boasting pretty small and scaled down sets. This year, it got a bit of an upgrade, adding more comfortable seating and lounge areas, decorations, and a bit more production and staging, making it a cool and boutique area to scope out mostly local and well-curated up and comers. Along with the fascinating part history lesson-part interactive platform the Americana Music Triangle and a much better laid out new food truck plaza (complete with a DJ stand), this beefed up Shady Grove was one of the most visible and welcome changes this year. Somehow, I hadn't made it over all day, but in my final lap of the day, I was determined to catch a bit of Nashville's own Aaron Lee Tasjan. A site fave and an artist I'm always impressed with, Aaron felt a little big for this tiny stage, and with his fantastic band and a packed in crowd, it was clear that his next Pilgrimage will surely be upgraded. I only heard a few songs, but I was thrilled to be there for standout newer jam "Little Movies," which is a perfect encapsulation of Tasjan's talent and range. Wish I could have stayed for me, but the sound of The Avett Brothers well into their set nearby pried me away. [PO]
The Avett Brothers. Photo by Mary-Beth Blankenship.
The Avett Brothers
After glancing across the field at the crowd situation for Justin Timberlake and again marveling at how gigantic the attendance was this year (I'm not sure of the official final figure yet, but it seemed to have doubled if not more; parking and traffic alone were dramatically different), I decided I had time for a bit of The Avett Brothers before trying to get a good spot. I've written before how I've seen this group a ton, both back in their tiny, scrappy early days as well as more recent gigantic festival turns. I really dig what they do, especially the energy they bring live, although I can't say I've spent quite as much time with their new stuff. That's why I was thrilled to find this setlist packed with songs from 2009's standout I and Love and You, in equal measure with tunes from last year's also great True Sadness. There's not a lot new I can saw about The Avetts at this point; they're always a blast, fusing their folky and Americana stylings with energetic and almost punk like energy and engagement. They're basically a quintessential festival act, and while they usually fill the rootsy or folkier quotient at bigger and more eclectic events, at Pilgrimage, which already skews that way, they actually felt more like the group bringing some edge. Once again, I found myself wishing I could watch more, but the allure of Justin Timberlake at a boutique festival had me trekking across the site early to claim my spot. [PO]
Justin Timberlake. Photo by Mary-Beth Blankenship.
Justin Timberlake
With his behind the scenes involvement announced before last year's fest, it seemed inevitable that Justin Timberlake would play Pilgrimage in some capacity eventually, but I was still in disbelief that he was headlining this year up until the moment he stepped on stage. To put in context, JT alone can sell out a headlining event with a crowd not that much smaller than the entire festival audience for the day, making any festival appearance, much less one at a boutique and local event like this, such a rare and incredible thing. Given the reasonable price for Pilgrimage tickets too, it's a pretty great way to see him live, especially with all of the other music and ambience that comes along with a ticket, and Justin alone seemed to have been largely responsible for the huge attendance uptick, many of whom arrived early to stake out a spot, came in from out of town, or even arrived later in the day just for JT. It looked more like Forecastle or even Bonnaroo than any prior Pilgrimage, yet still manageable as I made my way up close for a prime spot.
Known for his epic and large-scale stage production, I was very curious to see how Timberlake would approach a festival, worried we might get a stripped-down, less full experience. While the crazy arena staging of course wasn't there, that couldn't have been otherwise further from the case; joined by his amazing full band the Tennessee Kids, Justin not only delivered a full-scale, proper performance, but also managed to make it more intimate and communal than I ever could have imagined. Rocking a Pilgrimage shirt (nice touch), hat, and bandana, still looking sharp but not as formal as more recent outings, the Memphis-born singer opened his first show of 2017 with a beautiful cover of Sam Cooke's classic "A Change Is Gonna Come," acoustic guitar in hand and accompanied by stripped-down backing vocals and instrumentation, gradually building into a louder, more energetic full band setup as the show proceeded on. From note one, it was clear this was going to be the coolest set in Pilgrimage history so far, and Justin, one of the greatest and most accomplished entertainers alive, was more than up to the task of festival headliner.
Navigating a career-spanning set from his now 15-year solo run (sorry *NSYNC fans, despite Chris Kirkpatrick hanging backstage, Timberlake's days of dipping any further back than Justified seem long-gone), Justin dazzled with newer tunes like "Suit & Tie" and "Drink You Away," and received hugely enthusiastic response for older hits like "Cry Me a River" and "My Love," the throwback tunes getting a particularly classy and timeless tweaking by the more organic, skilled group of backing players he's rocking with these days. Charming, funny, and humble, Timberlake seemed both thrilled to be there and determined to make this performance something unique and special, giving it a sort of "hanging with friends" casual vibe while still delivering with the raw talent and decades of honed showmanship that made him a star. Unsurprisingly, JT cohort (and Pilgrimage alum) Chris Stapleton joined him mid-set, tackling duets of Stapleton tunes "Tennessee Whiskey," "Fire Away," and "Sometimes I Cry" (I was a bit shocked to see a couple JT fans around me acting annoyed at this bit, as if he's indebted to give them the exact show they want, rather than being open-minded about letting an artist they love express himself sincerely, but I digress).
It felt like things had just started to cook with JT got to closer (and song of the summer) "Can't Stop the Feeling," his newest and most family friendly single from the Trolls movie (which he also voiced a character in), causing the crowd to erupt into huge dancing and singalongs for a really joyous and pure moment. Of course, there were not one, but two encores, so perfectly suited to highlight his lights and dynamic background staging as the sun had totally set. One of my favorite (and his most famous) early jams, "SexyBack," sounded awesome, especially with the Tennessee Kids giving it just enough of an update to make it not feel quite so mid-'00s musically, and by raucous throwback jam "Rock Your Body" and heartfelt and hypnotic new tune "Mirrors," it felt like Justin had flipped from informal jam for some friends in Franklin to full-on, world famous pop star mode, his delivery, affability, and magnetism second to none. I know Pilgrimage sets are not super-long, and Timberlake playing at all was a huge coup, but man I could have watched that for another hour and a half easily. The biggest star and best performer Pilgrimage has hosted yet, not only was the bar set seriously high for the following day, but for the fest in general (I'm excited to see how they tackle that next year). [PO]
Snaking my way through the massive, and growing gathering of people at the main stage for Friday night's headliner, I didn't know what I expected from Justin Timberlake's set. Kind of indifferent to his music, neither loving it nor hating it, I wouldn't say I was eagerly anticipating him to start. However, the electricity and buzz all around me was infectious, and had me growing more and more excited by the minute.  From the moment he stepped onto stage, until day one was officially a wrap, JT owned that crowd, myself included, and it was whimsical to watch. He played guitar and piano, sang, danced, told funny anecdotes during brief and light monologues; every aspect perfectly on point. The only people I've ever seen come close to his command of the spot light are Chance The Rapper, and Bruce Springsteen; I'm giving Justin the edge. His duets with very special big name guest Chris Stapleton sent non-stop chills down my spine, easily the highlight of the festival for me personally, and by the time he brought "SexyBack" in his encore the crowd was in euphoric hysterics. Kudos to Mr. Timberlake, I'm officially a believer and fantastic! [JR]
Photos by Mary-Beth Blankenship.
SUNDAY
Valerie June. Photo by Mary-Beth Blankenship.
Valerie June
After an absolutely fantastic first day, it felt like Pilgrimage had quite a high bar to meet for Sunday, especially with that perfect Justin Timberlake set seared into my mind. Trekking down early, braving another sweltering day, and making the long walk in from the closest parking spot I could find (the one downside of a festival hitting its stride attendance-wise, but I'm not complaining), it turned out starting day two with Valerie June's lovely Gold Record Road stage performance was the perfect way to get me into an eager headspace for another full day of music. I've written about June a bit, but somehow had never seen her live, and I found the Memphis singer's soulful, rootsy, Americana rooted sound to be even more magical and earnest in person. Performing to a modest but enthusiastic early crowd, Valerie captivated with her powerful voice and heartfelt delivery, immediately pulling my mind away from reliving Saturday and into the present, primed for another great afternoon ahead. [PO]
Karen Elson. Photo by Mary-Beth Blankenship.
Karen Elson
Easily one of my most-anticipated performances of the weekend, enigmatic English singer (and supermodel) Karen Elson is an artist I've been dying to see for years but had never managed to, despite her being rooted in Nashville. Especially since this year's wonderful sophomore album, Double Roses, which sounds much more English and timeless and personal, drifting away from the prevalent influence of ex-husband Jack White on her prior LP. Working through tunes like "Double Roses," "Wonder Blind," "Distant Shore," and "Season of the Witch," Elson sounded spellbinding and transformative, delivering one of the most intimate and heartfelt sets of the entire weekend. Backed by a tasteful and understated band, including the pleasant addition of a violin, and powering through the overbearing heat, this seemed like a performance that should have been later in the day on a bigger stage, as the early slot and tucked away setting didn't attract quite the audience such a phenomenal outing deserved; still, I'm glad I finally got to see Karen in person, with time to take in a full set to boot. [PO]
Langhorne Slim. Photo by Mary-Beth Blankenship.
Langhorne Slim
Yet another returning performer, this year on a bigger stage with a better time slot, local favorite Langhorne Slim proved just the right pace for a little afternoon pick me up. Seemingly in an especially contemplative and lighthearted mood, Langhorne shared anecdotes, quips, and personal stories between songs, playing a stripped-down set with a bit more earnestness than I'd seen in the past. I only had a chance to see a few songs before wandering on to hydrate and make it to another stage, but, as always, it felt great to see so much local and familiar talent at Pilgrimage yet another year. [PO]
Joseph. Photo by Mary-Beth Blankenship.
Joseph
After being treated to an up close and personal press performance earlier this summer at Bonnaroo, then catching part of their show in July at Forecastle, getting to see more of folk rock sister act Joseph at Pilgrimage was high on my list of priorities, especially since the fest fell on the heels of the release of their great new album, Stay Awake. Powering through an intense daytime heat, the band, standing all in a line, sounded absolutely transcendent, nailing every perfect harmony and eliciting singalongs with hits like "SOS," "White Flag," and their particularly cool new cover of "Everybody Wants to Rule the World." It kind of felt like Joseph came out of nowhere these past few years, and it's so cool to see them earning all of these high-profile festival slots already; they're the real deal- talented, fantastic performers and songwriters who, in just a couple of albums, have already showcased some amazing range and ambition, and they're only getting started. [PO]
Marty Stuart. Photo by Mary-Beth Blankenship.
Marty Stuart and His Fabulous Superlatives
After the new, fresh stylings of Joseph, I opted to rush over to the Gold Record Road for an already established country legend: Marty Stuart. Admittedly, I'm not the most knowledgeable of the country scene, especially the '80s and '90s era, but with Stuart's links to Johnny Cash, and his more old school, rockabilly, and honky tonk infused sound, I can definitely appreciate his vibe, particularly his inspired recent work with his backing band the Fabulous Superlatives; this kind of country is definitely my jam. Rocking tasteful western attire, giving them that classic Nashville vibe, Stuart and co. had the place rocking from note one, blasting through what seemed to be a mix of originals and classic country standards (many of which sounded recognizable to me, but that I'm not well-versed enough to name). Obviously a lifelong showman and an incredibly refined performer, Stuart has perfected balancing a renegade country edge with an Opry-primed flair for presentation, and despite not really knowing his music, I couldn't stop smiling in awe throughout the set. [PO]
Amanda Shires. Photo by Mary-Beth Blankenship.
Amanda Shires
The day's first stinger of a scheduling conflict, another local and site favorite, Amanda Shires, was slotted against Marty Stuart at the nearby Harpeth River stage, so of course I had to pry myself away early to watch. Though she technically played last year as part of her husband Jason Isbell's backing band, Amanda's Pilgrimage return was all about her stellar solo work, despite Isbell returning as well, this time to accompany her band. Well known for her violin work performing with others, if you haven't dug into Shires' decade+ of excellent solo work, you're seriously missing out. Last year's My Piece of Land, particularly, is a beautiful and personal and expansive effort, and finally getting to hear some of those new tunes live was an emotional and spellbinding experience. Coming across sweet and charming as always, while still fiery and poignant, Amanda was without a doubt one of my favorite performers of the day, and a reminder that, unlike many other festivals, Pilgrimage did a pretty excellent job booking a lot of talented women this year (we'd still love to see some more in headlining spots though)! [PO]
Fitz and the Tantrums. Photo by Mary-Beth Blankenship.
Fitz and the Tantrums
Running a little late on day two, after having to work a brunch shift in the AM, I got into the massive beer line just as Fitz and the Tantrums took the stage. Their upbeat, high energy brand of big band pop rock was just what I needed to metaphorically shake the bad taste of work out of my mouth until I could physically do the same with an ice cold brew. Despite it being another scorcher, fans in the crowd proceeded to bob along to the beat, singing the lyrics, which many of them knew by heart. They brought their A-game and made it damn near impossible for everyone in earshot to not be smiling and having a good time. Later, during a short break in their set, they talked about how far they'd come in their career, and reflected back on their first ever Nashville show at 3rd & Lindsley nine years ago. Coming full circle, by killing it on a main stage at Pilgrimage Festival seemed perfectly poetic to me. [JR]
Pokey LaFarge. Photo by Mary-Beth Blankenship.
Pokey LaFarge
Booked entirely against Fitz and the Tantrums, and overlapped with the legendary Mavis Staples, I wasn't expecting to have a chance to see any of Pokey LaFarge. Grabbing a snack near the Harpeth Stage, however, I found myself with just enough time to wander over for a couple of songs. It's always weird to see LaFarge and his band at festivals dressed down, as I'd grown so accustomed to the formal, old timey look that often accompanies his nostalgic, classic American style. Great as always, Pokey sounded wonderfully out of place and time, and felt especially well suited for this particular festival; wish I'd had time to see more. [PO]
Mavis Staples. Photo by Mary-Beth Blankenship.
Mavis Staples
After finally getting my thirst quenched, I sat down to relax and passively enjoy the legendary Mavis Staples' set. Of course it felt like a once-in-a-lifetime opportunity to see a titan of soul music, and a chance to enjoy some of the all-time great songs of the genre live, though, overall, it was not quite the set I expected. Granted, the woman is 78 years old, and still pitch perfect in the midrange note department, but some of her delivery didn't land quite as I remembered. The exceptionally talented band helped to round out an overall spectacular sound though. Please know, I mean no disrespect, it was still an enjoyable show, but, much like how I felt after recently seeing Bob Dylan, one can't help but wonder what it would be like to see a great in their heyday instead of later in life. [JR]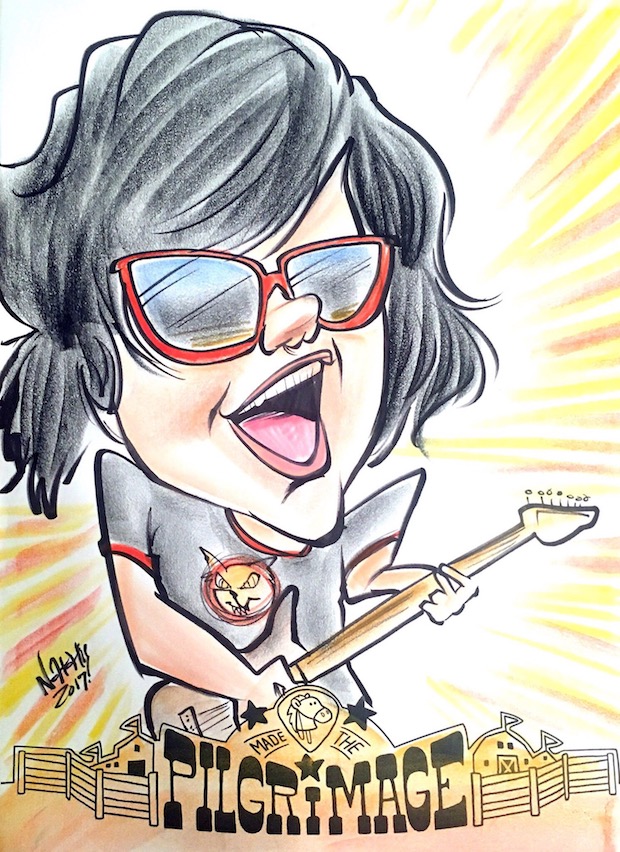 Ryan Adams. Illustration by @peacheslipinski.
Ryan Adams
A die-hard Ryan Adams fan a little earlier in my life, I still throughly enjoy the rock leaning, genre breaking singer-songwriter. However, after seeing him at a sold out engagement at The Ryman in 2015, which is still in my all-time top five live shows ever, I had the feeling his Pilgrimage performance, or any subsequent show, might be a let down in comparison. Honestly, how could it not, considering I hadn't really given his latest record, Prisoner, much more than a passing listen. With a setlist heavy on the new stuff, I did feel a little lost at times during the performance, but there was still enough familiar martial to keep me engaged and grinning ear-to-ear. His customary off the cuff riff, this time on a festival employee positioned high up in the air on a blue scissor lift (Ryan called it a crane) was hilarious, as his riffs always are, and his decision to extend a lot of the tracks into healthy jam sessions was a very nice departure for his typical show. The instrumental jam on "Cold Roses" especially had me a little lost in the sauce, hippie dancing to the beat. Although he called it quits a little earlier than scheduled, I was still overall happy with his set, and the added wrinkle of extend periods of improvisation between verses is something I really hope he develops further in his live shows. Who knows, maybe someday he could pull a John Mayer, and get groovy with the grandfathers of jam as part of Dead & Company.  [JR]
Eddie Vedder. Photo by Mary-Beth Blankenship.
Eddie Vedder
With a new appreciation for Pearl Jam after they exploded my brain at Bonnaroo last year, seeing Eddie Vedder headlining solo was something I'd been really looking forward to. Despite mostly just singing for PJ, Eddie's extremely proficient guitar playing and impeccable rhythm were in full showcase from start to finish, as he strummed some of the most beautifully ornate acoustic guitars I'd ever seen. He was smart to cover almost all his bases, playing do-able solo Pearl Jam songs like "Elderly Woman …" as well as the Beatles cover he climbed the charts with, "You've Got to Hide Your Love Away." He even broke out the uke for some material from his second solo record Ukulele Songs. Later it was on to a few of his more atmospheric tracks from the Into the Wild soundtrack, with breathtaking landscape visuals playing on a massive screen behind him. Despite loving every second of his set, including his slighty-off-base-for-Franklin rant against Trump and WWIII, I decided to head out a little early, for fear I may pass out standing up from a great, but exhausting two day run at Pilgrimage . As massive as the lineup had been this year, I can't wait to see how they top themselves in 2018! [JR]
Photos by Mary-Beth Blankenship.
_

[JR] Jacob Ryan
[PO] Philip Obenschain
[WD] Wes Davenport