Photo by Mary-Beth Blankenship.
Many of our region's best festivals were already firmly established before we ever started covering them. Many others we watched emerged with promise, only to disappear after one year, a testament to just how hard it is to pull off an event at this scale, in an increasingly saturated summer music landscape. From the start, our hopes were high for Franklin's Pilgrimage Fest, now the closest fest of its size and nature to Nashville, and after an ambitious and exciting first year, we felt confident about its return, in of itself a major milestone and important barrier to cross. Thanks to a clear vision, an ace team, and a supportive community, Pilgrimage 2015 was one of the most organized, well-curated, and confident first year fests we've ever seen, and, returning for their sophomore outing, it was a thrill this year to watch them take a well-established template and improve and adjust, cementing the foundation for what, by all accounts, seems like a festival with a bright future ahead. Pilgrimage is still a young event, but, local or not, it's already one with a lot of identity and uniqueness; the perfect cap to our busiest festival season yet, and one of our favorite musical happenings of the summer. Once again, we sent the crew down to make the Pilgrimage, and you can check out our thoughts, highlights, and photos from Pilgrimage 2016 below!
SATURDAY
Nawas. Photo by Mary-Beth Blankenship.
Nawas
Impressed once more by how organized and fluid the setup is at Pilgrimage, I arrived early and parked easily, settling in just in time to see Nawas. I couldn't have asked for a better start, since not only are the group local, but they also are a project I first caught at last year's Pilgrimage Fest. While many events stray from hosting repeat performers, Pilgrimage seems willing to buck that trend, especially on smaller stages as it exposes new talent to broader audiences, and I kind of enjoy having a chance to revisit performers. After a year of getting to know them a little better, I was more dialed into the local transplants' poppy, polished, electro-laces sound, and frontman Jake Nawas seemed more confident and compelling than ever, setting the bar high for the weekend with energetic, soulful pop anthems. [PO]
Sam Outlaw
I arrived to Pilgrimage shortly after the gates opened on Saturday morning. As soon as I picked up my bracelet I went to the Midnight Sun stage to catch the last bit of who I thought was going to be Jonny P but turned out to be Sam Outlaw. Outlaw hails from Southern California and stays true to the famous Bakersfield Sound that came from that region of the country. I was very impressed with his ability to keep that tradition going in the face of modern country music. Outlaw was definitely inspired by what comes out of Nashville, just as the Bakersfield sound was most assuredly drawing from the Nashville style years ago. Parts of his set made me think of our own Andrew Combs' material, which is not a bad thing at all. I sat in the back, protected by shade, as I sipped some lemonade, and prepared myself for what was sure to be a long day of great music.  [JC]
Rachel Kate. Photo by Mary-Beth Blankenship.
Rachel Kate
After realizing local singer Jonny P had dropped his Midnight Sun stage spot last minute, I headed instead to the fest's smallest stage, the inmate Shady Grove, to catch a bit of Rachel Kate. Admittedly, I didn't know a lot about the local folk singer before researching for Pilgrimage, but I was immediately hooked in by her soulful, earnest, traditionalist sound and unique personality, and made mental note to try to check her out if at all possible. Backed by a small and skilled band, Kate sang her heart out to a modest but enthusiastic crowd, finding a nice balance between timeless folk music and contemporary, personal Americana. I definitely plan on catching a full show soon, as her sound was primed for a much bigger stage. [PO]
The Strumbellas. Photo by Mary-Beth Blankenship.
The Strumbellas
Though they've been making rounds on the festival circuit as of late, this was my first time finally seeing Canadian indie/folk outfit The Strumbellas. I'll be the first to admit I wasn't too dialed into them until infectiously catchy breakout single "Spirits," which dropped last year, and appeared on their recent third album, Hope, so I was curious to see what the band were like live. A bit of a breath of fresh air from the indie folk bubble that dominated the scene a few years back, but has since declined, I found their sound, while certainly folky, to be a bit more dark and substantive; authentically country and almost southern, despite hailing from the Great White North. Familiar tunes like "In This Life" and the aforementioned "Spirits" elicited huge singalongs from the clear fans, and just as many other early attendees seemed to have wandered up out of curiosity, hooked into by the band's catchy and nuanced approachability. [PO]
The Strumbellas' name is one that I have seen tossed around before, but I have never heard any of their music, so I decided on a whim to check out their set. Their sound reminded me of the new indie folk revival that was started by Mumford and Sons and The Lumineers, and the band are still touring in support of their April release, Hope. Throughout their entire set I was really impressed by their energy and enthusiasm on stage. Having an early slot at a festival isn't always an easy thing to do, but frontman Simon Ward led the audience and his band of Canadian folk musicians on a journey that left everyone feeling inspired and ready to tackle the rest of the action packed day. [JC]
Trent Dabbs. Photo by Mary-Beth Blankenship.
Trent Dabbs
I arrived and grabbed some food to tide me over for a bit before making my way over to the Harpeth River stage to catch a bit of Trent Dabbs. The little bit of his set that I was afforded brought a nice mix of rocking standards and stripped back sets. The highlight of the set was his rollicking single "Jennifer In Cursive." Lately, I've been more dialed into his side project KiD and his work with Sugar & The Hi-Lows, but his well executed set was a mix of acoustic heart tuggers, upbeat indie rock, and Neil Young odes. Trent has moved up on my list of folks to keep an eye on around town. [MH]
Hitting a bit of an afternoon scheduling crunch, I only had a few minutes to bolt to the tucked away Harpeth River stage, but I couldn't pass up a chance to see Trent Dabbs. Trent is someone we've covered extensively thanks to his various and prolific projects, and while I've run into him in social settings, watched him played accompaniment with various friends and collectives, and marveled at his band Sugar & The Hi-Lows on numerous occasions, I realized I'd never actually seem him play solo. I didn't even know if he'd be alone or with a band (it turned out to be the latter), but I knew, with all of the acclaim and placements Dabbs has amassed over the years, that it would be great. The local singer-songwriter did not disappoint, playing his poppy, soulful, forlorn songs with every bit the polish and expertise I'd expect from such a seasoned artist. [PO]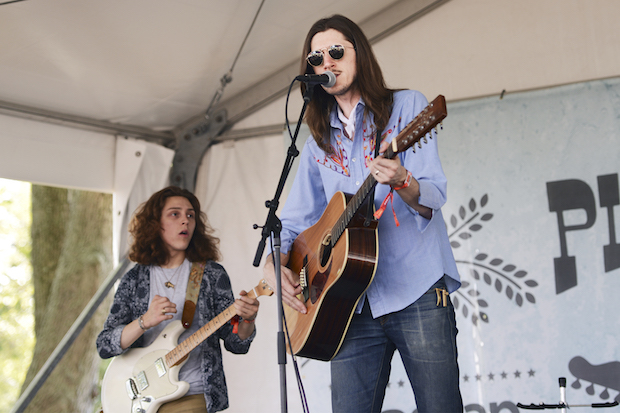 Reuben Bidez. Photo by Mary-Beth Blankenship.
Reuben Bidez
Booked wholly during Trent Dabbs' set, I made the decision to sneak off early to peep another talented local I'd somehow never managed to see, Rueben Bidez. Just days before Pilgrimage, Bidez had dropped a great new EP, Turning to Wine, featuring a few tracks I've been jamming since earlier this year, and with a sort of Beatles-esque retro pop sensibility meets modern folk troubadour presentation, he's definitely an exciting local up and comer to keep an eye on. I was also excited to discover young, local guitar phenom and man about town Daniel Donato playing backup, his technical precision on electric guitar adding a nice, layered extra touch to Rueben's soulful, acoustic tunes. I couldn't stay long, but I loved every minute, and I can't wait to see Reuben at a more formal show setting soon. [PO]
Wild Belle. Photo by Mary-Beth Blankenship.
Wild Belle
It's been a while since I've seen Wild Belle, at the now long lost Starry Nights festival that Cage The Elephant threw in Bowling Green. Back then, the group were brand new on the scene and touring in support of their debut single "Keep You." Now, two albums in, including this year's under the radar release, Dreamland, the brother sister backed outfit have perfected their bluesy electro pop sound, and performed with a swagger befitting their buzzy status. [MH]
Saturday morning was full of acts that I wasn't familiar with and I was quite alright with that because so far it was going great. My Saturday exploring continued with Wild Belle, a Chicago duo consisting of Elliot and Natalie Bergman. The brother/sister pair come from a heavy music background and it shows. Together with a live band, they exhibited the finest knowledge of reggae, afro-beat, soul, folk, and jazz. Natalie's vocals held an eerie yet commanding presence of the field, especially on the singles "Throw Down Your Guns" and "Giving Up On You." [JC]
Kaleo. Photo by Mary-Beth Blankenship.
Kaleo
I headed over to catch the bluesy set from Kaleo right as they started into mega-hit "All The Pretty Girls" to get me and the crowd in the spirit for what was to come. The main stage was set up a little differently for year two with a massive and comfortable VIP area on the side. A huge tent packed with couches, televisions, fans, and shade from the unseasonable heat -this was going to be hard to leave. In a prime spot to enjoy Kaleo's bluesy rocking set, but still staying in touch with the day's college football scores, the music provided a kickass backing track for the kickoff. [MH]
After catching a few songs from genre-bending, hypnotizing sibling duo Wild Belle, I hit the Midnight Sun stage for Icelandic born, Austin based folky, bluesy garage rockers Kaelo. I'd been hearing a lot of buzz for these guys since their recent breakout album A/B, and live, they definitely felt like the real deal, delivering a biting, surprisingly heavy, and impressively energized set despite the afternoon heat. Songs like style thumping "No Good" and the summer playlist primed "Way Down We Go" seriously ripped, and I found myself even more drawn to their magnetic live show than the recordings. [PO]
Leo Bud Welch
After Wild Belle, I decided to wander over to the Harpeth River stage to catch some of Leo Bud Welch. Welch was a name that I had done some research on prior to the festival and I was very excited to see what he had to offer the Pilgrimage crowd. The 84 year old guitar master has been playing the blues since he was 13 years old, but he remained under the radar in the blues world, never quite getting his big break. Welch even recalls being asked to audition for B.B. King's band, but not being able to afford the trip over to Memphis. This all changed in 2013, when a live recording of Leo was passed around the blues world, and helped earn him broader musical recognition. What I saw on Saturday was a guitar mastermind finally enjoying the fruits of his own labor. Welch tore through some blues classics such like "Got My Mojo Workin" that had both him and the crowd dancing the Saturday heat away. [JC]
The Struts. Photo by Mary-Beth Blankenship.
The Struts
With only one full-length to their name, breakout UK rockers The Struts have already opened for legends like The Rolling Stones and Guns N' Roses, and soon as they hit the stage at Pilgrimage, it was clear why. Boasting something of a retro sound funneled through a modern lens, pulling from classic and arena rock, hair and glam metal, '80s post punk, and contemporary indie, punk, and alternative, the band hit on a wonderful sweet spot between old and new, and frontman Luke Spiller, an unchainable and manic live force, decked out in warpaint-like makeup and flashy attire, definitely channeled greats like Mick Jagger and Freddie Mercury in both sound and swagger. Whether or not the sort of glam callback shtick works long-term (ask The Darkness how that's going) remains to be seen, but right now the band totally deserve all their buzz, boasting the turbo-charged, engaging, and unabashedly rock and roll live show necessary to back it, and they brought more energy and bite than just about anyone else all day. By the time they got to anthemic, punk-y banger "Could Have Been Me," I was totally sold. [PO]
Violent Femmes. Photo by Mary-Beth Blankenship.
Violent Femmes
Coming off of the high of one of the most rambunctious sets off the day with The Struts, I was even more amped for the Violent Femmes, the weekend's most conventionally punk act at a fest that definitely seems to be cognizant of booking bands that can largely be enjoyed by all ages (i.e. not a ton of punk rock). I saw the Femmes not too long ago, when they passed through Nashville on a pretty weird package tour, and for the first time closer to a decade ago, amidst their second reunion run. Underground punk trailblazers, the off kilter group's sound definitely pulls heavily from folk as well, which nicely bridges the right gap to make sense on this bill. They boldly opened with inarguably their biggest hit, "Blister in the Sun," a move I can only assume was meant to satisfy casual festival-goers who didn't know the ins and outs of the rest of their releases, and a reminder to the walk-ups that "oh, this is that band." Everything that followed was just as compelling though, and while the show wasn't hugely different from the last time I saw them, the Femmes sounded absolutely spectacular as always. I ducked out a few songs earlier to catch some locals, but walking between stages, I could hear one of my favorites, "Gone Daddy Gone," jamming hard in the distance; true legends, through and through. [PO]
The Violent Femmes were one of my most anticipated acts of the day. Up until this festival, I had only been familiar with their 1983 self-titled debut album that featured the song everyone knows them for, "Blister In The Sun." But this was all to change very shortly. The band came out, immediately ripping into their #1 hit as in an effort to get it out of the way so they could get to what they felt was the real heart of their material. I was very intrigued by their stage setup; the drummer donned a set sans kick drum and replaced it with a Weber grill. Their horn section  featured what appeared to be a double bass saxophone and Brian Ritchie played a big hollow acoustic bass. All of this made up for the absence of the low end from there being no bass drum. The band played a set that seemed to praise their lifelong fans with a message of gratitude for sticking with them all these years. Songs like "Gone Daddy Gone" and "Jesus Walking on the Water" were some of my favorites and had me dying to explore more of the group's catalogue. One of my favorite parts about their performance was their nonchalant attitude. They weren't too serious about their music, which allowed all the right organic emotions to show themselves. It was as real as any DIY punk show, and these guys are masters of their craft [JC]
Arriving at my very first Pilgrimage fest, the first thing I noticed is the family oriented feel, including an entire stage dedicated to the kids, interspersed with adult fun as well, with drink stations nearby. Of course, it's still very laid back, and the come as you are atmosphere rains supreme, as it should at any good festival. But the age range was staggering; infants to elderly, they were all there to have a good time and enjoy some live music. With that in mind I wandered over to the main stage to meet up with friends for Violent Femmes, just as they were starting one of my favorites, "American Music." My group and I caught up for a bit, had a couple free drinks, and decided to wonder the grounds as the Femmes wound down. [JR]
Blackfoot Gypsies. Photo by Mary-Beth Blankenship.
Blackfoot Gypsies
Eager to see a band I've covered for years, but haven't seen perform in a while, I hightailed it to the Harpeth River stage for Blackfoot Gypsies. I promise you they never ever disappoint. Their incredible high energy performance was on point and going strong despite the blistering heat. It felt as hot as any Bonnaroo (but this is September of course, not June) so it was even more unexpected. Frontman Matthew Paige was in star-spangled regalia, an Old Glory inspired vest with long tassels, and bellbottoms that match the band's 70s era Roll Stones vibes. They jammed their familiar catalog, including most of their kickass LP, Handle It, which still gets heavy airplay in my ride. I would have stayed for the entire set, but there was just too much else to check out, so I bailed early, confident that one of my favorite local bands has only become more badass with experience. [JR]
Following the Violent Femmes was definitely quite the task to do in my Saturday Pilgrimage schedule, but I thought that Nashville's own Blackfoot Gypsies would do just the trick. Just like I said to myself when I walked into a set of theirs at Two Boots Pizza one year ago, this band is the MC5 of our generation. From their '70s glam punk wardrobe to their sound, this band makes it their sole mission to rock your face off and it shows. My favorite part about their set was Ollie Dogg on harmonica, who did an absolutely killer job keeping the blues alive in these hard rock tunes. The grooves had everyone at the Harpeth River stage dancing, beyond ecstatic that the sun would begin descending shortly. [JC]
Another returning vet from year one, locals The Blackfoot Gypsies graduated from the Shady Grove to the Harpeth River stage. As one of the best and most criminally underrated local bands around, the move couldn't have been more well-deserved, and I hope the developing local artists trend is one that Pilgrimage will embrace for years to come. Per usual, they delivered a captivating and timeless set, channeling endless rock and blues energy and hooking in every single person from note one with their infectious, fun spirit. [PO]
Cory Branan. Photo by Mary-Beth Blankenship.
Cory Branan
I snuck away from Blackfoot Gypsies (and the unseasonable September heat) to seek refuge once again in the Shady Grove, where one of the best songwriters in town, Cory Branan, had already kicked off his set. I've never seen anything less than an fantastic show from Cory, who fuses a background and admiration for punk with a sort of heartland, alt-country sound. Mixing raw, personal, and honest compositions with a natural humor and charisma, Branan's a ton of fun to see live, and, alone with his guitar, I zoned out and let him serenade me with his eclectic and wonderful tunes, which felt like a perfect escape from the afternoon bustle. [PO]
Shakey Graves
Another artist I was very familiar with, Shakey Graves has been touring almost non-stop for two years, since the release of his amazing LP, And The War Came, in 2014. Unfortunately, he is starting look a little worse for the wear, and he even acknowledged that he was having a miserable day: locking his keys in his car, losing his phone at the airport, and helping out his guitar player who'd been desperately ill. Despite this, and the incredible heat, he poured his heart into his trademark one-man-band routine, stomping out the beat on his custom made suitcase kick drum, and picking/singing in time to the beat. He asked for our help when fatigue nearly over-took him, and we clapped out the beat, helping him along until he introduced the rest of his band, and rocked out the full arrangement portion of his performance. Deciding it was just too damn hot for me as well, I made my way to the shade and a frosty beverage before Shakey finished up, but there was plenty more to come. [JR]
Grace Potter. Photo by Mary-Beth Blankenship.
Grace Potter
Best known and celebrated for fronting Vermont-based roots rock group Grace Potter and the Nocturnals, skilled singer-songwriter Grace Potter has been trying her hand at a solo career for the last couple of years, landing an impressive debut with last year's glorious pop rock effort Midnight, in support of which she played Ascend Amphitheater last fall. While I missed that outing, I did see her at Bonnaroo earlier this summer, and after being absolutely blown away by her set on the farm, I knew her Pilgrimage debut was also a must. Not a drastic leap from her work with The Nocturnals (she even still peppers her set with some of those tunes), Potter's solo work still adapts a poppier bent, which suits her powerful, soulful voice magnificently. Backed by an incredible band, Grace absolutely kicked ass, and I loved this performance even more than 'Roo, her effortlessly cool presence and inspiriting attitude a real treat to witness. A highlight not just of the day, but of the whole weekend, Potter set the bar impossibly high for the other headliners to follow. [PO]
After grabbing another beer from the shaded lounge, I ventured over for a couple songs from Grace Potter. The first thing I noticed was her instant rapport with all of her admirers in the crowd. Many were obvious super fans, but all seemed to be digging her very positive, girl power vibes. Another huge perk to Pilgrimage VIP is the access to a very cushy, tented viewing area. So after seeing for myself what she was all about for a few songs, I wandered back to escape the heat, unwinding in the lounge while Ms. Potter provided an excellent backdrop. [JR]
Cake. Photo by Mary-Beth Blankenship.
Cake
When I first saw that Cake would be making an appearance at the 2016 Pilgrimage, I couldn't help but laugh. Immediately I noticed that they would occupy the same spot that Weezer did last year, and that made the novelty of it even more hilarious. Cake were a huge part of my high school soundtrack as they were with many others from my generation, something that was definitely evident in the crowd. Lead singer John McCrea has a reputation of being somewhat of a jerk onstage. I noticed this but in a way that seemed to make a push for a better concert experience for everyone. McCrea told the audience that if everyone kept filming him saying great things he wasn't going to say them at all; "I'm saying these things to YOU" he told the crowd. My phone was dead for the day and I had absolutely no problem with that, because Cake were as tight and precise with these classics as everyone had hoped for. Seeing the band play "Love You Madly" was as nostalgic as, well seeing Weezer play "El Scorcho" exactly one year ago. Cake didn't dissapoint, keeping the energy and grooves alive and strong until it was time to mosey on over to Beck.  [JC]
Despite their genre-bending alt rock sound being totally up my alley, I somehow missed the boat on Cake when I was younger, save for a passing knowledge of some of their more celebrated singles. I've certainly come to appreciate their off-kilter, trumpet-laced, hip hop informed style in more recent years, but I imagine I'd be an even bigger fan if nostalgia was a factor. Still, I dug 'em a couple summers ago at Bonnaroo, and was looking forward to catching them on an even smaller stage at Pilgrimage. John McCrea and co. definitely delivered, hitting through tunes like "Frank Sinatra" and "Love You Madly" with inspired and engaging presence. McCrea was definitely a bit cagey, as expected, but no more than many other eccentric frontmen, and overall, I really loved the set, even if I didn't know all of the songs well. I wish I could've stuck around for "Never There," "Short Skirt/Long Jacket," and "Going the Distance," which, of course were reserved for last, but, unfortunately, I was being Beck-oned elsewhere. [PO]
Beck. Photo by Mary-Beth Blankenship.
Beck
Anyone who knows me, wouldn't have been surprised that I was practically jumping up and down when Beck was announced as one of the headliners for this year's Pilgrimage.  I've been a fan since seeing him in college in the mid '90s, and have followed most every release religiously since. So, not only was I seeing one of my most beloved acts, but I was also getting to see him as the heat of the day finally began to subside. The packed crowd in front of the stage began in sing along from the first words of "Devil's Haircut," cheered wildly when Beck gave a shout out to Nashville where he recorded "Heart Is A Drum," and totally lost their shit when the pianist took his solo to bust out a spot on rendition of Michael McDonald's "Taking It To The Street."  Having seen this man perform on a number of occasions now, the real highlight for me was seeing the live take of his two latest singles "Dreams" and "Wow," and I can't wait for the next record. [MH]
It was finally time for what seemed to be the most anticipated set on the farm that weekend. I wasn't the only one who left Cake early. I trudged through a big crowd to secure a good spot up front for one of my all time favorite performers. He didn't take too long to come out. just before 7:00, Beck and his band took the stage and got the crowd moving with a wild version of Odelay's leadoff track "Devils Haircut." I immediately knew that this was going to be a great night. Beck was fabulous in every sense of the word. He gave the Pilgrimage crowd a really solid and thought-out setlist. The singer knew how to pick it up with some of his best dance hits like "Black Tambourine" and "Mixed Bizness," and then slow it down with cuts from Sea Change and its sequel Morning Phase. What I saw on stage was a master of his craft. In 20 years when my generation is telling our kids about the best musicians from our upbringing, Beck will almost always make the list. After 20+ years of being in the scene, he's centered in on a style that is so uniquely him and his commanding performance demonstrated that. Just as every other time I have seen him, Beck came to Pilgrimage equipped with a stellar band, who all got their moment when he used "Where It's At" to introduce them and give them each their own solo. I left Pilgrimage that day feeling the sentiment of Beck's newest single real hard: "WOW." [JC]
I've seen alt rock icon Beck several times over the last decade, almost always at festivals, and I can't recall a better setlist than the one he played at Pilgrimage, which was also a strong contender for one of his best overall performances I've ever seen. From note one, the singer, who spoke highly on the importance of supporting new festivals, and his love of Nashville influencing his decision to headline, was in rare form, alternating between every phase and sonic palate of his career, met with exuberant praise, singalongs, and joy. From opener "Devil's Haircut" to the smash early hit "Loser" to "Back Tambourine" a three-song run that set the tone for the whole show, Beck was an unstoppable force, touching on highlights like "Think I'm in Love," "Heart Is a Drum," "Blue Moon," "Where It's At," and "Girl." New single "Wow" sounded even more stellar live; a testament to Beck's ability to continually innovate and make art with a contemporary lens. By closer "E-Pro," it was clear that not only was Beck a perfect choice to headline, but had delivered what'll likely go down as one of the most legendary Pilgrimage sets of all time, and one he seemed humbled and sincerely enthusiastic to give. Though it's a bit weird to watch the sun go down during the last set of the day, after the amount of energy I expended during Beck alone, I was glad to call it an early night, and prepare for an exciting second day. [PO]
Photos by Mary-Beth Blankenship.
SUNDAY
Big Sam's Funky Nation
Just as I had done the day before, I started Sunday off by grabbing a nice cold glass of four dollar lemonade, a crucial refresher as the day would turn out to be even hotter than the first. I found a little patch of shade in the main stage field and decided to relax and watch some of Big Sam's Funky Nation. The New Orleans legends have made their way to many lineups of festivals I have attended, and they always kill it. While this setting may have been a tad bit different than say late night at Gathering of The Vibes, it was still an incredible display of some of the richest and most vibrant sounds from the music mecca. [JC]
Alyssa Bonagura. Photo by Mary-Beth Blankenship.
Alyssa Bonagura
With their adjacent positioning, it's sometimes hard to hear quieter acts on the tiny Shady Grove stage when louder ones are playing simultaneously on the main stage-  definitely something I'd like to drop in the Pilgrimage suggestion box for future years. Big Sam had it cranked up and sounding good, but when it came time for local country pop singer Alyssa Bonagura to hit the stage, she was pretty drowned out, and seemed mildly frustrated, but still in good spirits, about it. My start to what would be another great day, Bonagura was ever the consummate professional, playing through her bright and pleasant songs with the help of some stellar accompaniment. [PO]
The Suffers. Photo by Mary-Beth Blankenship.
The Suffers
I've been hearing quite a bit of hype about The Suffers for several years now, and was thrilled to finally get chance to see the Texas soul collective in person- one of the many perks of festivals. I expected them to be great, but I didn't expect just how commanding a presence singer Kam Franklin would be, decked out in sparkly and colorful attire and boasting a huge, unbelievable voice. Franklin and the band were an absolute delight, with their booming brass-laced wall of sound and Gulf swagger, and gave me a much needed boost to get amped for day two, momentarily providing an escape from the looming heat (really Tennessee? in late September?), and setting an incredibly high precedent for the rest of the day's performers to follow. [PO]
Blind Pilot. Photo by Mary-Beth Blankenship.
Blind Pilot
At the tail end of nursing a Beck-induced hangover, I was ecstatic to stumble upon the VIP bbq happening backstage. And better yet, one of my most anticipated acts, Blind Pilot, were about to go onstage. I have been a fan of this Portland based folk band since their 2008 debut 3 Rounds and a Sound. This was my first time catching them live, and even though I didn't hear my favorite song "Two Towns," I was not disappointed. Frontman Israel Nebeker's voice echoed throughout the festival grounds in a way that I haven't witnessed in a while, able to hit the high notes with such strength and emotion. I sat in the shaded comfort of the VIP tent, eating pork and listening in awe. [JC]
I struggled to pull myself away from The Suffers, but really wanted to see some of Blind Pilot for the first time. Possessing a lush, layered, dreamy sound, the band are refined in a way most acts can only dream of, and I was absolutely captivated by their poppy, indie sound. I didn't go in super familiar with their catalogue, but left a decisive fan, and I'll definitely be working them into my streaming rotation a lot more in the near future. [PO]
Son Little. Photo by Mary-Beth Blankenship.
Son Little
With the Sunday mad dash heating up, after a little of Blind Pilot, I hurried to the Harpeth River stage for r&b singer-songwriter Son Little. Though he's been active in the music scene for years and is known for some high-profile collaborations, Aaron Livingston only released his debut full-length as Son Little last year, and it's a hell of a soulful, personal, and epic effort. A bit of a unique figure on the Pilgrimage lineup, I thought his resonant, earnest delivery and wise and subdued demeanor was really remarkable. I wasn't able to stay for more than a few songs, but I am dying to see Son and the band in a more formal club setting ASAP- ideally one with rich acoustics like The Ryman. [PO]
Tim Easton
As I was making my way into day two of Pilgrimage, I was lured to the Shady Grove stage, which was perfectly positioned beneath a grove of trees with a plethora of chairs, seats and hammocks hanging from tree limbs, and blankets filling the grassy spots in between. While the shade on the unseasonably hot day was part of the reason for my detour, it was mostly due to the intoxicating sounds of Tim Easton. I've been following the East Nashville troubadour for a couple of years now, and have been impressed by his steady output of noteworthy music, but it wasn't until we had him at one of our Acme showcase did I fully soak in his talent. An artist that can hold a room with just a guitar and harmonica strapped around his neck, he faced an even bigger challenge with the competing thump on the main stage pouring in, but persevered to a shade seeking crowd. Alas, by the time I set up my chair and really settled in, Tim's set was over, but, even in my short time there, it was clear to see that Easton had won some new fans. [MH]
Better Than Ezra. Photo by Mary-Beth Blankenship.
Better Than Ezra
When I did a podcast with festival co-founder Kevin Griffin last year, I asked him outright if he was going to add his band, '90s alt rock faves Better Than Ezra, to the bill. For the inaugural year, he said his priority was to focus on community and festival building, so I'm glad to see that Kevin was feeling comfortable enough to pull double (or more accurately triple or quadruple) duty this time around. Expressing his gratitude to all of the friends and fans in attendance, as well as the Franklin community who've embraced him and his vision, all in between rocking out like the seasoned, certifiable rockstar he is, it was great to see Griffin in his element after previously only encountering him in brainstorming or work mode. BTE were a blast, and would've been a great fit regardless of their frontman's festival ties. [PO]
Refreshed for day two, after sleeping in my own bed after day one had wrapped (a festival first for sure!), I got in line for a sushi burrito while Better Than Ezra began their set. BTE- whose 1993 record, Deluxe, helped shape my music tastes at a time when I was just discovering grunge and first wave alternative rock- are a band that has stuck with me over the years. I won't say I've been keeping up with them or the records they released in this decade, but their music will forever hold a place in my personal lexicon because of it's quality and craft. Powering through their set, I latched on to the songs I remembered, and flashed back to a simpler time of chain wallets, and dial up modems, when I carried a Discman with skip protection, and I was learning how to aggressive inline skate; a time when I had just figured out what rock music meant to me. [JR]
Anderson East. Photo by Mary-Beth Blankenship.
Anderson East
It's been a big year for Anderson East.  Following the release of his highly acclaimed record, Delilah, back in the summer of 2015, the rising star has seen his stock rise in festival spots, as well as a high profile relationship. Over the past year, we've had the chance to catch Anderson in a few different settings, but his set at Pilgrimage was near perfection. He started the set off with a handful of well executed covers to get the over-heated crowd eating out of his hand, and then began tearing into his soulful originals.  By the time East played "Satisfy Me," it was safe to say that everyone in attendance was dialed in what Anderson was all about.  [MH]
Paralyzed from backstage comfort, I decided to stay in the VIP lounge for Anderson East. To be honest, prior to the festival I knew nothing about him. He wasn't on my original list of performers to catch during the weekend but thats how things were unravelling and I'm glad of it because Anderson was quite the performer. The 28 year old hails originally from Athens, Alabama, and, like many of his contemporaries, he now resides in Nashville. Anderson played a lot of songs from Delilah, his first major release, including the breakout single "Satisfy Me." His voice had an incredible amount of soul to it, and the way it was backed up by his band made me feel like I was sitting in FAME Recording Studio watching the hits get made myself. Anderson's songwriting is very indicative of the famous Muscle Shoals sound, a pivotal style that is responsible for so much of the best American music. I will definitely be keeping an eye out for the next time he plays around town; halk that one under "Best New Discoveries at a Festival." [JC]
City and Colour. Photo by Mary-Beth Blankenship.
City and Colour
Growing up on the punk scene, I've been dialed into City and Colour, the solo folk project of Canadian post-hardcore icons Alexisonfire's Dallas Green, since virtually day one. I know it's been years since Dallas first popped, but it still trips me out to see how widespread and crossover his success is; albeit totally well-deserved. Green was one of my most-anticipated performers of the entire festival, not just because he's a personal favorite, but also because he's a perfect bridge between Pilgrimage's rock and folk sides. After watching some of Anderson East's impassioned and heartfelt set I hurried to the Gold Record Road stage for Dallas, and, true to form, he delivered his personal, nuanced, and often gut-wrenching songs with an unrivaled, raw, emotional punch, backed by an incredible band made up of a few local players (though not specifically Nashville based, City and Colour have long-standing local ties). I was pleasantly surprised by the packed and diverse crowd (though I shouldn't be; his appearance at Live on the Green a couple years ago had a similar draw), and though I'd seen City and Colour a number of times over the past few years, I still found myself fully transfixed and absorbed into their unbelievable performance. [PO]
Margo Price. Photo by Mary-Beth Blankenship.
Margo Price
Though this site hasn't been around even close to as long as Margo Price has been making music in Nashville, I still feel like we've watched her grow from struggling artist to a fast rising star. The release of her 2016 solo debut, Midwest Farmer's Daughter, on Jack White's Third Man Records has been a godsend for the talented artist. Always a gifted artist and performer, there is a real swagger backing Price these days, and she seems right in her element owning a well deserved spot on the main stage.  [MH]
I have been hearing a lot about Margo Price ever since the hype to her debut Midwest Farmer's Daughter started. Price comes to us as one of the newest highlights of Jack White's Third Man Records kingdom.Her voice, charisma, and spunk have been shaking up Nashville and the traditional country music standards that are still present in the city. I sat with my friends eating ice cream and revelling in how talented she is. Her voice reminded me of Loretta Lynn in the best way possible and she had the entire crowd in the palm of her hands. Everyone went crazy for "Tennessee Song" and "Hurtin' (On The Bottle)." Living in Nashville has allowed Price to assemble some of the best musicians to support her and one of those masterminds is Luke Schneider, who shined throughout the entire set on pedal steel guitar. I checked the time and realized that Margo had me in such amazement that I was about to miss Langhorne Slim, so I gathered my stuff and friends and hightailed it to the Harpeth River stage to catch the last bit of his set. [JC]
From Buffalo Clover to Margo & The Price Tags, watching the ascent of unbelievable local talent Margo Price has been a real treat. Given the unprecedented buzz surrounding her recent debut LP, it seems like Margo will soon make a lot of "best new artist" lists, but it's cool to have actually witnessed the commendable work and artistry that actually laid down the foundation for her seemingly sudden rise. Margo is an unrelenting, timeless, fiery, and uncompromising talent, a breath of fresh air amidst a country scene that finally seems to be course correcting for the better, and watching her play at Pilgrimage, maybe the best set I've seen from her solo era yet, only served to reaffirm my belief that she'll someday soon be one of the biggest names in country. [PO]
Peter Bradley Adams
I peeled out of Margo Price a little early to catch a few minutes of shade and peaceful tunes with Peter Bradley Adams. Unfortunately for Adams, it was hard to escape Margo, and the sound from the main stage was totally bleeding over into the Shady Grove. A few jokes from the appreciative performers set the mood for a chilled out acoustic set, and this was highlighted by a stellar duet of "The Longer I Run" with fellow performer Molly Parden that perfectly complimented the chill stage. [MH]
Langhorne Slim. Photo by Mary-Beth Blankenship.
Langhorne Slim
I'm originally from Newport, Rhode Island where the Newport Folk Festival is a summer staple that draws in plenty of great acts for a small festival by the sea. Whether it be on one of the main stages or sitting in with Deer Tick late night at the Newport Blues Cafe, Langhorne Slim is there in some fashion every year and he always rocks. Since NFF founder Jay Sweet also works for Pilgrimage, and since Langhorne is a fast rising local fixture, it was no surprise that he was on the lineup this year. Slim's set was a great display of the energy he has as a performer. He needed the audience's love at the Harpeth River stage just as much as they needed his collection of indie folk and soul tunes, but he also knew how to switch up the tone and rhythm of a performance. I really enjoyed when Langhorne let his band take a break to perform  "Song for Sid," which is a eulogy for his deceased grandfather. While it was tough subject matter, it gave the set depth and definition and that is something that any music fan can appreciate. Langhorne then brought his band up for a few more to sent everyone away dancing to the Midnight Sun stage where The Arcs were about to play. [JC]
Kacey Musgraves. Photo by Mary-Beth Blankenship.
Kacey Musgraves
Dashing from Margo to a couple songs of Langhorne Slim then back to the Gold Record Road stage, I grabbed my spot for one of my most-anticipated weekend performers and another important fixture in the modern country scene, Kacey Musgraves. Looking remarkably like Jesse from Toy Story, her band also donning their signature country kitsch attire and surrounded by bits of their Rhinestone Revue stage setup, Musgraves and co. delivered a scaled down version of the dazzling show I saw last year at The Ryman, still sounding every bit as phenomenal and flawless, alternating between traditionalist and pop knack, and bringing a whole lot of personality and sass. The crowd was massive, with many attendees obviously there primarily to see Musgraves, and nearly every song, so many of them certifiable hits, evoked enthusiastic singalongs. One of the things I love the most about Kacey, aside from her remarkable songwriting, is her outspokenness, unafraid to use her platform to preach progressive and important social issues too often ignored in the country world. From "Follow Your Arrow" to "Biscuits" to "Late to the Party" to "Merry Go Round," every song landed effortlessly and powerfully, and Musgraves, unsurprisingly, managed to steal the show. In a weekend chock-full of great performances, this was without a doubt one of the most memorable. [PO]
The Arcs. Photo by Mary-Beth Blankenship.
The Arcs
It was my second time seeing The Arcs this summer, the first being at Forecastle, where they totally blew my mind.  Their unique blend of fuzz fueled retro inspired rock is a pleasant break in the rock world, and their live set is perfectly geared for festivals. Sure, it helps when you have the experience of The Black Keys frontman, with a slew of insanely talented musicians, running the show.  There was something different about their Pilgrimage set though. It seemed more reserved than they did at Forecastle. It wasn't a bad set in the slightest, just more like they were playing to the crowd of shade seeking fans in the attendance. Regardless, I'm definitely going to be in line for tickets the next time they come through Nashville. [MH]
Probably one of my top to-see sets of the entire fest, The Arcs started off strong, but I must say I was a little underwhelmed. A die hard Black Keys fan, who grew up following the band in my native Ohio (I'm from Columbus, they're from up the road in Akron), anything frontman Dan Auerbach attaches his name to, I'm on board. When The Arcs released their debut, Yours, Dreamily, I couldn't get enough of it, named it my top local album of the year, and I clamored to see them live. This was my first experience, but unfortunately very few of the LP musicians were performing in the band on this occasion. This is no fault of their own, because like Dan, they are all in various other "main" projects. Despite this, the performance was good, just not as tight as you would imagine they should be, again, because this was a different lineup. I also ran into the problem of being in a high energy mood during their mostly chilled out set, which should have been expected based on their released music. The combination of my unexpected energy increase, and the JV performance line-up had me wandering off about halfway through the set. [JR]
There is no doubt that Dan Auerbach is a musical stronghold here in Nashville. So there was obviously a lot of excitement regarding the sophomore appearance of his new band The Arcs in the middle Tennessee area. Auberbach and co. came out swinging with strong versions of songs from their debut record Yours, Dreamily.  The songs take what The Black Keys have done and move it into a more psychedelic direction, and the Pilgrimage crowd was loving it.
Auberbach's voice shined on songs like "Put a Flower in Your Pocket" and "Stay in My Corner." The two drummers Richard Swift and Homer Steinwess held the band together through the entire set with great feeling and stability. I have a feeling this was on many people's list of acts they were most excited for and the band definitely delivered. As if their own catalog wasn't rocking enough, the band threw in a few covers which included "Big Sky" by The Kinks and "Little Baby" by The Blue Rondos. All in all, The Arcs and their psych-rock/soul vibe were perfect for those last few minutes of Sunday sun leading into the evening. [JC]
Matthew Perryman Jones. Photo by Mary-Beth Blankenship.
Matthew Perryman Jones
After Kacey Musgraves, my plan was to watch the bulk of The Arcs, but after a pretty electrifying first time seeing them last month at Forecastle, I found their Pilgrimage outing to be a little less compelling and energetic- or maybe I was just melting in the afternoon heat. Either way, I eventually made my way to the Shady Grove to cool off and catch the end of Matthew Perryman Jones. Jones is a local talent I've long been aware of, but, somehow, I don't think I'd ever seen him in concert. Backed by two other local favorites- singer Molly Parden and recent Nashville transplant Kayleigh Goldsworthy, on violin- Perryman played through a pleasant, folky, and harmony-laden series of personal tunes, leaving me wondering why I'd been sleeping so long on better checking him out. [PO]
Preservation Hall Jazz Band
One of the truly unexpected highlights of Pilgrimage was the Preservation Hall Jazz Band. It seems odd to hear myself say that, having spent some of my most formative years living in New Orleans, but this set, just like Dr. John's last year, really moved me in a special way that only the soul of the Big Easy can. When talking to festival co-founder Kevin Griffin last year, he told me that is was his love of New Orleans (his hometown) and Jazz Fest that was really part of his vision for Pilgrimage. A family friendly daytime event that focused on the music and the culture. Pres Hall is pretty much the embodiment of that, and they had the crowd in an all out dancing frenzy with their improvised solos and expertly funky sound. [MH]
More in tune with my mood at the time, Preservation Hall Jazz Band was already cookin' when I walked up bopping to the rhythm. In the sweltering setting sun, they still had everybody in the crowd dancing along as they swayed, clapped, and belted out the beat on brass. They played old 2nd line standards, sang some originals, and even turned the party out with a Jackson 5's "One More Chance," into Stevie Wonder's "Sir Duke," and back into the funk, medley. By the time they'd finished, I was dripping in perspiration, and they had easily taken my best in show honors for the whole festival. It was only my second time seeing them live, and I have to say they are only getting better and better. [JR]
Jason Isbell. Photo by Mary-Beth Blankenship.
Jason Isbell
Jason Isbesll is never anything less than stellar, but when the local singer-songwriter is on fire, he's really on fire, and that's exactly how I would describe his transcendent Pilgrimage performance. Kicking off with "Flying Over Water" before launching into favorite "24 Frames," Isbell and his stacked band of local players were tighter and more electrifying than ever, and his spirits even more lighthearted and wisecracking- at one point, he shouted to some people he spotted attempting to watch from a distant field, to hilarious affect. Peppering his set with both Drive-By Truckers tunes, and works from both his more recent solo works and albums featuring his former backing band The 400 Unit, Jason hit on most every facet and era of his career, proving, undeniably, why he's become one of Nashville's preeminent musical forces. His chemistry and affection for wife Amanda Shires, who plays in his backing band, was also more noticeable than ever, and seemingly very enthusiastic to be playing a new fest so close to home, Isbell felt more cheerful and chatty than ever. A wonderful set in a great last run of acts, Jason exceeded my expectations with one of his best festival outings ever, with highlights like "The Life You Choose," "Cover Me Up," and "Alabama Pines." [PO]
By now, I have seen Jason Isbell plenty of times. With his beloved new LP, Something More Than Free, shaking up the Nashville Americana scene last year, he has since made plenty of Middle Tennessee appearances, including a stop at Bonnaroo this year. Every time I see him, he never dissapoints. But there was something special about the little portion of his set I was able to catch before Hall and Oates. Maybe it was just a good day, or maybe Isbell was so captivated with the serene Franklin setting that he wanted it to be special, but he and his band really seemed to give it all for this performance. This was especially noticeable when they performed "Cover Me Up," the lead-off track to Isbell's 2013 effort Southeastern. The original version of the song doesn't feature a full band, but for this rendition Jason brought out all the stops, highlighting some killer guitar work from him and his right hand man Sadler Vaden. [JC]
Daryl Hall and John Oates. Photo by Mary-Beth Blankenship.
Daryl Hall and John Oates
With a long two days under my belt and an early morning ahead, I stuck around the edges of the crowd for the beginning of Hall and Oates set, eager for my first chance to see them live, but not fully ready to commit. I am old enough to remember Hall and Oates in their heyday, but wouldn't say that I was a mega-fan, so it surprised me that they started the set off with songs that I knew by heart. Even as I was listening while making my way towards a shower and bed, I was still singing word for word well into the parking lot, which has made me go back to revisit their impressive catalogue. [MH]
Well here it was, another Pilgrimage fest in the books. One more set to go and then it was time for bed. And the fact that the last show was Hall and Oates made this experience that much more amazing. Up until tonight, my only association with Hall and Oates was through their iconic status in the millennial stratosphere, and a 2013 Bonnaroo Superjam that featured John Oates and Jim James. Both experiences have blown my mind in their own particular ways. So it was no exception that when the '80s super-duo and their killer band started their set, I was in cheesy heaven. The group tore through some of their classics and deep cuts, keeping a constant conversation going with the audience that carried the set along great. One of the best parts of the show was when they did their version of Righteous Brothers song "You've Lost That Loving Feeling." It was slow, but it was undoubtedly rocking. I had to leave early that night for band practice and I'll end with this, there is nothing quite like going to practice with your band right after leaving a great music festival. Until next year Pilgrimage. [JC]
After the prestige of critically adored acts like Wilco, Weezer, and Willie Nelson atop last year's bill, I definitely noticed a little confusion at Daryl Hall and John Oates in the headlining spot this time. While I won't say they affect me as much as last year's headlining crop, their inclusion totally makes sense (John Oates is a local these days, and they're a perfect legacy/dad rock get to counter-balance Beck's younger appeal and what is a definite family fest), and I, for one, a sucker for their '80s output especially, was pretty excited to see the legendary duo for the first time. They've been doing this for 45 years now, so I had no doubt they'd be good, but I was in awe throughout much of the set as to just how good they actually were. The chemistry of the pair, still intact after all these years, was electrifying, and their backing band sounded absolutely magnificent. I'll be the first to admit I only really know them for their hits, but apparently Hall & Oates had even more hits than I realized, and I knew most all of them. From "Maneater" to "Out of Touch," "One on One" to "She's Gone," "Rich Girl" to "Private Eyes," I was grinning from ear to ear, gleefully singing along with the surprisingly huge crowd (Pilgrimage definitely knew what they were doing). Sure, Hall & Oates are a pop rock group, but pop can be substantive too, and they managed to check every box to be a perfect festival headliner, triumphantly bringing to a close another great year of Pilgrimage. Crowds seemed up, the city seemed happy, and the music was once again great, plus a very special partner just joined the team, so clearing the all important third year hurdle feels like a forgone conclusion. Until next time! [PO]
Photos by Mary-Beth Blankenship.
_

[JC] Julian Ciany
[JR] Jacob Ryan
[MH] Matt Hall
[PO] Philip Obenschain