The 2017 season of Live on the Green kicked off last week with a spectacular lineup of St. Paul & The Broken Bones, Michael Franti & Spearhead, and Arkells, setting the bar high for all of the amazing artists in the shows to come. Keeping the ball rolling, the annual, free, outdoor fest continues tonight, Aug. 17  at Public Square Park with another stellar bill, this week featuring Local Natives, Real Estate, and Minus the Bear.
Following the format adopted a few years back, Live on the Green will run four consecutive Thursdays and culminate with an epic three-day, two-stage finale, boasting one of the most exciting season lineups ever. Per usual, LOTG is free and all ages, and music will run from 6:15 p.m. to 11 p.m. Gates open at 5 p.m., and there will be plenty of food and beer vendors on site to meet your needs. Parking is just $5 at the Public Square Park Garage below the festival site and at Nissan E and F lots across the Woodland St Bridge, and various other garages and street parking options are available on the surrounding blocks. Finally, if you're looking to up the ante on your LOTG experience, VIP tickets and backstage passes are typically available for purchase, however they generally sell out in advance. Find out more about this week's installment below, and find out more about the entire season on Live on the Green's site.
LOCAL NATIVES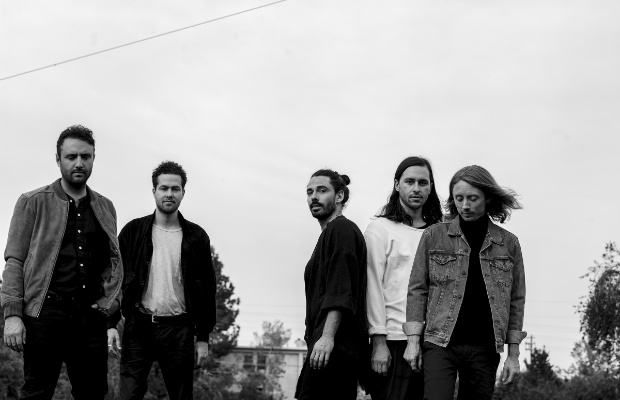 After a bit of a breather, buzzworthy LA indie rockers Local Natives returned last year with the highly-anticiapted new music in tow; their first album since breakout sophomore effort Hummingbird in 2013. Formed over a decade ago and largely longtime friends, Local Natives' earlier years were spent living and writing together in a house in Silverlake, a creative period that would shape their 2009 debut Gorilla Manor. Met with almost immediate acclaim, that LP, plus blog buzz and celebrated outings at events like SXSW, commanded a strong early audience, and landed the group high-profile tours stateside and abroad. By Hummingbird, and thanks to singles like "Wide Eyes" and "Heavy Feet," Local Natives had become not only a fixture on the festival circuit, but also heralded as the next Arcade Fire or Vampire Weekend, and the year of its release, they made an impressive debut at Live on the Green. Combining elements of folk, psychedelic rock, and pop, with earnest and personal lyricism and a live show honed by years of constant touring (we watched them climb the ranks of Nashville venues ourselves), Local Natives are one of the best, most consistent, and most relevant groups in the indie rock scene. Inherently a top festival pick, last year's Sunlit Youth was one of our favorite releases of 2016, even if it didn't quite earn the buzz of its predecessors, and, live, the band have blown us away time and time again- you seriously don't want to miss them.
_
REAL ESTATE
Though they formally came together in 2009, Brooklyn indie rockers Real Estate's roots trace back much further, the group's core members having met in childhood, and the genesis of the band leading back all the way to high school. After performing together in projects in their teens, frontman Martin Courtney, bassist Alex Bleeker, and former guitarist Matt Mondanile (who left last year on apparent mutual terms) went their separate ways for college, continuing to bounce ideas remotely and collaborate during the summers, before moving back to their native New Jersey in '08, and beginning to work on early material that would become Real Estate, named for Courtney's then-pursuit of a real estate license (and the group's one-time fall back plan). Their eponymous 2009 debut, released in trendy New York indie label Woodist, earned the band near immediate acclaim, and that buzz helped them nab tours with the likes of Kurt Vile and Deerhunter. 2011's Days only served to boost Real Estate's presence, and by their 2014 their effort Atlas, the band's smart, dreamy, jangly, indie pop sound had become a widespread, universally acclaimed musical fixture. We recently caught the band at Forecastle Fest, and, despite the recent lineup shuffle (new guitarist Julian Lynch is, in fact, a longtime friend and collaborator), they sounded better than ever, energized by the release of stellar, adventurous new effort In Mind.
_
MINUS THE BEAR
Formed over 15 years ago, out of the ashes of metal band Botch, indie group Sharks Keeps Moving, and emo/post-hardcore band Kill Sadie, alt rock/indie outfit Minus the Bear, who intensified the mathy tendencies of all of their members' prior projects, combining elements of electronics and pop sensibilities with unorthodox rhythmic structure, have become a staple of the indie rock and punk adjacent scene. After an atypically long five-year gap between albums, the band, who've undertaken some fan-fueled anniversary album tours over the last couple of years, finally emerged with a sixth full-length, VOIDS, earlier this year. Boasting danceable, dense, and unique instrumentation and smart, personal, and sometimes dark thematic focus, the group have both carved out a comfortable niche for fans of substance indie rock, and have flirted with broader acclaim, crafting scene classics like Menos el Oso and Planet of Ice. One of the weirdest additions to Live on the Green, and also one of the performers we're most looking forward to all season, they might be a hard sell for the initiated, but for fans of what they do, a free, outdoor, downtown performance sounds like an awfully fun and memorable night.
_
More from Live on the Green | Site | Facebook | Twitter | Instagram