Live on the Green
w/ St. Paul & The Broken Bones, Michael Franti & Spearhead, Arkells
Public Square Park; Nashville, TN
August 10, 2017
Review by Philip Obenschain (@pobenschain). Photos by Jake Giles Netter.
Kicking off its ninth season, the annual Live on the Green free festival series returned last week to Public Square Park, setting the bar high for yet another exciting year. With the returning talents of St. Paul & The Broken Bones and Michael Franti & Spearhead, plus the LOTG debut of Arkells, week one featured all touring acts, but ones very familiar and dialed into the Music City scene, and if the packed and diverse crowds were any indication, they were a wonderful fit for an inaugural show. As it has for several years, Live on the Green will run for four Thursdays this year, ending with an epic three-day affair extending across two stages through the final Saturday and Sunday. We have performers like Spoon, Sheryl Crow, Portugal. The Man, Minus the Bear, Real Estate, Local Natives, and Paper Route to look forward to, but, before we preview the exciting weeks ahead, take a look at our recap and photos from week one below!
I've been attending Live on the Green now for six seasons, exactly two-thirds of its run, and covering for five for No Country. It's been a thrill to watch it grow, and to see so many great bands pass through, often to return again a few years later to bigger crowds and wider success (this season is especially stacked for that). While seeing two returning favorites the first night might not have the allure of a new, big get, the performers, especially St. Paul, whose LOTG debut came at a pivotal moment of their ascent, felt like a welcome and well-earned homecoming, and overall a solid kickoff. At this point, LOTG runs like a well-oiled machine, and after arriving to a modest but eager early crowd, scoping out this year's crop of venders and food trucks, and situating in my spot by the stage, I felt a rush of excitement thinking about the season ahead.
 Arkells. Photo by Jake Giles Netter.
Though they've been making a name for themselves in their native Canada for over a decade, I, like a lot of people stateside it seems, have only really gotten hip to Arkells over the last couple of years. I caught just a sliver of their set at Bonnaroo last summer, and, though they've played Nashville a couple times since, I hadn't had a chance to properly see them in action, and since last year's Morning Report, I've been very curious to do so. I can always count on Lightning 100 to be on the cutting edge of the best of what's up and coming, and I know they've been spinning Arkells, especially around their Nashville Sunday Night performance late last year- a fact the band brought up and seemed genuinely appreciative of. In fact, with their general banter and humble demeanor, it was clear early on that they weren't just passing through, but sincerely were knowledgable of and felt connected to the Nashville music scene. I also realized that I hadn't spent enough time with the band's earlier stuff, because their sound was much more expansive than the poppier, more electro-laced recent efforts I'm most familiar with. Navigating between alt rock and pop with flourishes of soul, indie, and even heartland rock, the group flexed an impressive range and played with every bit the confidence and polish you'd expect from an established act, even if they're still finding broader attention from American audiences. Going in, I thought they might be a bit of a weird fit for the rest of the bill, but with their eclectic range, not only did Arkells feel at home, but they also felt like a band who, like their co-performers, we'll be seeing make a return visit to the fest before long.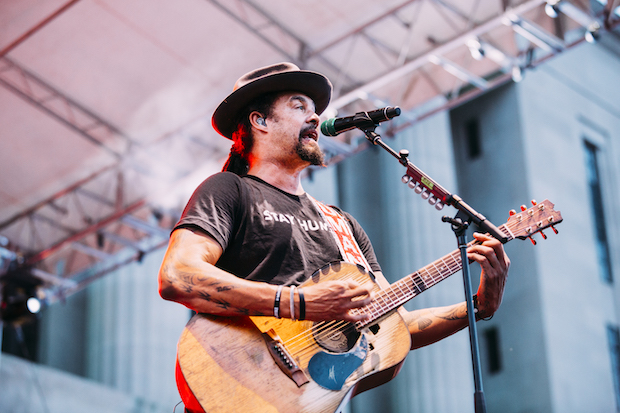 Michael Franti & Spearhead. Photo by Jake Giles Netter.
When I arrived a little early and made my way backstage, I couldn't help but notice Michael Franti planted on a bench, barefoot, as always, chatting with every single person, crew member to staff to press to fellow musician, he encountered, exuding an air of approachability, sincerity, and genuine kindness that's hard to give of yourself when you're mentally and physically preparing to play a large show. I knew Franti was a kind and profound figure, but seeing him behave exactly the same way in a casual setting only reaffirmed it. The prolific singer has had a career spanning three decades, two of those with his current Michael Franti & Spearhead, and though my personal taste aligns most with the industrial rock, hardcore punk, and hip hop influences of his earliest work, the reggae, funk, hip hop, and folk that he fuses to delightfully poppy affect as an important social, political, and humanitarian vehicle with his current work, wonderfully serves its function. Spending a bulk of the show in the crowd, headset mic in tow, Michael and his talented band sang songs about peace, love, acceptance, global politics, and social urgency, all of which felt more necessary and cathartic than ever in our current state of affairs. Inviting kids onto the stage to sing along, Franti seemed even more dialed in and infectiously catchy and honed than his last LOTG appearance, even peppering in surprising covers like U2's "I Still Haven't Found What I'm Looking For." A joyous and celebratory set, I noticed huge swaths of people from all walks off life singing along and dancing, and, though I went in not knowing a lot of the music, I left understanding the phenomenon that is Michael Franti & Spearhead better than ever.
 St. Paul & The Broken Bones. Photo by Jake Giles Netter.
St. Paul & The Broken Bones hail proudly from southern Alabama, but both the proximity to Music City and our connection to the fertile scene of Muscle Shoals, which played a huge part in the group's early incubation, always made them feel a little local, in the same way that Alabama Shakes early on seemed to pop here long before much of the nation knew who they were. The connections extends further, with St. Paul's sophomore effort, last year's great Sea of Noise, actually recorded in Music City, and many of their early shows, including a legendary 2013 debut at Live on the Green, felt like a glimpse into eventual, worldwide success. The band have stayed loyal to Music City, even headlining a couple nights at The Basement East earlier this year, so a return to LOTG, now as headliners, seemed only inevitable. By the time they took the stage, the sun had set and the crowd had swelled considerably, though perhaps not record-breaking, definitely among the more packed in, massive gatherings the fest has consistently come to attract. Draped in a sort of sparkly cape, powerhouse frontman Paul Janeway stepped out looking flashier and more confident than ever, eventually shedding it to reveal a bright red suit, serving as a great visual embodiment of how he's morphed from a technically impressive, dapper, unlikely soul star to a confident, epic, badass, leading the eight-man band to international acclaim. With stunning, low-key production and dazzling lights, the band navigated through every hit and fantastic lesser-known tracks, keeping the crowd in the palm of their hands from note one with what was, without a doubt, the best set I've ever seen them play (and first since the release of the new LP). Of course, huge jams like "Call Me," "Half the City," "Flow With It" were among the high points, but a few unexpected covers, including an absolutely mind-blowing take on Radiohead's "The National Anthem," only sweetened the deal. I had no doubt St. Paul would be a perfect, unstoppable, and inspired choice to headline Live on the Green's season opener, and they delivered in every way, setting the bar incredibly high for the exciting weeks to come.
Live on the Green continues this Thursday, Aug. 17 with an impressive lineup of Minus the Bear, Real Estate, and Local Natives. Keep an eye out for a full preview later this week, along with our coverage after the show. And, as always, head to LOTG's site for more info.
–