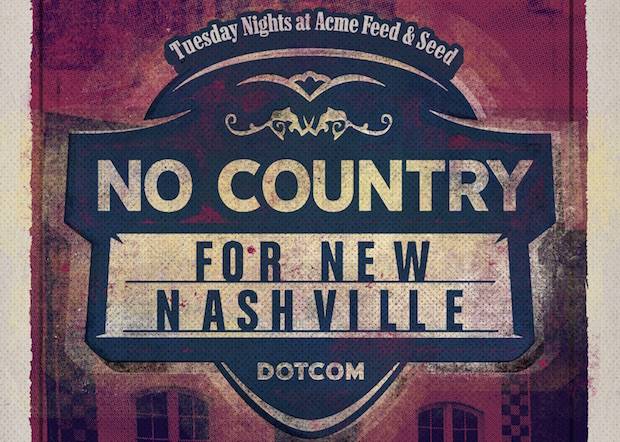 We are powering into Spring with the 2017 season of our long-running showcase series at Acme Feed & Seed, settling into a new format that includes rotating DJ sets ahead of largely two-band bills going forward. Our next show will take place Tuesday, April 11, and it will feature two returning local favorites- Americana-tinged rock trio BRUNS and party rockers Easy Roscoe, plus DJ Guy holding down the booth when things kick off at 7 p.m. Read on for a full preview, and we hope to see you at the show!
BRUNS
Created from the ashes of frontman Tim Bruns' former band Churchill, local trio BRUNS have been picking up buzz in the Nashville rock scene over the last year or so. They certainly caught our attention, which is why we asked them back to our Acme showcase for a second go, this time in the headlining spot. A followup to their stellar self-titled EP is coming, and they recently dropped a new track, entitled "War Paint," that found it's way onto one of Spotify's curated playlists. In addition to performing in the Road To Roo competition, they've been popping up all over town at frenetic pace, so their local fan base has been growing at a steady clip. And to think, Tim had debated on giving up music altogether, before he relocated to Nashville and met his current bandmates. Music City has that affect on people, and the cream tends to rise to the top. So be there in person, to experience another local band who are helping redefine what "the Nashville Sound" means in 2017.
EASY ROSCOE
Local party rockers Easy Roscoe have one stated objective with their live show, and that is to make sure their audiences have a kickass time. Spoiler alert: they damn near always do. With their name constantly popping up in our weekend show picks, an impressive release dropping just last year (the Piñata EP), and a brand new single and music video for "Empty Handed," out last month, it's safe to say their one of hardest working bands around! The video was shot on location, in and around East Nashville, with help from Handmade Productions. We've been so impressed with their stuff, we had to ask them return to our Acme showcase to see what else is coming down the pipe. Get to Broadway on time, because Easy Roscoe's fast and furious set will be jumping from the start.
BRUNS and Easy Roscoe will perform Tuesday, April 11 at Acme Feed & Seed with DJ Guy. The show is 21+, begins at 7 p.m., and, per usual, it's totally FREE!