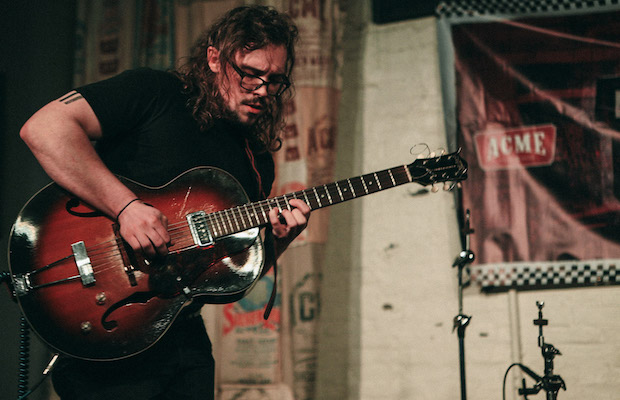 Brandon Watson & The IKB Sound, BRUNS, Kellen of Troy
Acme Feed & Seed; Nashville, TN
April 12, 2016

Review by Philip Obenschain (@pobenschain). Photos by Amber J. Davis.
Our long-running, free Acme Feed & Seed showcase series has switched to a bi-montly format for 2016, but that only means we have a little extra time to bring you the best performers around; local and national, established and up and coming, and everything in between. For this week's show we welcomed a trio of local acts, all fairly new, but made up of musicians who've taken part in some other prominent bands: Kellen of Troy, BRUNS, and Brandon Watson & The IKB Sound. Check out our recap and photos below!
Kellen of Troy. Photo by Amber J. Davis.
Happy to see such a huge crowd out so early at Acme (it's amazing how much this has become the spot if you're looking to hang on Broadway), I managed to snag a seat by the stage for a clear view of Kellen of Troy. We often book newer acts, which means I catch artists I don't know a ton about, but this project, fronted by Kellen Wenrich, certainly carried a fair amount of hype. Kellen previously played fiddle in local group The Apache Relay, who, just a couple of years ago, seemed poised to become huge; like, Mumford & Sons huge. However, following the group's abrupt disbandment, its individual members have gone on to pursue new projects around town, and this is Wenrich's vehicle to step front and center, strapping on a guitar and flexing his range and charisma as a frontman. Backed by a full band (I wasn't even sure if that would be the case), including a steel guitar player, Wenrich played a short and sweet set of tunes that pulled from elements of rock and folk; personal and hypnotic, his sound is decidedly different from his previous band, yet certainly would still appeal to Apache fans. Needless to say, his confident delivery and well-crafted sound was top-notch, and left me eagerly anticipating the arrival of some debut recordings.
BRUNS. Photo by Amber J. Davis.

After a quick changeover, another relatively new local outfit, BRUNS launched into their set. Led by Tim Bruns, formerly of Churchill, the band play straightforward, earnest rock and roll, and delivered their set with a subdued confidence and sincerity that really spoke to their experience in prior projects. Laid back, Tim let the songs do the heavy lifting, interjecting the occasional anecdote or comment, and generally seeming happy to be there. Playing with a rehearsed, noticeable tightness, BRUNS powered through some cuts I'd heard and plenty I hadn't, managing to captivate the buzzing crowd with their eclectic sound, pulling hints of folk, soul, pop, and rock and roll. What works so well for BRUNS is the weight of meaning behind every emotion, and they already carry themselves with the polish and poise of a much larger act, a likely sign of bigger things to come. Watching a band I don't know as much about in advance can always be a mixed bag, but it's a relief with they not only deliver on all fronts, but manage to hook me in from start to finish. Give these guys a spin if you haven't yet heard them!
Brandon Watson & The IKB Sound. Photo by Amber J. Davis.

The evening's closers, Brandon Watson & The IKB Sound, are also something of a new act, but, if only for our own coverage, they're one I'd heard quite a bit of praise for and buzz over in advance. Their name alone intrigues me, as "IKB" is a unique and versatile hue of blue created by a 20th century visual artist named Yves Klein; definitely not the most upfront and relatable concept to craft your band around, but one that fits these guys perfectly, as they're impossible to put into one box. Typically a trio, for this particular show Watson played with only the assistance of a bassist, explaining that their drummer was busy with another musical commitment; not unusual in Nashville, and not a huge hindrance, as they still sounded stellar. Adopting something of a contemporary, post-rock sound with classic rock sensibilities, Watson is a unique and unparalleled songwriter, capable of pouring a ton of emotion into his work that lands with both an effortless delivery and relatable, personal feeling. Song after song, I found myself reeled in by the duo's straightforward, earnest delivery, and left craving more of their music. We strive to always bring you bands we believe in at this Acme series, but this week in particular, it was a wonderful chance to see three new acts who are clearly about to pop. If you missed it, you missed out!
Our free, bi-weekly Acme showcase series continues Tuesday, April 26 with a fuzz-filled lineup of Goth Babe, Crease Reader, and The Inscape. Hope to see you there!
_