King Gizzard & the Lizard Wizard
w/ The Murlocs, and Buffalo Rodeo
Mercy Lounge; Nashville, TN
May 4, 2016
Words by Jacob Ryan (@GonzoWithGusto). Photos by Amber J. Davis
With the ever growing garage/psych/punk phenomenon sweeping Nashville, the US, and abroad, it's safe to say we were extremely excited to welcome an Australian version of said genre to Music City. King Gizzard & The Lizard Wizard blew minds, melted skulls, and took no prisoners earlier this month at Mercy Lounge. With help from their likeminded brethren The Murlocs and Buffalo Rodeo, it was in the conversation for top shows of 2016. Read on for all the juicy details, and for some great shots from contributing photographer Amber J. Davis.
After weeks of teasing us with what appeared to be an early summer, the night of the show Mother Nature reminded us that's she's on no one's schedule but her own. Temperatures dropped back down into the upper 40s, and I had to take out my fall coat that I already packed away, thinking I wouldn't need it again for another five months. Of course, as soon as you pack away your winter cloths, you can expect shit weather. So sorry everyone, the cold spell has been my fault.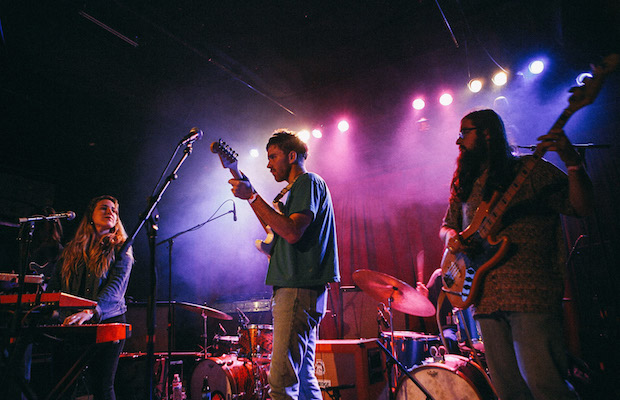 Buffalo Rodeo. Photo by Amber J. Davis.
I arrived at Mercy in time to catch the bulk of Bowling Green, KY, five-piece Buffalo Rodeo's set. It'd been a while since I'd seen them perform, and I was excited to see a local-ish band I knew in the opening spot. Always a blast live, and never ones to disappoint, I noticed right away how much tighter they sounded. It's obvious that they put some miles on their live show, and honed it to near perfection. Even when you already like a band, it's always nice to be surprised by seeing them take things to the next level. Their familiar, heavy synthed-out psych/space rock put a smile on my face while I waited in line for a beer. The crowd was already large and it would only get bigger. I enjoyed the tracks I recognized from their wonderful EP, 123 Water, but some of the new stuff was even more impressive. During breaks in the set, their were several "Bowling Green" shout outs, so it's obvious the sister city relationship Nashville and BG enjoy is only growing stronger.

The Murlocs. Photo by Amber J. Davis.
Next up were King Gizz labelmates at Flightless Records, and fellow countrymen The Murlocs. Interchanging members with the headliners (Gizzard harp/keys player Ambrose Kenny-Smith and basssit/guitarist Cook Craig play in both bands), it's safe to say the groups suit each other well. Just the right combo of rough and raw, The Murlocs are more blues centered than the band they were supporting, though there's still heavily distorted, noise guitar in the back drop with a total punk feel. Start to finish, frontman Kenny-Smith, with his powerful howl, and filthy awesome amplified harmonica, was the perfect thing to keep people's feet stomping. Sometimes he'd run the mic through effect pedals, giving way to crazy sound combinations during his vocals or harp solos. They'd won me over almost instantly, but the now near capacity crowd was just starting to get really wound up. By the end of The Murlocs set, a pit had formed at the front and it was obvious that everyone was ready to take things to yet another level.

King Gizzard. Photo by Amber J. Davis.
After a fairly extensive sound check (in their defense, they have seven members), it was finally time for King Gizzard & The Lizard Wizard to do what they do best: shred. Comparisons to beloved California garage punk band Thee Oh Sees are fair; they share mind blowing finger speeds on twelve string, dual drumming, waves of distinct guitar distortion, explosive energy from the band/crowd, and vocals that feel like they were beamed in from outer space. However, it must be said that the Aussies aren't some shit imitation. They more than stand alone on their own merit. With added musicians, they have a much more encompassing sound than most other bands, and they do an exquisite job of not stepping on each others toes, playing well together and off one another. They give everyone chances to slide into a groove during the very extended jams. Flute and gritty harmonica are also seasoned in for extra flavor, and the songs ramble into one another for fifteen minute stretches, before everyone in the building has to pause to catch their breath.
Gizz closed out the set with all the underage kids in the front moshing themselves into a hot sweaty mess.  Now, with an empty stage, the capacity crowd was beside itself, hooting and hollering for them to come back out. It didn't take long for KGLW to return, blowing our minds one more time. The encore felt like it lasted thirty minutes. They faded in and out of the song, mostly improvising, going faster and faster, before chilling it out, and then speeding it up again, teasing us. It was so hot the air looked smoky with the humidity. Eventually it was time for the last build to pure pandemonium, and then it was over. They'd played Memphis the night before, and on the way out I heard some kid say something like, "I don't think it was healthy for us to see these guys twice in a week." That pretty much sums it up because there was so much energy expended by the band and the crowd that everyone looked whipped. I can't believe they were back on the road, ready to do it all over again in a new city the next day. Amazing.