Buffalo Rodeo, What Up English, The Stoves
Acme Feed & Seed; Nashville, TN
July 7, 2015

Review by Philip Obenschain (@pobenschain). Photos by Brendan Donohue.
Every single Tuesday since last summer, we've been teaming up with hip downtown restaurant and performance space Acme Feed & Seed to host a free showcase of some of our favorite emerging local and national talent. For our latest installment, we were thrilled to bring you breakout Bowling Green band Buffalo Rodeo, former Nashvillian dance rock outfit What Up, English and up and coming Wisconsin transplants The Stoves. Read on for more about it!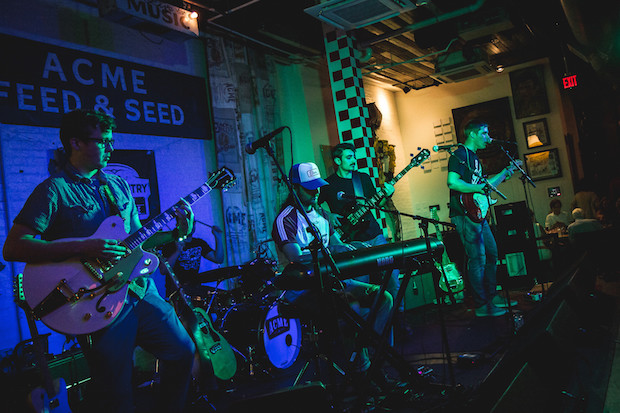 The Stoves. Photo by Brendan Donohue.
Arriving a few minutes late (downtown constriction is a blessing and a curse), I entered Acme to the sound of energetic rock, layered with tight instrumentation and alternating vocals. Greeted by the warm, diverse sound of The Stoves, I was excited to see what this band was all about. With only a handful of tracks available online (and the promise of new music on the way), I didn't know a lot about the Wisconsin-bred band going in, but, given the skill of fellow Badger State transplants residing in Music City, I expected them to be great. They did not disappoint, boasting a sort of co-frontman setup, trading lead vocals between songs and wavering between straightforward rock and some poppier and folkier tunes. Though this was my first chance seeing them, The Stoves have clearly been around the block a few times; their playing was absolutely tight, their momentum was unwavering, and their performance style was confident and published. Be sure to keep an eye out for band!
What Up, English. Photo by Brendan Donohue.

While the built-in dinner crowd alone ensures Acme will never feel empty, it's always great to see fans clearly there for the music alone, crammed up front and participatory. Returning for the first time since recently relocating to New Orleans, former Nashvillians What Up, English definitely attracted an extraordinary amount of friends and fans to welcome them home. Though I've seen them plenty, I can't recall when the last occasion was; it had definitely been awhile, and, in that time, not only have WUE's songs matured and become primed for mainstream attention, but their performance style has gotten more automatic, frenetic, and engaging. Perhaps one of Nashville's best hidden gems, the group play an incredible flavor of indie and dance rock, which instantly filled the room with energy, delighting the old fans and winner over new ones. Incorporating just the right amount of pop sensibilities but never losing their rock edge, the band showcased some familiar tunes and and a handful of new ones, expressing genuine gratitude for the audience's enthusiasm, and definitely looking happy to be home. If nothing else, What Up, English's fantastic set reminded me how important it is not to overlook the talented crop of Music City up and comers, because, before you know it, they could skip town, find overnight success, or fizzle out, leaving you wishing you'd caught them in more small rooms when the opportunities were plentiful.
Buffalo Rodeo. Photo by Brendan Donohue.
Buffalo Rodeo have long been on our radar; at least since the release of their inescapable single "Treehouse" a few years back. I've definitely seen them a handful of times since they started turning heads with Home Videos, the EP that boasts that track, though I haven't had a chance to catch any shows since this year's 123 Water really boldy marked a new, evolved musical direction for the immensely talented band. Before Tuesday, Buffalo Rodeo were, in my mind, another artist to keep an eye on from the talented Nashville "suburb" of Bowling Green, a great band to namedrop along the likes of Cage the Elephant and Morning Teleportation. After this week's Acme performance, however, I wholeheartedly believe that Buffalo Rodeo are fast becoming the next great Nashville (er, Bowling Green) rock band. Their path to immense success seems only an inevitability, and, if they keep playing with the unbelievable skill, passion, and poise present on Tuesday, they're going to be huge. Like Cage The Elephant huge. No doubt about it. The vocal tradeoffs and harmonies of Zach Preston and Jordan Reynolds were simply hypnotic, and the vibey tone the group have gravitated towards, combining a dense, modern indie pop sensibility with a nostalgic, psychedelic backbone, layered with gorgeous instrumentation, fits them perfectly. Capping off hands down one of the best Acme sets I've ever seen, the group were pressured into an encore- a first, I think, since we started hosting this thing- and chose, oh so appropriately to bust out some CCR. I've always been a Buffalo Rodeo believer, but now I'm a devout. Do. Not. Sleep. On. This. Band.
Our free, weekly Acme showcase continues this Tuesday, July 14, with Johnzo West, Wille and the Giant, and Orlinda. We hope to see you there!
_