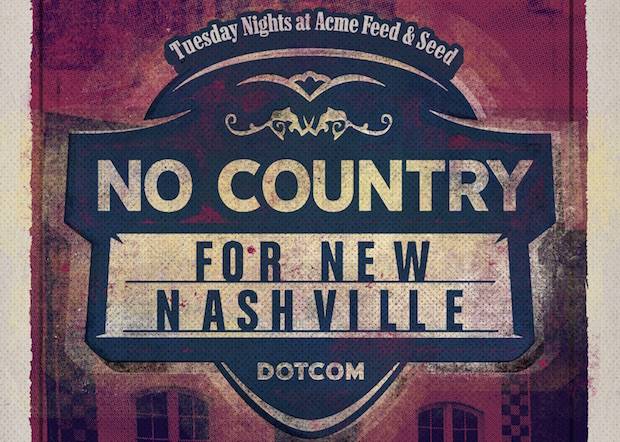 Attention all show hounds, No Country Presents' weekly showcase at Acme Feed & Seed continues to roll on all summer long! This Tuesday, July 14 will feature seasoned roots rock singer songwriter Johnzo West, classic rockers, back for a second tour of duty at Acme (read this post), Willie and The Giant, and indie flavored pop rockers Orlinda. As we do every week, we're bringing you all this music for FREE starting around  7:30 p.m. Get there early for some Southern cookin', and to cash in on a full night of live music. For more info on the bands, please read on, and we look forward to seeing you all again on Tuesday. 
JOHNZO WEST
Born in Indiana but currently basing himself out of LA,  singer songwriter/guitarist Johnzo West has collaborated with some pretty big names before officially launching his solo career. In fact, the video he shot with Miley Cyrus for the Bob Marley cover "You're Gonna Make Me Lonesome When You Go" back in 2012, was at one point number one on both MTV and CMT, and has now been viewed well over ten million times. West has also shared the stage with Billy Ray Cyrus, Ryan Beatty and Davey Allen amongst others. However, this Tuesday it is all about his latest record, The Cause and The Cure, he put out with his backing band The Wayward Souls. Have a sample below, and be sure to see what two generations of the Cyrus family see in him for yourself. 
WILLIE AND THE GIANT
A local band we are quite familiar with, and who's vibes we truly dig, Willie and The Giant are performers we're happy to welcome back to our Acme showcase for a second time. If you know them, then you know why we'd ask them to play again. We loved their self-titled full-length debut, which dropped back in April (read this post), and we can't wait to see them play some of our favorite tracks live. A little bit classic rock, with equal parts blues, funk and soul, WATG are yet another Music City based band on the rise, and when you see them performing live you'll understand why.
ORLINDA
Formally calling themselves Wabash, Orlinda is the re-branding of the same tunes and indie pop flavored jams. Taking a page from the Kings Of Leon's playbook, the band is made up of two brothers, a cousin, and mutual friends who got their new name from the tiny Tennessee town where they got their start. With the release of their new EP, Something Borrowed, earlier this year, Orlinda are ready for world domination … or at least Music City domination.
Johnzo West, Willie and The Giant, and Orlinda will perform Tuesday, July 14 at Acme Feed & Seed. The show is 21+, music begins around 7:30 p.m., and, per usual, it's totally FREE! Downtown PARKING can sometimes be an issue. However, if you're willing to walk a few blocks, street parking is typically easy to find on the numbered avenues south of Broadway or along Korean Veterans Blvd, and metered spaces are often free after 6 p.m.