Neil Young + Promise Of The Real w/ Steve Earle
Ascend Amphitheater; Nashville, TN
April 28, 2016
Review by Matt Hall. Photos by Jake Giles Netter. 
Sometimes shows have a way of taking you out of your day to day life, and letting you relax while your worries melt away.  That was exactly what Neil Young treated fans at Ascend Amphitheater to on an absolutely perfect evening for an outdoor show.  Steve Earle opened things up, and Young's backing band Lukas Nelson's Promise Of The Real were show stoppers.  Read on for our full recap of a stunning night at a gem of a Nashville theater, and some great photos from Jake Giles Netter.
This was a show that almost didn't happen for me.  A request for press tickets came through at the absolute last minute, and, while it is always appreciated, it knocked my schedule around pretty good trying to rearrange responsibilities.  Trying to finish everything in time for a 6:30 start time, just proved impossible.  By the time I finally got downtown and parked, I had missed Steve Earle.  Knowing that my situation was hopeless to catch the opener, I stopped into our go to downtown hang at Acme to have a "mood changing" beer.  Luckily, our photographer Jake Giles Netter was on the scene, so at least you can catch some shots from the local songwriting hero performing at Nashville's newest venue.
Frustrated at the day, I made my way up 1st Avenue towards the entrance at Ascend, collected my tickets, while hearing Neil kick off "After The Gold Rush" solo on piano.  As the editor of a music blog, I'm often asked how many shows I go to in a week, or how many times I've been to Ascend Amphitheater.  Unfortunately, the answers to those questions are "not very many" and "haven't been there yet," respectively.  No Country is a lot of fun, but it is also a lot of work.  So, it was just awesome exploring the brilliantly laid out venue for the first time while Neil continued on solo with "Heart Of Gold" and "The Needle and the Damage Done."  Ascend was designed with inspiration from the adjoining Cumberland River, with curves inspired by the natural river bends and limestone walls to represent the exposed bluffs commonly seen along the banks of our city's river.  Continuing to explore during "Long May You Run" and "Pocahantas," I was impressed with the pleasantly sized lawn area, and the merchants selling decent (albeit pricey) beers and better than average food.  As Neil Young finished up his solo opening set with "Mother Earth," I found my way down to our seats in the reserved area.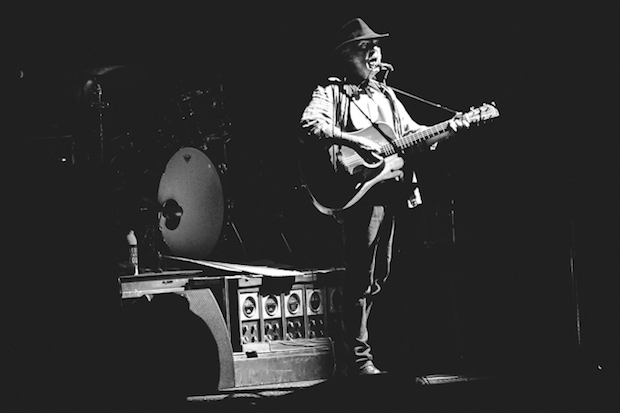 Neil Young. Photo by Jake Giles Netter.
The thing that I had to keep reminding myself during the show is that Ascend Amphitheater is a public park.  Half of the park remains open to the public with a dog park and amenities even during the show, which provides an opportunity to relax outside and listen, even if you can't see it, to the concert.  Of course, the more ambitious frugal concert fanatics were seen lining Korean Veterans Boulevard to catch a peek too.  The seated area is located in a natural amphitheater with concrete walkways and fold out chairs for the guests.  It makes sense that they need to remove those chairs after the show to return the venue into a public park, but was a bit of a surprise upon first arriving at our seats.
As I continued to feel my stressful day unwind, the evening kicked up a notch.  Lukas Nelson's band Promise Of The Real (which was formed after attending a Neil Young show in Los Angeles and is named after one of Young's lyrics) strolled out to play the part of backing band.  That was a true treat.  The band is so tight, they sound like they've been with Neil since these songs were originally written, and many of the Crazy Horse era tracks turned into long improvisational jams with Young finding a fountain of guitar playing youth with his young band mates.  Highlights of the evening included "Out On The Weekend," "Walk On" (the track that inspired Lukas Nelson), "Country Home," and "Powderfinger," but nothing could compare to the epic 20+ minute version of "Down By The River," which was amazing to watch a man the age of Young play with so much passion.

Neil Young. Photo by Jake Giles Netter.
Of course, even Neil Young couldn't roll through Nashville without talking about how much Music City means to him.  During the middle of the set, Neil looked at his old acoustic guitar (a 1941 Martin D-28), and told the crowd that it belonged to Hank Williams and he bought it in Nashville.  He also said that he has "tried to take care of it, even though I play it all the time."  Then he paid the ultimate tribute dropping a cover of "Okie From Muskogee" to honor the late Merle Haggard.
All in all, it was an impressive evening with one of music's finest, and an awesome first experience at the beautiful Ascend Amphitheater.  If you haven't had the chance to check it out yet, you may not get an evening with Neil Young, but you'll have a great time no matter who is performing.