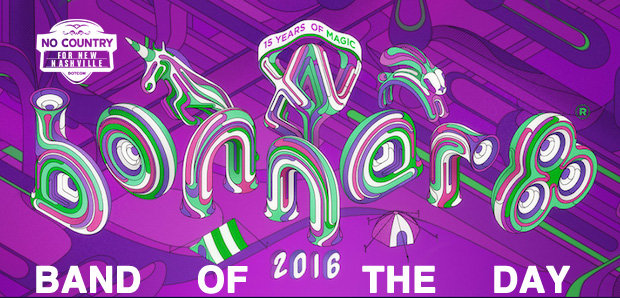 Bonnaroo Artist | POWERS
Bonnaroo History | Newbie
Stage & Time | Friday | Who Stage | 11:45 p.m.
As we've been doing for the past several years now, we're making it our mission to help you get acquainted with as many bands as we can from Bonnaroo's impressive 2016 lineup. In addition to the main stage acts, we also want to be sure to give the Club Stage bands some love, so, for the remainder of our coverage, we'll be doubling up with a second daily spotlight. They might be the smallest artists on Bonnaroo's bill, but the Club Stage boasts some of the best and most exciting up and coming acts around. As with our main stage previews, we'll start from the bottom and work our way up. Keep reading for your Bonnaroo Club Stage Band of the Day…
LEARN
Alt-pop duo POWERS may be a new name to you, but those in the music business have known about the songwriters behind the project for far longer.  Mike Del Rio has had his fingers deep into the pop scene for years now, penning and producing tracks for artists like Rihanna, Imagine Dragons, Selena Gomez, Kylie Minogue, Cee Lo Green, and X Ambassadors.  Similarly, his colleague Crista Ru has penned tracks for Gomez as well as Icona Pop.  The two finally joined forces to in 2015 to create POWERS, and the world appears to be listening.
They first dropped the single "Gimme Some" to immediate acclaim, but it was their total banger, "Beat Of My Drum," that really caught the attention of the blogosphere.  The single raced up Hype Machine, and has accumulated over 21 million listens to date on Spotify.  Given the perfect radio ready summer singles already in the bag on their debut EP Legendary, sets at Bonnaroo, Hang Out, and Firefly should only push those numbers higher.  POWERS have all the key elements to take the pop scene by storm this year, so swing by the Who Stage on Friday night to see what all the commotion is about.
LISTEN | "Beat Of My Drum" 
WATCH | "Hot" (Official Video)
CONNECT
More from POWERS | Site | Facebook | Twitter | Spotify
More from Bonnaroo | Tickets | Lineup | Site | Facebook | Twitter