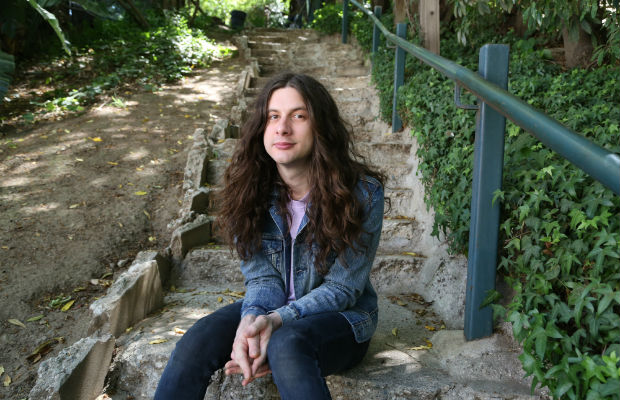 We announced a few months back that breakout indie rocker Kurt Vile and his band The Violators would return to Nashville on Feb. 25, for a performance at Exit/In. As expected, that show promptly sold out, and, fortunately found a considerably larger home at Marathon Music Works (original tickets will still be honored). With support from Xylouris White, who we caught last year opening for Godspeed You! Black Emperor, Vile returns to Nashville for the first time in almost three years, out in support of his wonderful new album, b'lieve I'm goin down…, which we ranked among our 2015 favorites. Tickets for this sure to be unforgettable show are still available here, but, if you're feeling lucky, we're also giving away a pair of tickets to one lucky fan! Read all about the show and enter below!

KURT VILE & THE VIOLATORS
Though Philadelphia singer-songwriter, multi-instrumentalist, and producer Kurt Vile formally arrived on the scene with his first album in '08, his career began many years earlier. After being given a banjo as a teenager, Vile quickly found a passion for songwriting, and began to pursue music more seriously, spending a few years in Boston and working odd jobs to facilitate his art. As years of home recordings and DIY, lo-fi releases would be repurposed for Vile's first two label-back full-lengths, 2008's Constant Hitmaker and 2009's God Is Saying This to You…, the rocker also began contributing to up and coming group The War on Drugs, led by Adam Granduciel, who, in turn, spent several years in Viles' own backing band, The Violators (both, Vile first, would leave each others' respective bands on good terms as they got too busy). Employing a band for both live and in-studio, Vile shed his more lo-fi beginnings and began incorporating higher production value and more psychedelic flair in his indie rock sound for 2009's Childish Prodigy and 2011's Smoke Ring for My Halo, his first two efforts for Matador, which gained broader recognition and critical acclaim, and brought bigger and more extensive tour opportunities. By 2013's Wakin on a Pretty Daze and last year's b'lieve I'm goin down…, the latter of which incorporates broader instrumentation, folk flair, and Vile's most personal songwriting to date, Kurt had become a runaway indie rock success, and now a festival favorite and media darling. We've ranked his recent efforts among the best national releases in their respective years, and have been just as mesmerized by Vile's life show every time we've had the chance to witness it. If you're somehow late to the party, there's never been a better time to get acquainted.
XYLOURIS WHITE
Hailing from the Greek Island of Crete, acclaimed lute player George Xylouris teamed up with Australian drummer Jim White (of the Dirty Three) to form Xylouris White, a unique, melding of cultures and musical sensibilities. Fusing traditional Cretan music with rock, the band released their debut Goats in 2014, and possess the right mix of eclectic and weird needed to open for an artist like Kurt Vile.

_
ENTER TO WIN TICKETS
Enter to win tickets by filling out the form below. Must be 18+ to attend, per the show's age restrictions. After you have entered, there will be the option to share this contest via social media. For each person that you refer to the contest, you will receive an additional entry. If you experience any trouble with the contest widget, or have any questions, feel free to email us at [email protected].
Winner will be announced Tuesday, Feb. 23 at 6 p.m. CST, and will receive one pair of tickets. Good luck!
[contesthopper contest="70075″]
 _
Kurt Vile & The Violators and Xylouris White will perform Thursday, Feb. 25 at Marathon Music Works. The show is 18+, begins at 9 p.m. (doors at 8 p.m.), and tickets are available for $22-25.