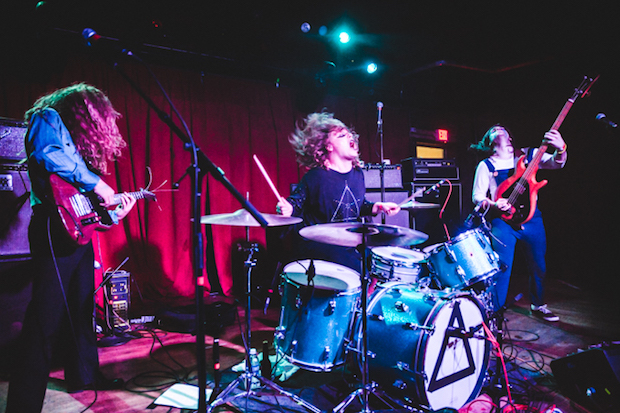 Fuzz
w/ Walter
Mercy Lounge; Nashville, TN
Nov. 10, 2015
Words by Jacob Ryan (@GonzoWithGusto). Photos by Jake Giles Netter.
Things got pretty fucking heavy for Fuzz last Tuesday night at Mercy Lounge. The room was packed to the gills, the tunes were loud & shreddy, plus, thanks to opener Walter, we all got a full night of seriously awesome live music for well under $20. If you missed out, or you just want to relive one of the best shows of the year in Music City, read on for a full recap … and don't miss a great photo spread from contributing photographer Jake Giles Netter.
A big fan of Ty Segall's (drummer/singer of Fuzz) solo stuff, I'd talked my roommate into going to the show with me, plus he was driving, so I was all set to hit "heavy swerve mode" for the evening's shenanigans. I was eager to see one of the best guitarists I've ever seen live climb behind a drum kit and rock just as hard with his side band Fuzz. The multi-talented California garage/psychedelic/punk legend would not disappoint, even if Fuzz is a much faster, heavier shade of rock than his previous fare.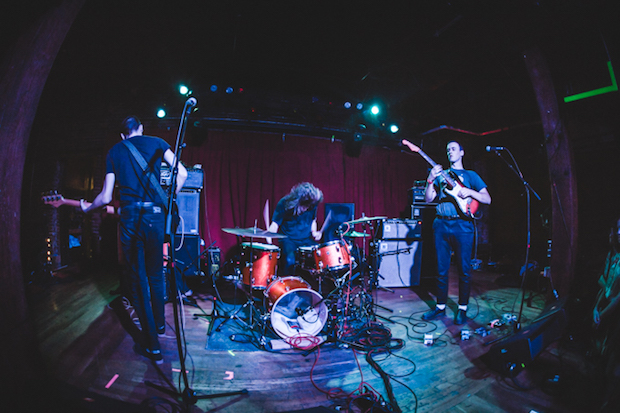 Walter. Photo by Jake Giles Netter.
Before the main event started, we ordered some beers and shots, settling into our buzz for the under card. Walter are a trio of heavy West Coast psych/noise rockers who immediately caught my attention with their distortion rich, feedback laced guitar work. They were much, much heavier than I'd imagine, based on the limited songs I'd listened to when preparing for the show. Of course I'm not complaining; the theme of the night would soon become 'the heavier, the better'. They also had some nice jam elements too, rocking out one song for what felt like ten minutes straight, the effects squealing through the amps throughout. They also played the single I was familiar with (and my favorite song from their set), "Ice Cream", which had a Thee Oh Sees feel to it that I really connected with.
Walter. Photo by Jake Giles Netter.
Their frontman/guitarist would stare out into the crowd with this crazed, blank stare locked on his face, and then thrash about in tune to his guitar solo. Later, in-between songs, he did a boss Bruce Springsteen impression, playing/singing a couple bars from "I'm On Fire", with the drummer ad-libbing the perfect E Street Band splash. By the end of their set I was sold, and ready to get deeper into their debut LP, Get Well Soon, once I returned home. We stepped out for a smoke, chatting it up with some musician friends, and before too long we could all hear the headliners sound checking.

Fuzz. Photo by Jake Giles Netter.
Another California power trio, Fuzz is Ty Segall, Charles Moothart (guitar/vocal) and Chad Ubovich (bass/vocal). If you're not familiar already, Ty Segall is a God amongst the thriving coastal California garage psych-punk scene … see also John Dwyer of the aforementioned Thee Oh Sees, or about 90% of the awesome Burger Records label for more examples of the next generation … but Ty is mostly known for his solo body of work, and things he's down with the Ty Segall Band. Last time he played Nashville, it was a packed-out, shit-show, and we loved every second of it. As people continued to file in, it was obvious that this outing with his current project, touring in support of their sophomore record, II, would be no different.

Fuzz. Photo by Jake Giles Netter.
They came out with glam-tastic face paint blazing, took some time to tweak their gear and than launched into a full on heavy metal show. Zero fucking around. It was loud, fast and heavy from start to finish, and I was floored by Ty's drumming skills. He already shreds on guitar, it seems completely unfair that he kicks ass from behind a kit too … and while singing lead on the majority of their songs. Very, very impressive. Coming from a musician I already find astonishing (check out his wiki/discography). If his solo stuff could be compared to the Pixies, then Fuzz would be more like Black Sabbath. Both are heavy, but the latter is more pure high octane, blow out your ear drums, abrasive rock, less of the former distorted punk hooks with psych riffs.
The crowd, especially at the front by the stage, was a whirling dervish of scene kids stage diving, crowd surfing and spewing their various beverages all over everyone in attendance. Three songs in, it was a full-on pit. Matching the crowd's incredible energy, the band head banged to the beat, Ty whipping his mane of blond hair around in circles as he punished his drum heads. Things seemed to keep escalating, and it got a little too rowdy for bassist Chad Ubovich, who politely asked that revelers stop throwing beer cans at him.
"It's OK," Ty said after a second or two of slight awkwardness. "You can just throw them at me".
They blasted through their set, and then played an encore, which was basically just a couple extended heavy metal jam sessions before calling it a night. The performers themselves, and everyone in the crowd was a hot-sweaty-mess. I was also wasted at this point, and glad my car was safely parked at home. It's easily in my top-five shows for the year, and writing about it now is giving me epic flashbacks. I love this job! Check out the photos below to get a feel for what's dancing through my head currently, and whatever you do, go see Ty Segall live when he returns to Nashville this winter with yet ANOTHER new record to hawk.