Watkins Family Hour. Photo by Erika Goldring.
AmericanaFest has come and gone again this year, with the huge event occupying almost every venue in town for five days packed full of roots music, country, folk, blues, and any of the variety of other genres that fall under the umbrella term "Americana." The event and the artists involved had lots of surprises in store for Nashville, from big names appearing at tiny venues to insanely fun secret shows, and we caught as much of the festivities as we could. Read on for our thoughts and photos of what we think were some of the best performances out of the myriad that went down during the festival.
WEDNESDAY
Nathaniel Rateliff & the Night Sweats, Watkins Family Hour, surprise guest Shakey Graves @ Mercy Lounge
Nathaniel Rateliff & the Night Sweats. photo by Gary Acquaro.
The soul-rock outfit from Denver Nathaniel Rateliff & the Night Sweats kicked off AmericanaFest for me, playing to a packed-to-capacity Mercy Lounge as the Americana Music Association Awards ceremony wrapped up at The Ryman. The group played soul, '60s R&B, and southern rock mixed with Americana for something along the lines of the Band mixed with the Alabama Shakes. Like any good soul show, Rateliff made this a participatory event, inspiring dancing, clapping, and singing, and the crowd was eating out of the palm of his hand by the end of the set.
Watkins Family Hour. photo by Erika Goldring.
Even with all the surprises and secret shows that AmericanaFest had in store for Nashville, the absolute highlight of the festival for me, the highlight that most others will gloss over, was musical collective Watkins Family Hour. The group formed in Los Angeles at the club Largo, where Nickel Creek members Sara and Sean Watkins created a killer Americana group and developed a habit of inviting whatever musicians happened to be in the room onstage with them just to see what would happen. Largo frequenter Fiona Apple became involved in this manner, thus making her first official musical release and tour outing since 2012's Idler Wheel in a very different and under-the-radar way.
Though they did recently stop at City Winery, I was out of town that weekend and thought I had again missed my chance to see THE Fiona Apple perform in the flesh. In Watkins, she is a member of a group rather than the star, but still her vocals, completely unmatched in emotive power, shine through. Her harmonies with Sara Watkins on songs like the Everly Brothers' "You're the One I Love" and Maxine Brown's "We'll Cry Together" were alternately intense and mournful, with Sara's involvement helping coax out and compliment Apple's signature emotional resonance. Apple's killer, unhinged version of Bob Dylan's Highway 61 Revisited surreal nightmare "Tombstone Blues," originally performed for a concert celebrating the landmark record's fiftieth anniversary, was the night's real treat for me, as that album and that song, in particular, have long been personal favorites. Apple also sang an angry version of Dolly Parton's "Jolene" and the band put together a countrified version of her raging rocker from When the Pawn... "A Mistake." To finish out the set, Sarah Jarosz joined them onstage (greeted with kisses on the cheek from Apple) to play the Grateful Dead tune "Brokedown Palace."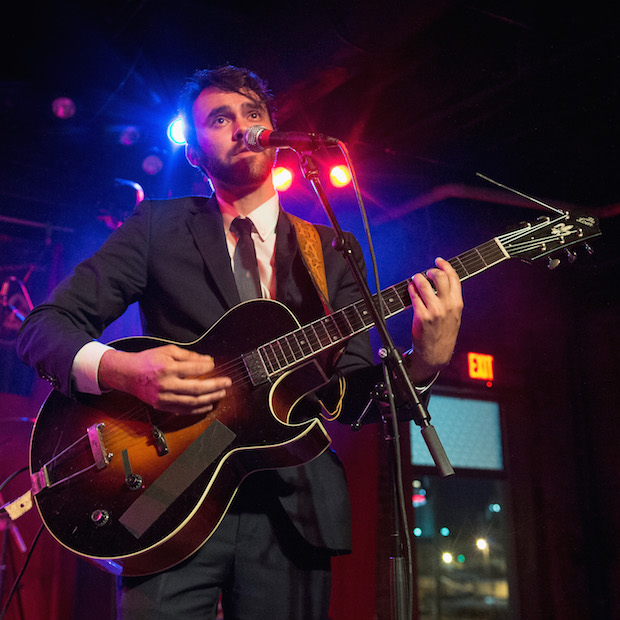 Shakey Graves. Photo by Erika Goldring.
Watkins Family Hour was followed up by a planned surprise guest, which this being Nashville and a room full of industry people, most knew who it was before Shakey Graves appeared onstage after just having won the emerging artist award from the Americana Association. He was joined onstage by co-writer and singer Esme Patterson for a few acoustic numbers including "Big Time Nashville Star" and "Dearly Departed." This kind of guy-girl harmonies with acoustic guitar can very easily veer towards too cutesy or just plain lame, but their smart writing and bluesy guitar riffs made the songs and performance compelling rather than the typical borderline parody that is a duo singing sweet folk-pop harmonies. It surprised me that I enjoyed their prelude better than Graves' plugged-in loud stuff. But his ability to appeal to audiences in the hardcore Americana scene as well as casual radio listeners as well as rock fans reveal Graves' versatility and potential for longevity. [JSa]
The Contenders, James McMurtry, and Patti Griffin @ City Winery
While I had heard a lot of the buzz surrounding the duo The Contenders, I had never seen them perform, but after the fact, I am so glad I made it to City Winery early and caught their entire set. The Contenders are Jay Nash on vocals and guitar and Josh Day on drums and backup vocals, and while it is a pared down group, their sound is anything but! Jay is an amazing musician and vocalist, and Josh's voice blends so nicely with Jay's that the harmony is natural and very pleasing. Plus Josh has such a style on drums that it's easy to get lost just watching him as his whole body becomes a rhythm machine. They kicked off the night with their namesake song, "The Contender," complete with jokes about their name, the song title, and their EP titled Meet the Contenders. They went on to woo the crowd with everything from a murder ballad "to finish your dessert to" that was melodic and down right haunting, to the new song "We Can See the Light," and many more. Josh is a very careful and precise drummer, and Jay added harmonica at times and a wide variety of styles with his accomplished guitar playing. This is a band you must catch live.
James McMurtry. Photo by Jason Davis.
Taking the stage next was the hard-working James McMurtry playing tunes from one of the best Americana albums of the year, Complicated Games. He started off with just him and his guitar singing "These Things I've Come To Know" with his husky nasal twang and serious glare he is known for. Then his band joined him and he played one of the newer releases, "How Am I Gonna Find You Now" with his almost "rappy" delivery. He went on to play almost every song on the album, telling stories in between and through the songs like the born storyteller he is. Before breaking into "I Ain't Got a Place," he quipped how he wrote it in New Orleans under the perfect mix of drunk and pissed off. "The Forgotten Coast" was especially memborable after his description of getting there and the band kicking it into full gear. There was a magical blend of steel guitar, accordian, and heavy bass and drums that made me realize what a great band he really has, and to highlight that fact that he has so much more to offer than his prolific story-songs; he is a real musician and can really rock a place. He is that perfect blend of what Americana is all about.
Patty Griffin. Photo by Jason Davis.
Because of a late start to the night after the awards show, Patti Griffin didn't take the stage until almost 1:00 am, and you could tell from her stories of just coming in from a European tour and from her voice giving out that she was flat out tired; however, that didn't keep her from putting on a great show. She started with a duet with her guitarist on a Spanish song about the Mexican Revolution before breaking into "Isn't One Way" and many other songs from her new album Servant of Love. While her voice was obviously tired, she continued to connect with the crowd and make us all fall in love with her over and over again. With great songwriting and an outstanding personality, she knows how to work a crowd, and everyone left very happy.   [IS]
THURSDAY
Birds of Chicago, Lindi Ortega @ The High Watt
Birds of Chicago. photo by Gary Acquaro.
The soul-influenced husband-and-wife folk duo Birds of Chicago played before one of my favorite Nashville-based country singers Lindi Ortega at Thursday's High Watt showcase. Birds of Chicago are indeed from the Windy City, and pay homage to it in the song "All the City Girls," which singer/guitarist JT Nero explained is an optimistic view of life in a "tormented place." His wife Allison Russell is the real draw here, with gorgeous soulful vocals and switching between banjo and ukelele. She did a gospel-influenced a cappella number about her grandmother accompanied just by clapping and stomping that was a worthy exhibit of her charisma and vocal power. The pair perform accompanied by an electric guitarist and a bassist who uses a stomp pedal for their only percussion. "Trampoline" was a fun, bluesy number about how musicians can't always be the best of friends to the people around them. The group set themselves apart from others in the Americana scene with their hopeful, inspiring vibe, in contrast with the darker tone many bands in the genre are going for.
Lindi Ortega. photo by Gary Acquaro.
Lindi Ortega is one of the most underrated country singers in Nashville right now. Her sixth record, Faded Gloryville, was just released this summer to great acclaim like all her records get, but she never gets as much recognition as she deserves. The cool kids aren't likely to know who she is the way they know someone like Nikki Lane, even though Ortega also has a unique style to go with her sound, and her diverse hodgepodge of old-fashioned country, alternative rock, and folk music from both America and Mexico will never see her getting accepted by the mainstream country establishment. At her AmericanaFest showcase, Ortega played much of her new record, which has a particularly soul-inspired feel to it with songs like "Someday Soon" and the single "Ashes." The sound makes sense considering some of the record was recorded in the soul capital of the South, Muscle Shoals, Alabama. Anyone who's seen Ortega live knows she boasts a great, minimalistic band. There's few instruments onstage for a country show, but her guitarist in particular is so good his Telecaster can play the part of the rhythm guitar and a pedal steel. She didn't only do new songs, though, including the heartbreak ballad "Cigarettes and Truck Stops" from the 2012 album of that title and appropriately ending the set with the Tin Star track "All These Cats," about how even with all the cats tearing her down she's just going to continue on her mission. [JSa]
FRIDAY
Caitlin Canty, Anderson East, Margo Price & the Pricetags @ City Winery
Caitlin Canty's music blends folk from both Appalachia and the west, with some songs feeling like western cowboy tunes, some being bluesy noir Americana, and some like mournful mountain music, all sung with a gorgeous, delicate voice that has been compared to Emmylou Harris. She just released a new record, Reckless Skyline, at the beginning of the year, and even treated the crowd at City Winery with some newer songs she wrote in the wake of finishing that record. She had a tight little country band with her and a lot of male-female harmonies with her guitarist, even stepping out in front of the mics at one point to serenade the crowd with just two acoustic guitars and two voices unaided by any technology. That created a sense of intimacy the crowd loved, and was a big contrast with the bombastic energy that was to follow.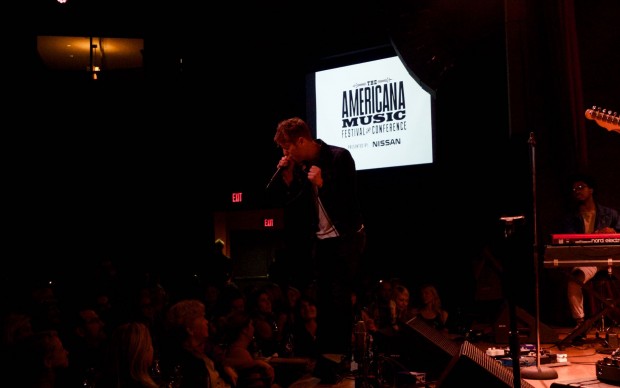 Anderson East. photo by Gary Acquaro.
If you've never seen or heard Anderson East then you probably won't believe me when I say this guy sings exactly like a young Van Morrison. His mid-set cover of "Tupelo Honey" acknowledged the devastating similarity, which pretty much has to be heard to be believed. East recently released a David Cobb-produced record, Delilah, and is quickly rising in popularity in the local scene, a scene he's likely to break outside of in not too much time given his voice, charisma, and the new popularity of old soul music. He plays with a classic Southern soul-band set-up, including horns, lap-steel, and organ and threw tons of covers into his AmericanaFest set, from the aforementioned Van Morrison song to the Faces' "Stay With Me" to "Knock on Wood."
East is a dynamic and entertaining performer who was none too enthused about performing before a dinner crowd, making numerous jokes about everyone sitting down, cussing and making fun of people who wouldn't stand up when he asked, and sitting on the edge of the stage helping himself to some people's wine. He thanked the Americana Music Association "presented by Nissan" for "thinking our music is Americana" and inviting them to play the festival and at one point jumped offstage and ran around the entire room. All his antics were funny and entertaining, reminiscent of the great soul singers of old. They would have been too over the top if he hadn't had such an incredible, soulful voice, but since he did it made for a hugely energetic performance.
Margo Price. photo by Gary Acquaro.
Just before the City Winery show, Margo Price announced that she's signed with Third Man Records and will be releasing her debut record, Midwest Farmer's Daughter, on the label in March of next year. I've been a big fan of Price's basically since I moved to Nashville and the news that she's signing to Third Man, a label/place/idea that I think helps make Nashville great, is a well-deserved success. Fans of Third Man/Jack White from all over the country and world will listen to anything the label puts out just because they trust the TMR team's taste, so Price will be getting tons of recognition from this deal as well as a label that will be a great creative partner. Third Man and White himself might be best known for alternative rock, but both White in his own music and the label have always had a deep respect for the type of classic country music that Price plays. That record is a big one to look forward to for next year.
Price told the crowd at City Winery about the Third Man deal, a hard-won victory after living and playing in Nashville for twelve years. The song "This Town Gets Around" tells about some of the struggles Price has faced in the Nashville music industry. She also played the new track "Wild Women" about a different kind of struggle, the difficulties faced in trying to balance being a singer, a mother, and a wife. A crowd favorite at her shows, the country-funk "40 Chances" is a bit of Loretta Lynn-esque pro-woman sass dedicated to the ladies. "Desperate and Depressed" is a rollicking number written about a bad tour, "everyone has bad tours, but nobody tells you about it," Price said. Price has some terribly moving country heartbreak ballads, including "Since You Put Me Down" and "Cruel Hands of Time," the latter of which featured a small string section. She ended the set with country-rocker "I Put a Hurtin' on the Bottle," about that classic country remedy of drinking to forget your heartbreak. [JSa]
Jackie Greene @ Mercy Lounge
On Friday night, I landed at the Cannery Ballroom and popped up to the Mercy Lounge throughout the night to see what was happening, and one guy stopped me in my tracks. Jackie Greene is an amazing musician, wowing the crowd on guitar and keyboards while I was there, but he is also accomplished on the organ and drums. This guy has been around for a while, just releasing his seventh solo album Back to Birth, but he also has been involved in many other bands such as the Black Crowes as lead guitarist, Trigger Happy with Joan Osborn, Phil Lesh (of the Grateful Dead) & Friends as lead guitarist and vocalist, and Levon Helm and his Midnight Ramble Shows in Woodstock, NY. His songwriting is honest and true, and his passion for music was clear, affecting the crowd into silence, totally in tune with his truths. He encompasses everything that is good ole Southern Rock and Americana with a whole lot of heart. Check him out.  [IS]
Madisen Ward & the Mama Bear, JD McPherson, Josh Ritter @ Cannery Ballroom
Madisen Ward & The Mama Bear. Photo by Erika Goldring.
The Cannery hosted Pandora's Americana Showcase this year with a great line-up of heavy hitters. Madisen Ward & the Mama Bear drew the crowd with their bluesy/folksy mother-son duo, and JD McPherson over-packed the house after his recent appearance at Live on the Green and his straight-out old-time rock-n-roll, but the real thriller was seeing Josh Ritter. I would truly believe Josh Ritter is the happiest man on earth if it wasn't for some of his haunting lyrics in some of his songs. But it is clear that this is a man who has learned from mistakes and strives for happiness. He played mostly new music from his recently released record Sermon on the Rocks, with a few old favorites thrown in, and it was evident that he was loving every minute of it! With an excellent band and his unbridled enthusiasm that infiltrated the crowd, his good vibes were contagious, and by the end of the show the audience was completely grooving. He was extremely appreciative of the crowd and the love they were showing, and he made him work even harder to please them. When he played "Kathleen" the crowd went wild, screaming and singing along. It was an awesome show, and I can't wait to pick up my copy of the new album. Catch Josh Ritter on tour for a wonderful night out! [IS]
SATURDAY
River Whyless, Fats Kaplin @ Station Inn
River Whyless. photo by Gary Acquaro.
Station Inn was a must-visit venue for me during AmericanaFest, given the venerable institution's 40-year history of hosting incredible bluegrass, country, and folk music and its ability to hang on as the one historic vestige of Old Nashville amidst the Gulch. A solo set from long-time Nashville session man Fats Kaplin was the perfect excuse to head there. His performance was preceded by the Asheville, North Carolina-based folk band River Whyless, which were very well received by the older sit-down crowd despite the indie-rock  feel to their music. They were certainly a folk band, with complete folk instrumentation, trading off vocals, an incredible violin player, and even a kitchen pot used for percussion, but the way in which they interpreted folk music traditions of America, Ireland, and even India was in the same vein that rock bands do. A prime example of this is that when playing Woody Guthrie's song "Airline to Heaven" they played not Guthrie's version, but Wilco's cover version. Their folk felt contemporary and fresh, and the crowd was rapt with attention, which was refreshing after the loud and distant showcases I'd been to earlier in the week.
Fats Kaplin. photo by Gary Acquaro.
I became familiar with Fats Kaplin through his work in Jack White's band, backing up White on several instruments through his two solo records, but Kaplin has been a session player in Nashville for many years and was a part of the house band at the Ryman during the Americana awards ceremony. The MC at the Station Inn introduced Kaplin by saying that he deserves an Americana Music Award for "plays well with others" given the amount and diversity of the session work he's done. At the showcase, Kaplin got to focus on playing his own original music, which is heavily influenced by the folk music of the Middle East and Mediterranean as well as country and blues of the American south. He mostly stuck to playing the fiddle, on tunes like the dreamy "Ghost Waltz," and was accompanied by a guitarist and a drummer.
The majority of the songs were instrumental pieces, but still the audience was almost completely silent and attentive. The Middle Eastern flavor came out even more when Kaplin played an oud, a unique, exotic stringed instrument that he explained he'd gotten from Syria before the current war broke out there. He played a prelude on the instrument that he said he intended to be "a prayer for Syria" and then used it to play an exotic-flavored blues about a jawbone. Kaplin often writes, performs, and records with his singer wife Kristi Rose, but, since she was ill with pneumonia, she only sang one song with him, a funny swing number about taking a roll in the hay. Afterwards, they did a magic gag in which Kaplin pulled "Ming dynasty coins" out of his wife's throat and ears, pretending to cure her malady, which was hilarious in an old-timey fashion. After another violin solo, the Middle Eastern-tinged "Little Egypt" about the town in Illinois where Kristi Rose is from, legend of Lower Broadway Paul Burch joined Kaplin for a duet. Leaving Kaplin's performance felt like I'd just been to a wonderful, strange combination of the symphony, a vaudeville show, and a club in Tangier. [JSa]
Josh Rouse @ Mercy Lounge and Jonathan Tyler @ The High Watt
Josh Rouse. Photo by Erika Goldring.
Once again on Saturday night I stationed myself at Mercy Lounge and The High Watt for the best chance to catch the most number of shows, and I was not disappointed. I have been a fan of Josh Rouse for many years, and just like always, he put on a great show filled with a nice mix of new songs from his latest release Embers of Time and old favorites from his past ten records. When listening to Rouse perform it is evident why he is an acclaimed songwriter, revered by both The New York Times and NPR. He can cut to the heart before you even realize it. The new album is a powerful commentary on life's realizations as we age and travel down our path; it is simply heartfelt truth.
Jonathan Tyler was a show I was looking forward to, but I was no where prepared to be blown away like I was. This guy can totally rock out while melting your heart! He is an awesome guitar player, singer, and song-writer, and his band is of stellar quality. Their classic Southern Rock tinged Americana was just what the doctor ordered, and the crowd was entranced under his spell. This guy has so much power in his performance that you just don't want it to end. I suggest you run out now and pick up his new album Holy Smokes.  [IS]
[JSa] Jacqui Sahagian
[IS] Ione Singletary