We first told you about the inaugural Pilgrimage Music & Cultural Festival back in April, and have kept you filled in as the lineup expanded in subsequent months, quickly becoming Middle Tennessee's can't-miss fall event. Currently underway Sept. 26 & 27 at the Park at Harlinsdale in Franklin, TN, Pilgrimage is exactly the type of fest we've been hoping to attract in the Nashville area for years, and we couldn't be more excited for this weekend's bill! Yesterday, Cage The Elephant, Weezer, Wilco, and more blew us away, and we're looking forward to another exciting lineup for the fest's second and final day! In addition to music, Pilgrimage showcases the best of the region with local food, drink, and art, and is committed to creating a family friendly environment, complete with early start and ending times, a kid's stage, and more.
Single day passes are still available here. To help you prepare to make the first Pilgrimage, we put together a guide to Saturday's lineup in two parts, with more information and song previews of every single act, ordered by performance time, and we're doing the same for Sunday. Check out part one of our rundown of Sunday's lineup here, and below, check out part two!
NIKKI LANE
HQ: Nashville, TN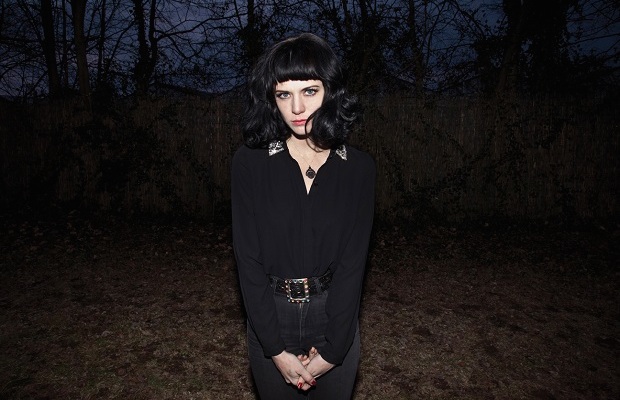 Sunday | Hard Rock Harpeth River | 2:20pm
Like a modern-era Wanda Jackson, Nikki Lane turns the vulnerable singer-songwriter stereotype on its ear, crafting songs that crucify ex-boyfriends and have no problem with one-night stands as long as she can bolt town right after. Her cooing-yet-brutal vocals are a perfect fit with an aching, mournful guitar. For her hotly anticipated sophomore album, released in May 2014, the Nashville songstress teamed up with Dan Auerbach of the Black Keys to produce All or Nothin'. "My songs always paint a pretty clear picture of what's been going on in my life, so this is one moody record," she says. "There's lots of talk of misbehaving and moving on."
Born in South Carolina, Lane moved to New York City and, after a messy breakup, picked up a guitar and set her sights on a music career. But the cost of living in New York proved to be too high an obstacle, so she turned to Nashville, a city she had visited extensively. "I was hell bent on living in a big city and I just couldn't work up the nerve to come back to the South," she says. "[When I did,] Nashville was the obvious choice for me because of my fondness for it."
Once in town, she released the 2011 album Walk of Shame to rave reviews, as well as opening High Class Hillbilly, a pop-up vintage clothing stall, where a chance meeting with Auerbach turned into a full-fledged partnership. "During the first round of recordings, I was in an awkward mood every night I left the studio," she says. "It was hard for me to trust that Dan was right when he said I should move a verse around or add an extra chorus. He pushed to find the right feel for each track one by one, and a few months later I found myself with a damn good record." [via]
LISTEN
WATCH
CONNECT | Site | Facebook | Twitter | Spotify
_
JIMMY CLIFF
HQ: Kingston, Jamaica

Sunday | Fender Premium Audio Gold Record Road | 2:50pm
The Honorable Jimmy Cliff is a Jamaican ska and reggae singer, musician, and actor. He is the only currently living musician to hold the Order of Merit, the highest honor that can be granted by the Jamaican government for achievement in the arts and sciences.
He is best known among mainstream audiences for songs such as "Sitting in Limbo", "You Can Get It If You Really Want", and "Many Rivers to Cross" from the soundtrack to The Harder They Come, which helped popularize reggae across the world.
Dr. Cliff is also well known for his covers of Cat Stevens' "Wild World" and Johnny Nash's "I Can See Clearly Now" from the film Cool Runnings. Outside of the reggae world, he is best known for his film appearance in The Harder They Come. Jimmy Cliff was one of five performers inducted into the Rock and Roll Hall of Fame in 2010. [via]
LISTEN
WATCH
CONNECT | Site | Facebook | Twitter | Spotify
_
DAWES
HQ: Los Angeles, CA

Sunday | Pilgrimage Midnight Sun | 3:15pm
California-based roots rock band Dawes were formed in the Los Angeles suburb of North Hills by brothers Taylor Goldsmith and Griffin Goldsmith (lead vocals/guitar and drums, respectively), Wylie Gelber (bass), and Alex Casnoff (guitar). They were previously in the band Simon Dawes, but after Blake Mills left the group, they changed the name (and added Casnoff, who was soon replaced by Tay Strathairn). Unlike the more intense indie rock sound they had as Simon Dawes, Dawes were heavily influenced by the gentle, acoustic-based musical trappings and rich vocal harmony of the Laurel Canyon sound (Crosby, Stills & Nash, Neil Young, Joni Mitchell), as well as by the shambling, romanticized Americana of the Band. After connecting with producer Jonathan Wilson, the group began participating in informal jam sessions at Wilson's house with Bright Eyes' Conor Oberst, the Heartbreakers' Benmont Tench, and the Black Crowes' Chris Robinson. The loose feel of these get-togethers informed the group's aptly titled 2009 debut North Hills. The album was recorded in Laurel Canyon live to analog tape, which lent Dawes' recorded sound an authentically vintage vibe.
The band's second album, 2011's Nothing Is Wrong had a similar feel to the debut and peaked at number 23 on the Billboard album charts. That same year, the band had a pair of unique experiences: playing at the Occupy Wall Street protests and appearing as themselves on a prime-time network television show (Parenthood). Stories Don't End, the group's hotly anticipated third studio album, arrived in 2013. Recorded in Nashville at the esteemed Woodland Studios with producer David Rawlings (Gillian Welch, Old Crow Medicine Show), the Hub-issued All Your Favorite Bandsarrived in June 2015. [via]
LISTEN
WATCH
CONNECT | Site | Facebook | Twitter | Spotify
_
PRESERVATION HALL JAZZ BAND
HQ: New Orleans, LA

 Sunday | Hard Rock Harpeth River | 3:50pm
Although New Orleans' traditional jazz scene had many top players in the 1950s, there was no one center for the city's veteran greats to play. In 1961, local art dealer Larry Borenstein opened a building in the French Quarter called Preservation Hall. The young tuba player Allan Jaffe ran the hall and organized tours for the musicians who often performed there, naming the band after the venue. In the Hall's early days, the key musicians included, at various times, trumpeters Kid Thomas Valentine, Punch Miller, or De De Pierce; trombonists Louis Nelson or Jim Robinson; clarinetists George Lewis, Albert Burbank, or Willie Humphrey; and pianists Joseph Robichaux, Billie Pierce, or Sweet Emma Barrett. By the early '70s, trumpeter Percy Humphrey, his brother Willie on clarinet, and trombonist Jim Robinson (who, after his death in 1976, was succeeded by Frank Demond) usually comprised the front line. The deaths of the Humphreys and Percy's occasional fill-in Kid Sheik Colarin the mid-'90s signalled more lineup changes. Four decades after the group's genesis, the Preservation Hall Jazz Band continues to honor the musical traditions of New Orleans, despite these switches in personnel.
In general, the group's best recordings are their early records under the leadership of Barrett and the Pierces; they also cut three hit-or-miss albums for Columbia during 1976-1992. the Preservation Hall Jazz Band's worldwide tours have resulted in a good deal of goodwill, and the band remained on the road throughout much of 2005 and early 2006, due to the temporary closure of Preservation Hall in the wake of Hurricane Katrina. Although the hurricane devastated the city, it left some of the band's archival recordings unscathed, resulting in the release of Made in New Orleans: The Hurricane Sessions in 2007. In 2010, they delivered the charity album, Preservation: An Album to Benefit Preservation Hall & the Preservation Hall Music Outreach Program, which featured guest appearances by an eclectic mix of artists including Del McCoury, Steve Earle, Angelique Kidjo, Terence Blanchard, and many others. A year later, they collaborated once again with McCoury on the jazz meets bluegrass album American Legacies. In 2013, Preservation Hall released That's It!, the band's first album of all-original material in its entire 50 year career. [via]
LISTEN
WATCH
CONNECT | Site | Facebook | Twitter | Spotify
_
STEVEN TYLER
HQ: Los Angeles/Boston

Sunday | Fender Premium Audio Gold Record Road | 4:35pm
A man who certainly needs no introduction, acclaimed rock vocalist Steven Tyler is best known for serving as the vocalist of legendary group Aerosmith for the last 45 years. And, while Aerosmith are certainly still going strong, Steven has been spending a majority of his time in Nashville as of late, work on his first solo country album. Given the suspiciously short set time at Pilgrimage, we'd bet this set will be heavy on that new stuff, especially since it's billed as Tyler alone, but we'd be shocked if he doesn't sneak in at least a "Dream On" or something for the fans.
LISTEN 
WATCH
CONNECT | Site | Facebook | Twitter | Spotify
_
BAND OF HORSES
HQ: Charleston, SC

Sunday | Pilgrimage Midnight Sun | 4:45pm
Emerging in 2004 with a blend of woodsy midtempo rock and reverb-laden vocals, Band of Horses gained an audience in their native Northwest before Everything All the Time made them indie rock darlings. Multi-instrumentalists Ben Bridwelland Mat Brooke founded the group after an eight-year run with Carissa's Wierd, and an early concert alongside future labelmates Iron & Wine caught the attention of Sub Pop Records. Sub Pop signed Band of Horses in 2005 and reissued their self-released EP later that year, while the band retreated to the studio to record its full-length debut. Everything All the Time appeared in March 2006 and was warmly received; however, Brooke did not tour in support of the album and had officially left the group by July, choosing instead to devote his time to another Sub Pop act, Grand Archives. Bridwellsoldiered on with now-permanent bandmates Rob Hampton (bass) and Creighton Barrett (drums), playing stateside shows and touring Europe in support of the band's debut.
The bandmembers returned to the States and relocated to Mt. Pleasant, South Carolina, to be closer to their families. Soon after, Band of Horses entered the studio with producer Phil Ek (who also helmed Everything All the Time) to record their second album. Cease to Begin was released in October 2007 to extremely warm reviews; it also peaked at number 35 on the Billboard charts, giving the band a taste of commercial success as well as critical approval. Although Band of Horses spent most of the following two years on the road, they also found time to return to the recording studio, where they began working on a third album in 2009.
This time, the band's five members all contributed to the songwriting process, making Infinite Arms a collaborative effort between Bridwell, Barrett, and new members Ryan Monroe, Tyler Ramsey, and Bill Reynolds. The album hit shelves in mid-2010, marking the band's first effort for Columbia Records and earning a Grammy for its country-rock sound. Preferring to take a more grounded approach on their fourth long-player, the group tapped legendary producer Glyn Johns (the Rolling Stones, The Who), who helped to rein in some of the group's more experimental tendencies by insisting on a more intimate live approach. The resulting Mirage Rock, which was preceded by the single "Knock, Knock," arrived in September 2012. Early 2014 saw the release of the live album Acoustic at the Ryman, a compilation of tracks recorded in a stripped-down fashion during a two-night stint in the spring of 2013 at Nashville's Ryman Auditorium. While working on material for their fifth studio album, Bridwell teamed with fellow Columbia, South Carolina native Sam Beam of Iron & Wine to release a covers album titled Sing into My Mouth in 2015. The record featured common song influences from the likes of Talking Heads, John Cale, and Sade. [via]
LISTEN
WATCH
CONNECT | Site | Facebook | Twitter | Spotify
_
ST. PAUL & THE BROKEN BONES
HQ: Birmingham, AL

Sunday | Hard Rock Harpeth River | 5:20pm
A tight sextet with a gospel-tinged neo-soul garage sound complete with horns and a dynamic lead singer, Birmingham, Alabama's St. Paul & the Broken Bones' stirring live shows quickly garnered them a fan following when the band was formed in 2011. Led by vocalist Paul Janeway, an impassioned soul singer with James Brown-like stage moves and command, and also consisting of Browan Lollar (guitar, vocals), Andrew Lee (drums and percussion), Jesse Phillips (bass), Allen Branstetter (trumpet), and Ben Griner(trombone and tuba), the group self-released an EP before signing with Single Lock Records, which issued a debut full-length, Half the City, early in 2014. [via]
LISTEN
WATCH
CONNECT | Site | Facebook | Twitter | Spotify
_
THE DECEMBERISTS
HQ: Portland, OR

Sunday | Fender Premium Audio Gold Record Road | 5:35pm

Led by Montana native Colin Meloy, the Decemberists craft theatrical, hyper-literate pop songs that draw heavily from late-'60s British folk acts like Fairport Convention and Pentangle and the early-'80s college rock grandeur of the Waterboys and R.E.M. The band's initial lineup also included drummer Ezra Holbrook, bassist Nate Query, keyboardist/accordionist Jenny Conlee, and multi-instrumentalist Chris Funk. Frontman Meloy had previously devoted some time to an alternative country group before breaking off to pursue his craft as a singer/songwriter in the city of Portland, a move that eventually led to the Decemberists' formation. Drawing influence from his degree in creative writing, he began fashioning a hybrid of literate lyrics and wide-ranging pop music, touching upon everything from Sandy Denny to Morrissey in the process.
Before Hush Records released the band's debut album in 2002, the Decemberists baited their initial fans with a five-track EP. Their full-length debut, Castaways and Cutouts, was re-released that same year on the Kill Rock Stars label, and the band began to accumulate a serious fan base. After adding organist and keyboardist Rachel Blumberg to the group, in 2003 the Decemberists released Her Majesty, another fine collection of theatrical indie pop with pastoral sensibilities that further cemented their growing reputation. One year later, a five-part epic EP entitled The Tain — based on the eighth century Irish poem of the same name — appeared, followed by the full-length Picaresque in 2005.
The group, which at this point consisted of Meloy, Conlee, Query, Funk, and drummer John Moen, made the move to the major leagues by signing with Capitol Records in advance of 2006's The Crane Wife, which managed to hit number 35 on the Billboard 200. The album also grabbed the attention of comedian/actor Stephen Colbert, who challenged Funk to a guitar solo competition during a live taping of his show The Colbert Report. For their next project, the Decemberists tackled one of Meloy's most ambitious ideas to date: an honest to God rock opera. The Hazards of Love appeared in 2009, featuring a fantasy-filled story line as well as cameos from My Morning Jacket's Jim James, Lavender Diamond's Becky Stark, and My Brightest Diamond's Shara Worden.
In January 2011, the band unexpectedly topped the charts with The King Is Dead, a concise and rustic country-pop collection that featured guest appearances by Peter Buckand Gillian Welch, and followed it up later that year with the outtakes EP Long Live the King. With touring completed for The King Is Dead, the band went on hiatus, but still released the double live album We All Raise Our Voices to the Air in 2012. Two years later, in early 2014, the Decemberists announced several live dates for the summer and the beginning of work on their seventh studio album. On January 20, 2015, the album, titled What a Terrible World, What a Beautiful World, was released, and the group celebrated the event with a three-month tour covering the United Kingdom, Europe, and the United States. [via]
LISTEN
WATCH
CONNECT | Site | Facebook | Twitter | Spotify
_
WILLIE NELSON
HQ: Luck, TX

Sunday | Pilgrimage Midnight Sun | 6:30pm

With a six-decade career and 200 plus albums, this iconic Texan is the creative genius behind the historic recordings of Crazy, Red Headed Stranger, and Stardust. Willie Nelson has earned every conceivable award as a musician and amassed reputable credentials as an author, actor and activist. He continues to thrive as a relevant and progressive musical and cultural force. In the last five years alone he delivered nine new album releases (of which one resulted in a Grammy Award win), released a Top 10 New York Times' bestsellers book, again headlined Farm Aid, an event he co-founded in 1985, received his 5th degree black belt in Gong Kwon Yu Sul, and graced the cover of Rolling Stone magazine. In 2013, Willie's albums included Let's Face The Music And Dance, an album of deep pop country repertoire classics performed with transformative patented ease by Nelson and Family, his long-time touring and recording ensemble; and To All The Girls… which features 18 duets with music's top female singers. In 2014, he released Band of Brothers, a 14-track studio album of new recording that debuted at #5 on Billboard's Top 200 album chart and #1 on Billboard's Country album chart, and December Day: Willie's Stash Vol. 1, an eclectic album collaboration of intimate new recordings from Willie and Sister Bobbie Nelson. This year he adds two more titles. On May 5, 2015, "It's A Long Story: My Life," the unvarnished and complete story of Willie, hit bookshelves and landed him on the New York Times' bestsellers list. In June, a new album with Merle Haggard titled Django And Jimmie, debuted at #1 on Billboard's Country album chart and #7 on Billboard's Top 200 album chart. [via]
LISTEN
WATCH
CONNECT | Site | Facebook | Twitter | Spotify
_
More from Pilgrimage | Tickets | Lineup | Site | Facebook | Twitter