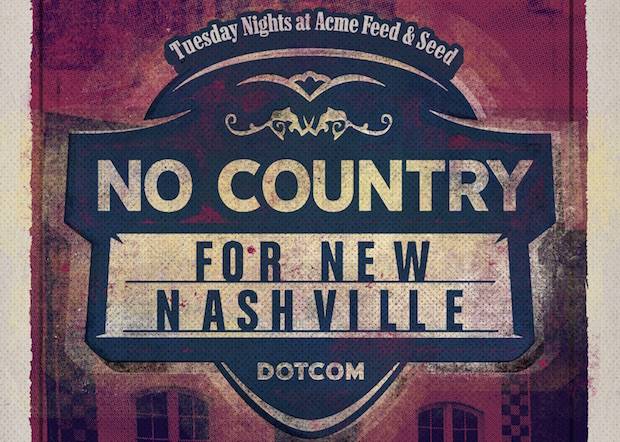 By now we hope you've heard, our live events production wing, No Country Presents, has taken up residence at Lower Broadway's hippest new restaurant, lounge, retail, and event space, Acme Feed & Seed, where we've been bringing you a weekly, FREE, Tuesday night showcase, featuring some of our favorite emerging local and national talent for over a year! The curated showcase runs from 7:30 to 10:30 p.m. each week, and has featured everything from folk to funk to rock to indie. For our next installment, on Tuesday, Sept. 22, we're bringing you a mix of regional talent, boasting our September artist in residence All Deeds Done, local eclectic singer-songwriter Charlie Abbott, and Knoxville folk rockers William Wild. Keep reading to find out all about them, and cancel any other plans you might have Tuesday night, because you're coming to hang with us. Got it?
ALL DEEDS DONE
Well on their way to taking the crown as our most frequent Acme performer ever, Bowling Green's All Deeds Done are a buzzworthy local(ish; BG might as well be a northern suburb with all of the talent spilling down to Nashville) band whose rise to national acclaim seems only a matter of time. We first brought them down to Broadway back in May, and, of course, have featured the group all throughout September as our artist in residence, along with a stable of other amazing acts. This is week four of their five-week residency, so if you haven't made it down yet, time's running out! Combining elements of alt rock and indie pop, All Deeds Done are celebrating the release of their infectiously catchy new EP Stellar Evolution, and their live show is already primed for massive success. See 'em now while they're still playing small rooms!
CHARLIE ABBOTT
While you may recognize him from his involvement in other great projects like The Cunning, singer/songwriter/multi-insturmentalist Charlie Abbott is an accomplished solo artist in his own right. Based in Nashville, Abbott flexes a ton of range with his ability to blend earnest, classic singer-songwriter influences like Bob Dylan and John Prine with the contemporary, heartfelt flair of performers like Ryan Adams and Rayland Baxter. Pulling elements from rock, country, folk, and more, Charlie has amassed a ton of great nods from Nashville and national press outlets, and has shared the stage with the likes of Mat Kearney, Everclear, and more. Look for a new album sometime this year.
WILLIAM WILD
Folk rock duo William Wild come to us from Knoxville, and released their self-titled debut last year. Though their sound definitely nods to '60s folk and '70s rock, the clean, haunting production and emotional density strikes a similarity to more contemporary folk-informed indie rock like Bon Iver; in fact, the band followed a similar writing and recording path, holing up in a secluded lake house for 18 months to craft their debut. Initially meant to be an experimental outlet for frontman Garrett Sale, it's safe to say William Wild, with their hypnotic tunes and fiercely DIY approach, are on the fast-track to indie success. We can't wait to welcome them to the Acme stage.
All Deeds Done, Charlie Abbott, and William Wid will perform Tuesday, Sept. 22, at Acme Feed & Seed. The show is 21+, music begins at 7:30 p.m., and, per usual, it's totally FREE. Downtown PARKING can sometimes be an issue. However, if you're willing to walk a few blocks, street parking is typically easy to find on the numbered avenues south of Broadway, or along Korean Veterans Blvd. Metered spaces are often free after 6 p.m.