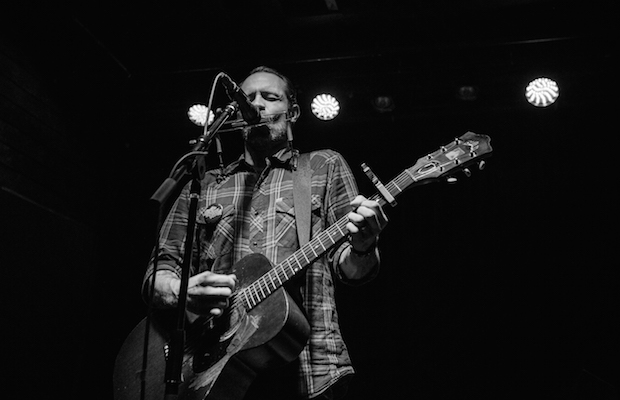 Rocky Votolato
w/ Dave Hause, Chris Farren
The High Watt; Nashville, TN
August 4, 2015
Review by Meagan Whitney. Photos by Shayne Garcia.
Rocky Votolato has been steeped in the rich musical scene of the northwest for decades; he's been one of the most influential producers in the region, helping to create and canonize the unique punk influenced folk and indie sound that has come to characterize Seattle in recent years. Votolato has released seven critically acclaimed solo albums and toured all over the world but, just a few years ago, he thought he might not write again. Luckily for us, he was able to overcome the roadblocks he faced, put out a new album, Hospital Handshakes, and embark on a seven week tour alongside Dave Hause and Chris Farren. His show at The High Watt on Aug. 4 was an intimate affair that felt like getting to hear your favorite band play in your best friend's living room. Read more about the show and see photos below.
Chris Farren. Photo by Shayne Garcia.
While Chris Farren spends most of his time as the frontman of indie punk band Fake Problems, there was markedly less aggressive punk influence to be found in his opening set. He took the stage alone, playing just his guitar and performed powerful, cuttingly emotional songs, often alluding to his hometown of Naples, Florida. He was a consummate frontman throughout though, peppering his set with entertaining stories about the songs he was performing and seeming to make fans of most of the audience through his earnest, heartfelt lyrics.
Dave Hause. Photo by Shayne Garcia.
Dave Hause's set picked up the pace quite a bit from Farren's. Hause was the only performer of the night not to play solo; with him was his brother, Tim, on guitar. Hause played at a straight ahead, no looking back pace, chugging through song after song with short asides between to tell stories about being on the road with his brother. It seemed like there was no one in the room who wasn't transfixed by the force of the two people on stage and Hause's talent made it clear why his history has included playing with bands like Social Distortion and The Gaslight Anthem. The punk and Americana influences were felt in his stage stance, almost crouching before the microphone and the style of his songs.
Rocky Votolato. Photo by Shayne Garcia.

From the minute Rocky Votolato took the stage, it was clear that he was exactly where he belonged. His recent consideration of retirement amid worries that he might never write again seemed to leave him incredibly grateful to be able to write and play for people who really appreciate what he's doing. He talked to the audience throughout the set, about the recent issues, about traveling, and about the tour. The High Watt was less than packed and Votolato urged his fans to come closer to the show, telling them they could make the night into something really special.
And he did just that. Everything about the night was quiet and subdued, an intimate evening in a rock club. Though the show had been billed as full band, Votolato played alone, with his guitar (which he recanted had managed to get him out of a ticket while on tour, when a police officer asked to play it), and a harmonica. Votolato started off by playing mostly songs from his newest album, Hospital Handshakes, but by the end of the night was taking requests and diverging quite a bit. He remarked several times that this was the quietest audience he had played to on the entire tour. The audience seemed to be entranced, no one was talking, not even whispering, and very few people were heading to the bar during his set. Votolato made the room feel smaller than it was, like a few friends were listening to him play some songs in a living room somewhere, and everyone seemed to fully realize how special the night was.
Votolato's voice went back and forth between barely a whisper to strong and loud, perfectly emphasizing the feeling behind each song and leading the audience to really listen to the words he was singing and not just to hear the music. One of the highlights of the night was when he played "She Was Only in It for the Rain," which he doesn't play very often. After all the wondering and uncertainly surrounding his ability to write and continue his career, Votolato proved that he can not only still write and perform great songs, but he holds an audience in the palm of his hand like he always has, maybe now with a little more appreciation for his own ability. We couldn't be happier that he's out on the road again and after such a unique night of his music are looking forward to a new EP that he mentioned would be released at the end of the year.
—