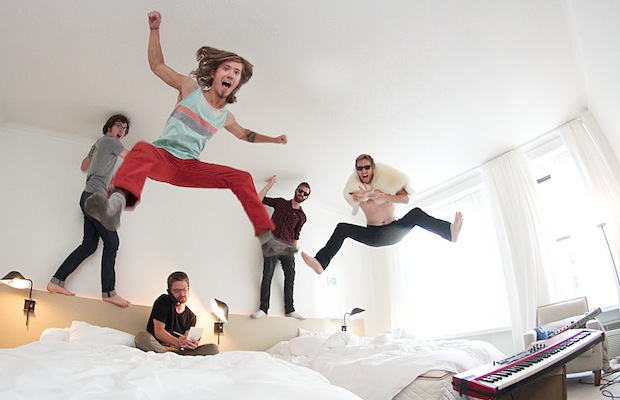 Moon Taxi
War Memorial Auditorium, Nashville, TN
December 31, 2014
Review by Josh Schrecker


New Year's Eve: The holiday extravaganza chocked full of lavish parties, concerts, socialites way overdoing it, and generally well thought out plans that never live up to the hype. Sequins, champagne, party hats, kazoos, streamers, balloons, the works. You either love it, or you hate it. But no matter what, you almost always wake up at 3AM hugging a toilet and swearing that you will never drink again.
This year though, we rang it in with Moon Taxi at War Memorial Auditorium for what was one of our best New Year's Eves in recent memory.  Check out what we though below.
This year, I had the good fortune of scoring a last minute ticket to catch Moon Taxi at the War Memorial Auditorium. This was much to my chagrin because it would be my first show at one of my favorite local venues since I saw Old Crow Medicine Show there many moons ago. Now I will be honest, this was my first time having a chance to see Moon Taxi live. Go ahead, judge all you would like. Despite my limited knowledge of one of Nashville's most well-known local musical groups, and an enormous propensity to enjoy New Year's Eve from the comforts of my own home, I was immensely excited. After braving the cold, and getting gouged by Uber, I was ready to ride the Moon Taxi for my very first time.
Moon Taxi took the stage to a packed house and wildly diverse crowd. Lawyers, hipsters, heady folks in overalls, and my old ass were all in attendance. The show kicked off with a few tunes coming from each of Moon Taxi's last two albums, Cabaret and Mountains Beaches Cities. Deciding to open up with two tracks off an older album, "Mercury" and "All the Rage", made me particularly excited due to my greater fondness of their earlier records. My previous notions about Mountains Beaches Cities quickly faded when the band got into "Suspicious". I broke into some painfully awkward dancing, parlayed my moves into an incredible live rendition of "Fool's Gold", and found myself well on the way to a memorable concert outing. Thankfully, the crowd was saturated with inebriated collegians with poor dance skills, so I found myself right at home.
As the night went on, I realized what I was finding to be particularly enjoyable about this band and their live shows. Moon Taxi has a little bit of something for everyone. Whether you want to gyrate in an embarrassing manner to some of their laid back jams, or immerse yourself into one of their heavier anthems, such as Wednesday night's version of "Mad World", the opportunity is going to be there. This show was the definition of what a New Year's concert should be. I never felt pressed to keep quiet. The band put on an immensely impressive performance, but I never sensed that they were longing for attention or recognition. Moon Taxi wanted everyone to have an awesome experience, and we did.
A review of this concert would not be complete without talking about the highlight of the evening: The Mash-up. Prior to seeing Moon Taxi, I had a fair understanding of the range of music that they were capable of performing. This did nothing to prepare me for the medley of covers that they unleashed on the unsuspecting crowd. Out of nowhere, the band jumped into Iggy Azalea's "I'm So Fancy", causing all in attendance to get real fancy, real fast. Next, the all-familiar bass-line to Jack White's "Lazaretto" drops, and I completely freak out. From there, it was a hodgepodge of this years biggest pop hits, including MAGIC!'s "Why You Gotta Be So Rude", Hozier's "Take Me to Church", and Alt J's "Left Hand Free". I was so floored at the conclusion that I was almost happy they took a break. I needed some time to recover.
In all honesty, I didn't make it long after the band returned to the stage post balloon drop/New Year's countdown. Call it overindulgence, or age, or whatever you would like. I'm pretty sure a guy proposed to his fiancé on stage? Regardless, I hung around to catch the band play "Running Wild", "Morocco", but was out the door when they fired up "Hey Jude". Despite bailing early, I can definitively say that I won't miss another Moon Taxi show that is being played in Nashville or the surrounding areas. I now have no doubts that this band is entirely deserving of their local celebrity and more recent national attention.