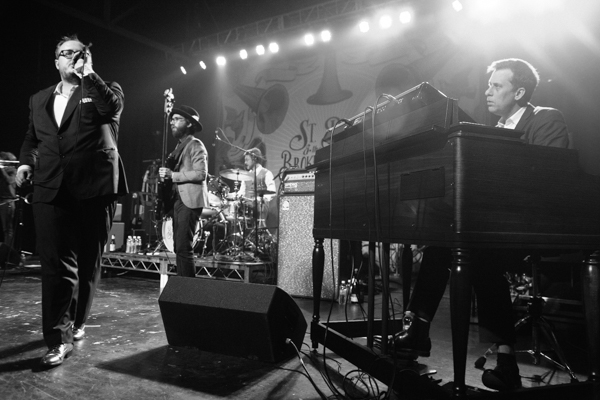 St. Paul and the Broken Bones. Photo by Mick Leonardi.
St. Paul and the Broken Bones, The Black Cadillacs, Through the Sparks
Marathon Music Works, Nashville, TN
12/31/14
Review by Jack Smith
Photos by Mick Leonardi
Happy New Year's, Nashville! Welcome to 2015. Do things feel any different?
Like most of our readers, we spent the better part of New Year's Eve throwing back glasses of champagne and cheap domestic beer, a precedent that frankly paints a rather believable picture of what 2015 has in store for us. That does not, however, mean we didn't get to see some great live music. We rung in the new year at Marathon Music Works with a killer performance by one of our all-time favorite acts, St. Paul and the Broken Bones. This soulful act was supported by none other than Through the Sparks. Not only that, but we also got a chance to see two unique sets by the Black Cadillacs. Two, you quizzically ask? Yes, indeed. Not only did we get a chance to see the Knoxville natives rock out at Marathon, but we were also graciously invited to a private performance earlier in the afternoon at William Collier's. If you're interested to hear about that intimate performance, or to hear more about the night show, or even to check out Mick Leonardi's fantastic photos of the entire day, click on through the jump for a full review of one hell of a New Year's Eve.
Like we stated in the introductory paragraph, music for the day began around 2:30 pm with a performance by the Black Cadillacs in William Collier's, which for the uninformed is the bar attached to Marathon Music Works. The team over at Marathon put together this show as a way of thanking their most loyal customers, and thus the event was aptly titled their "Show-ver Achiever" concert. If you were lucky enough to get into this show, you were not only gifted with a ticket to the Marathon show that night (which had completely sold out), but also a handful of free drink tickets. As far as customer demographics go, Marathon nailed this one: free drinks, free tickets, and a killer show by one of Nashville's favorite bands is exactly how Marathon's most loyal customers want to be rewarded. It's worth mentioning that this won't be their last Show-ver Achiever event ever; Marathon plans to continue giving back to their loyal customers, and plans for similar events in the future are already in the works. Frankly, this was a fantastic way to start our New Year's Eve, and we haven't even begun to talk about the music yet.

The Black Cadillacs. Photo by Mick Leonardi.
The music itself during the Show-ver Achiever event was quite phenomenal. Not only did the Black Cadillacs put on an entirely different set than they would later that evening, but they did so in a very friendly, personable manner. Because of the small size of the event, interaction between the band and the crowd was heightened, and both parties seemed to really enjoy themselves. Because the group saved most of their more popular cuts for the evening performance, their afternoon set featured numerous tracks which we hadn't seem them perform live before, yet this didn't stop the band from absolutely rocking. All in all, this event framed the band's talent and personality quite attractively, and we'd classify this performance as a rousing success.

St. Paul and the Broken Bones. Photo by Mick Leonardi.
Following the Show-ver Achiever event, we spent a few hours working off those free champagnes and domestic beers, but eventually made our way back out to Marathon to catch the opening set by Birmingham natives Through the Sparks. If you're unfamiliar with these guys, their sound is a bit tough to describe in words, but other literature often cites their sound as "psychedelic folk alt rock." One word that could certainly be used to describe Through the Sparks is precision. The group utilizes a vast number of instruments in an attempt to nail down the perfect sound for each song, an attempt they largely succeed at. This writing tactic also forces the band to use horizontal thinking when writing tunes; that is, the group crafts songs that tell a story and seem to rise to a tangible climax. As you might imagine, this style of writing translates to to a stunning live set, and as much as we hate to use this word, one could even call Through the Spark's New Year's Eve performance epic (ugh). Whether you saw the set and was impressed or are just a fan of their music, it's worth noting that the group plans to release a new album in 2015 on their label Communicating Vessels, so keep your heads up for new things from this fantastic act in the near future.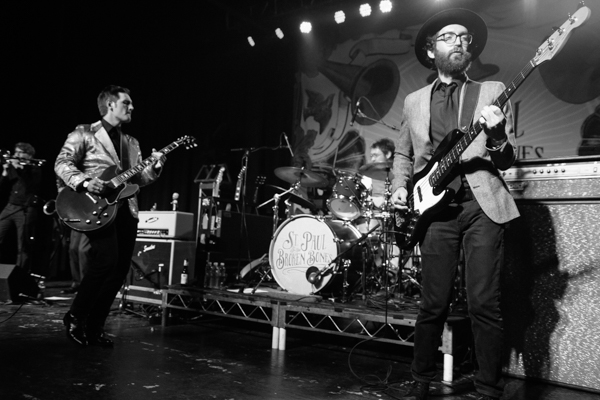 St. Paul and the Broken Bones. Photo by Mick Leonardi.
We've already talked a bit about the Black Cadillacs, so we'll keep this short. In contrast to their performance in the afternoon, the six piece's night performance at Marathon was much more upbeat and matched the general sense of excitement about the end of the year. The group played several of their more popular tunes, and a large segment of the crowd seemed familiar with these songs. At this point in their career, these Knoxvillians have really nailed down how to put together a fantastic performance with an energy level that follows an upwards contour, and the audience was left in a frenzy after the group played their final note. If you're interested in catching this act, they'll start a nationwide tour in two weeks. Unfortunately, this tour won't take them through Nashville again, but they'll be playing in several nearby cities, which to us sounds like the perfect excuse for a road trip.

St. Paul and the Broken Bones. Photo by Mick Leonardi.
With just over an hour left in 2014, St. Paul and the Broken Bones took the large Marathon stage. The seven-piece soul revival act spread out across the stage, took a breath, and dove headfirst into a two-hour long set; by the band's own admission was one of the longest shows they've ever played. The huge time allotment gave the group a chance to not only play all of their most famous tunes (including our perpetual favorite "Like a Mighty River"), but also a handful of unique covers. In the last year or so, St. Paul and the Broken Bones have exploded in popularity, and their live performance made it easy to see why. Between Paul Janeway's killer voice and the Broken Bone's impeccable grooves, this group simply has it all.
During the very last song of the evening, St. Paul and the Broken Bones invited out the members of the previous two bands, and together with the audience sang through the Beatles' classic "Hey Jude". Truthfully, it's hard not to feel good about a year that begins with drunkenly screaming "na na na nananana" with 1500 other happy people. Happy 2015, Nashville. We hope you have a great one.